Are you ready to make the leap from car camping to backcountry camping this summer? Backcountry camping and hiking are great ways to experience the remote beauty of Mother Nature. While we don't recommend hitting the Appalachian Trail on your first trip, one night at a backcountry site can be incredibly rewarding, too. Start small and before you know it, you'll be venturing further and further from the familiarity of campgrounds.
Ditch the Campground for the Breathtaking Backcountry
There's an overwhelming amount of information on backcountry camping, from trail recommendations to simple recipes that can be prepared on your little one-burner backpacking stove. But we'll get you started with an overview of the big things you'll need to keep in mind when making the transition from car camping to backpacking.
Pick the Right Backpack
Everything you need goes on your body or into your backpack, so your pack can be your best friend — or a pain in the back. You'll need something that carries everything you need; a tent, stove, sleeping bag, sleeping pad, water, food, etc. But if your backpack is too big, you'll likely stuff it with too much, and lug around unnecessary weight.

Get yourself a backpack that's designed for multi-day backcountry adventures. These backpacks have an internal frame built to support the weight of your gear and range in size from 30L to 85L. If you're new to backpacking and starting with 1-3 night trips, choose something that's 30-50L. If you don't have super compact gear, you might struggle to fit the necessities in the smallest option.
Two of The Dyrt rangers tackled thru-hikes last summer with the Gregory's backpacking pack, the Gregory Maven 55, which can handle a multi-week hike. It can also work for shorter hikes if you don't have all of the compact gear to fit nicely into a smaller pack.
This guide from REI is helpful in choosing the right backpack for you.
Backpacks come in different sizes, too, so it's important to get fitted by a professional.
Upgrade Your Gear
Transitioning from car camping to the backcountry requires some investment in gear. Tents and equipment that are ideal for backpacking are much lighter than car camping equipment.
Instead of a two-burner stove for flipping pancakes alongside your boiling percolater, you'll want something compact for heating up some basic trail meals. This Classic Trail camping stove from Primus is a go-to for backpackers looking for something lightweight and reliable.
If you're backcountry camping with several people, you can also share the weight of shared gear, like stoves, cooking equipment, and food.
Don't feel like you need to upgrade every piece of equipment before you take your first backpacking trip. Start with downsizing the biggest pieces, like your sleeping bag. If you're sticking to a short trail, it won't be a huge deal to carry around some extra weight. And as you start to hike further and for longer, you can slowly replace your heavy gear with lighter versions.
Learn to Use a Map and Compass
Navigation skills are necessary in the backcountry, even if you're sticking to one, simple trail.  When making the transition from car camping to backcountry camping, your smartphone can be a useful device with powerful apps that help you explore the backcountry, but it's also important to also get back to basics with a map and compass.
The best maps to purchase are often topographic; these maps will show you the different features of a given area, along with changes in elevation and terrain. Other things that are important to keep in mind when looking at a map are direction and scale.
Once you have an understanding of your map, you can use a compass in tandem. Learn how to adjust your compass for declination before using it in the backcountry.
Compasses can be used with or without a map, however placing a compass flat on a map will enable you to both know the direction you need to go, while also having a visual of the terrain to be expected along the way. Our friends at Brunton are experts in using compasses — and making them — so check out their article on navigating with a map and compass for some valuable advice.
You can also look for classes in backcountry navigation through outdoor stores and mountaineering clubs.
Choose the Right Campground
Transitioning from car camping to the back country can be a big step — don't rush into it. Pick a trail and a campground based on your fitness level and your experience. How far can you confidently hike in one day? You don't want to get stuck in the dark, so play it safe and stay close until you get a feel for what it's like to hike with all that additional weight.
For your first time, find a state or national park with backcountry campsites that are reachable with a short hike. You'll feel like you're in the backcountry, but with access to park rangers and civilization if needed. Once you become comfortable with your backpack and gear, you can start to take longer backpacking trips covering more distance in more remote areas.
You'll find helpful campground reviews on The Dyrt, with advice on fellow campers and backcountry hikers.
Find the Right Hiking Buddy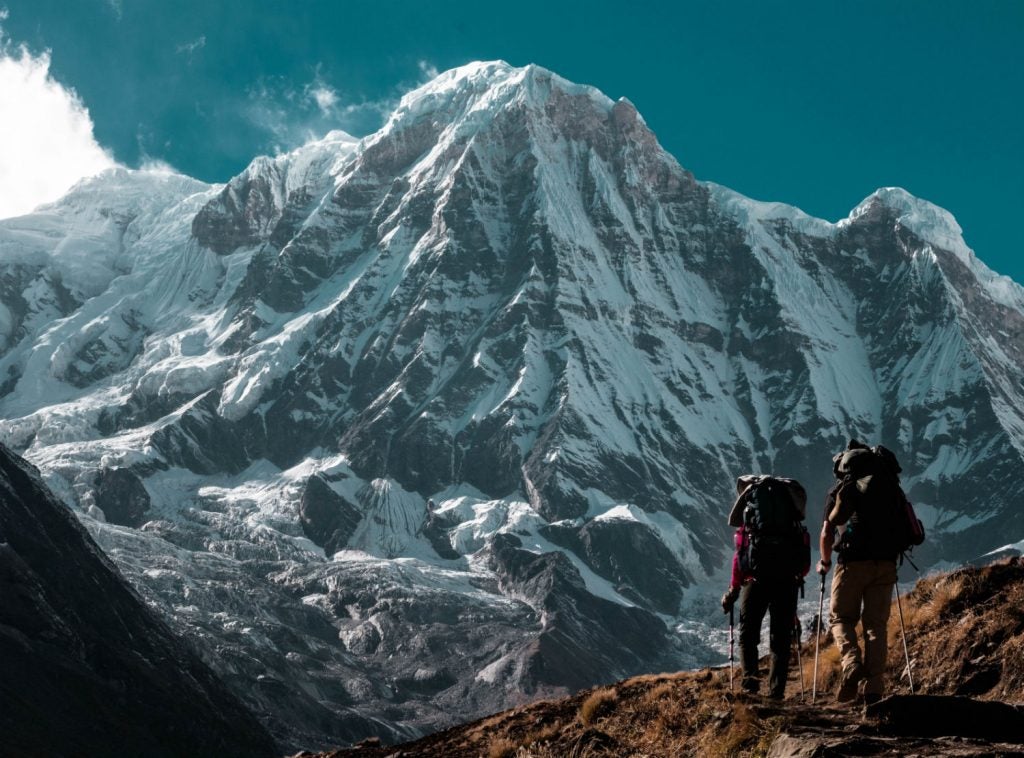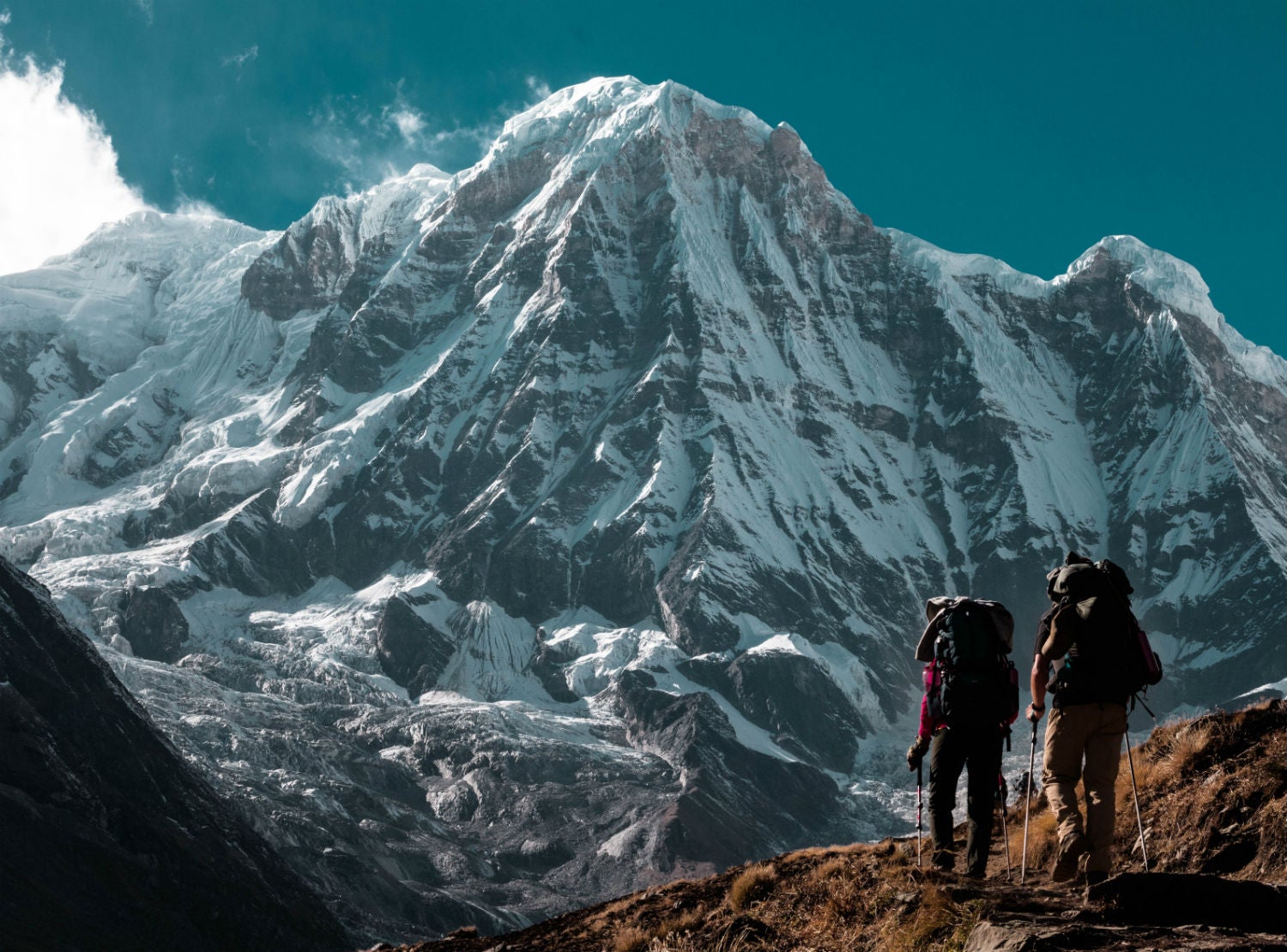 As with any new sport, it's best to learn from someone with experience. Ask a friend or two if they'd like to join you for a one or two-night backpacking trip. If you don't have any experienced friends, find a local hiking or outdoors club and join in on their trips. Backpackers are an enthusiastic bunch who generally enjoy sharing their knowledge and passion with newbies.
Meetup.com is a great resource for finding outdoor groups in your area. Or join The Dyrt's Facebook Campfire to connect with hikers and campers in your area.
Learn and Live the Leave no Trace Principles
It's important to leave any natural place as we found it. But when you're in the backcountry, Leave no Trace becomes a little trickier — but even more important.
People love the backcountry because of that untouched vibe. Don't ruin it for others by leaving waste behind.
In most places human waste should be buried in catholes that are dug 6 to 8 inches deep. But in some places, you'll need to pack out human waste. (For example, if the ground is too hard to burry.)
Research the area prior to heading out, and know the specific requirements of Leave No Trace.
Popular Articles: