Hiking to an overlook for sunset is an incredible experience. But if you don't prepare properly, it can also set you up to be in a dangerous situation.
Being well prepared, you'll have memories to last a lifetime. Here's how to prepare for a sunset hike, and what to do if you find yourself in a sticky situation.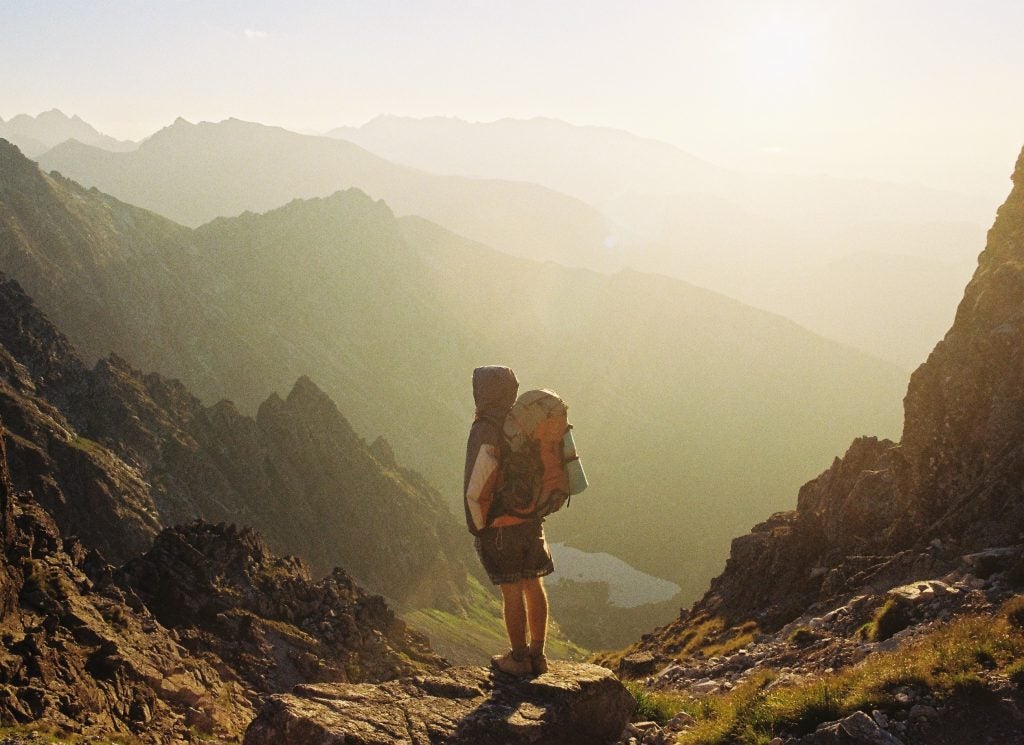 There are two main issues with sunset hikes: the drastic drop in temperature as the sun sets, and the onset of darkness, which makes trail navigation more difficult (especially with significant elevation change).
It may seem obvious how you address these issues, but many hikers neglect these two simple pieces of gear when they leave for a sunset hike: layers, and lights.
Layers should be more than you think you need. If you start out wearing a tank top, realize that one long-sleeve shirt probably won't be enough to keep you warm. A simple layering rule for summer sunset hikes? Bring at least two other layers, one heavier and one lighter. One long-sleeve t-shirt or tech shirt and one jacket, preferably with wind-blocking properties.
Winds can also pick up at dusk as cold air starts to move in on the day's warm air, accelerating temperature drops and making a third layer essential.
Lights can be as simple as a flashlight or lantern, but the most convenient is a headlamp. If you don't have a headlamp, you can get a simple one for around $10-$20 from hardware stores, Wal-Marts or Targets, etc. Chances are, you won't need to use your headlamp. Civil twilight, the residual light that sticks around after the sun has passed the horizon, can last for an hour or more. So, unless your sunset hike is 3+ hours, you might not turn your headlamp on. But it's essential to have.
Imagine rolling an ankle, and not having any light source. With your speed cut in half, you are likely going to be hiking in the pitch dark–not a good situation for an injured hiker.

Emergency Protocol
If you go on a sunset hike, start to get cold, and don't have more layers, and are more than 30 minutes from the trailhead, turn around. You will only get colder, and if you roll an ankle (or worse) that 15 minute hike time could turn into two hours or more. Sunset hikes are great, but they can be miserable (and steer you away from hiking in the future) if you're ill-prepared.
If you don't have any light and find yourself in the true darkness, you can always use your phone. This is not recommended unless it's an emergency for the sole reason that your phone is your last major lifeline. Draining your phone's battery by using the screen's brightness or flashlight puts you in a more and more dangerous situation.
Sunset hikes are rewarding and memorable. Just plan ahead to make sure they're safe, too.
Popular Articles: