Full-Time Campers Shari and Hutch live on the road in their vintage "canned ham" trailer. It isn't always easy. But it's almost always a good story. 
---
We're heading east on the Trans-Canadian highway toward Algonquin Provincial Park in a misty afternoon drizzle. Shari slows down and hits the left turn signal. As she begins her turn, I see over my left shoulder the flash of something white and large speeding toward us, trying to pass. "WATCH OUT!" I scream as my nervous system reaches for the steering wheel. Shari cranks the wheel hard back toward our lane.
Despite her best efforts, we take the hit in the front quarter panel, just ahead of the driver's door.
The left front wheel tears free and becomes lodged under the engine. We grind to a gut-wrenching halt on 3 wheels and watch in horror as the commercial van careens off the road; we're okay but our fears quickly turn to the occupants of the other vehicle. The van stops about 150 yards ahead, just short of some trees. Police arrive and medics are on scene within minutes. We are shaken, but everyone, thank goodness, was alright.
[bctt tweet=""Traveling is a brutality. It forces you to trust strangers and lose sight of all that familiar comfort of home and friends. You are constantly off balance." — Cesare Pavese" username="thedyrt"]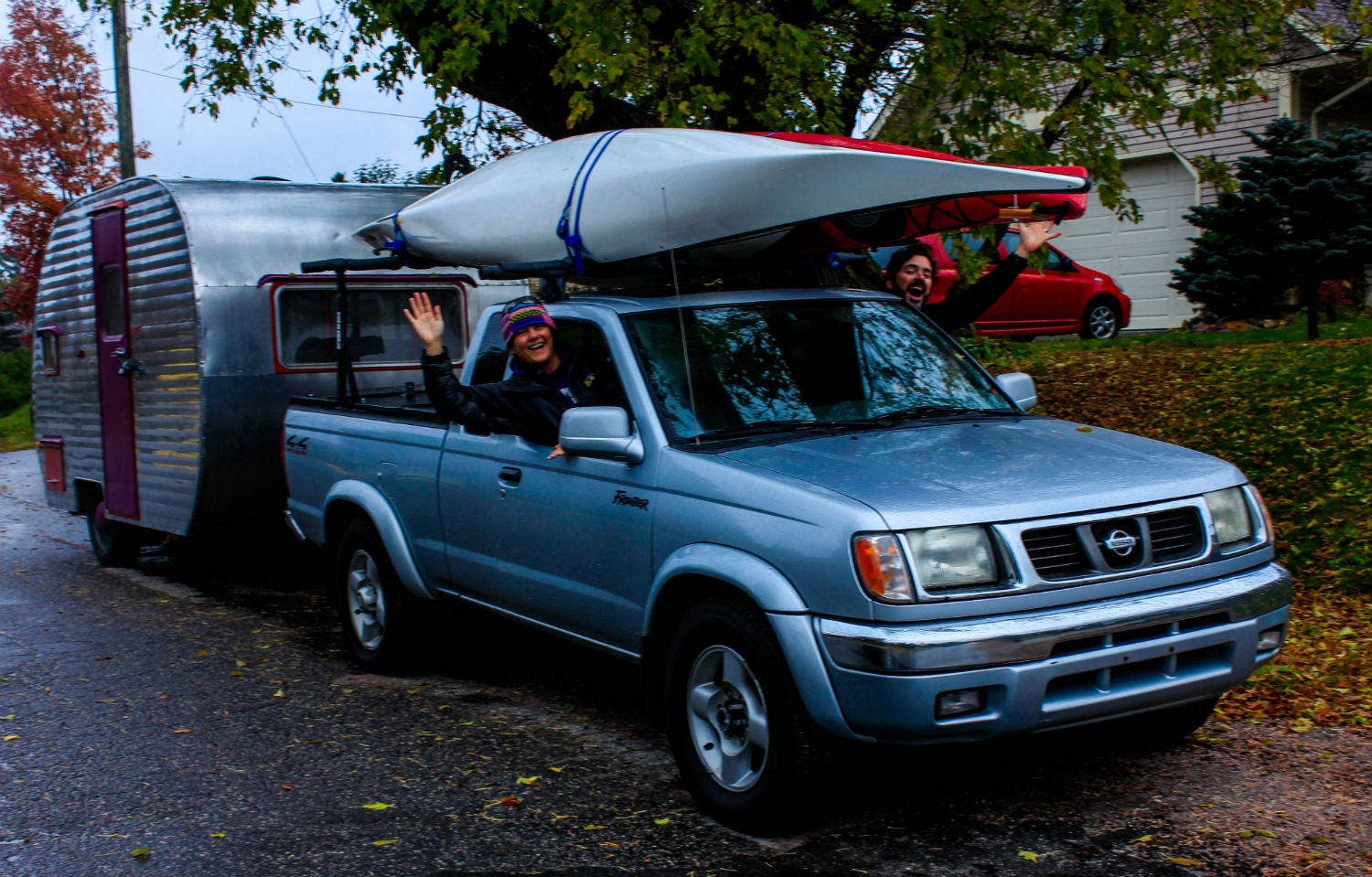 This happened exactly 31 days after we embarked on our new life of travel. With hardly enough time to have found our travel flow, we watch our vehicle hauled up onto the back of a flatbed wrecker. We end up in the Franklin Motel, Tent, & Trailer Park in downtown North Bay, on the banks of Lake Nipissing.
We are indeed a sad sight; a busted truck on a flat bed with a vintage trailer in tow.
A short while after getting settled, one of our neighbors in the campground comes over to offer whatever assistance he can — rides to get groceries, advice on mechanics, or anything else, "..just say the word." Even in our current state of disorientation we are welcomed into the homes of strangers, and humbled by their generosity.
---
To stay safe on the road, download The Dyrt Pro. With PRO, you'll get campground info offline. Download maps, photos and campgrounds for the info you need while on the road.
---
Ontario is a cold place to spend the first week of October. In our lonely wanderings around town, awaiting the fate of our truck, we are drawn to the lake where kite surfers turn the bitter westerly winds into a colorful dance of graceful canopies. We meet a lovely young woman who just stepped off her board. For the next two hours we talk about surfing, kayaking, travel, outdoor adventures and safe driving in northern Ontario.
We have such a great time in conversation that we exchange emails and hope to keep in touch. By the next morning, she and her parents invite us to their Canadian Thanksgiving dinner. "It's a family tradition to pick cranberries in the bog before dinner. Would you like to join us?"
Yes and yes!
Within a few days, we learn the sad truth about our truck: it's totaled. We had clung to hope, but ultimately expected this news. After an exhaustive search of all trucks within a reasonable distance, we find a 2000 Nissan of the same model in Michigan City, Indiana. It's only an 18-hour bus ride from North Bay and we make plans to go and get it.
The salesman at the dealership is amazingly friendly and helpful, he even picks us up from the bus station. Once we finish the transaction, he invites us to an ox roast (an event two vegetarians aren't typically drawn to), but it is a leukemia fundraiser and his teenage daughter suffers from the disease. We join in the fun and relish in our plate of baked beans, corn, and slaw.
As it turns out, this disaster became not a lesson about what to do when your vehicle gets totaled and you're stuck in a frigid, foreign land. Rather, it is a lesson about trusting and accepting the help and generosity of complete strangers, and this lesson has come in handy time and time again.
"Road magic is real if you can stay open to it.."
Not surprisingly, this isn't the only time we've needed some assistance with our old truck over the past few years. We could probably recommend mechanics in every region of the US at this point – from the wonderful folks in Indiana who came in on a Saturday morning to replace our distributor so that we could get back on the road (we didn't ask for this, he simply offered), to the diligent mechanic in Idaho who battled a troublesome thermostat for 2 days, gave us a place to park our trailer and the code to the office bathroom, then only charged us $75 for the repair.
Those offering genuine assistance and compassion far outnumber those who wish to take advantage of your situation.
Road magic is real if you can stay open to it, as these examples prove. With all that divides us these days, these amazing people keep our faith in humanity strong.
---
Read More from Full-Time Campers Shari and Hutch: 
Popular Articles: