Thousands of people are checking Instagram today, hoping for a miracle.
Dagwood is the dogson of Keith and Brianna Madia, who you might know from Instagram. This past weekend, he was hit by a car, 300 miles outside of Bend, Oregon. They drove him to an emergency vet in Bend, where he remains in critical condition.
View this post on Instagram
The Madia family, including Bucket (Dagwood's dogsister), lives in a big orange van in the desert of Utah. They share their unique life through photos and captions written by Brianna, whose adventurous spirit and stirring honesty have inspired over 200,000 followers to think a little differently about what life can look like when you don't play by the rules. While it's Brianna's eloquent words that have compelled many to follow their journey, it's often Dagwood and Bucket who steal the show, as they frolic among sandstone cliffs and splash through muddy rivers, their wild spirits bringing smiles to strangers all over the world.
The tragedy of Dagwood's accident has touched many, as followers (strangers and friends, alike) anxiously await updates on his condition. As one post tells us, "if he is able to be stabilized, Dagwood will face multiple surgeries, months of recovery, and likely serious long-term affects."
Followers Share Their Support for Dagwood on GoFundMe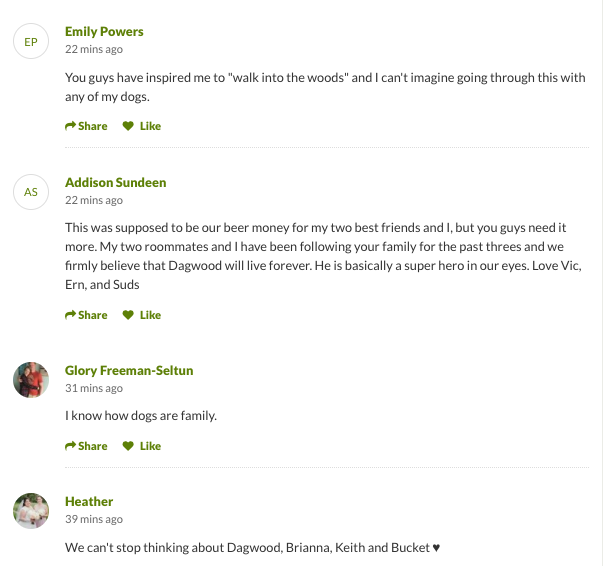 While social media can often be seen as a distraction or a mindless way to waste time, this moment has highlighted how it can also be a powerful platform of community and kindness. Friends and family of Brianna and Keith started a GoFundMe page to help pay for Dagwood's treatment, and it's already raised over $80,000. Brianna has posted tearful thank you's about how much they appreciate the donations and messages of support.
View this post on Instagram
Dagwood has already inspired so many people to embrace their wild side: to get outside, to get dirty, and to bring their dogs with them.
We're all routing for Dagwood to run wild again, soon. Donate Here
Popular Articles: