We've all seen articles about how the outdoors can do amazing things like minimize stress, ease depression, reduce inflammation, promote creativity, and boost your immune system. Doctors are even prescribing wilderness therapy to their patients.
But there are barriers to the benefits of time spent outdoors, especially for those who might need it most. People suffering from chronic pain might benefit from the healing power of nature. But nature can also be painful. Sleeping on the ground in a tent, sitting on benches, and walking even short distances to a campsite can be difficult for those who require regular chronic pain management.
I suffer from not one, but two chronic pain conditions, so enjoying the splendors of camping can be a gamble. Will it help or hurt?
Managing Chronic Pain While Camping
We all know what pain is. You stub your toe on a tree root or tear a ligament from overuse. Ouch. Pain is unpleasant, but with proper care, it goes away. That's not the case with chronic pain. Sufferers live with constant or recurring pain for years, sometimes forever. Simple actions that most people don't think twice about are a struggle for those with chronic pain. It often brings an emotional burden that can lead to anxiety or depression.
Over 20% of the American population suffers from chronic pain. The most common types of chronic pain (in order of prevalence) are back pain, head pain, joint pain, and nerve pain, but there are many more. Some of the conditions that cause chronic pain include arthritis, multiple sclerosis, migraines, fibromyalgia, irritable bowel syndrome, and cancer. These are all invasive conditions; many of them sneak up on you in adulthood, long after you've established basic routines and activities, including camping.
Chronic Pain 101: Management Tips from Campers
Camping can be a therapeutic and restorative pastime for sufferers of chronic pain. Sharing laughter beside the fire. A calming walk through the aspens. Or teaching your child to swim in a quiet alpine lake. These activities have the potential to make you feel good. But how do you manage chronic pain symptoms when you're miles from the comfort of home?
1. Plan Ahead
Sometimes, the best thing you can do is plan for the worst and hope for the best. Here are tips on getting yourself ready for coping with chronic pain at the campsite:
Bring medication. You might need to manage symptoms, especially if you end up in extreme environments. I suffer from chronic migraines, and changes in weather can trigger me. So I need medication to dull the migraine that ensues when the afternoon storm rolls in.
Prepare food. Many chronic pain conditions come with food sensitivities. Go-to camping food often leaves me doubled over in pain, so I have to meticulously choose and prepare food before trips. If food is a problem for you, bring your own versus relying on the collective effort of your group. If leaning over a campfire will cause you pain, bring low-maintenance meals that are ready to eat with minimal prep.
Bring entertainment. You may face downtime when chronic pain makes it difficult to be active. Don't push yourself to do activities that will make your chronic pain worse. Instead, bring low-key activities that you know you enjoy. It's nice to have something like a book, an iPad, or journal to keep you occupied. If you have kids with you, make sure they have something to keep them entertained too (or someone to watch them).
Be strategic. If the campground takes reservations, try to secure a site that will make your trip more pleasant. Grab a spot in the shade, near the restrooms, with a flat surface, or with plenty of space for your RV. If they don't take reservations, arrive early to have your pick. You can find a campsite that's right for you on The Dyrt by reading camper reviews.
Consider routine. For many people with chronic pain, a routine helps with managing symptoms. Medication, meals, bedtime, etc. If you have a routine, it helps to keep it going while you're camping. If you're vacationing with others, you can create a schedule and share it.
"At times it is very difficult, but still worth it to sleep in the outdoors and get up in the morning and have that cup of coffee outside." —The Dyrt camper L.B.
2. Use Chronic Pain Management Resources
There are resources, people, and products available to make your trip more comfortable. Here are tips on what to look for and utilize when focusing on chronic pain management in the outdoors:
Research options. Many state and national parks have wheelchair accessible roads and trails. You can find ADA-accessible campgrounds and parks that feature resources that can help accommodate people with chronic pain conditions. If you can't find answers to your questions about a certain location, don't hesitate to call the nearest ranger station.
Apply for an America the Beautiful Disability Pass. Some chronic pain sufferers may be eligible for an America the Beautiful Disability Pass, which provides a 50% discount on many national park amenity fees, including camping.
Allow for help. You never know when your symptoms might sneak up on you. Be sure to tell others how you feel. Keeping your condition a secret while you're outdoors can result in unnecessary accidents. It can be tough to accept help, but in the end, it will make the chronic pain management easier, and the trip more enjoyable for everyone. And let's face it, they wouldn't ask if they didn't want to help.
Utilize gear. Invest in products built for comfort. Many people benefit from sleeping on an air mattress (sometimes a thick one, like an Aerobed). You can buy comfortable camping chairs and chronic pain management pillows to ease your joints. Orthopedic shoes and hiking poles can make walking, hiking, and sitting/standing more pleasant. Some people improve with warmth, so they bring blankets and hand warmers. Aim for a tent you can stand in, rather than a cramped one. Or, consider a trailer if it's in your budget.
"I use a walker due to chronic neuropathy in my feet from cervical damage. I am lucky enough to have several friends who go with me. Also, I have a van with a bed in the back." —The Dyrt camper R.W.
3. Be adaptable
Adaptability is critical in the management of chronic pain. You never know when you'll need to interrupt your trip for self-care. Here are some tips to help consider chronic pain management in moments of distress:
Be flexible. There will be times when your plans change, and that's okay. You can still have fun. I have planned many trips to the backcountry, to end up convalescing in a hotel room. You might have to end your trip early because you're in too much pain. That's something you'll learn to be okay with, and sometimes diversions can lead to unexpected fun, like guilt-free Netflix binging at the nearby Motel 6.
"I have transitioned from self-contained (bicycle touring and backpacking) to car camping and now in a teardrop camper to ease the pain issues." —The Dyrt camper A.S.
Adjust expectations. Many families can go camping and pack a ton of activities into a weekend. Maybe you can't do that, and that's ok. Slowing down to enjoy the moment isn't a compromise. But you may need to reset your expectations. Take time to rest, slow down, and enjoy the comfort of nature.
Be kind to yourself. It's easy to get caught up in your environment and forget you aren't superhuman. I can summit a 14,000-foot mountain, but I'm going to suffer when I get there (elevation change is another migraine trigger). Allow yourself breaks, naps, or whatever you need. Self-care is essential.
"I have migraines and have been hiking and camping on the Appalachian Trail when one hit. We found a decent place to set up our tent, took meds and went to sleep, got up, had another down day, then kept on going." —The Dyrt camper L.K.
4. Know your limits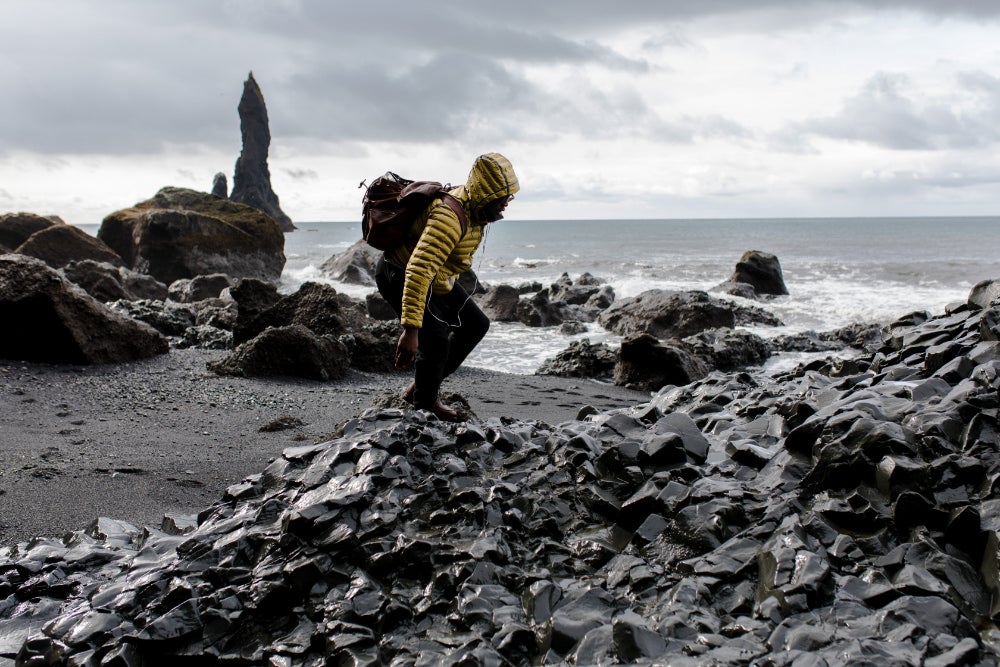 Everyone has limits. Chronic pain management is largely possible through understanding those limits. Here are tips to keep in mind when attempting a camping trip while managing chronic pain.
Don't push. It's important to know what you can handle. If you're new to chronic pain, you might not know your limits yet. But if you know you can't handle a week away from your comforts, don't push yourself and schedule two weeks of camping.
Consider the weather. Many chronic pain conditions are weather-sensitive. If you're scheduling a camping trip in the summer, consider the heat's effect on your body. Think about your body's relationship with the cold before taking a trip in the winter.
Keep track. It's not always easy to know what will set off your chronic pain. Try keeping a camping journal to track how you feel during different camping activities. You might recognize patterns that will help you better manage your pain.
Go slow. You can feel great one day, and horrible the next. That's the nature of chronic pain. Keep this in mind when you're engaging in physical activity. You may not be able to make it very far today, but tomorrow is another day—a fresh start.
"I can wallow in my pain sitting at home doing nothing. Or I can put my mind at ease doing something I love. Fresh air and quiet meditation in a serene environment can do so much for my pain." —The Dyrt camper C.T.
Popular Articles: