Furnishing your RV or travel trailer can be quite a task. Different types of RVs need particular arrangements and should showcase a certain feng shui that fits your needs.
When thinking of the RV furniture you want, keep in mind how many people you are traveling with, how much sleep space you need, and how you will store your gear when you aren't using it.
You'll also want to factor in luxury and comfort when choosing chairs, sofas, beds, and tables. While regular furniture may suffice in an RV, it may be larger and less versatile than RV-specific furniture.
Tips for Buying RV Furniture
Below are some suggestions and tips when you're outfitting your RV or travel trailer.
What to Consider Before Buying RV Furniture
When shopping for RV furniture, there are some essential factors to consider:
1. Measurement and Space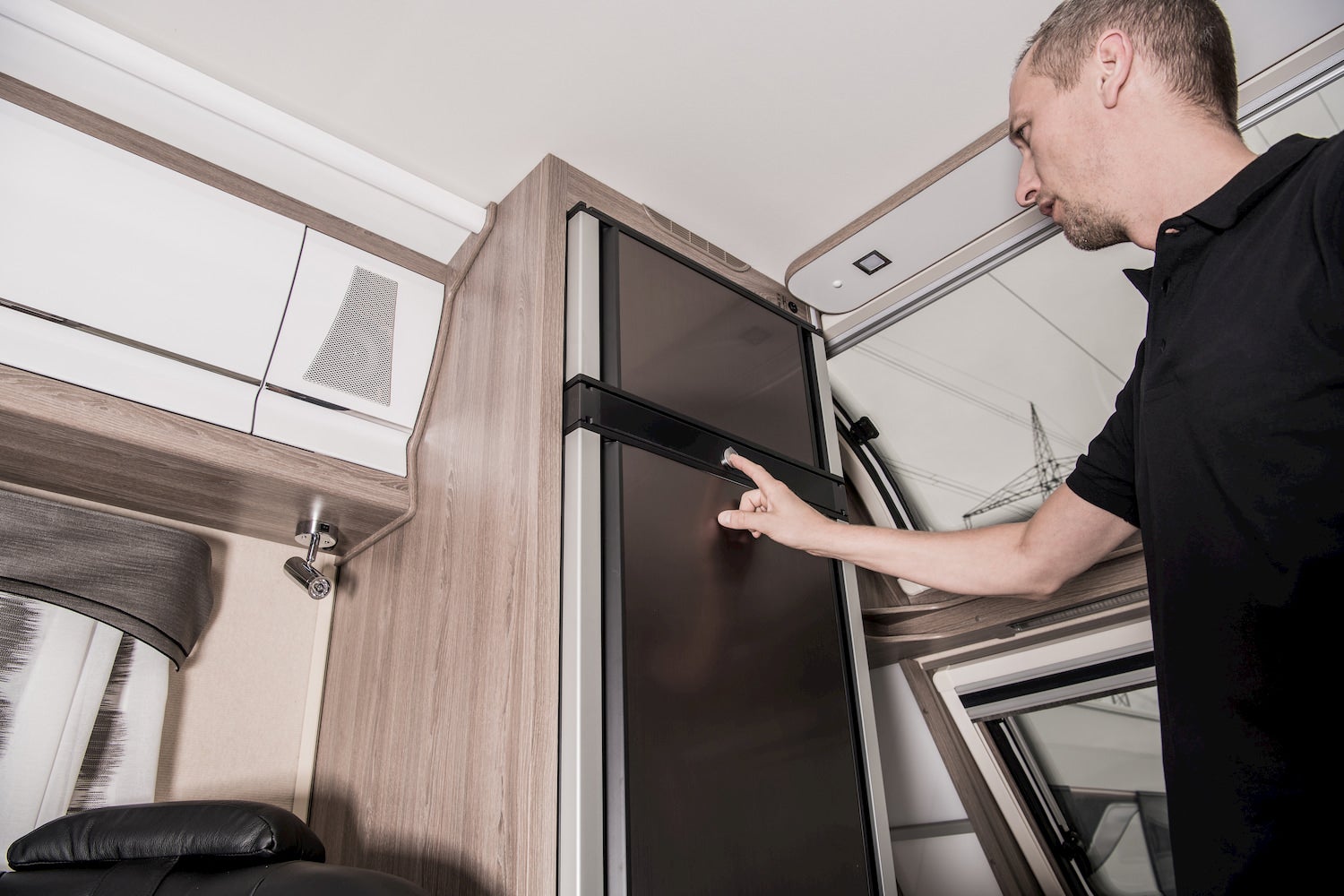 Make sure you've measured everything carefully and accounted for the space you take up while sitting or laying on the furniture. A good fit is crucial! Think about the size of the RV's door. Whatever furniture you bring in must fit through that aperture. Most RV furniture manufacturers have already considered this detail.
2. Style, Comfort, and Fabrics
Carefully choose color schemes and a design style for your RV furniture. Plush seating, leather upholstery, and a uniform aesthetic can transform your RV interior and add a touch of luxury.
3. Storage and Versatility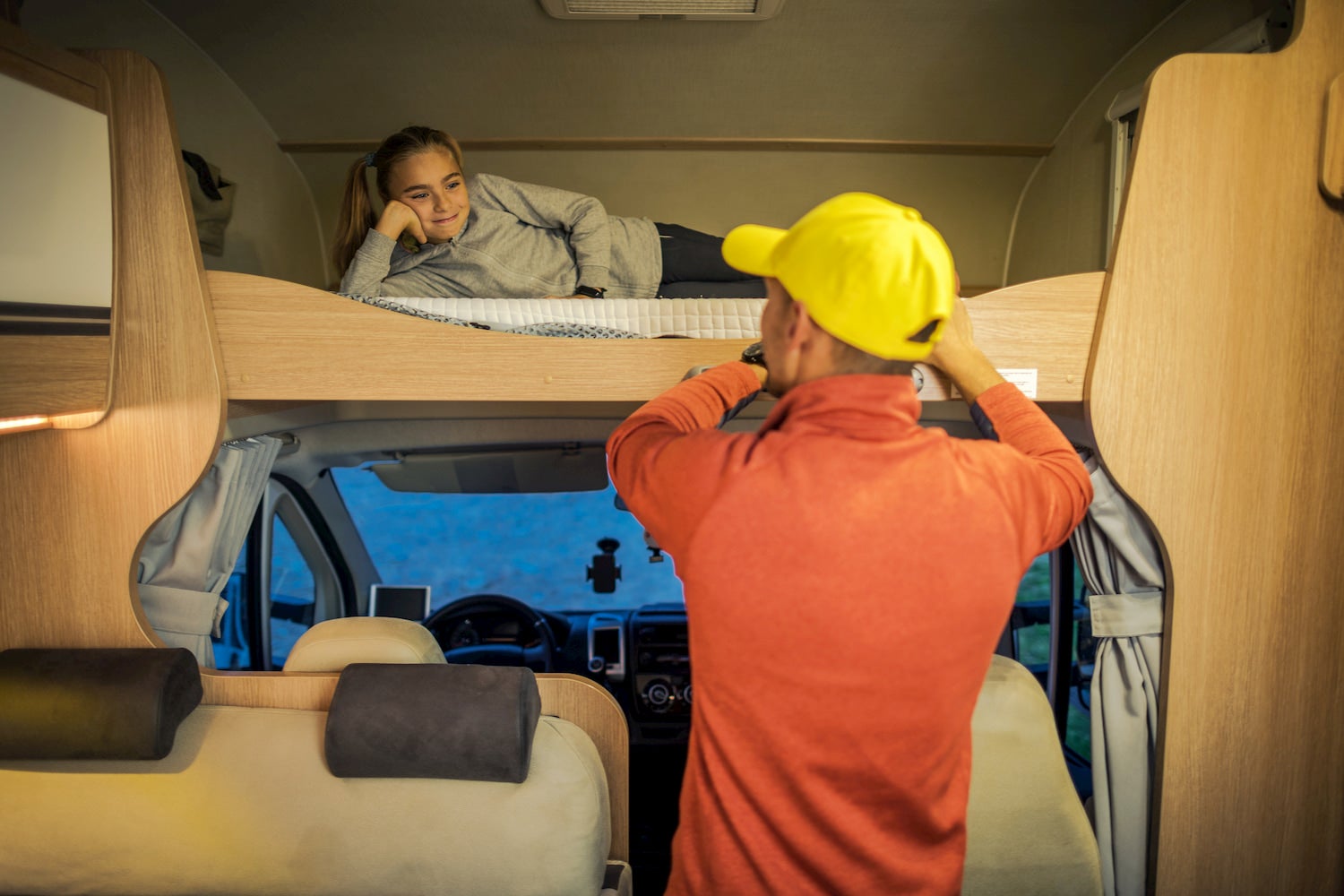 RVs and travel trailers come with limited space, so consider RV furniture that has built-in storage space or items that serve multiple purposes. Futons are a great way to save space, for example.
4. Cost
RV furniture can be expensive, so plan your budget ahead of time. Factor in things like delivery, installation, and service costs. Heavy items also cost you more in gas in the long-term.
RV Furniture Ideas
1. Captain's Chairs and Recliners
If you're doing most of the driving on your summer vacation, your first purchase may be the Captain's chair. This dual-purpose swivel chair can be both the driver's seat or a comfortable place to relax and unwind after hiking. While driving, you want things like comfort, stability, and support. When you're ready to relax, a plush leather recliner may be exactly what you need.
Choose from a range of chairs in leather, vinyl, or fabric, offering features such as remote slide and swivel, power lumbar, adjustable arms, heated seats, and even built-in massage features. Expect to spend around $400 for a budget-friendly option and $1,000 or more for luxurious options.
2. RV Beds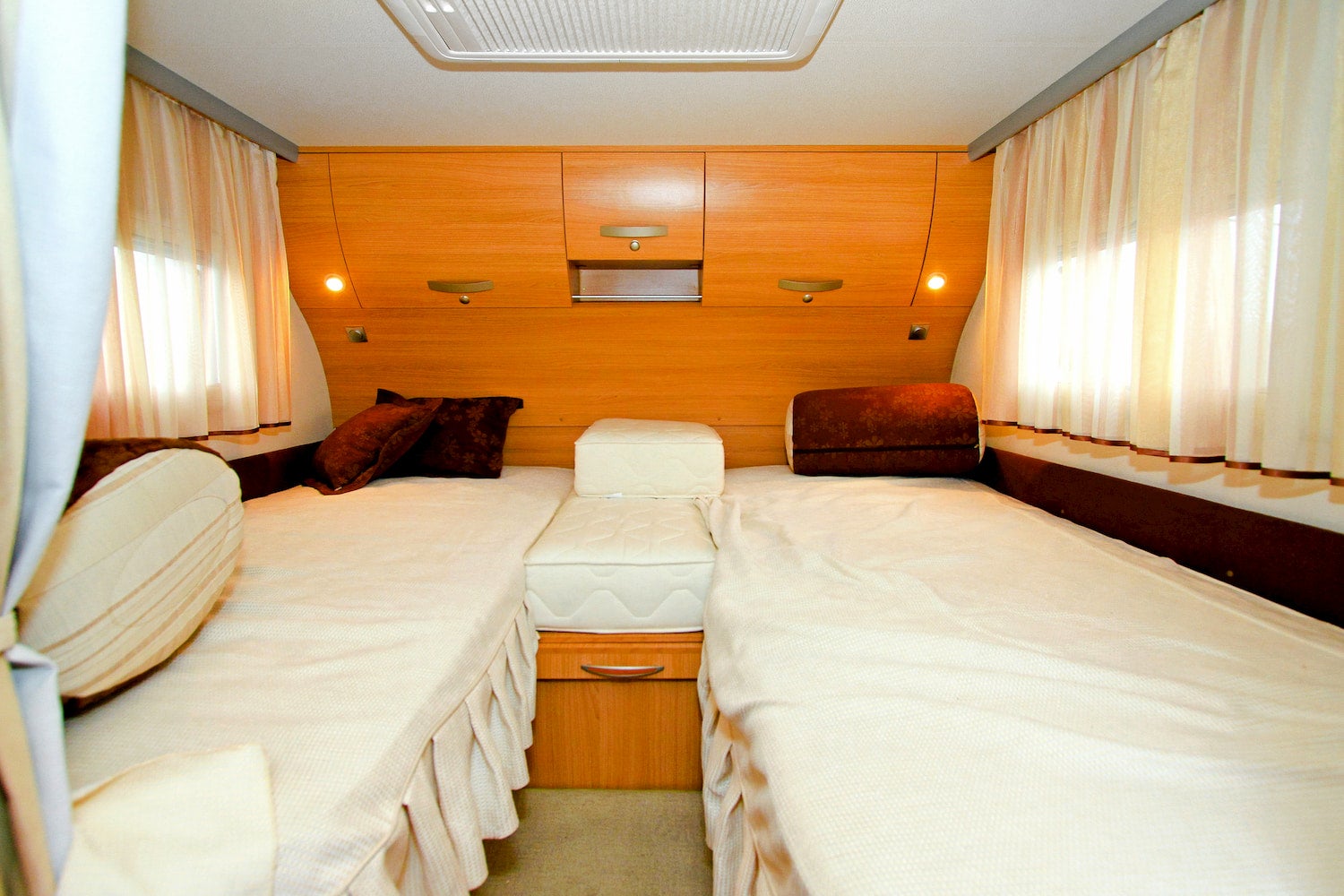 Having a comfortable bed means you'll get a good night's rest. Your first step before buying an RV bed should be to decide if you'll have a dedicated area for a bed in your RV or some kind of conversion.
If you already have a separate area for sleep, a memory foam mattress topper may provide a substantial upgrade. If you are using a residential mattress, or any furniture that is not expressly made for an RV, check the weight limit of your vehicle to make sure you're not exceeding it with additional pieces of furniture.
If at all possible, especially with beds, try out the new piece in person. It is worth it to see if your height fits the mattress or if it can accommodate two people comfortably. If you can't see the bed in-person before you buy, read all the reviews available and speak to a salesperson about the details.
3. Sofas and Sleepers
For non-dedicated sleep areas, sleeper sofas make great convertible pieces of RV furniture. A sleeper sofa or jackknife bed transforms your living space into a guest bedroom in the evenings so you can have friends and family travel with you while still maintaining a sense of privacy.
If you install a new sleeper sofa, secure it to the RV floor for safety. If you don't want to anchor the sofa permanently, you can use furniture tie-downs and bungee cords to make sure the couch doesn't skid across the cabin in a tight turn.
Some sleeper sofas explicitly made for RVs cost over $1,000, but you can find some, with handy storage compartments underneath, for as low as $500.
4. RV Dining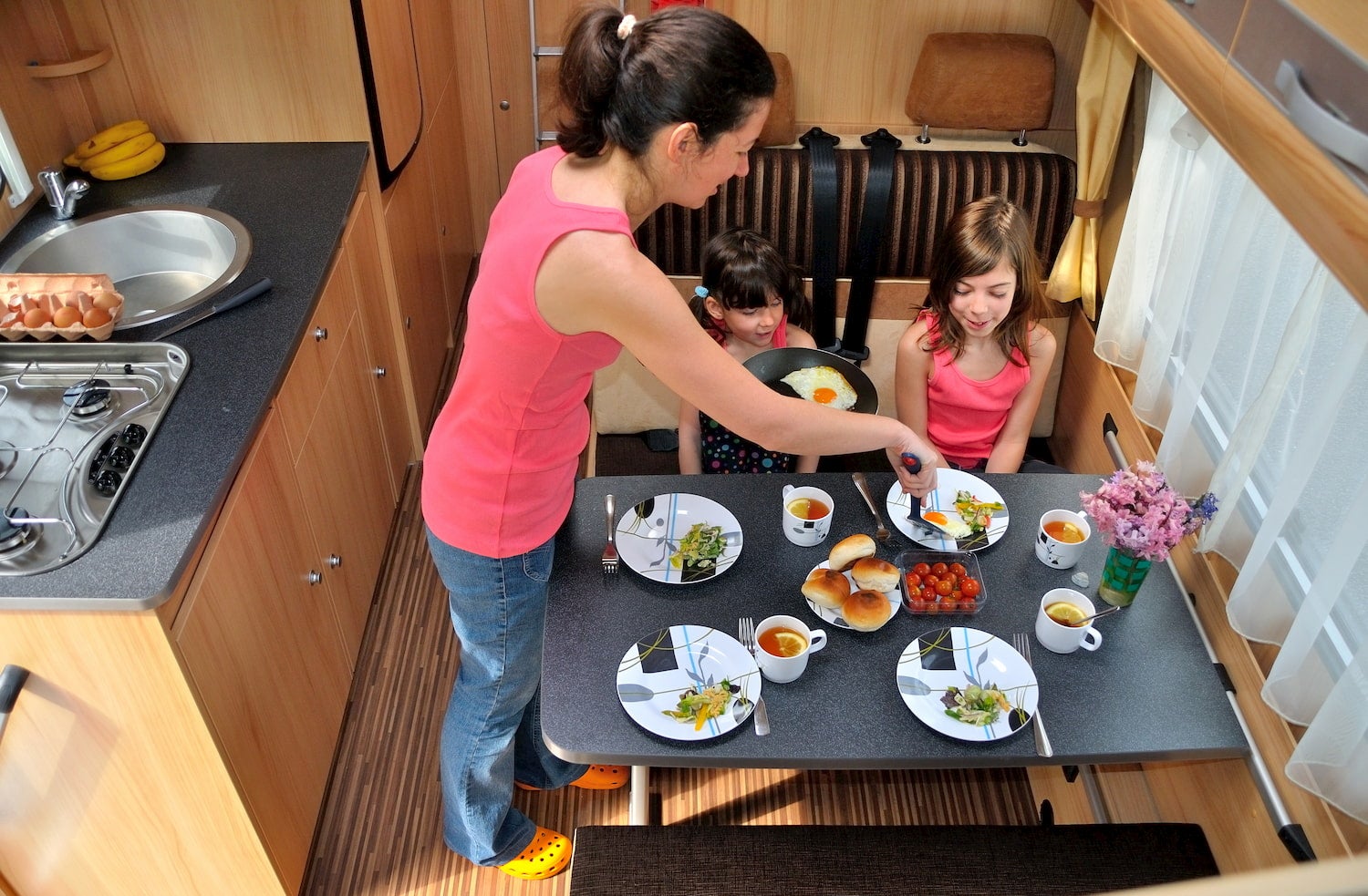 Meals are a focal point when you're camping in the wilderness for long periods, and RVs or travel trailers can make the process simpler and quicker.
Many RV-specific stoves have only three burners to make more space. Fortunately, there are ways to make the limited space of an RV kitchen into a more spacious, culinary preparation area.
A sink angled at a diagonal angle to the general direction of the RV lets the user stand up straight and not have to hunch while washing up. Storage areas with hooks or latches provide a pantry, making sure none of the foodstuffs make an emergency exit in transit.
A primary consideration when you're outfitting the kitchen is how to keep mice out of the RV or camper. Check the storage areas and cabinetry to make sure they're well-made and have tight seals to discourage varmints from getting into your stores.
Popular Articles: