One piece of gear can make or break a camping trip.
Which is why I've written odes to camping gear and sung their praises around the campfire. What you pack matters and can have a profound impact on your experience. So much gear has come and gone through my closet, but I've clung to one item for much longer than most.
The REI Half Dome 2 Tent ranks among one of my most beloved pieces of camp gear. Together, we've toured Italy, Spain, Mexico, and Canada, and we've camped all over the United States.
Since the REI Half Dome 2 became my go-to car camping tent, it's gone through multiple iterations. So first, I'll review the pros and cons of the older version of the Half Dome, which is what I still use. Then I'll touch on the improvements and updates to the latest Half Dome which you can buy on REI shelves today.
Car Camping with the REI Half Dome Tent
We're not avid backpackers, so my husband and I have used the tent primarily for car camping. On almost every occasion, we've camped at established primitive campsites and have never used a footprint to protect the floor of the tent.
We've camped on beaches, the slick rock and red sand of southern Utah, atop twigs and rocks in the Uinta-Wasatch-Cache National Forest, in the Colorado Rockies, and more.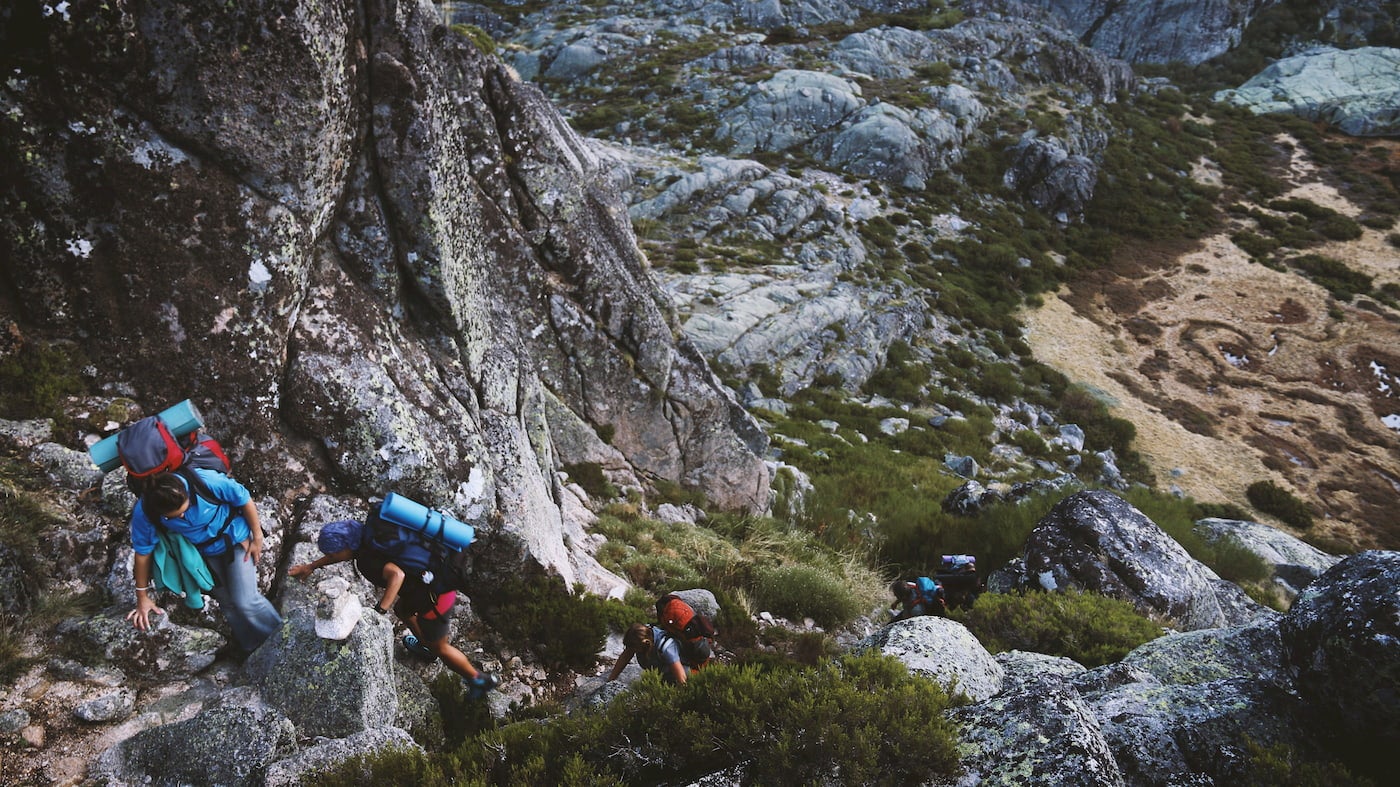 According to the REI website, this tent is primarily used for backpacking. I personally wouldn't bring this tent on an epic thru-hike or any backpacking trip longer than five or six days, only because I know there are lighter weight tents that can do the same job.
My REI Half Dome 2 weighs 5lbs 5oz which makes it a contender for backpacking or even thru-hiking trips, but ideal for car camping.
That being said, others have used the REI half dome tent for bike touring, yakpacking, and mountaineering, so any application can work as long as you're willing to pack the weight.
Set-Up and Features of the REI Half Dome Tent
Tent Set-up
Three poles create the spine of the tent and each end corresponds to the correct color for the pole peg on the tent. The poles on the Half Dome are external, so once you've placed the poles in the pegs, the external hooks connect the tent to the poles. The external frame means you can either camp alone or let your partner get started with dinner while you set up camp.
The poles are quick connecting so with a whip each piece snaps into place for a seamless setup. Each time I pitch this tent, I think about all the years I spent as a kid trying to shove tent poles through narrow nylon tubes, which inevitably got stuck, and in the process of trying to straighten things out, two sections would disconnect and I'd spend tedious moments trying to push-pull the poles from the shaft.
With the Half Dome tent, those days are long gone.
Features of the Half Dome 2
With two doors and two spacious vestibules, my husband and I have our own space in the tent to organize our gear, take off our shoes, and get our sleeping area ready without clambering on top of each other. The two doors are especially important because middle-of-the-night backcountry bathroom breaks are frequent.
The ripstop nylon floor of the tent has stayed intact after camping on sand, in rocky outcroppings, and the slick rock of Southern Utah's desert. However, the mesh upper has begun to wear, leaving micro holes where the mesh and nylon meet, as well as near the top of the tent, where the poles come together. This is to be expected, though, after nearly a decade of use in both mild and extreme conditions. These holes are also easily reparable with a mesh repair kit from MSR.
There are plenty of internal pockets in the Half Dome including personal pockets on all four corners near the head or foot of your sleeping bag, and two upper pockets offer additional space for books or headlamps.
If you're looking for additional light, there's a gear loop at the center point of the tent where we like to hang a mini-lantern (like the Orbit Lantern from Black Diamond). For us, this gear loop has proven crucial for bad weather or buggy nights when it's easier and better to stay in the tent playing a game of rummy or cribbage than to reminisce around the campfire.
REI Half Dome Tent 2 Rain Fly
By adding the rainfly our tent becomes substantially warmer–an aspect that's especially important when camping in the extreme shoulder seasons of early November or late February. We've also used it to protect us during a freak sand storm in Red Rocks. But it's also bulky and thick. After we stuff it, it comes out like a crumpled piece of paper.
2018 Updates to the REI Half Dome 2 Tent
In terms of updates, the rainfly has probably come the farthest. In addition to less weight, the rainfly also has two guylines to keep the entryway taught and maintain moisture flow away from the vestibule. This additional guyline also creates more floor space in the entryway if you like to keep your packs out of the tent, but protected through the night.
The 2018 version of the tent cut 4" from the length of the tent, and REI added a PLUS version to their line for taller folks who don't want to wake up with condensation on their toes. That 4" didn't disappear, though. Instead, REI added more interior space so your stuff stays organized and you won't feel as crowded once Fido jumps in for the night.
In addition to the loss of 4", the tent also lost about 3oz in trail weight. A minor victory which could mean the difference between a three- and four-day trip.
How to Clean & Repair the Half Dome 2
After a particularly dusty or sandy outing, the REI Half Dome tent can be cleaned by simply opening each door, grabbing the at the intersection of the poles, flipping it over, and shaking it out. Make sure to move it all angles for any residual build-up in the corners.
If your tent needs a little more deep cleaning, you can set it up in the backyard and wash with liquid hand soap and warm water then leave it to dry in the sun. You should never use detergents on tents because they can wear away at the coating, fabric, and seams.
In terms of repair, there are options for almost any type of repair from pole shaft repairs to mesh and nylon repairs. Tenacious tape offers an easy-to-use line of quick repairing tape you can add to certain types of material. I'd recommend tenacious tape for the bottom of the tent and their Gore-Tex patch for any holes on the rainfly.
Conclusion: The REI Half Dome is Still Our Go-To Car Camping Tent
Overall, the incredible durability of this tent make it one of my favorite pieces of gear. The entire mesh upper cuts weight and the three poles (two long, one short) are easy to use and quick to set-up, turning the job of tent pitching into a solo gig.
After ten years of extensive use, it's more than stood up to the challenge
REI has since expanded their tent line, and I have my eyes on the Quarter Dome SL 2 as I get more into backpacking. If weight is important, and you're embarking on long-term thru-hikes, I wouldn't recommend the Half Dome, but for those of you just starting out, or who like to car camp, the REI Half Dome is the best tent, hands down. Buy Now: $179-329
---
Our recommendations are based on providing value to campers across the country. Some articles may contain affiliate links. By purchasing through our articles, you help support this camping magazine.
Popular Articles: