Standup paddle boarding (SUP) seems like a newish craze. We were surprised to find that it actually has a very long history. In fact, the first standup paddle boarder embarked on a standing voyage more than 3,000 years ago.
Today's standup paddle boards have come a long way since fisherman in ancient Peru were standing atop bundles of reeds.
Fast forward a couple millennia to the early 2000s. Standup paddle boarding went mainstream when surfers in Hawaii started cross-training using SUPs while the surf was out. Since then, it's developed into its own water sport with a variety of different SUPs available for different purposes, including racing, fishing, taking waves, and more.
Like surfboards, standup paddle boards are big and often heavy. Which makes lugging one to the ocean or the lakefront campground a pretty serious commitment.
That is, until the inflatable standup paddle board was born.
The iSUP is WaSUP
While SUPs have come a long way, and are very maneuverable in the water, most are still rather large and awkward to transport. But having fun in the sun and on the water is a great way to enjoy a summer campout. That's why Body Glove's portable iSUP is a great option for those who want to standup on water, but don't have room in their car to lug a gigantic board.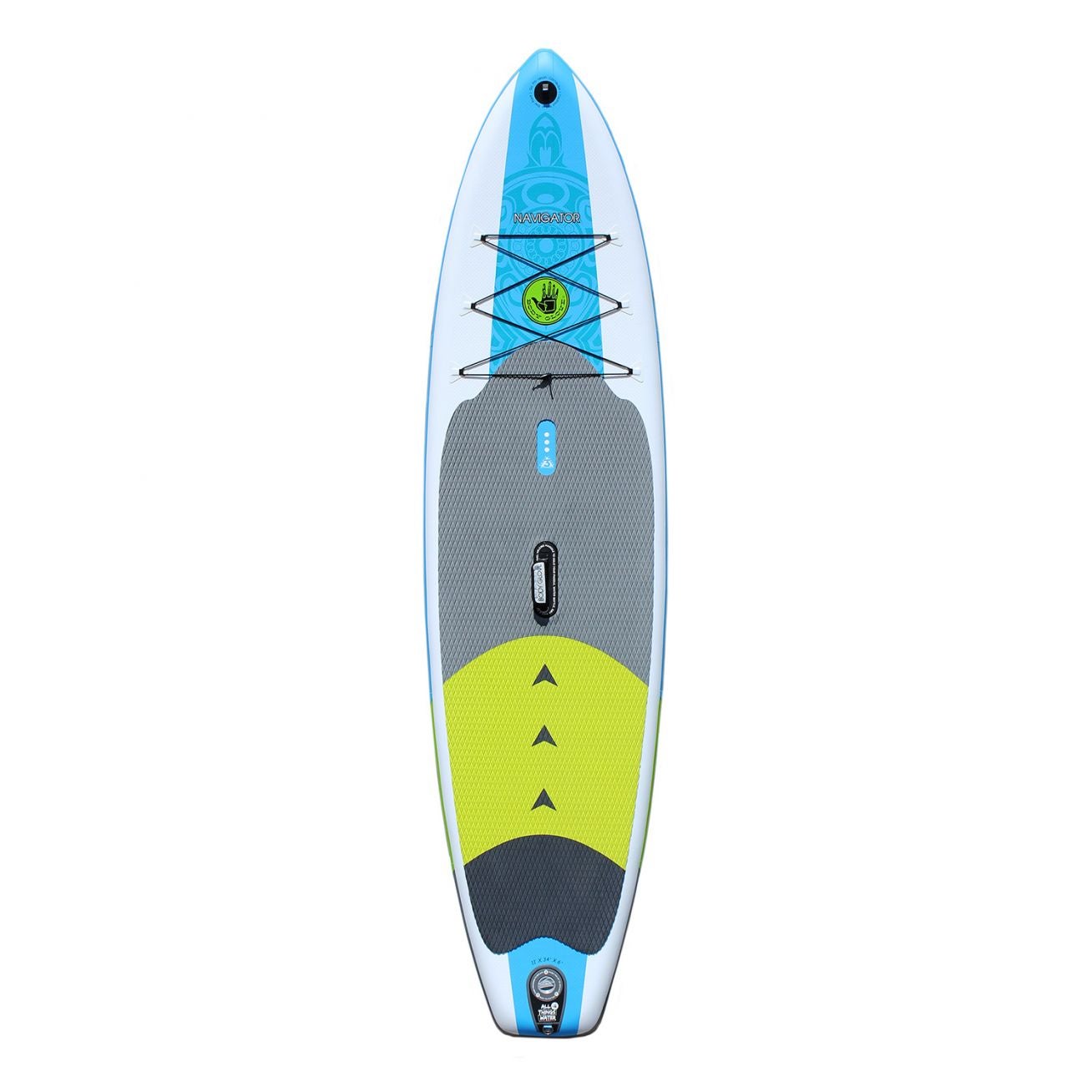 The iSUP is inflatable and packs down into a comfortable, durable backpack, weighing in at 25 pounds. With that much weight, you won't be backpacking to high elevation alpine lakes, but you will be able to car camp and enjoy it in a nearby lake or river. These aren't only perfect for camping, but a great option for day trips as well.
Though inflatable, don't be fooled, this SUP is stable and rigid, which makes it great for most bodies of water. Once it's blown up, it sits long in the water at 11 feet, and is great for beginner and advanced SUPers.
So how does it work? It is easy. Just throw your iSUP backpack in the trunk of your car with all of your other camp gear. Don't forget to throw the paddle and pump in as well. Once you want to take the SUP out for a spin, simply pump it up until it's firm. The dual action pump makes the whole process much faster, so you can spend more of your time out on the water.
This video shows you just how easy these iSUPs are to use:
Pretty Places to Take Your Portable iSUP Paddle Boarding
The location you SUP makes a big impact on the experience. You can take your iSUP out for a spin on an alpine lake if you are looking for something more relaxing. Or head out onto a river if you want more of a fast paced adventure.
Here are some places that are pretty rad to take your iSUP out for a spin:
Lake Tahoe, California
While you might not be able to easily backpack somewhere remote with your iSUP, you certainly can take your iSUP out on the largest alpine lake in North America: Lake Tahoe. The lake's water is a clear cerulean blue that exposes large rocks and wildlife below.With beautiful views of the Sierra Nevada range and clear waters, you'll have plenty to gaze at during your ride. It's quite the sight to behold. Camp Near Here
Black Canyon, Nevada
Who would have thought that within an hour of Las Vegas, a beautiful dark canyon separated by the Colorado River was waiting to be explored? The Black Canyon Water Trail is a 12-mile stretch of river, where kayakers and SUPers alike can paddle amongst the impressive Hoover Dam and jagged canyon walls. Traffic to the canyon is regulated, so you'll need to plan ahead to ensure you have a permit for the trip. Camp Near Here
Florida Keys, Florida
Spotting wildlife while you're on an adventure enhances the outdoor experience. The Florida Keys are a perfect destination to get your aquatic wildlife sighting in, especially from an iSUP. Near Key West, you might get the chance to see manatees, stingrays, octopus, and a vast array of fish species. The water is so clear that little will obstruct your view. Camp Near Here
A SUP is Always a Good Idea… if You Like Water
All of these places can be explored and enjoyed with and from your iSUP. That's why you can't go wrong if you add one to your paddle boarding gear collection. If you're interested, check out Body Glove's many portable iSUP options, and be ready to traverse rivers, lakes, and oceans. Learn More
---
You can win free gear from Body Glove and 19 other outdoor brands by reviewing campgrounds on The Dyrt. Share past camping experiences, photos, and videos to earn points towards monthly prizes in The 2018 Great Camping Giveaway!
Popular Articles: