Do you love campfires, but sit there freezing, trying your best to enjoy it while everyone else seems to be having a great time?  Do you love to watch the sunrise or stargaze on a clear autumn night, but can't get warm enough to enjoy it for more than 10 minutes?  Do you love to camp during the "no bug season," which also equates to temperatures below 40 at night?  Well then, we already have something in common.
Staying Warm as A Full Time RVer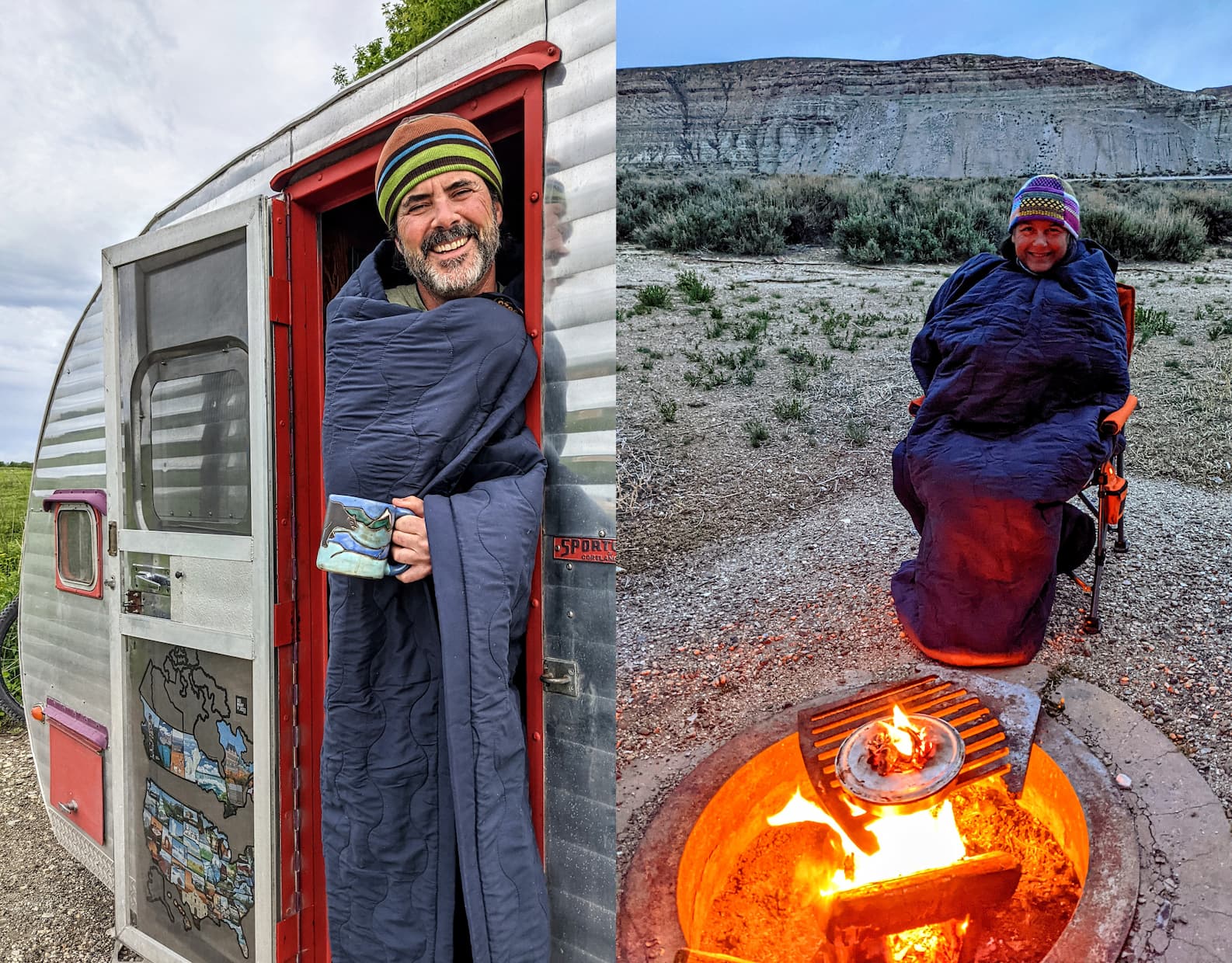 As an active full-time RVer for the past 9 years, I love being outside.  I spend most of my days hiking, paddling, and cycling outside and I thoroughly enjoy being active when it's cold.  But just sitting in the cold is simply painful for me.  I do jumping jacks, drink hot chocolate, run in place, wear down booties, and even run around the campsite to get warm…then finally retreat to the camper when the weather gets the better of me and I just have to warm up.  While this is the beauty of having a camper, I always feel like I'm missing out on something amazing, especially when the sun goes down so early from October to March.
A couple of years ago, I looked everywhere for a 12V cordless heating pad — something that I could easily charge off our solar system battery, and use outside for a couple of hours when it got too cold.  I came up empty after a relatively extensive search.
The Cozee Heated Blanket
Just last month, I was introduced to a product that has changed all of that.  The Cozee Blanket takes it three steps further than just a heating pad!  It's a full-sized, very warm and fuzzy comforter (warm just by itself!); but with the additional surge battery, it's my new happy place.  It's got "hand pockets" to wrap yourself up, or you can just tuck it around your body to block the wind and keep your feet warm.  It comes in its own tote bag, so it's easy to handle and stays organized and clean in the trunk or back of the car.   
Now I can be warm while watching the sunrise, staying long after the sun sets to get the real show Mother Nature provides, sitting around a campfire, and star gazing.  It's also great for those afternoon naps in the hammock when it's just a little bit too chilly to hangout without a blanket.  Is it ok to be 50 something and still have a favorite blankie?
Last week, a cold front was moving through and it was rather chilly in Hamlet when I woke up early to work on some writing.  It wasn't cold enough in the camper to turn our main heat on, but the Cozee took the chill off quickly and kept me warm while I finished up some blogs and campground reviews for The Dyrt.  The heat lasts just over 2 hours, or more if you use it on a medium setting.  The blanket stays warm long after the battery drops off, especially if you're not out in the wind.   
I could even imagine using it on a boat or even while watching an outdoor sporting event.  The more I think about it, the more uses come to mind!  P.S.  Of course, my husband thought this blanket was a bit silly at first, but as you can tell from the pictures…I'm glad we have two!  I knew he'd be secretly envious and trying to snag this blanket.  
How does it work?  We charge up the surge battery pack off our camper's solar battery or while driving (using AC or DC), then enjoy as much time as I want outside when it's cold — sans electrical cord!  If you live like we do with solar as your main source of electricity, you may be more concerned about the energy it takes to charge.  It takes about 6 hours to fully charge up and uses about 150 total watt hours.  The most efficient way we have found to charge it is to use our 12V utility port while driving, then just top it off in the camper with 110V AC power.  Or, we just charge it up when our house battery is completely full and we still have sun on our panels during the day.
The Cozee Blanket was designed by Paul and Carolynne for their daughter Brianna (aka Boo), who loves to be outside and "go all around." Brianna was born with Cerebral Palsy, giving her poor circulation, so she is uncomfortable being in her wheelchair outside when it's cold.  Their story is truly as warm as their blanket!
Popular Articles: