Creating flavorful, clean meals can be a challenge whether on the trail or off; but the engineers-turned-entrepreneurs behind Oomph Cooking Blends realized it doesn't have to be. Pairing simple ingredients with elevated palates, Oomph's dehydrated, milled vegetable and herb blends make for an ideal addition to a nearly-gourmet meal, and just as easily can play the central role in your thru-hiking meal plan.
These Dehydrated Cooking Blends Are Any Thru-Hiker's Secret Weapon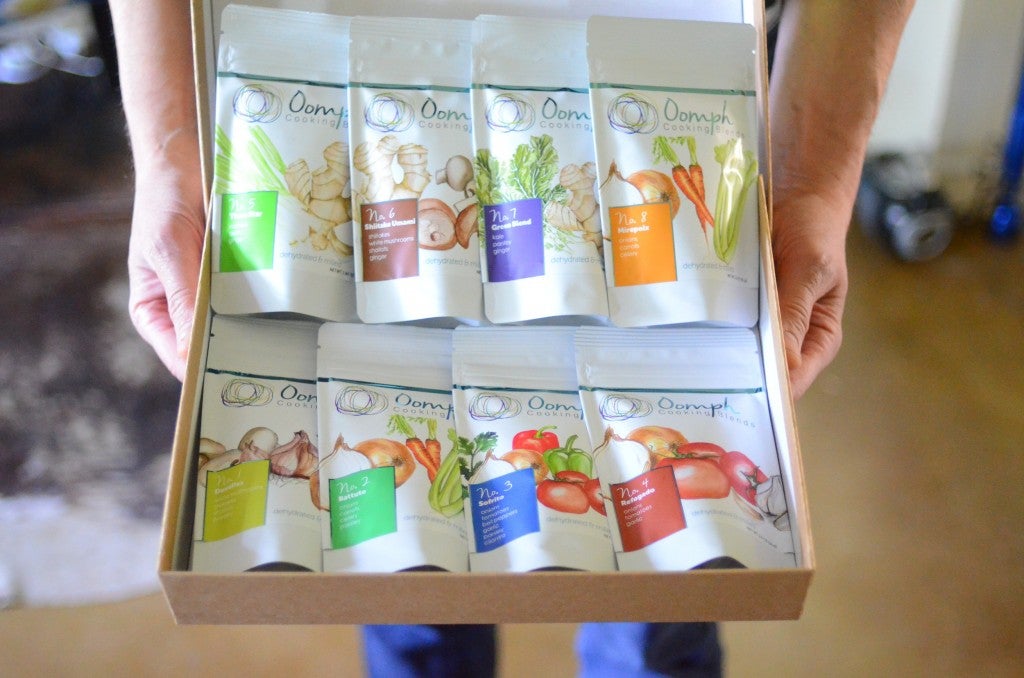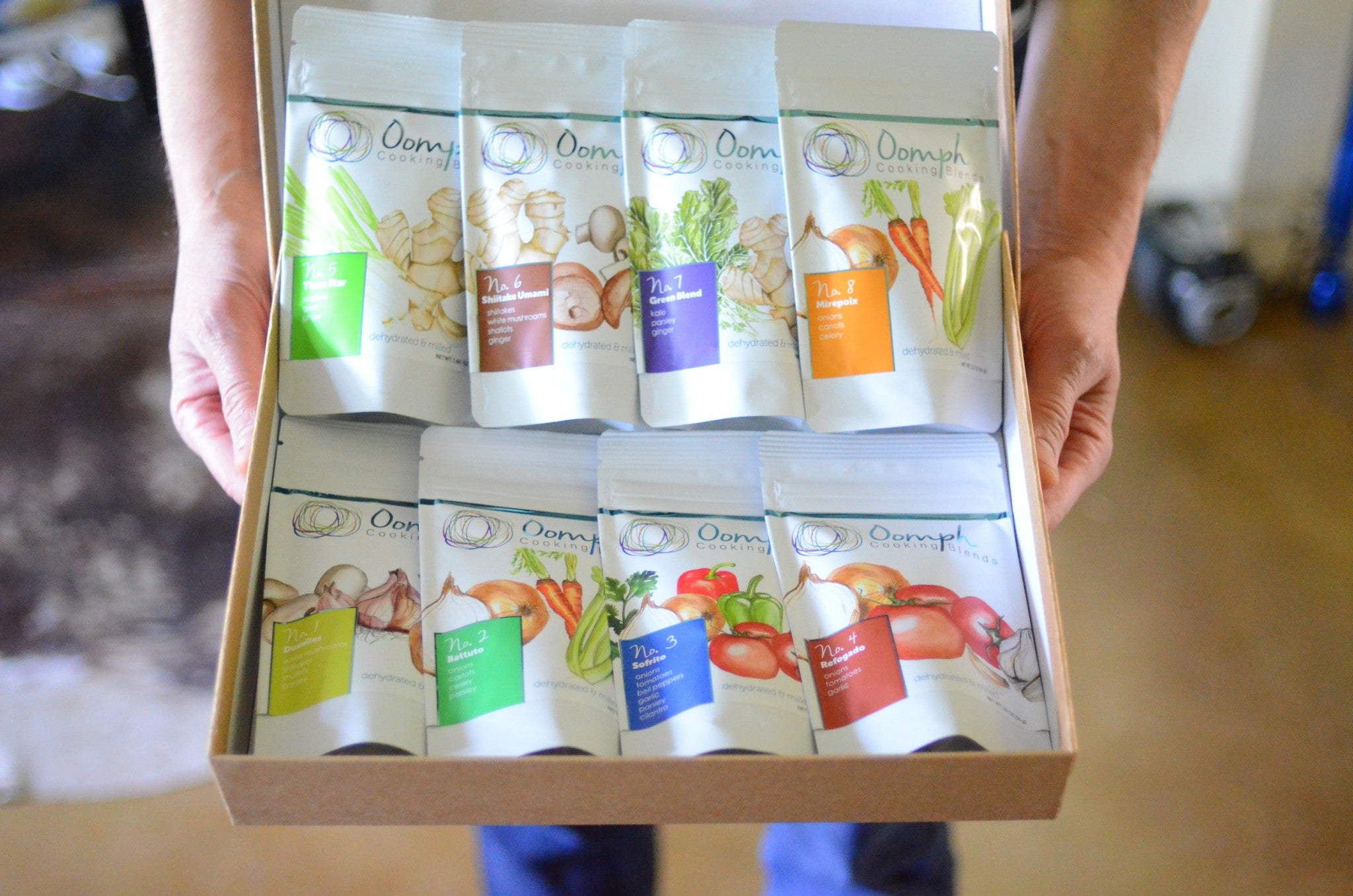 It was the combination of a passion for home cooking and a journey to ease their daughter's allergies that led founders Christine and Michael to the idea. Through following a stricter diet, innovation was bound to happen; tools like a dehydrator played a key role in the way they experimented with their meals, which led to the inception of Oomph.
"We believe in the power of tasty, nutritious food. Oomph allows anyone, anywhere to create a nutrient-dense yummy meal or snack. Our blends offer empowerment and inspiration to cook more, eat healthier and learn about healthy ways to build flavor." —Oomph co-founder Christine Janae-Leoniak
Their line of eight different blends packages, each containing a balanced amount of dehydrated herbs and vegetables, feature pairings that bring flavors of the nation's top restaurants to an accessible frontier. Adding just a teaspoon of their Mirepoix, Shiitake Umami, or Sofrito blends will add the perfect balance to spice up your dish, without having to use any actual vegetables (adding 1 tps of any Oomph blend is equal to adding 12-15 tsp of fresh veggies and herbs!)
These blends don't just serve home cooks; backpackers and campers alike can easily upgrade their outdoors meals. Add a teaspoon or more to water or broth to make a flavor-packed cold soak ramen or a base for any backpacking meal you want to elevate—even PCT hikers recognize their facility on and off the trail.
You can find all eight of their blends available for purchase in Portland area stores, and online on their website. Below, we've included a recipe idea from the Oomph site for easy, delicious deviled eggs using their Mirepoix blend.
Mirepoix Deviled Eggs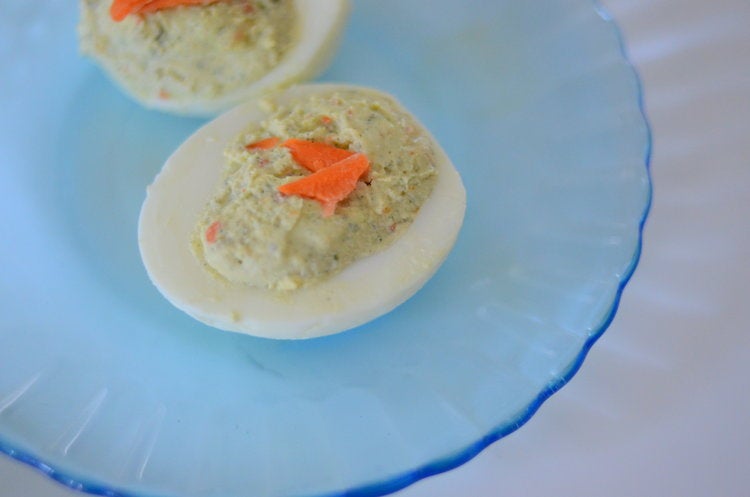 prep time: 10 min
cook time: 15 min
total time: 25 min
Servings: 6 – 12
Ingredients:
6 hardboiled eggs
1 heaping tsp. Oomph Mirepoix
1 Tbsp water for blooming Oomph
1/4c. Mayonaise
1 /2 tsp mustard
1 tsp. vinegar
Paprika or fine grated carrot
Salt and pepper to taste
Instructions:
Bloom Oomph: in a small saute pan add 1 Tbsp. water with Oomph Mirepoix, warm for 30 – 45 seconds while stirring. Let sit for 2 min.
Peel hardboiled eggs and slice in half.
Remove yolks and place in a bowl and smash well with a fork.
Set whites in a circle on a pretty plate.
Combine mayo, pinch of salt & pepper, vinegar, mustard and bloomed Oomph to the yolks and mix until creamy.
Fill halved egg whites with mixture and top with a sprinkle of paprika or finely grated carrot for garnish.
Refrigerate or serve.
Popular Articles: