The team behind MPOWERD, makers of the first inflatable solar light, have launched a fundraiser to help deliver solar-powered lights to victims of Hurricane Dorian. A ten-dollar donation provides one solar-powered light to a person facing the aftermath of this destructive storm, which has already left communities in the Caribbean without power.
"Preparedness is more important than response," says John Salzinger, co-founder of MPOWERD. He emphasizes that for those who could potentially be in the storm's path as it makes its way up the East Coast, getting out of harm's way is still the priority. "But we're ready to respond."
Hurricane Dorian has already devasted the northwestern Bahamas. Dangerous storm surges now threaten Florida, and the Carolinas are braced for potential landfall.
MPOWERD is working with on-the-ground teams to deliver lights to those along the path of destruction.
Donate Now
MPOWERD Provides Power for Those in Need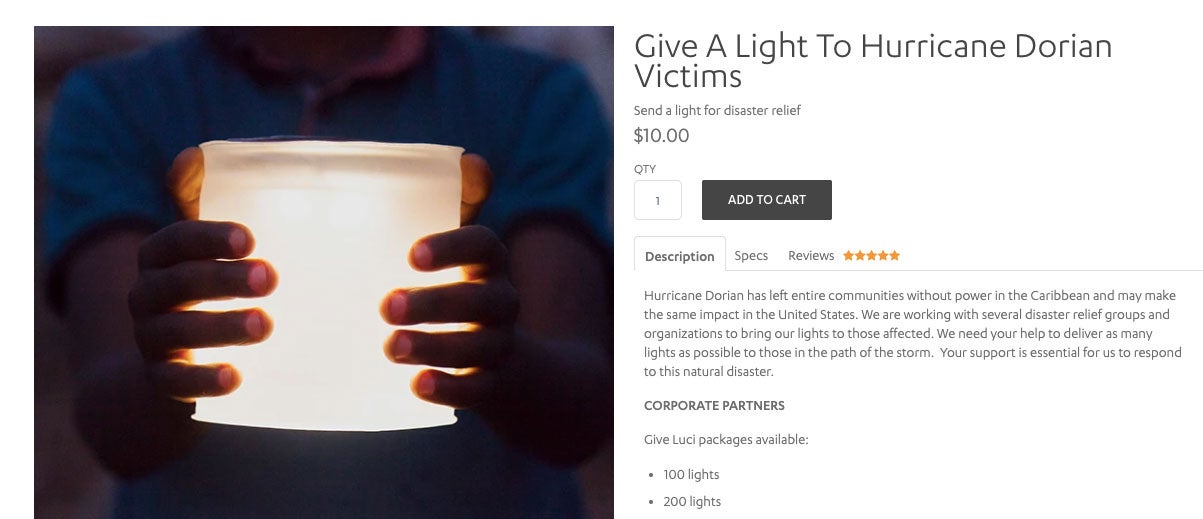 MPOWERD's Luci lights provide two essential needs for those facing a storm like this one: light and communication. The Luci light can be solar charged or plugged in, and it features a USB outlet that can charge a cell phone. When the Luci light is fully charged, it provides up to 50 hours of illumination. Having both a light and a cell phone can be vital for those who are stranded and trying to reach family, friends, or first responders.
MPOWERD was founded in 2012 with the mission to make "an affordable clean energy product that people could use in any situation." By relying on retail sales in more developed locations, they're able to maintain a sustainable business model that keeps manufacturing costs low and provides lights in developing communities without power and those facing emergency situations such as this one.
Partners that help MPOWERD put Luci lights into the hands of those who need them include The Walmart Foundation, The Red Cross, Amazon Disaster Relief, Sunlife Financial, and many more.
Donate $10 today to help victims of Hurricane Dorian.
Donate Now
Popular Articles: