The Dyrt Ranger Erik F. recently upgraded from his old waterproof jacket to the Garamba Waterproof Hardshell Jacket from Mishmi Takin and took it out for a field test in Colorado. He camped at Springer Gulch Campground, a popular spot in Eleven Mile Canyon not far from Colorado Springs.
A Dyrt Ranger Puts the Garamba Jacket to the Test in Colorado
Over the long weekend, Erik camped, hiked, and fished while wearing the Garamba. 
One of the most important features of any waterproof jacket is the fit. If it's too big, the baggy fabric will get in your way. If it's too small, it will feel uncomfortable and restricting. The Garamba, however, fit Erik just right, no matter what activity he was doing. Part of that is thanks to the adjustability in the hood, cuffs, and hem, which allow you to find the exact right fit for your body. Erik also liked that the jacket felt sturdy. "The material feels more durable to the touch compared to many lightweight hard shell jackets," he reported. "I'm not afraid to wear it on trails with dense growth."
All in all, the Garamba worked perfectly on its Colorado field test. It held up to tree branches and brush on trails. Erik felt comfortable during a variety of activities, and he appreciated the breathable protection from the elements.
"The jacket was an upgrade for me from my old waterproof jacket and I'm much happier with it," wrote Erik.
About the Jacket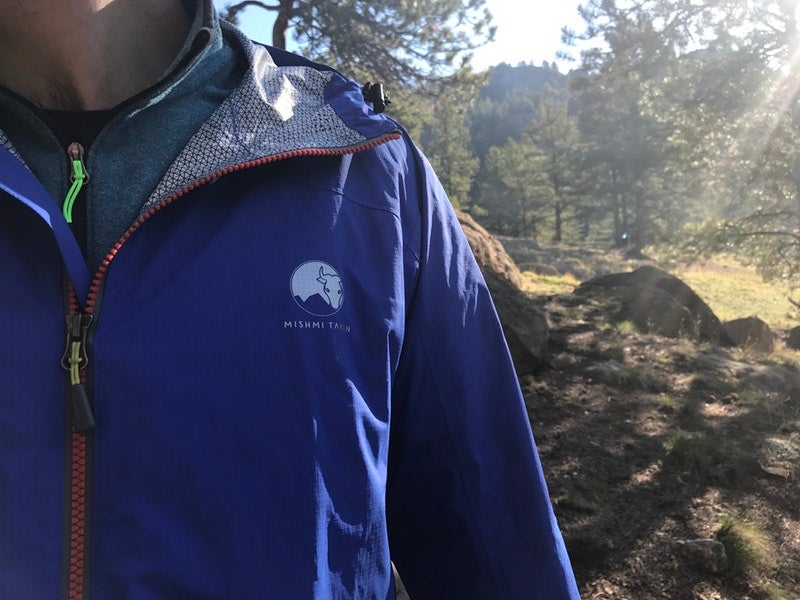 The Garamba jacket from Mishmi Takin is incredibly versatile. First of all, it's made of ripstop nylon which you can pack down into one of its own pockets. It's also lightweight, which makes it perfect for conditions that are hot and wet, but there's also plenty of room to add layers underneath for colder weather. Plus, it has laser-cut vents in the front and back as well as pit zips, which you'll appreciate while you're running, hiking, or biking.
What really makes this jacket a Mishmi Takin classic, though, is the eVent waterproofing. This technology is revolutionizing the outdoor gear industry by allowing us to create fabric that is 100% waterproof but also highly breathable. Because of eVent, the Garamba is waterproof, windproof, and also sweat-wicking, which makes it ideal for just about any outdoor activity.
Looking for a jacket that you can take anywhere made from materials that will last through years of adventure? Try the Garamba Waterproof Hardshell Jacket today. You'll love the style, the breathability, and, most of all, the Mishmi Takin quality.
Popular Articles: