No one enjoys the hassle of lacing up hiking shoes at the tent door, just to walk around the campsite. That's why the breathable wool and supportive cork-bottoms of Haflinger wool clogs have been a camping classic for decades. Known around the globe for their stylish and easy to slip on clogs, they've perfected the blend of comfy slipper meets durable shoe.
Add comfort to your camping trip with Haflinger's wool clogs.
As Germany's largest manufacturer of boiled wool, Haflinger's knows a thing or two about making quality boiled wool slippers and wool felt clogs. With over 50 years of dedication to craftsmanship and quality, this family-owned company has continued to evolve with new styles and designs. A small sturdy horse from the mountains of Austria not only inspired the name but also the hardiness and dependability of these shoes.
The Dyrt team traveled to the Outdoor Retailer conference in Denver to see the latest and greatest of outdoor innovation. But we gotta admit — spotting these very recognizable clogs was refreshing.

Haflinger has dedicated themselves to creating comfortable footwear that supports the natural function of your foot. With room for your toes to move freely, these clogs give your foot the movement it needs for optimum body alignment, posture, balance, and overall wellness. Their breathable boiled wool and wool felt allow your foot to breath preventing the unpleasant sweaty feet.
Lots of camping slippers, camping slip-ons, and outdoor to indoor shoes have emerged since Haflinger first debuted their wool clog. But this classic isn't going anywhere — because it works. Don't take our word for it… try out a pair.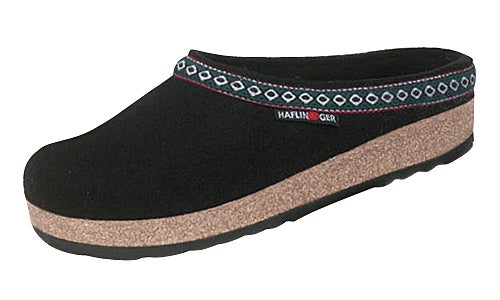 Buy Now
Popular Articles: