As the weather cools down, that doesn't stop us from continuing to seek out great spots in nature to stretch our legs and breathe in the fresh air. Fall is an excellent time to hike and camp, enjoy the colors of the season, and drink in these last, precious temperate days.
If you are camping or hiking this fall, you'll want to hit the trail soon. For easy planning, throw a few Wild Zora Paleo Meals To Go in your backpack or overnight bag. Wild Zora products—across the board—are hearty, filling, and yet truly healthy. For overnight trips, their Paleo To Go Meals offer a wonderful variety of healthy and affordable options.
Easy Meal Planning
Planning for picky eaters has never been so incredibly easy. Are you looking for meals that are nightshade-free, Whole 30 approved, or AIP? Well, look no further! Wild Zora has you covered. But you don't have to be following a specific diet to appreciate Wild Zora. The meals include vegan options, gluten-free, and carnivore-friendly options as well. Plus, all of them are easy to prepare and delicious. Like all good camping food, their meals and soups are boil-water-and-serve style. Most take less than ten minutes before you have a warming, tasty breakfast, lunch or dinner.
Camping with Wild Zora's Paleo Meals to Go is low-stress and cuts down on planning for group outings. Don't let the name fool you: these meals and snacks aren't just for diehard paleo dieters—but for all family members—from picky kids to rebellious teens and health food-skeptical octogenarians. The All Flavors Multi-Pack, for example, makes meal planning easy and effortless. In fact, this 7-pack of meals completely removes any planning from the process!
Wild Zora Paleo Meals don't use sugar, gluten, and overly processed ingredients. Moreover, the Meals To Go will keep you warm as temperatures dip, thanks in part to being chock full of spices like cinnamon, cayenne pepper, and turmeric.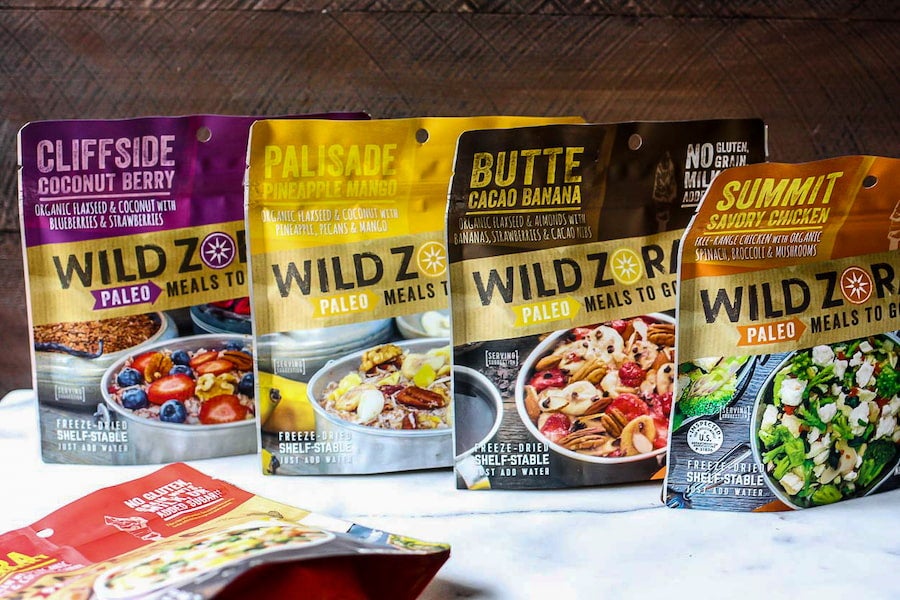 Wild Zora offers four lunch and dinner meal options, plus three flax meal options (for breakfast or lunch) to keep the whole family happy. You will also find a variety of tasty snack and soup options. Wild Zora snacks are only $2.65 each when purchased in bulk. All of their snacks are not only gluten, dairy, and soy-free but also nut-free.
With this wide menu of choices, Wild Zora is often the only food that families need to bring on camping trips. On weekend trips or even outings lasting up to a week, you can easily switch up your choices and have a different meal every night. There is no shortage of variety.
Or, if you find one meal that stands out—and checks off all the boxes for your dietary needs—you can stock up. For example, campers love Caldera Chicken Curry, which includes these simple and filling organic ingredients: free-range chicken, pineapple, spinach, red bell pepper, sweet potato, onion, and turmeric (to name a few). This bestseller is a complete meal.
The Best Ingredients to Warm Your Soul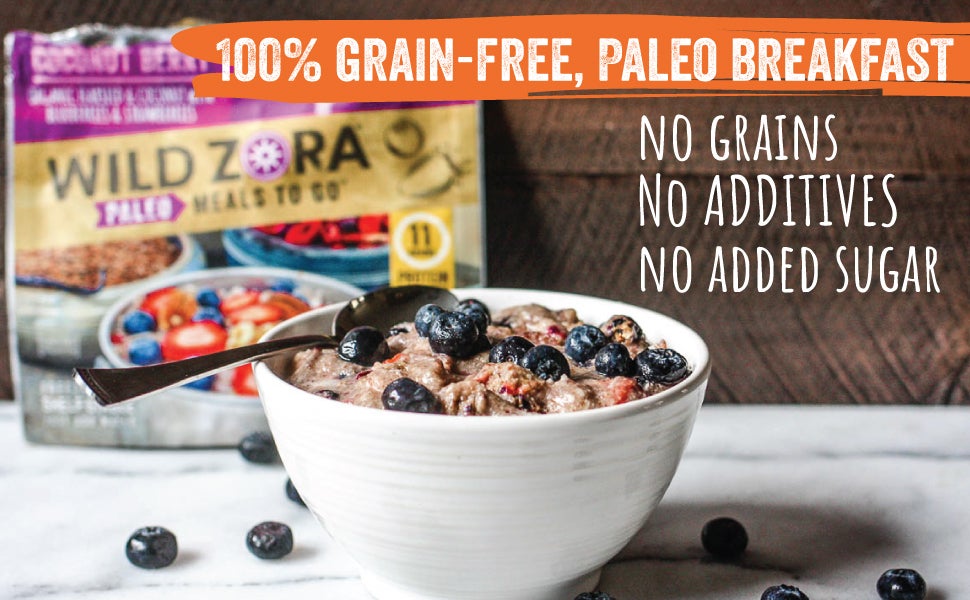 Wild Zora is dedicated to using only high-quality ingredients. Meals and snacks are full of organic grains, natural sources of sugar such as fruits, and unprocessed fats such as flaxseed. All Wild Zora foods are sustainably sourced. For breakfast, popular Cacao Banana keeps it sugar-free with flaxseed meal, almonds, bananas, almond flour, strawberries, mango, cocoa nibs, banana powder, sea salt, cinnamon, and vanilla.
Alongside having the healthiest ingredients, Paleo Meals To Go also avoid common food allergens, such as soy, egg, and wheat. (Most breakfasts do feature tree nuts, however).
In the fall and early winter, campers appreciate warming, filling meals. That's why Wild Zora has developed some wonderful options for those colder days in mind, such as Mountain Beef Stew. With a nice variety of veggies, this dinner comes piping hot with a meaty (not mushy!) texture and complex flavors thanks to the abundance of natural herbs.
Nature Lovers Love Wild Zora
Campers and health seekers are writing rave reviews about Wild Zora products, like this one from Triple Peak Wellness that helps demonstrate how easy it is to prepare their to-go meals. Their review features Cliffside Coconut Berry, one of the top breakfasts in the Paleo line.
Are you more of a grazer when you eat? You'll love the snack options that Wild Zora offers. For a full rundown on how these snacks stack up for hikers, check out this review on The Trek, which goes into plenty of detail.
Whatever you desire, you can't go wrong with a meal or snack from Wild Zora. Grab a few snacks, soups, and meals before your next outdoor excursion and enjoy—what just might be—our favorite season for camping!
---
Popular Articles: