The end of 2016 is here, which means it's time for an Official Buyer's Guide from every company you've ever heard of.
Buyer's Guides are funny. Each one is, in some way, biased: writers include brands they're personally drawn to, leave out brands they've never heard (for that very reason: they can't know what they don't know), and feature brands who pay them to be featured*.
We're going to do something a little different and explicitly call out our bias.
Every brand in this Buyer's Guide is one we've chosen to work with at some point here at The Dyrt. We've chosen to work with these brands because of their commitment to high quality products, serving the outdoor industry, and making it easier to get outdoors — a mission that unites us all. At the end of the day, they make adventures more attainable, and that's everything The Dyrt is about.
We've chosen to feature everything here because, knowing these brands intimately, we know these products have the potential to significantly improve your outdoor experience. This is, in part, necessary… there's no way to have an intimate knowledge of every product on the market, especially for a small (but growing) band of ruffians like The Dyrt.
Rather than pretend we know everything, we're going to focus on what we do know. The following products are good products. We know that, and we want you to know that. Without further ado…
TREDAGAIN – Sandals Made from Recycled Tires
TREDAGAIN is a new company out of Austin, TX that is changing the way we think about used tires. After a certain point, tires lose their tread and are no longer fit for the road. At that point, most people view these tires as "dead."
TREDAGAIN, on the other hand, looks at these tires and sees a wealth of resources that are still available. Namely, they look at the excess rubber, and they see the possibility to salvage that rubber — and turn it into new products.
And, with a process called "upcycling," that's exactly what they do. They take old tires, remove the rubber, process it, and turn it into new shoes. Their first line of shoes — all sandals — dropped in 2016, and they have a lot of exciting things planned over the next 12 months.
The sandals, at first, feel a bit solid underfoot. They are not the plush suede sandals that would be forever damaged if dropped in mud. No, these are tough sandals, which means they do take a bit of time to break in. And, once they do break in, they're going to be your go-to sandal for comfort alone.
TREDAGAINs currently cost $69.99 for all men's and women's styles, and you can get 40% off with the code DYRT40. See their full line here.
CRKT – Knives from World-Class Designers at Affordable Prices
A knife is a knife is a knife. Right?
CRKT would beg to differ. Each knife in their entire line of blades is individually designed by a leading knife designer or outdoor experts from the world over.
Whether a climbing knife designed by the world's top speed climber or a survival knife designed by one of the world's leading voices in survival, when you get a CRKT knife you know it is the real deal.
For The Dyrt readers, we're recommending one blade (and, if you're like me, it will become part of your everyday carry). That blade is the Homefront™.
The Homefront™ has CRKT's new Field Strip technology that lets you completely disassemble and reassemble your knife in the field. Check it out:
The Homefront™ retails for $150. Click here for more on the Homefront™ and Field Strip technology.
Green Goo – Give the Gift of Healthy Skin 
You all know you have dry skin. If you think you don't have dry skin and you're not actively doing something to keep your skin healthy, you're lying to yourself. That's especially true if you're active in the outdoors, exposing yourself to the elements on excursion after excursion.
Dry skin can be painful, but more often than not it's just a mild discomfort or has no feeling at all.
But the feeling of freshly treated dry skin is enough to make you realize that it's worth treating your skin right.
Green Goo lets you give the gift of healthy skin this winter with their Dry Skin Care Jar, a salve that is truly one of the best products on the market for keeping skin healthy.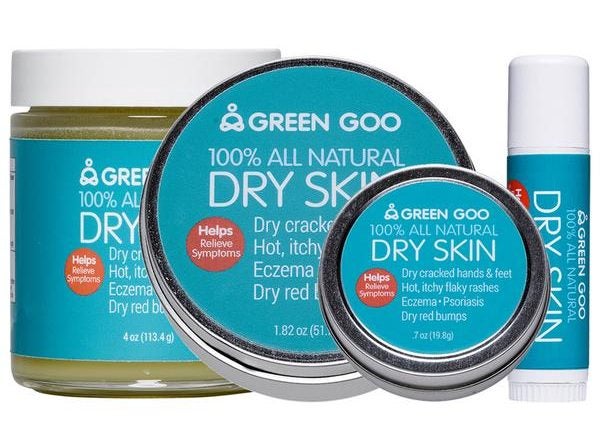 Green Goo uses natural ingredients and they are obsessed with high-quality products. If you watch how users respond to their products, as we do, you'll be consistently amazed by how much people love this stuff.
Their Dry Skin Care Jar retails for $19.95 and is also available in a smaller tin or as a roll-on travel stick.
Green Goo products are the best in the west. And the best in the east. For more from Green Goo, check out their full line of products and their own Holiday Gift Guide.
Leatherman – Spread the Multi-Tool Love This Season with a Classic
"Leatherman" is like "Kleenex" — just as people say Kleenex to refer to tissues, so too do people say Leatherman to refer to a multi-tool.
And there's good reason for that: Leatherman's multi-tools are the best around. With a multi-tool for almost every purpose, they are built as both a reliable partner in adventure and as a just-in-case "save-the-day" tool.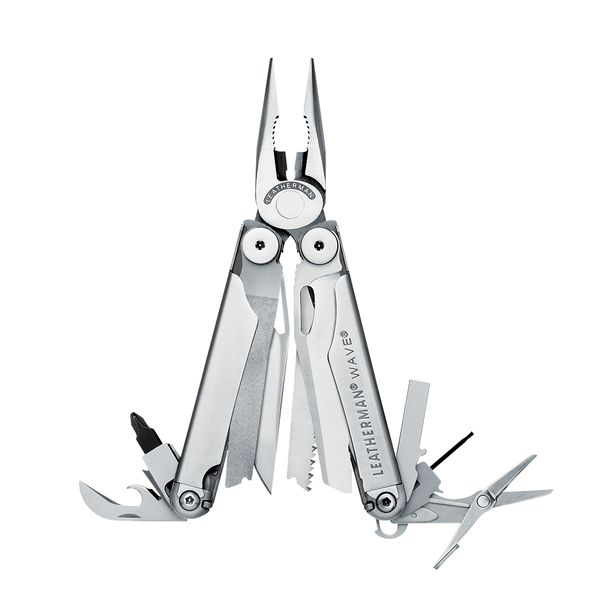 The most popular Leatherman is the Leatherman Wave, and it is a great gift for the anyone adventurous or industrious in your life.
Retailing for $90.85, the Leatherman Wave will come in handy for years to come.
BUFF® – Warmth Made Versatile
When the cold moves in, what do you grab? A hat, a scarf, a glove, the other glove, wool socks? One of those cool elastic behind-the-head earmuffs?
We grab a BUFF®.
BUFF® Headwear is a simple yet versatile way to stay warm. As a tube of fabric, you can wear it as a hat, a neck warmer, a face shield, an ear warmer — the possibilities are (figuratively) endless.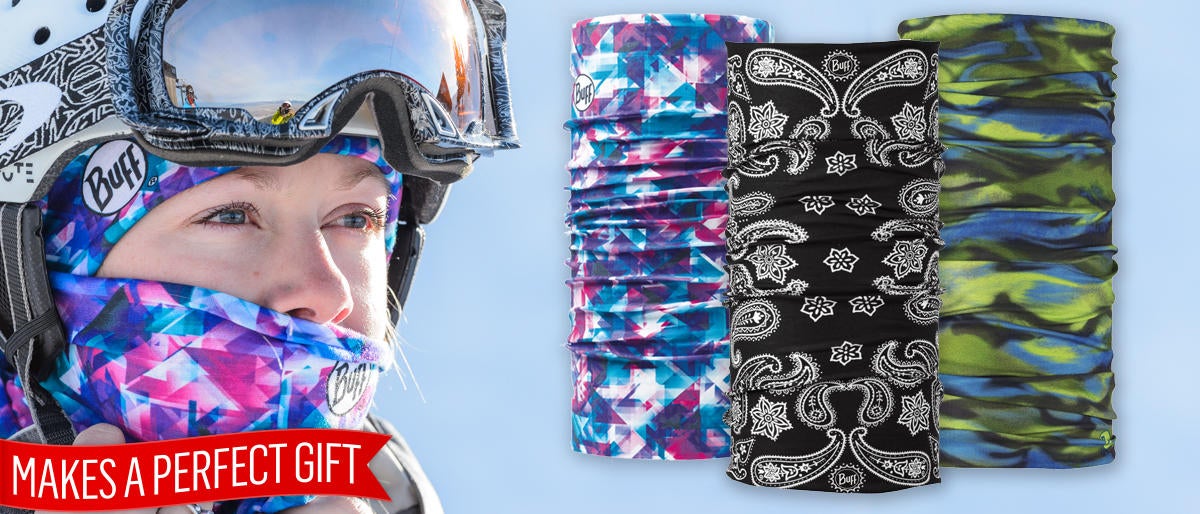 BUFF®'s retail right around $20 and go up from there.
Mountain Khakis – Keep Your Core Warm with Timeless Classics
Sweaters a blessing from above. They make the winter months bearable, and Mountain Khakis makes sweaters that not only keep you warm — they keep you looking good, too.
For women, we recommend the Old Faithful Sweater. It's a great layer to add to any set of sweaters, and its timeless style makes it a staple in your wardrobe for years to come.
The  retails for $124.95. Check it out here.
And for men, we recommend the Hideaway Pullover Sweater. With diamond ribbing and a classic pull-over design, the Hideaway Pullover Sweater is a great addition to any man's arsenal.
At $94.95, the Hideaway Pullover Sweater will live in your cold-weather wardrobe for years to come. Read more here.
Ninja Suit – Full-body Warmth 
Any cold-weather sports enthusiast will be stoked to get their hands on a Ninja Suit from Airblaster. Ninja Suits are like long underwear to the extreme — or perhaps like a onesie with a hood.
The Ninja Suit retails starts at $109.99 (Men's and Women's) and goes up to $189.99 if you want to get it in Merino wool (Men's and Women's).
prAna – Warm Times and Good Vibes 
prAna is a brand that holds positivity at the core of its mission. Focusing on activites like yoga, rock climbing, and travel, prAna knows what it means to have a good, wholesome life. And they make products imbued with those vibes.
For men, we recommend the Sherpa Crew sweater. A prAna classic, this do-anything go-anywhere sweater will be your top layer in fall, a go-to baselayer in winter, and the last layer you take off in spring.
The Sherpa Crew retails for $79.
For women, we recommend the Gotu Pullover. A blended fleece, the Gotu Pullover will keep you warm from the first frost to those warm summer nights. It's a perfect around-the-house winter layer, as well as an on-the-mountain baselayer. Wear it from the yoga studio to the holiday party and beyond.
The Gotu Pullover retails for $85.
Gregory Packs – The Perfect Backpack for 2017 
Since their inception almost 40 years ago, Gregory has been dedicated to making the best packs you can buy. Their motto: don't carry your pack, wear it. That is to say, a lot of packs are not made to fit as comfortably and as effortlessly as a Gregory Pack.
If you're looking to gift that special someone truly one of the best backpacking packs you can, look no further than the Deva for women or the Baltoro for men.
The Deva is perhaps the best women's pack on the market. Trusted by field guides and backcountry hobbyists alike, it will take you (and your overnight gear) where you need to go, and it will do so in comfort.
The Deva starts at $299 for the 60-liter pack and goes up from there based on pack size (comes in 60L, 70L, and 80L).
For men, the Baltoro is your cadillac of packs. Like the Deva, it is more expensive than some other packs on the market, but paying an extra $50 – $150 dollars for a Baltoro gives you a pack with a significantly longer life and more comfort than you would otherwise have. In the long run, the Baltoro is worth it.
The Baltoro starts at $299 for the 65-liter pack and goes up based on size (comes in 65L, 75L, and 85L).
Cotopaxi – Gear for Good and a World-Class Day Pack
The mission at Cotopaxi is one to admire. They are a certified Benefit Corporation, which means they have committed to creating a positive impact in the world:
"Cotopaxi has made a commitment to creating positive social impact. We focus our efforts on global poverty alleviation & give targeted grants to advance health, education, and livelihoods initiatives around the world."
One of our favorite Cotopaxi products is the Luzon del Dia, which is made by workers in the Phillipines who are given total creative control over the end product, which means each Luzon Del Dia pack is unique.
Retailing for $49.95, adding a Luzon del Dia to your kit gives you a great daypack with a great backstory from a great company. More on the pack here.
Mountain House – Delicious Meals For the Backcountry and Beyond
Good-tasting adventure meals are a dime a dozen. Thankfully, Mountain House exists. Maker of delicious adventure meal after delicious adventure meal, when you buy Mountain House you're buying meals you can trust.
One of our favorite flavors is the Mexican Style Rice & Chicken.
Mountain House's adventure meals are rated for a shelf life of 30 years. 30 years!
A pouch of Mexican Style Rice & Chicken (about 3 servings), retails for $7.49. Check out the other flavors and sizes of Mountain House meals here.
Grand Trunk – Actually Sleep While Traveling
Grand Trunk makes some great hammocks, and they have for years. They're known for their hammocks.
What they're not as well known for — yet — is the other products they make that are equally high-quality.
One product we're excited about is their travel pillow. Now, a travel pillow is not inherently very exciting. Travel pillows are old news.
But Grand Trunk's Travel Pillow is different. With the simple addition of a hood, it gives you both neck support and peace — muting some sound and blocking out light. Finally, you can actually use your travel pillow to sleep.
Grand Trunk's Hooded Travel Pillow retails for $39.99.
Cairn Subscription Box – Adventure Delivered Direct to Your Door
A "cairn," when you're on the trail, is a stack of rocks that mark the way, that let you know you're on the right path.
The company Cairn does something similar: they help keep you doing more outdoor activities with monthly boxes of adventure delivered to your door.
Here's how it works: sign up for Cairn, and this month you'll get an adventure box — a box full of gear curated at wholesale prices to give you more gear for less. Anyone who gets outdoors and considers themselves a gearhead would love to get a Cairn subscription this year.
You can buy a single box from Cairn or, as most people do, sign up to receive a new box with new gear each month. A single box is $25, a 6-month subscription is $135 ($22.50 per box), and a 12-month subscription is $260 ($21.67 per box).
SylvanSport GO – Combining the best of a Tent, Trailer, and Camper
If you are interested in an upgrade from a standard tent, consider the GO Camper from SylvanSport. It is a camper, but it combines a tent's compact storage with a large and spacious camper. At the same time it acts as a hauler for your gear — from kayaks to bikes to washing machines.
Light enough to be pulled behind your Subaru or your F150, it is the coolest camper we've seen.
The SylvanSport GO retails for $9,995. And stay tuned — we're giving away a SylvanSport GO Camper this Spring.
Marmot – One of the best two-person tents, the Limelight 2P
Marmot makes a wide range of high-quality outdoor gear. From jackets to tents, you can trust their gear.
This season we want to highlight the Limelight two-person tent. A member of our Facebook group of campers, The Facebook Campfire, recently gave a time-tested review of this tent: "I've had that same tent for years. It is a little heavier than other 2-person tents but it has lasted 5+ years and still holds up better than any of my lighter tents in rain. 100% worth the extra pound or so." (source)
The Limelight 2P tent retails for $249.
---
You can join our Facebook Campfire group here. 
*Different publications create Buyer's Guides according to different rules and ethics. We're not bashing any of them — they each work for each publication.
Popular Articles: