The Dometic CFF line will be released in Spring of 2019. 
---
Dunking your hand into a pool of half melted ice is a familiar sensation at the campground. And it's all well and good until the next day when the sun has wilted your leftover produce and turned your beer luke warm. Worse yet, is the day you get back home with a cooler full of rotten funk.
We don't always need a cold one and a meal made with perishable produce at the campground. But heck — who doesn't love that?
Dometic to Release New CFF Line
Dometic is a go-to brand for mobile refrigeration. You'll find their fridges built-in to RVs and boats and packed in the back of trailers and vans. These fridges and freezers were designed for those who are willing to invest in the convenience of all the fresh ingredients you'd stock in your fridge back home.
If you're a tent camper, their original systems might have felt a little over-the-top. That is why we were excited to hear out about their upcoming line of smaller, more affordable options of electric refrigeration at this summer's Outdoor Retailer.
Dometic's CFF line is designed for the car camper, or those who are just getting started in mobile living options. It gets down to 0 degrees, using only 1 amp an hour — that's about half the power of charging a cell phone. But they've left off some of the bells and whistles, like mobile control from an app on your phone. The CFF35 will cost you $699 and the CFF45 version will be $775. Both will be available spring of 2019.
Some of our favorite features include:
Fixed handles make it easier to lug from your car to the lake or the campfire
You can to refrigerate or freeze
Eliminating the need for ice gives you 60% more storage capacity in the same exterior space
Automatic shut-off ensures that your fridge/freezer won't drain your car battery
You have the option to hook it up to solar
A CFF fridge/freezer is a much bigger investment than a bag of ice. But it also means more room for fresh food and cold drinks at the campground. And more time to enjoy them.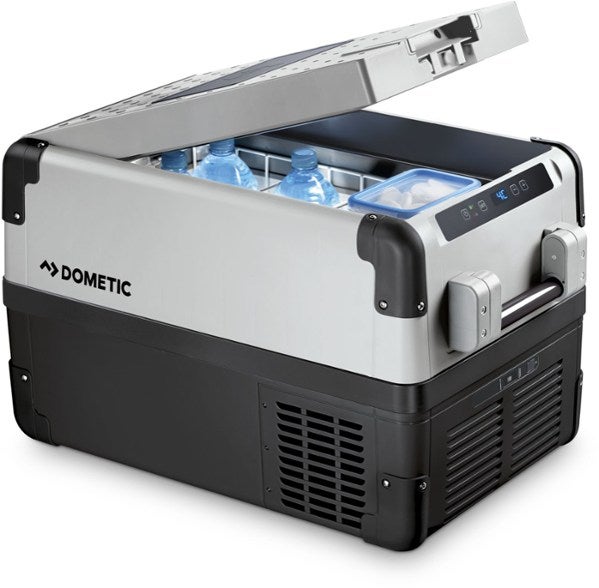 This is a large item to purchase online so shipping might be expensive, but you can get free shipping to an REI location if you order through their site.
Buy Now $800
Popular Articles: