On a recent trip with his son, Dyrt Ranger Dr. David Powers tested out CRKT's ChanceinHell 18" Machete. The pair of adventurers traveled to Kettletown State Park in southwestern Connecticut and had great things to say about both the camping and the knife. 
A Dyrt Ranger Weighs in on the Chanceinhell 18″ Machete by CRKT
Perfect for Chopping Firewood (and Zombies, if Necessary)
Dr. David is an outdoorsman and a former Marine, so he's used quite a few machetes during his life. For him, the ChanceinHell Machete really stands out. At 18 inches long, one might expect it to be unwieldy or heavy, but Dr. David's 10-year-old son had just as much fun as his dad using the knife. Together, they chopped logs, branches, and twigs, and just for good measure, they even sliced some soft ferns to test the blade's sharpness. 
In the end, they both loved the ChanceinHell. It's long and sturdy enough to do some damage, but still easy to carry. The blade held its edge nicely, even after the two campers attacked plenty of nearby flora. Dr. David reported, "I anticipate this beast of a machete (a Ken Onion design by the way) to last me a good long while." And, in the eventuality of a zombie apocalypse, he's confident that "this machete will make an excellent zombie-killin' tool." Once they're a little older, he thinks these knives would make great gifts for his outdoorsy sons.
The Specs
The Chanceinhell 18" embodies the very best of machete design. The blade is made of durable, powder-coated steel, and the ergonomic handle features football-textured thermoplastic rubber for a solid and comfortable grip. Every knife also comes with a reinforced nylon sheath for safe storage and carrying.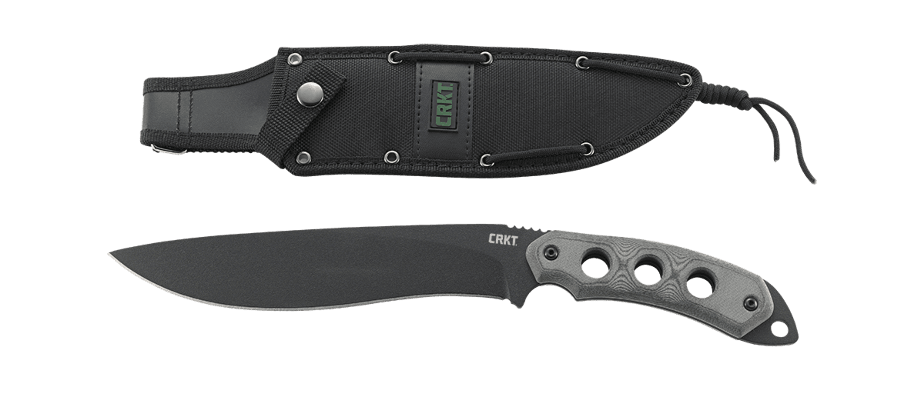 With this knife in your pack, you can spend less time chopping wood and brush and more time enjoying your adventure. You have it on Dr. David's authority as a Dyrt Ranger and experienced outdoorsman: The Chanceinhell is strong, effective, and just plain fun to use.
Read Dr. David's full review to find out more about his camping destination, Kettletown State Park.
Popular Articles: