This bug out bag list was brought to you by Gregory. Their backpacking packs are rugged enough to get you where you need to go, in good weather and bad. And with several sizes available for both men and women, you know you can fit your whole bug out bag list inside.
---
Earthquakes and aftershocks have been peppering the left coast, hurricane season is well underway, and climate change is causing flooding and tornados in places that don't usually see such weather extremes. It's not that everything is bad all the time, but no matter where you live, or where you like to go camping, it's definitely smart to be prepared for a worst-case scenario.
The best place to begin for any type of emergency planning is by making a bug out bag list with everything you need to include, so you have the right stuff at the right time if or when life suddenly goes sideways. From survival essentials like food, water, and first aid to communication and navigation devices, a good bug out bag list has to do a lot of heavy lifting.
The other key to a reliable bug out bag list isn't just fine-tuning and collecting the contents — it's also the bag itself. A high-quality backpacking pack similar to what you use for camping will do the trick. The most important things to consider are that it's 1) big enough to hold everything on your bug out bag list 2) sturdy enough to hold up to backcountry conditions for potentially extended periods of time and 3) comes with a backpack rain cover or other waterproofing to further protect contents from the elements.
The Essential Bug Out Bag List for the Worst Case Scenario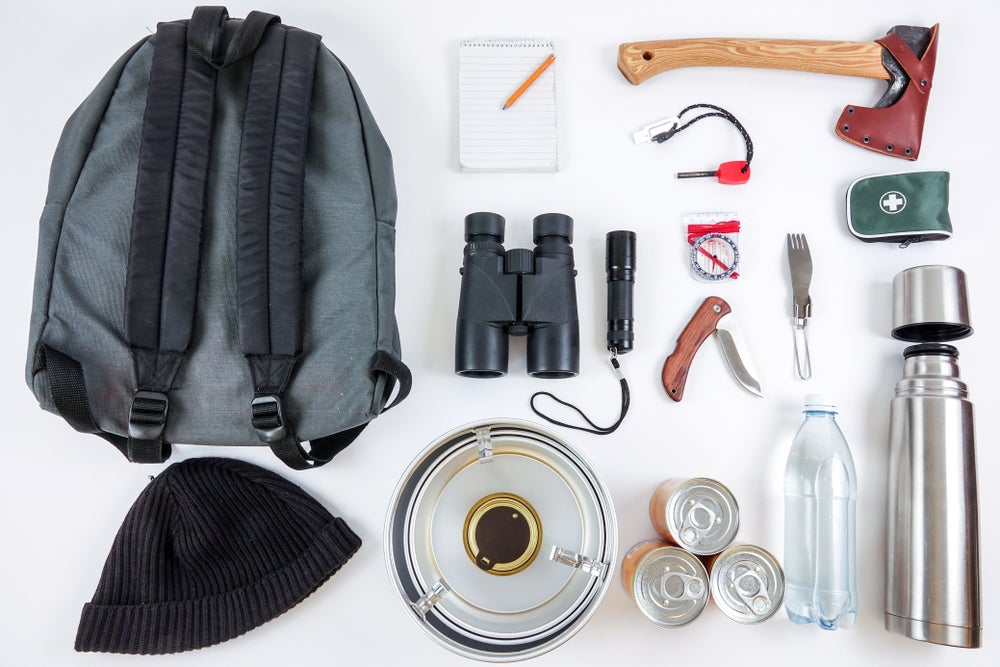 Some people like to tackle their bug out bag by purchasing a pre-assembled all-in-one solution that can immediately be stashed in the closet, car or emergency shelter. Others take the approach of checking which items on their bug out bag list are already in their gear closet or camping kit and making sure those items are all ready to go at all times — whether you're heading out for a weekend in the mountains or if something unexpected occurs.
There are pros and cons to both approaches. On one hand, a pre-purchased bug out bag, or one you assemble yourself in addition to your camping kit, isn't the most minimalist approach. It's an extra expense and something else to store — both worthwhile considerations if you're on a budget or live in a studio apartment, van or other tight space. On the other hand, if you're letting your camping kit pull double duty with your bug out bag list, it can be easy to let preparation slide and forget to reassemble everything after your most recent trip to the woods.

That said, it's just as important to be prepared for an emergency when you're camping as when you're at home. Consider what recently happened in Mountain, Wisconsin, when strong thunderstorms that had the potential to contain invisible tornadoes suddenly blew through the Chaquamegon Nicolet National Forest, a spot popular with weekend summer campers.
In instances when fifteen minutes is a significant amount of warning time, having your bug out bag list already assembled and ready to go can be the difference between being able to pick up your bag and head out and having to waste precious evacuation time re-packing your things. That can be an especially important consideration when you're camping outdoors without hard shelter.
Whichever approach you take to stocking your bug out bag list, we wanted to help simplify the process and give you a head start. We created this printable PDF with all the essentials that should be on your bug out bag list, so you can post it somewhere handy and physically check it off as you go, or re-check items after each camping trip or use.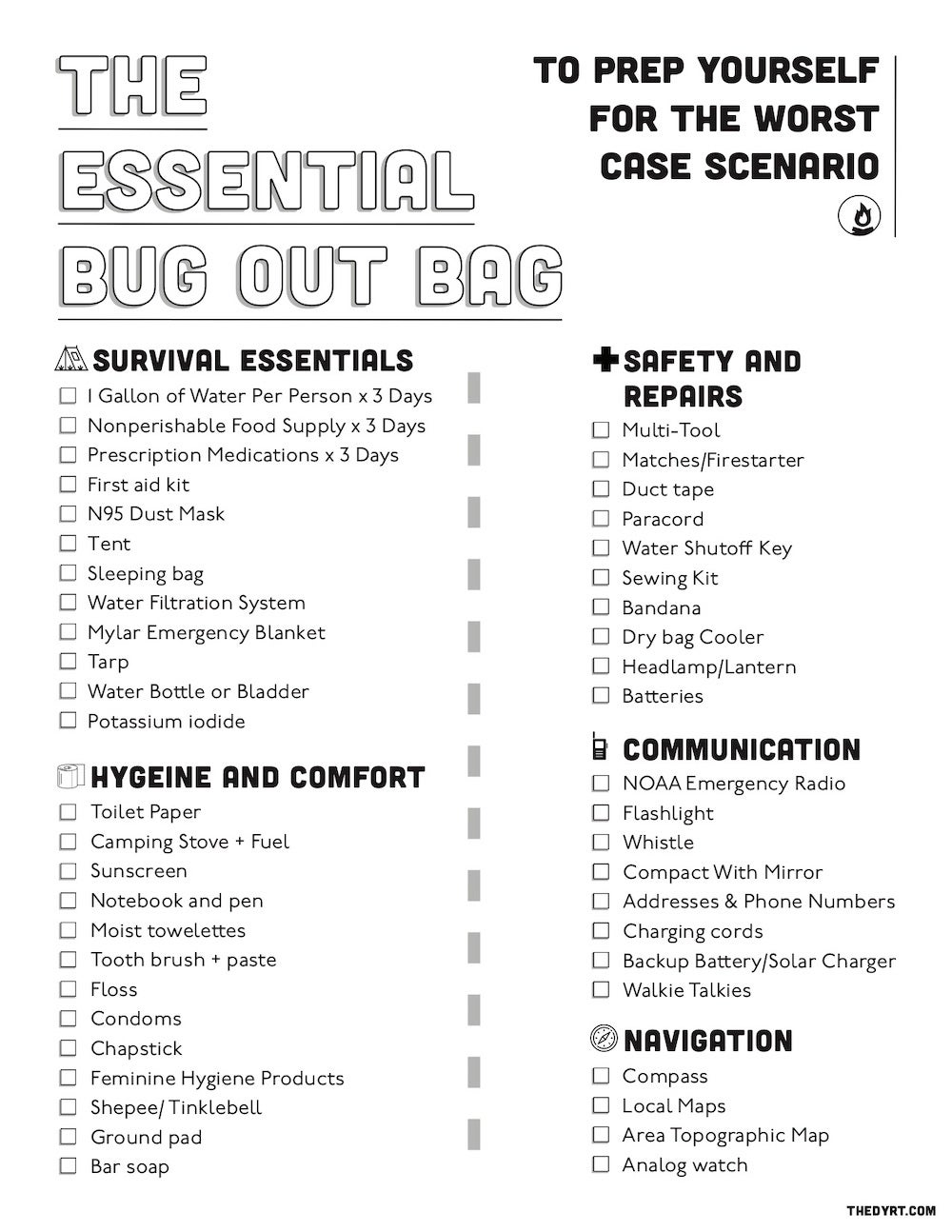 Survival Essentials
1 Gallon of Water Per Person x 3 Days
Nonperishable Food Supply x 3 Days
Prescription Medications x 3 Days
First aid kit
N95 dust mask
Tent
Sleeping bag
Water filtration system
Mylar emergency blanket
Tarp
Water bottle or bladder
Potassium iodide
Communication
NOAA emergency radio
Flashlight
Whistle
Compact with mirror
Addresses and phone numbers
Charging cords
Backup battery/solar charger
Walkie talkies
Navigation
Compass
Local maps
Area topographic map
Analog watch
Safety and Repairs
Multi-tool
Matches/Fire starter
Duct tape
Paracord
Water shutoff key
Sewing kit
Bandana
Dry bag cooler
Headlamp/Lantern
Batteries
Hygiene and Comfort
Toilet paper
Camping stove and fuel
Sunscreen
Notebook and pen
Moist towelettes
Toothbrush and paste
Floss
Condoms
Chapstick
Feminine hygiene products
Shepee/ Tinklebell
Ground pad
Bar soap
---
This bug out bag list was brought to you by Gregory.
Popular Articles: