Camping socks are more of an art form than a piece of clothing. They need to be comfortable enough to endure hours at the campsite and tough enough to stand up to hours on the trail. Because when we camp, we're active. Whether you're hiking, fishing, hunting, or birdspotting, a good pair of socks — and the right pair of socks — will go a long way.
So, when we say we're looking for innovative "camping sock" companies, we really mean: we're looking for the best darn socks period.
Socks that hold up to wear and keep their comfort as we take them on the adventures we get into while camping.
The Most Innovative Camping Socks of 2017
For your reading pleasure, we spent this past Outdoor Retailer Winter Market 2017 scouring the floor for the most innovative camping socks — because fabric technology has come a very long way since your grandparents' cotton or wool socks.
Here are the 7 most innovative camping sock companies of 2017.
Lily Trotters
Two things set Lily Trotters apart from other sock companies: style + function.
Now, most clothing companies today claim "style and function" as fundamental features of their brand, so you're skepticism is justified.
But Lily Trotters is the first company we've seen back up this claim. Compression socks are almost all made for the athlete. Athletic socks forgo style for function, and while some achieve a semblance of style, most fall short.
Lily Trotters, on the other hand, makes their differentiation clear: after a two-year development process, they are proud to offer the "first ever high-performance designer line of compression socks." Read more about their story here.
In short, Lily Trotters combines aesthetics with athletics. Lily Trotters lets you take advantage of the benefits of compression whether you're traveling, at the office, or on the playing field. Camping socks have never been so versatile.
Lily Trotters is named after the Jacana bird, also known as the Lily Trotter, which is known for its seeming ability to walk on water. This is possible thanks to its large feet and the marshy vegetation (think lily pads) that it steps on.
While Lily Trotters is marketed to a predominantly female audience, it is a brand for anyone who enjoys the combination of designer socks and compression's benefits.
See their full line of designer compression socks, starting at $48, here.
CEP Compression
If you're just looking for the best of compression, look no further than CEP Compression.
CEP has mastered compression fabrics, offering them for everything from specific activities to recovery to injuries. As part of this wide range of uses, CEP Compression's offers everything from socks to sleeves to tights.
Compression is a popular wave in the active world because it helps your blood circulate and it improves lactic acid metabolism. This means you can do more for longer, because your body is better able to deliver oxygen to your muscles, helping them both perform and recover.
CEP's line of compression product extends beyond just socks into a category that is hard to define. What do you call a sock with no foot, one that just covers your calf? Because CEP Compression makes those, too. Is it still a sock? Or a leg sleeve?
Regardless of whether or not all their products fit into the category "sock," we're confident CEP's commitment to everything compression positions them as one of the most innovative camping sock companies of 2017.
Check out their full line of products here.
Wigwam
Wigwam is a 110-year, 4-generation company.
With such a firm position in the sock industry, they're a household name across the country.
What's NOT always in the spotlight is their commitment to innovation. Rather than resting on their laurels (or standing on their heels, if you like puns), Wigwam drives the sock industry forward year after year.
Most recently, Wigwam continues to push the limits with their new Peak 2 Pub series of socks, which feature a patented proprietary blend of fabrics.
There are four styles currently available in the Peak 2 Pub sock, although we got some advance heads-up about an expansion of the line coming this June 2017.
When it comes to these socks, feeling is believing. The proprietary blend of fabrics is difficult to communicate, but simple to understand once it's on your foot. The bottom line: it's an A+ blend for camping socks.
If you're looking for a sock that you can rock on the trial and then wear to dinner on the town and everywhere in between, these are your socks.
And starting at just $16, the Peak 2 Pub series is worth every hard-earned penny. See the full line here.
Sockwell
Sockwell combines high-quality fabrics and compression to give you a sock that is more of a companion than a tool.
One example of Sockwell's innovative design is their Stabilizer Technology, which provides firm, wrapped support to the plantar and Achilles tendon. Made of lambswool and alpaca for enhanced wool properties and durability, these camping socks will fight the good fight and resist the stink.
We got to catch up with the designer behind Sockwell's innovative construction, and we have to say we were impressed.
When it comes to sock innovation, you will see a number of brands pushing the industry into new territories. Sockwell is one of these brands.
Sockwell socks are only available from retailers like REI, so ask for them next time you're at your local retailer. Find the retailer nearest you on Sockwell's website.
SealSkinz
Waterproof socks.
Your foot breathes but the sock keeps water out.
How? SealSkinz patented three-layer technology.
There's really not much more to say about SealSkinz.
Trusted by the British Military and power users the world over, SealSkinz is a new product in the US market — and one you should check out.
SealSkinz come in a number of different weights for different temperatures and activities. Go heavier if you need more warmth from your camping socks, lighter if you just want the waterproofing.
See their full line of 100% waterproof, 100% windproof socks here.
Balega
Ultra-light, naturally cooling, blister-resisting, contoured socks.
Balega socks are everything a standard camping sock should be.
Their secret? They aren't afraid to try out new technical fabrics. Having talked with a lot of clothing companies, you'd be surprised how many rely on the same fabrics for what are supposed to be different products.
Not so with Balega. Balega combines a number of different new fabrics into one innovative sock.
With a number of different cuts and weights, finding the right Balega for you is as easy as using their "Find your Fit" self-selection tool.
Compressport
Compressport is a compression sock company that goes one step beyond compression and asks the question, "Why can't socks do more than just compress and protect?"
Their answer: 3D.DOTS technology, which apply acupuncture-like pressure to different points in your foot and ankle.
Their theory is that these dots "apply acupressure massages that boost blood flow and help absorb shocks." This changes your sock experience entirely: "No pressure points, no hot spots."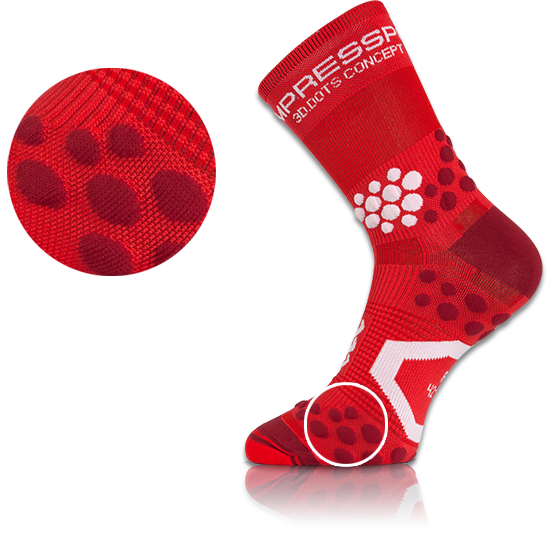 Compressport uses their 3D.DOTS technology in most of their socks, making them perfect for the active camper seeking new socks. Check out their full line of products here.
Popular Articles: