The Catskill Mountains, located in southeastern New York state, are part of the northern portion of the Appalachian Mountains. Home to the towns of Phoenicia and Woodstock, the Catskills is known as a haven for artists, musicians, and writers. They are also a remote, wild, oasis for backpackers, hikers, campers, and anyone else looking to escape city life.
Interested in Catskills camping but not sure where to begin? The Catskills, after all, encompass a huge area, 700,000 acres are within the Catskill Forest Preserve alone. Keep reading for our (mostly) complete guide to primitive camping in the Catskills.
Your Guide to Primitive Camping in the Catskills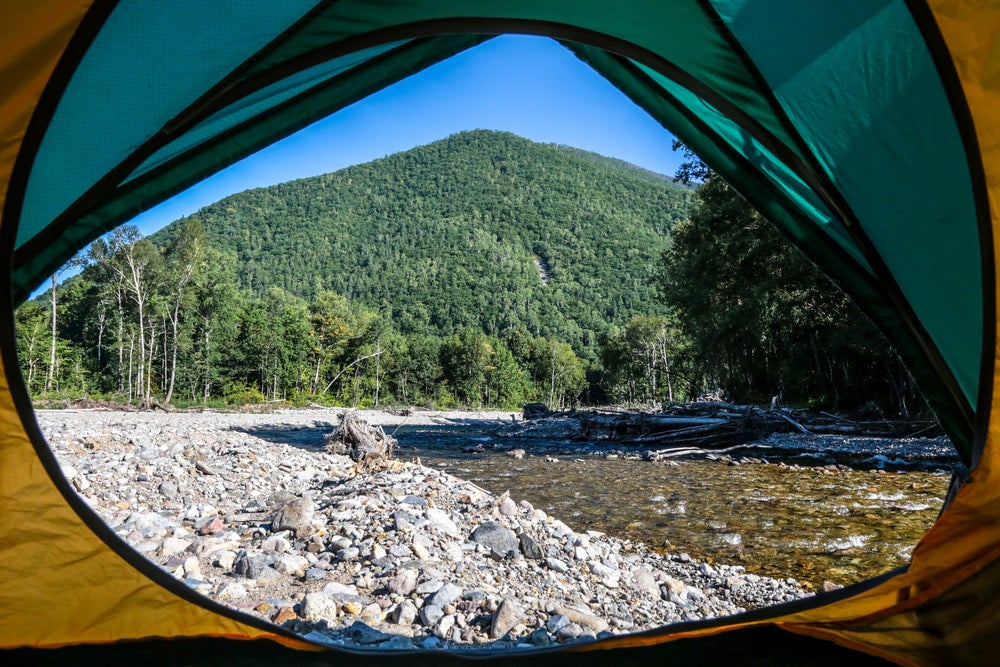 First, what does primitive camping mean? Most of the time, it means hiking, walking or boating into in a remote area without amenities like running water, electricity, picnic tables, or restrooms, and setting up camp on non-designated campsites. And it almost always means that you have to carry all your gear by backpack or canoe.
With its extensive trail system, the Catskill Forest Reserve has tons of opportunities for primitive camping. There are designated primitive sites marked with yellow and black "camp here" signs. These sites tend to be situated near trails and a water source such as a lake, pond, stream, or river. They are also flatter than other areas with deeper, harder soil which helps to alleviate the impact camping has on the environment (no matter how careful and respectful a camper is).
Primitive camping in the Catskills is allowed most anywhere as long as the rules, set up by the Department for Environmental Conservation (DEC), are followed. The most important rule is that all primitive campsites must be at least 150 feet from water, road, or trail. If you're planning on camping for more than three nights in one spot, you'll need a special permit (available online from the New York Department of Environmental Conservation). Also, tents are not allowed inside lean-tos and, if there is space within a lean-to, you must share it with anyone who arrives after you. The DEC does encourage people to use the designated sites and some areas do require all camping to be at a designated site so its best to do some research beforehand. Some primitive sites are more accessible than others.
---
The Dyrt PRO ensures easy trip planning and helps you deal with last-minute cancellations. With the upgraded version of The Dyrt app, you can access campgrounds, maps, and photos for offline use during outdoor adventures.
---
Non-Designated Primitive Camping in the Catskills

Most of the non-designated primitive camping in the Catskills involve some climbing and general uphill hiking. Unlike the trails in the National Parks System which are kept to a 10% maximum grade, the trails in the Catskills are steep and rocky, sometimes reaching grades as high as 45 percent. Which is, of course, all part of the fun and reward of hiking and spending the night in the wilderness.
Lean-tos and campgrounds are all marked on the New York Department of Environmental Conservation camping map, as are the trails leading to them. This map is essential for planning a multi-day hike and figuring out where to pitch a tent for the night. If you're a planner and like to map out your trail and stops, here are some suggestions for where to pitch a tent for the night.
Within the Slide Mountain Wilderness Area, where the Long Path crosses the Neversink River, there are several primitive campsites available. The hike itself is predominantly flat and about a mile in from the parking access area.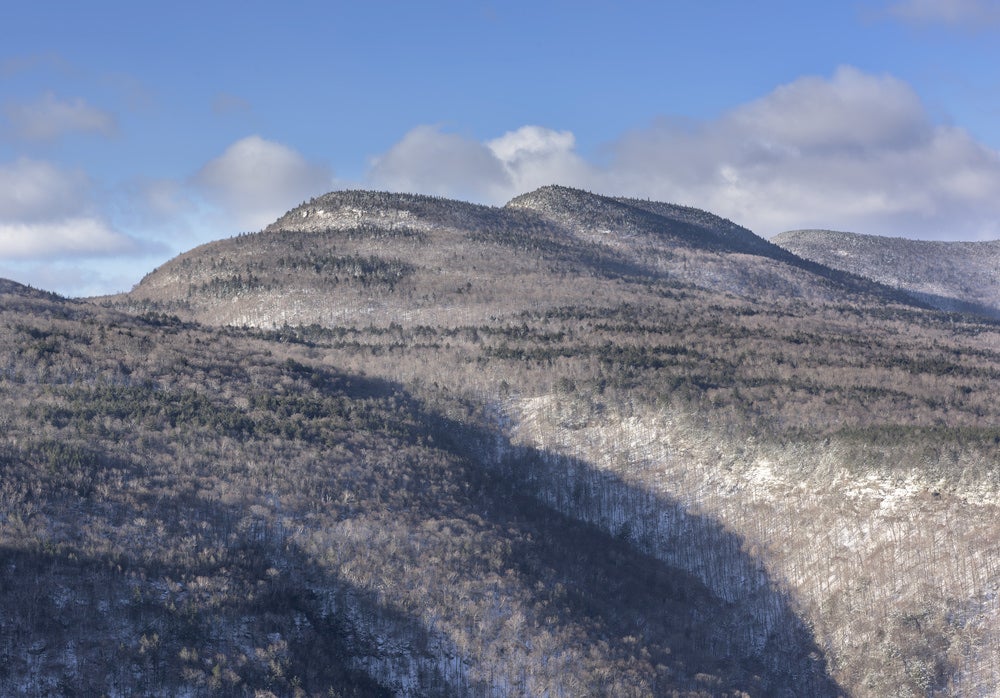 Echo Lake, located within the Indian Head Wilderness Area, has remote campsites nearby. The sites, and the lake, are three to four miles in and the hike does involve climbing and traversing of a rocky, rugged landscape.
The southern Catskills include Vernooy Kill State Forest and the Vernooy Kill Waterfalls. There's a designated camping area before the falls on the left side of the trail however, its in the middle of a field and very exposed to the wind.
There's another campsite about a quarter of a mile upstream. To reach it, hikers should follow the path next to the stream until they get above one of the small waterfalls with a pool below.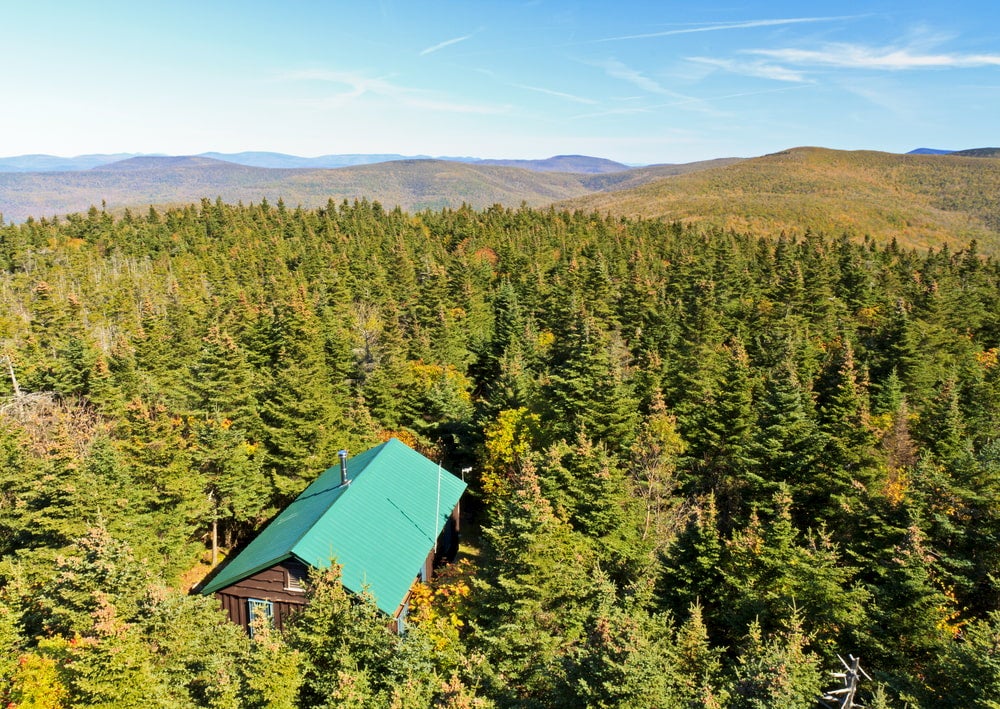 Beyond the two campsites mentioned above, there are numerous other primitive camping sites scattered across the Balsam Lake Mountain Forest.
On the northern end of the Escarpment Trail, hikers should find the Elm Ridge lean-to. There's ample room behind the shelter to pitch a tent or two. There are other lean-tos on and/or approaching Mount Balsam; on the Belleayre, McKinley Hollow and Mine Hollow trails.
Designated Campgrounds With Primitive Camping in the Catskills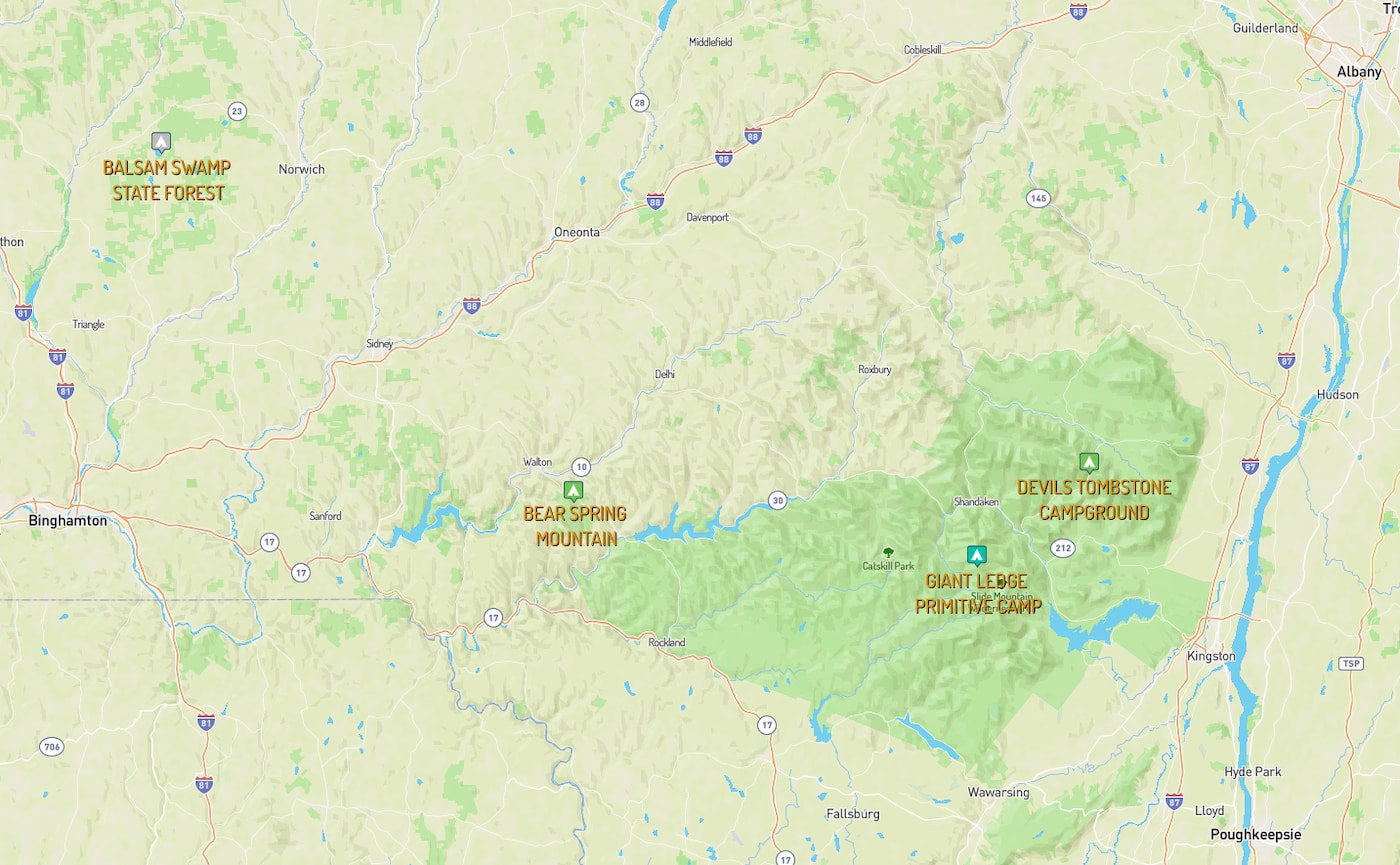 If you want to camp at a formal campground to ease yourself into the whole primitive camping thing, the following campgrounds do have primitive sites available. At these spots, you'll have access to the same hiking, biking and wilderness exploring as you would when primitive camping at non-designated sites, just a little more comfortable.
Primitive camping is permitted throughout Balsam Lake State Forest, though all rules as defined by the New York Department of Environmental Conservation must be followed. Balsam Pond does have a rustic campground next to it with a fire ring, outhouse, and picnic table provided for each space.
There are also paddle/boat in spots available away from the campground. Sometimes a better option as not all campers seem to understand the rules of "Leave No Trace" at campground itself. There's also a fairly new boat launch at the pond with a handicapped accessible fishing pier.
One of the oldest campgrounds in the Catskill Forest Preserve, Devil's Tombstone is a primitive campground very near to many of the area's highest peaks. This makes Devils's Tombstone an excellent basecamp for serious hikers.
Trails from Devil's Tombstone lead to Indian Head, and the Hunter-West Kill Range. The Devil's Path Trail, marked with red trail markers, passes right through the day use area of the campground linking the aforementioned trail systems. There are 24 wooded tent and trailer sites and a small shallow lake bearing the name Notch Lake.
The name Devil's Tombstone comes from a huge boulder, about seven feet by five feet, that sits within the campground. People tell stories that Stony Clove, the mountain pass that the campground is located in, was a favorite stomping ground of the Devil himself. The boulder most probably ended up in its current spot not by work of the Devil but rather, by a landslide or glacier centuries ago.
"A short drive to these rustic tent-only spots, dog friendly, nice rangers and great trees for hammocks!" —The Dyrt camper Becky G.
Though not an exclusively primitive campground, Bear Spring Mountain does have a primitive camping area about three and half miles from the main drag, called the Spruce Grove Area. Here, rustic camping lovers will find quiet, remote sites and access to the Spruce Grove Spur and the State Hill Trail, both of which connect to Bear Springs Wildlife Management Area trail system.
"Nothing but woods all around! Endless hiking and beautiful steams – you can drink straight from the pipes!" —The Dyrt camper Kimberly S.
Only a few designated tent sites are up at the Giant Ledge area, accessible via a trail from the Giant Ledge/Panther Mountain parking area.
A true primitive camping area in the Catskills, Giant Ledge does not have any toilets or other facilities. If you are lucky enough to score one of the campsites and, the area isn't too crowded with autumn leaf-looking hikers, you'll be treated to a wonderful true rustic camping experience. And don't forget, bears live here too!
"Bring a bear bell and bear mace can to be safe. We did not see any but definite signs of them. Get trekking poles if you don't already have some. Very helpful here." —The Dyrt camper Tina D.
What to Do on a Primitive Camping Trip in the Catskills
While plenty of your fun (and energy) will be spent finding and setting up your campsite, adventure seekers with time on their hands can find world-class biking and hiking during a Catskills primitive camping trip. Here are some of our suggestions.
Ride Mountain Bike Trails Through the Hilly Upstate NY
The Catskill Forest Preserve has over 30 designated mountain biking trails spread out across five different sub regions: Bluestone, Elm Ridge, Indian Head, Kaaterskill, and Overlook Mountain. The trails range from beginner to expert, and provide stunning views from the various peaks in the Catskills.
Some of the more popular rides include the 14.1 miles of single-track trails (meaning one-way routes that are most often no wider than a bike tire) that make up the Elm Ridge Loop the Cortina Valley to Palenville Trail within the Kaatarskill Wild Forest, a 10.9 mile-long single-track trail.
Ascend Alpine Hikes in the Appalachian Mountains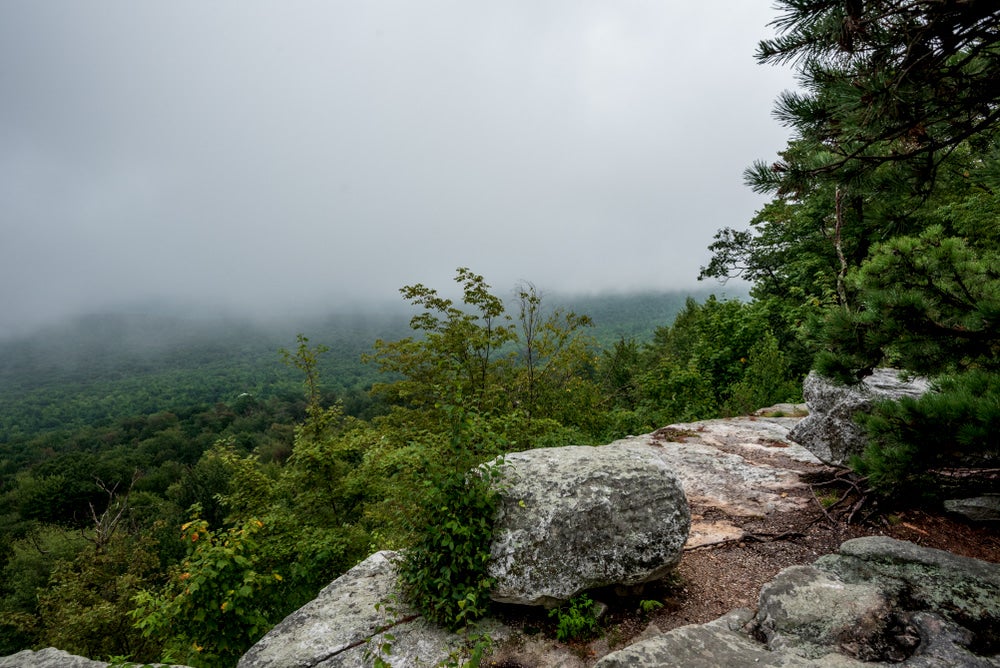 Over 30 hikes that ascend above 3,500 feet can be traversed within the Catskills Forest Preserve, ranging from easy to very difficult and everything in between.
One easy to moderate hike is the Hunter Mountain Loop, 8.16 miles from the DEC parking lot on Route 6. The trail reaches 4,046 feet at its highest point. There's a fire tower too, with excellent views. The Sugarloaf Mountain hike, a total of 6.69 round trip miles from the DEC parking lot on Dale Lane, is one of the more difficult and, arguably, dangerous trails in the preserve. The biggest danger is simply falling off the mountain; the trail is extremely steep in some areas! If you are able to complete it, you'll earn yourself some legit bragging rights as it is part of the Devil's Path.
Popular Articles: