UPDATE: Zion National Park has resumed temporarily issuing permits through the end of 2018 until a formal, "more permanent solution," is reached with the private landowners. 2019 status still uncertain. More information to come. (Source: NPS)
Rangers and hikers were left scratching their heads earlier this week when "No Trespassing" signs appeared on a two-mile portion of the popular trail through The Narrows in Zion National Park. The signs were posted by a private landowner, whose property is overlapped by the famous slot canyon route. Now park officials have had no choice but to stop issuing Zion Narrows wilderness permits for the "top down" approach that is on many outdoor enthusiasts' bucket lists.
That doesn't necessarily mean that the national park won't be able to work something out with the property owner, who has also posted signage hints that this portion of the Zion Narrows could be up for grabs. In addition to the No Trespassing signs, the Salt Lake Tribune reports that For Sale signs were posted advertising the plot's water resources and "resort potential."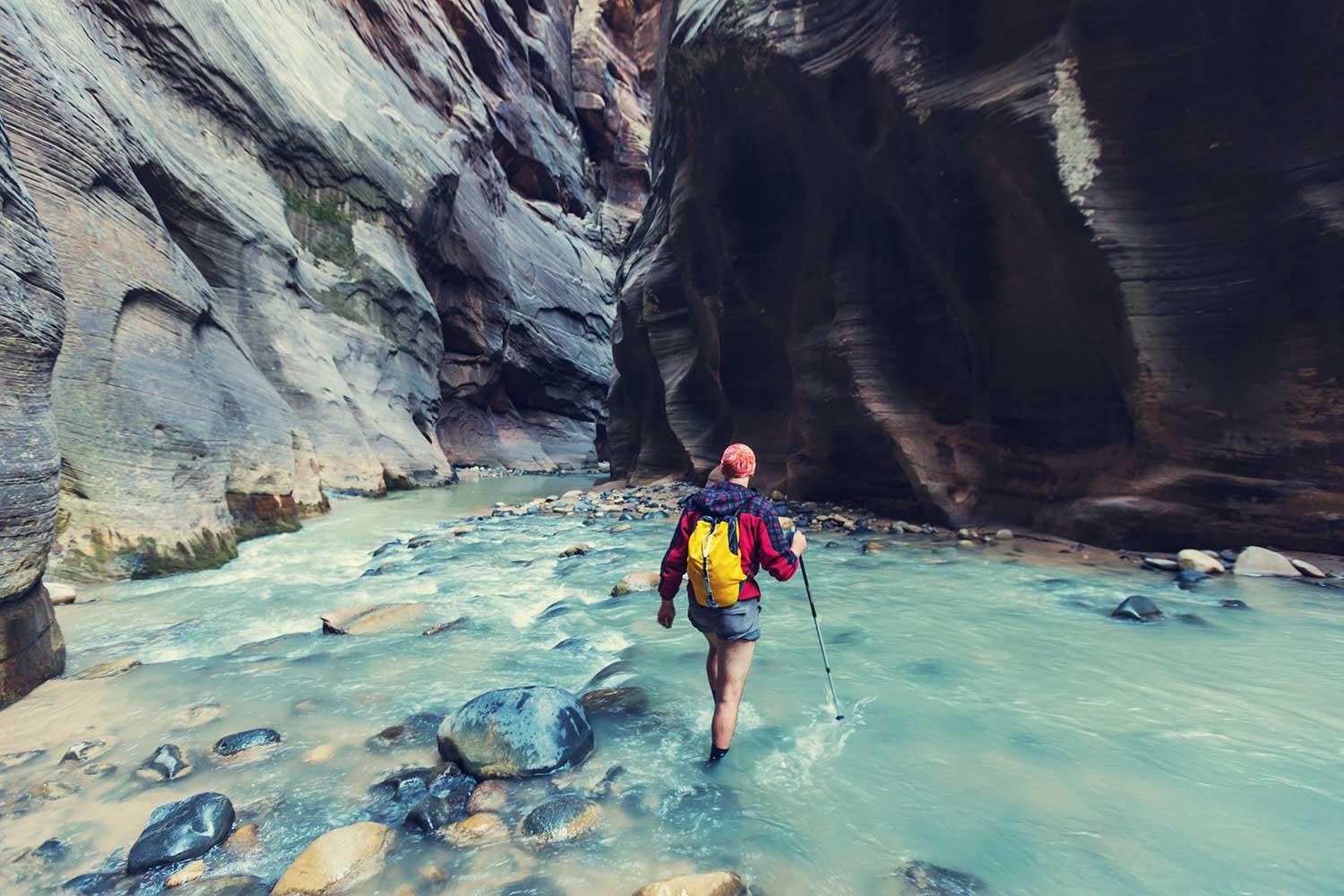 Park management assistant Cindy Purcell told Salt Lake City's Deseret News, "We're being the open neighbor, we've reached out to the family to ask them what the plan is and why … those communications have started and hopefully will continue."
According to the Tribune, the shutdown could be a gambit by the property owners to sell the portion of their property adjacent to Zion National Park to the federal government, or get some other form of compensation. While hikers have been enjoying the top-down route that passes through private property since at least the 1970s, it's only in the era of social media and the outdoor industry boom that the Zion Narrows have seen such an uptick in traffic. Until the signs were posted, the National Park Service released a limited number of permits that allowed 90 people a day to make the top-down hike.
The Bulloch family claim that they want to see the trail stay open to hikers. However, they're also angling for an easement that would provide financial compensation after decades of generosity, and more specifically define the agreement between the National Parks Service and the private landowners. "We felt we need to post the signs to get the government's attention that this is an important piece of property," Bulloch told the Tribune. "They seem to ignore the value of that. We think it has the same value as the park itself."
While Zion National Park negotiates access to the top-down route, the easier south-to-north trail through the Narrows is still open. That approach starts at Temple of Sinawava and follows the Virgin River, stopping at Big Spring five miles later.
We'll continue to follow this story for updates on hiking The Narrows.
Popular Articles: