Vacation Races are ramping up for 2018 and will soon bring countless runners to some of the most beautiful destinations across our country.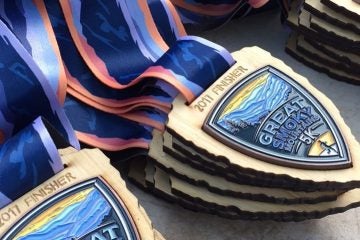 If you are looking to soak in as much of that natural beauty as possible, it's a good idea to arrange your camping trip now.
Finding the right campground can be tough, which is why we at The Dyrt are excited help you find the best campground for your racing adventures! Our authentic, user-generated reviews give you a real idea of what to expect when camping near Vacation Races. There are no more mystery pamphlets or outdated websites to navigate, just real experiences from users like you.
So let us do the leg work for you – or at least the virtual leg work!
Where to Camp Near Your Favorite Vacation Races Event
There is a lot that goes into planning for Vacation Races! Whether you're tackling an Ultra or just want to kick back at Trailfest, you don't need to spend time searching for somewhere to soak your toes at night. With over 30,000 campgrounds across the US and countless reviews and photos from campers, The Dyrt is the most valuable resource for your trip.
Find your race below and click through for a list of nearby campgrounds that The Dyrt reviewers love:
Spring Vacation Races
Antelope Canyon Ultra Marathon – February 23rd
Coastal Redwoods Trailfest – April 12-14
Zion Ultra Marathon – April 20th
Zion Half Marathon – April 28th
Yosemite Half Marathon – May 12th
Bryce Canyon Ultra Marathon – June 1st
Grand Teton Half Marathon – June 2nd
Yellowstone Half & 5k – June 9th
Glacier Half Marathon – June 16th
Summer & Fall Vacation Races
Rocky Mountain Half & 5k – August 3-4
Great Smoky Mountains Half & 5K – September 7-8
Shenandoah Half Marathon – September 15th
Rushmore Half Marathon – September 22nd
Grand Circle Trailfest – October 4-6
Grand Canyon Half Marathon – October 12th
Lake Powell Half Marathon – October 20th
Joshua Tree Half Marathon – November 24th
What Are Vacation Races?
Once you know how to find camping near Vacation Races, what should you expect once you arrive? Even if you haven't heard of the event organizer, you might have heard about the great races they put on like the popular Yellowstone Half Marathon. Every year, Vacation Races take to our National Parks  to host invigorating races and fun festivals for runners who love the outdoors.
Vacation Races also set themselves apart by committing to hold environmentally sustainable events. Each race contributes zero waste to landfills or wastewater treatment facilities. We always follow the principles of Leave No Trace at The Dyrt, and we're proud to partner with Vacation Races as they do too.
Review Campgrounds, Win Prizes
We're sure you're going to snap countless photos during your trip, so why not use them to earn points and potentially win some prizes too? Just add your photos and campground reviews on The Dyrt (website, iOS, or Android), get points for your contributions, and win prizes!
And as always, remember to practice the 7 Leave No Trace principles when camping near Vacation Races this year!
Popular Articles: