Table Rock Lake is one of Missouri's most popular destinations. It takes the notion of a southern swimming hole to the next level. With paddleboard rentals and bike trails, hiking trails, and plenty of wildlife, Table Rock Lake offers families, groups of friends, individuals, and couples plenty of reasons to venture to southern Missouri.
Why Table Rock Lake Camping is Missouri's Best Swimming Hole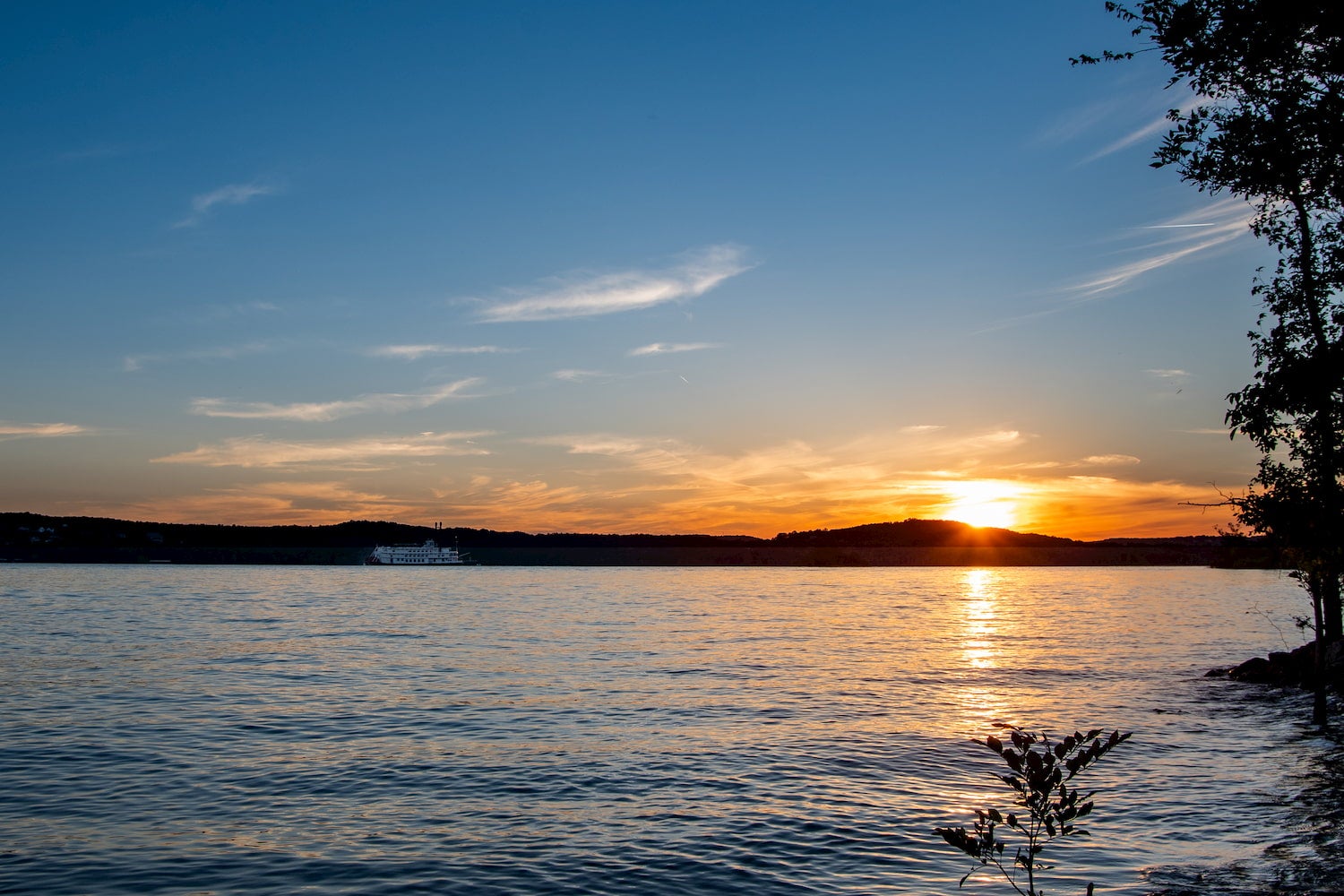 A Swimming Hole for Generations
Construction for Table Rock Dam finished in 1958 and, ever since, generations have been flocking to this 43,000-acre lake in the Missouri Ozarks. Initially built for flood control of the White River, the dam created a lake that quickly became a recreation icon. Table Rock Lake has many "arms", or "fingers," which creates countless coves for boaters, fishermen, and other water sport enthusiasts to enjoy.
Surrounded by hills and trees and with over 700 miles of shoreline, it's easy to see why so many are drawn to its banks. With rugged hills carved by the White River and its many tributaries, this swimming hole combines the beauty of the Ozarks with a storied history, fascinating geology, and southern Missouri culture. Table Rock Lake camping is excellent, giving you even more opportunity to immerse yourself in the natural beauty of the area.
The History and Culture of Table Rock Lake
The word "Missouri" actually comes from the Sioux language, which attests to the long-standing presence of Native Peoples in Missouri. The Table Rock Lake area in the south of the state was home to the Osage Nation. These people called southern Missouri and the White River home for hundreds of years. Most members of the Osage Nation were forcibly relocated to Oklahoma in the Trail of Tears of the 1800s, where many still live on reservations today.
The strife of the Civil War divided the Table Rock Lake area, along with much of the Ozarks. Many of the self-sufficient farmers of the area were Confederate supporters while also being anti-slavery.
Over the next few decades, the Table Rock area became progressively more settled. In 1894, a cave in the area opened for tourism, and that started the tradition of family attractions. Following the creation of the dam in the 1950s for hydroelectric power, the lake and dam were both named after a huge shelf rock overlooking the White River one mile downstream from the site of the dam.

Entertainment and recreation in the area took off, and today, generations later, a culture of music, recreation, and entertainment draw families, couples, friends, and individuals from miles around. The park offers the relaxation of nature, and nearby towns offer all the comforts of civilization.
Getting There
The lake and nearby Pickens, Missouri are located within a day's drive from much of the American southern, western, and Mid-Atlantic states. Both Springfield and Branson airports are under an hour away from Table Rock Lake, making it easily accessible for those who live further or who would prefer to fly.
Nearby Roaring River State Park offers travelers excellent angling and hiking within a narrow, dramatically deep valley, so it's worth the stop.
Watersports at Table Rock Lake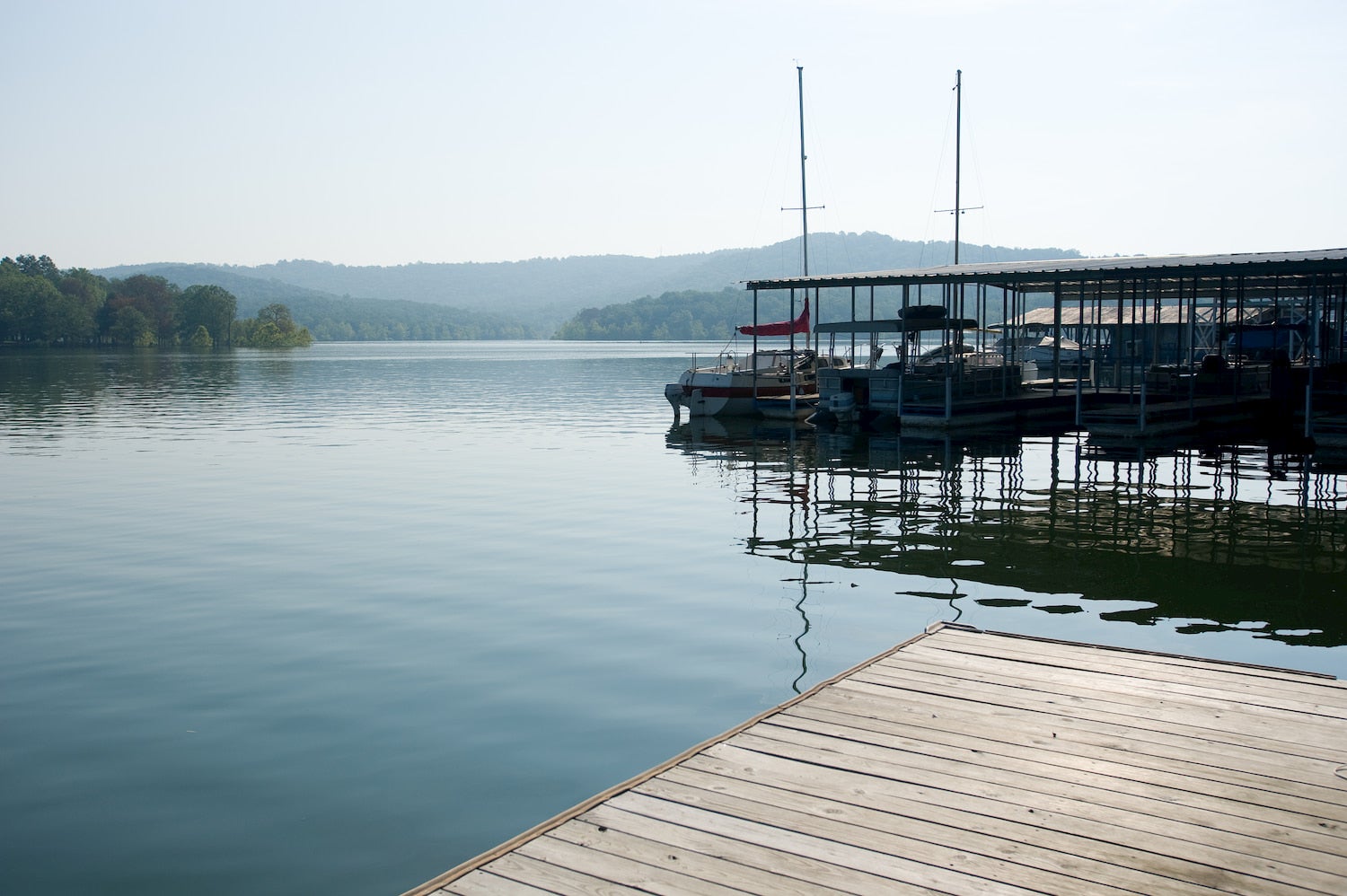 When it comes to watersports, Table Rock Lake has it all. Fishermen love the lake, and the many coves provide quiet spots for eager anglers. The State Park Marina rents WaveRunners, kayaks, canoes, paddleboards, bass boats, pontoons, slide pontoons, and ski boats. Swimming, wildlife viewing, and scuba diving are all popular past times at Table Rock Lake.
For those who prefer to sit back and let someone else do the captaining, the marina also offers day cruises on the 48-foot Spirit of America catamaran. The day cruise includes a chance to let loose and have fun on waterslides and a trampoline.
Hitting the Trails
For those who crave the challenge of hiking, the trail network at Table Rock Lake State Park is extensive. Table Rock Trail offers a 6.4-mile out-and-back hike with over 2,000 feet of elevation gain, a waterfall, and incredible views. Other nearby trails include the 7.1-mile Pinnacle Mountain Trail with over 2,490 feet of elevation gain and Carrick Loop Trail, which is an easier, 1.9-mile hike.
Table Rock Lake Camping
Excellent camping abounds in the Pickens, Missouri area. Table Rock Lake State Park camping options include yurts, cabins, tent sites, tent cabins, RV sites, dispersed camping, group camping, and all the creature comforts of a modern campsite, right down to Wi-Fi access and sewer hookups.
Meanwhile, nearby Indian Point Campground offers a slightly different experience. While Indian Point lacks Wi-Fi, it does offer 74 reservable campsites for group camping, tent camping, and RV camping. Pets are allowed, alcohol is permitted, and a park beach and playground give the whole family a chance to relax and unwind.
If you're looking to venture a little further afield, nearby Roaring River State Park offers camping and stunning opportunities for angles.
Popular Articles: