As a Ranger for The Dyrt, I occasionally get the opportunity to test gear in the field. During our 14-day road trip around the US, I was lucky enough to try out the GO camper from SylvanSport.
On our last night, we stayed at White River KOA in Badlands National Park and I was able to reflect on my experience of traveling around the country in the GO camper.
Day 14 of 14: Road Trip Around the US
Campground: White River KOA
The last night we stayed in the GO was at White River KOA in Badlands National Park.
Being used to backcountry camping with no amenities or other people, I was definitely out of my comfort zone. This was the opposite of what I usually do.
The Verdict: This was my first time at a KOA and it was actually nice to relax and kind of "glamp" for a couple of nights. Amenities include a general store, water, electric (30/20 amps), showers, flush toilets, laundry mat, basketball court, swimming pool, and mini golf.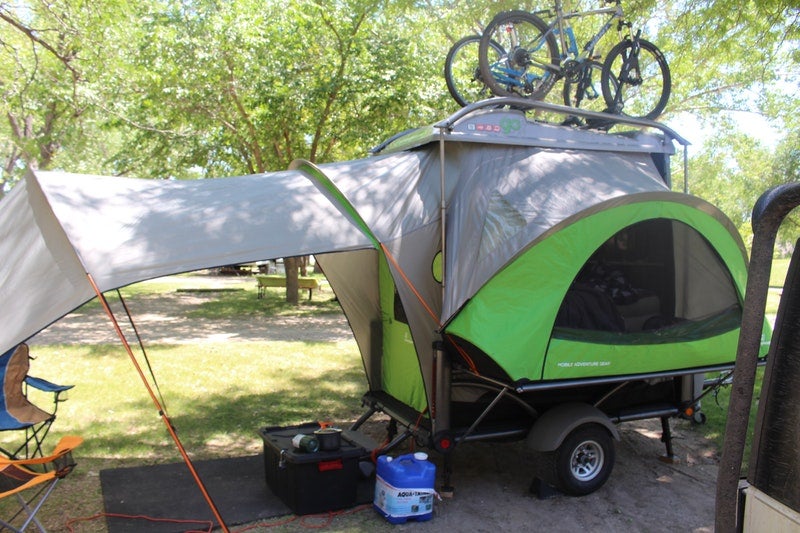 See what I mean? I could not think of anything that would make my camping here more comfortable. Other than being packed with some RV's (which I secretly loved seeing) the park was tent-friendly. One thing I really liked was an area called the "wagon wheel", which was a walled off space where tent-campers could take advantage of a kitchenette.
Gear: SylvanSport GO Camper
During our road trip around the US, I was able to try out the GO camper from SylvanSport. We have been blown away by this camper and it's easy to see why so many people are calling this the coolest camper ever. While I could spend all day talking about what we loved about the GO, I'll try to limit it to just a couple of highlights.
The Verdict: One of the main things we loved about the GO was the amount of room we had when it was completely set up. When the camper was in "sleep" mode, we easily fit our queen sized air mattress and still had more than enough room to put our stuff. And at roughly six foot, I also had no trouble standing up in the tent and slept really well during the entire road trip. This camper could comfortably sleep four adults and probably even up to a family of six.
Another feature we love about the GO is how light weight it is. At  840lbs, this thing could be pulled by anything. The camper's light weight also allows you to pack it down with gear and still be able to pull it through the mountains without stressing your vehicle. We would frequently get the camper close to where we wanted it, and then unhooked it to move it by hand into final position, hassle free.
When it comes to the negatives, there really wasn't anything huge. The thing that kept coming up was how you stored the privacy screen and water proof screen when you had them unzipped on the windows. There is a small mesh flap with elastic that really wasn't strong enough to keep the screens inside it when you unzipped. As a result, the screens often got caught underneath things and you had to keep moving them out of the way. This problem is a bit nit-picky because, at the end of the day, we absolutely loved our two weeks in the GO!
End of the Line: 14-Day Road Trip Around the US
Camping in the GO for the past two weeks has been an incredible experience. Especially being able to do it as a Ranger for The Dyrt. Camping as often as I can and testing new outdoor gear is a dream come true and this road trip has been a great excuse to enjoy them both!
Read day 12 here and the recap here.
---
The Dyrt is a FREE app solving the pain of finding campsites online. Like Yelp for camping, you can find the perfect campsite for you with photos and reviews from real campers across the country. And if you write reviews, you can WIN free outdoor gear all summer long.
Popular Articles: