This article was brought to you by Wild Zora, a company that makes AIP snacks for those with a nightshade allergy. They make healthy, nourishing food that is great on the go.
---
The state of Maine has seen a revival in recent years. With the rising popularity of outdoor pursuits and national parks, more people have been flocking to Maine's stunning natural wonders. Yurts offer an excellent way to immerse yourself in Maine's striking beauty.
We'll provide 6 of the best campgrounds with yurts in Maine that can make your northeast vacation much cozier.

Located an hour north of Portland on State Route 9 East, Maine Forest Yurts covers over 100 acres of pristine Maine forest wilderness. The yurts are only five minutes away from Bradbury Mountain State Park, so there are plenty of recreational opportunities for horseback riding, snowmobiling, cross-country skiing, hiking, backpacking, hunting, mountain biking, and birdwatching.
The campground offers a quiet, creek-fed pond that's perfect for paddling in the summer or ice skating for winter campers. Children and dogs stay free.
These family-friendly yurts come in a range of sizes and are fully furnished. You'll experience a rustic kitchen, an outhouse with a composting toilet, a gas stove, a wood stove, bunk beds, a futon, and plenty of hiking trails nearby. Yurts start at $140 per night and sleep 5-6.
Tops'l Farm offers riverside yurts with luxurious interiors. There are also opportunities to host weddings, parties, and retreats at Tops'l Farm. A wedding barn, beautiful cabins, pristine campsites, and peaceful forests all make this spot unforgettable.
While rates start at $290 per night, it's certainly worth the money. Guided stargazing, snacks and cocktails, breakfasts, home-cooked dinners, guided yoga and meditation sessions are all included in the price. Canoeing, axe-throwing, and plenty of board games are all available on-site, as well.
Located about an hour north of Portland along US-1 N, this campsite is a verdant paradise along the Atlantic coast.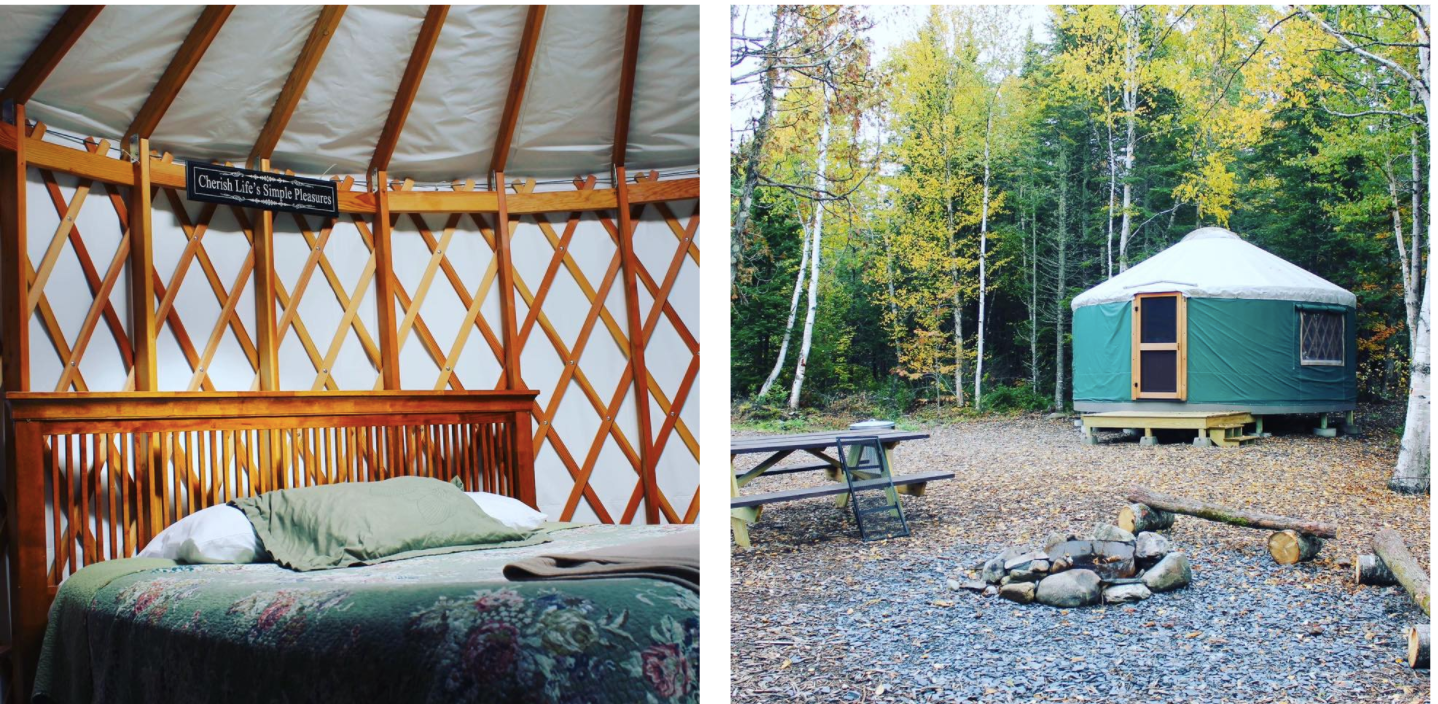 Northeast Whitewater Lodge provides a more rustic experience. This adventure outfitter is located approximately 2.5 hours north of Portland. Immerse yourself in a rugged world of raging rivers, towering cliffs, moose watching opportunities, and dense forests.
Whether you want a place to crash after your whitewater adventures or you simply want to experience camping deep in the woods of Maine, Northeast Whitewater Lodge offers incredible yurt camping options.
Their spacious and private King Bed Yurts start at $109 per night and sleep two. Bunk bed yurts sleep up to six guests and start at $159 per night for 1-4 guests, with an additional charge of $29 per night for each additional camper.
Other campground amenities include a volleyball court, fire rings, picnic tables, drinking water, changing area, bathrooms, hot showers, a large bathhouse, large group sites, and tent camping sites. Small, private, and peaceful, this campground is among the most memorable on this list.
This stunning campground is spread out over three miles and 626 acres of lush, forested Maine coastline. Situated about a half-hour north of Portland and just off of I-295 N, this campground provides a verdant escape. Sixteen-foot yurts–they call them canvas bell tents–range in price from $75 to $150 per night, depending on the season.
These yurts feature ocean views, a stove, seating, a table, and a gas grill to help you relax in comfort.
Other campground amenities include Wi-Fi, phone service, showers, toilets, a campground market, firewood for sale, drinking water, and picnic tables. RV-specific amenities include ADA accessibility and hookups.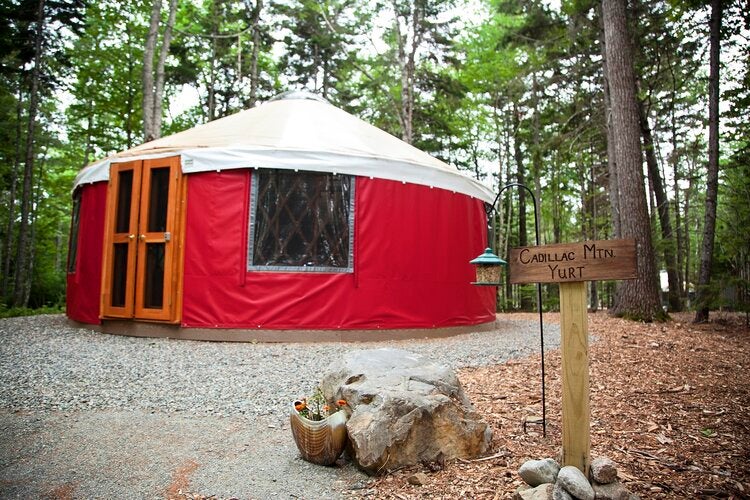 Acadia Yurts & Wellness Center provides opportunities for guests to experience yoga classes, floatation tanks, full-spectrum infrared saunas, and massage therapy.
Their luxurious 2-person tiny houses, 4-person yurts, and 6-person yurts are all equipped with a full bathroom, a kitchenette, dishware, cookware, a stove/oven, and air conditioning. Twenty-four-foot yurts start at $155 per night while 30' yurts start at $190 per night.
The beautiful, brightly decorated yurts are both welcoming and spacious. You're sure to find your zen.
---
This article was brought to you by Wild Zora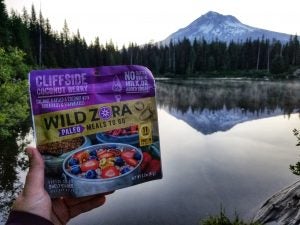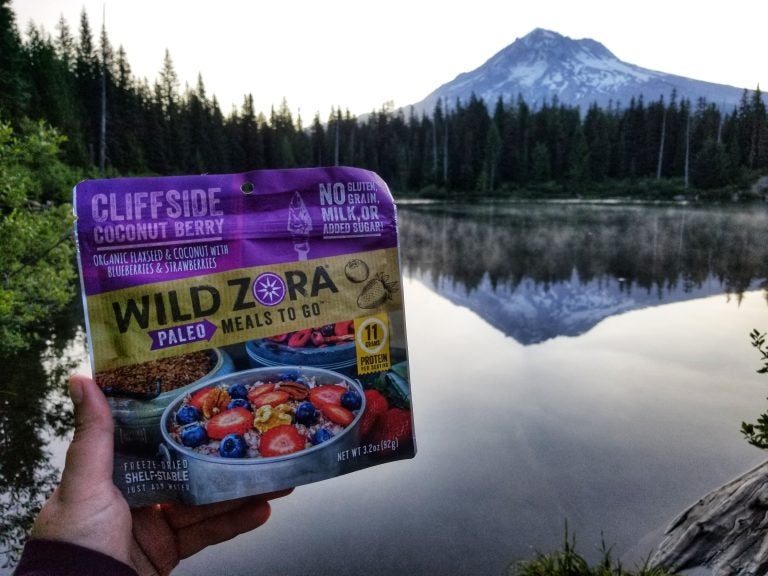 Check out their paleo meals if you're on the go or for a quick dinner at home
Popular Articles: