This article about wild game recipes is brought to you by Primus. Their camping pots and pans are the perfect setup for cooking a delicious wild game recipe at camp or even at home.
---
If you're someone who would rather hunt for their protein than purchase it at the grocery store, then you probably take the preparation of your meat very seriously. After all, you worked for it. And there's a special connection to the food you eat when you know exactly where it came from.
After the joy of the hunt comes the joy of putting together a recipe that brings out the delicious taste of duck, pheasant, deer or wild boar. With these wild game recipes, we're sure you'll enjoy your meal even more.
10 Wild Game Recipes to Try This Season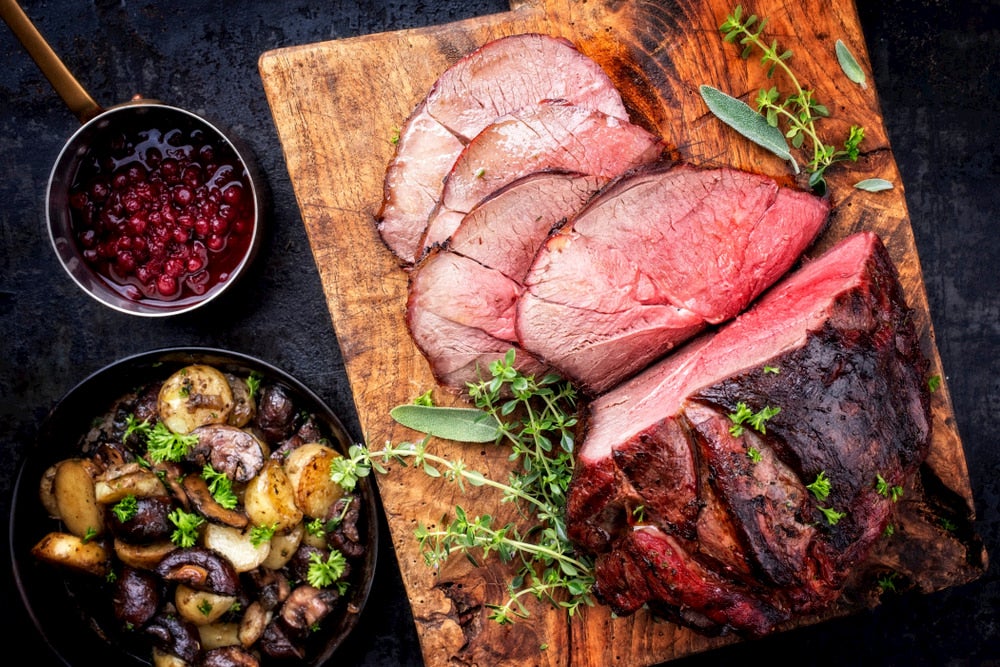 Not only are these wild game recipes drool-worthy, they're all relatively easy to make, and the active cooking portion is done within an hour or less. Most have to simmer and cook for an hour or more, or marinate overnight, but trust us, they're worth the wait.
1. Stuffed Venison Backstrap
If the name of this recipe doesn't already have you intrigued, the finished product surely will. Deer stuffed with cheese, bacon and mushrooms is the stuff wild game recipes are made of.
Ingredients:
Elk or deer backstrap
Salt
Pepper
Olive oil
1lb bacon
1 package mushrooms
1tbsp chopped garlic
8oz cream cheese
1 cup breadcrumbs
Directions:
Chop bacon into half-inch pieces and chop mushrooms. Brown bacon in skillet with chopped mushrooms and garlic until fully cooked.
In a bowl, mix bacon, mushrooms, garlic, bread crumbs and cream cheese. Stuff the mixture into the butterfly cut of the backstrap. Tie off with butcher's twine and cover in olive oil.
Set on grill and cook on medium/high heat until your desired doneness. Medium rare is about 150 degrees.
Recipe adapted from Camp Chef.
2. Pulled Duck with Plum Sriracha
Step up your wild game recipes repertoire with this pulled duck recipe. Bringing in eastern ingredients, this is a step into Chinese tradition that you can make for yourself at home or in camp.
Ingredients:
1 duck
1tbsp vegetable oil
1 red onion
Ginger
4 cloves garlic
2 red plums
6 tbsp soy sauce
4 tbsp honey
1 tbsp rice vinegar
4 tsp sriracha
Directions:
Preheat oven to 300F. Pat the duck dry and score the skin thinly. Place it breast side up on a pan and season with salt and pepper. Place in oven for 3 hours and 50 minutes, turning it on the hour.
Make the plum sauce. Heat the oil in a pan and add the onions, cooking until they're translucent. Add the ginger and garlic and sauté for a few minutes. Then add the remaining ingredients to the pot, allowing to simmer. Turn down the heat to medium for 20 minutes.
Blend the mixture in the pot using a hand mixer, making sure to leave a bit of texture in the sauce.
Once time's up on the duck, take it out of the oven and brush the breast with a bit of the plum sauce. Turn the oven up to 375F and put the duck back in for 10 minutes to make the skin crispy and tender with the sauce.
Remove duck from the oven and let rest for an additional 10 minutes before serving. Serve with plum sauce.
Recipe adapted from Kitchen Sanctuary.
3. Wild Turkey and Dumplings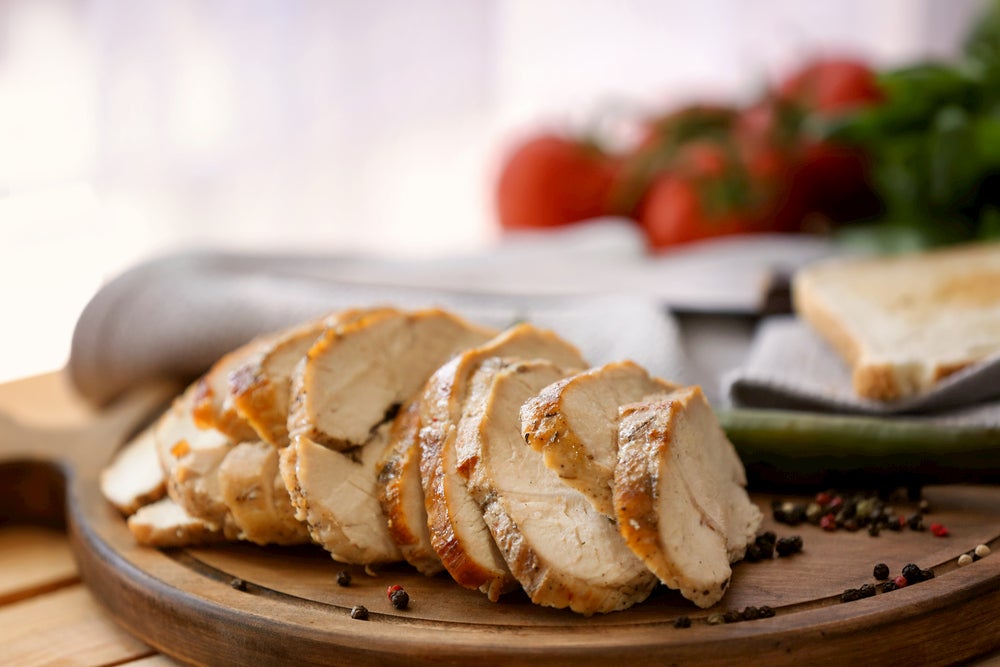 Similar to chicken and dumplings, this wild turkey recipe brings out the flavor of the turkey while giving it a hearty side addition of dumplings.
Ingredients:
2-3 lbs of turkey breast, cut into chunks
4tbsp cooking oil
1 quart of chicken stock
1 quart of water
2 chicken bouillon cubes
1 tsp poultry seasoning
Salt and pepper to taste
1 tsp salt
2 cups flour
½ tsp baking soda
3 tbsp shortening
¾ cup buttermilk
Directions:
Season turkey with salt and pepper and brown in a pan with oil. Once both sides are browned, add to a stock pot and add chicken stock, water, bouillon cubes and poultry seasoning. Simmer for two to three hours, or until turkey is tender.
As the turkey cooks, prepare the dumplings. Add flour, baking soda and 1 tsp salt in a bowl to combine. Cut in the shortening and add the buttermilk. Stir with a fork until combined. Knead the dough a few times, then cut into dumpling size pieces. Toss dumplings in flour to prevent them from sticking.
When the turkey is finished, remove from broth and taste, adding salt to adjust. Turn the heat up so the broth begins to boil. Drop dumplings in one or two at a time. Once all the dumplings are in, add the meat back in and let cook an additional 15 minutes. Serve promptly.
Recipe adapted from Real Tree.
4. Tomatillo Elk Verde Stew
A little bit of Mexican influence spices up this elk stew to bring a zesty, tasty dish you can serve with tortilla chips for one of your soon-to-be-favorite wild game recipes.
Ingredients:
1.5-2 lbs elk steak meat cut into cubes
1 lb tomatillos
2 white onions, halved
3 jalapenos
½ cup cilantro
2 cloves garlic
4 tbsp canola oil
3 cups beef stock
2 tsp cumin
1 tsp oregano
1 tsp salt
Directions:
Husk the tomatillos and wash. Roast the tomatillos, onions and jalapenos on the grill. Remove the tomatillos when they're warm and slightly charred; remove the onion and jalapenos.
Pulse the tomatillos, jalapenos and cilantro in a blender until mixed and chunky, removing the stems of the jalapenos to reduce heat.
Heat oil in a skillet on the stove and brown all sides of the elk steak. Remove and set aside.
Cut up the onions and add them, along with the garlic, into the oiled skillet. Add the cumin, oregano and salt, stirring to coat the onions. Once translucent, add the tomatillo sauce from the blender, as well as the beef broth and browned elk steak. Cover, reduce to low, and let cook for 25-30 minutes.
Serve with tortilla chips, sour cream and avocado.
Recipe adapted from Nevada Foodies.
5. Easy Breakfast Sausage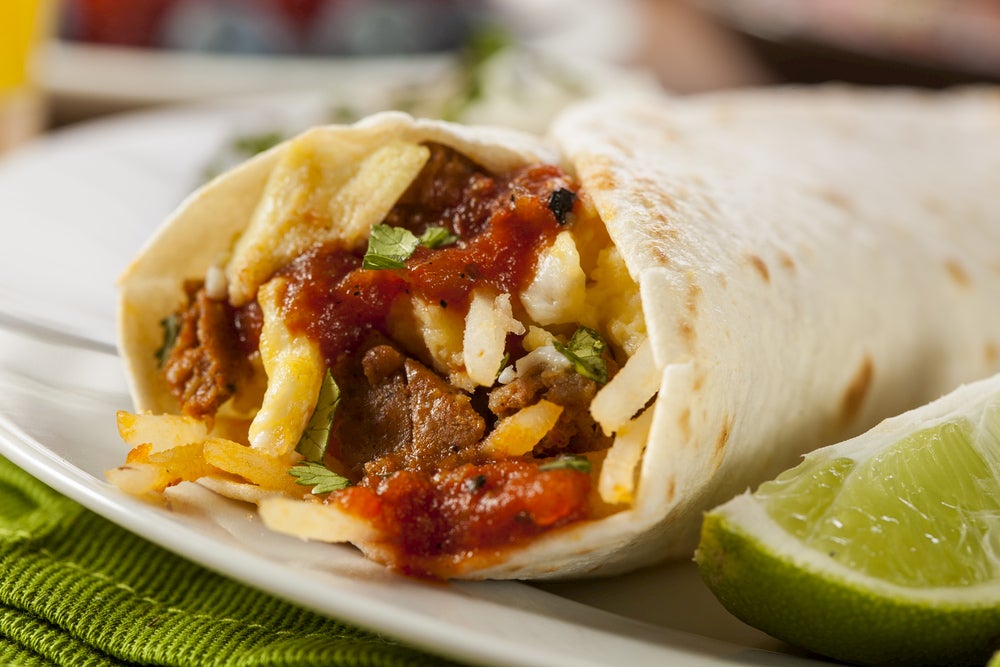 If you're looking for a quick and easy breakfast sausage recipe using the ground venison or wild turkey in your freezer, this is it. The is one of the quickest wild game recipes out there, taking less than five minutes to put together, and only 10 minutes to cook.
Ingredients:
2 lbs wild game meat
½ lb pork, cut into pieces
2 garlic cloves
1 tbsp parsley flakes
2 tbsp sage
1 tbsp thyme
½ tsp fennel
Pinch of nutmeg
2 tsp salt
½ tsp pepper
½ cup cooking oil
¼ cup sugar
Directions:
Mix wild game and pork into a pan and sprinkle the spices, sugar and cooking oil evenly across the pan.
Mix everything together so that it's evenly combined, then add to the meat grinder.
Heat a skillet over medium-high heat and add a bit of oil.
Make patties with the ground meat and add to the pan, browning each side and cooking until no longer red in the center.
Recipe adapted from Original Homesteading.
6. Pheasant Fried Rice
Similar to the wild duck, this pheasant fried rice recipe gets its inspiration from a traditional fried rice dish with pheasant as the main protein instead of pork or chicken.
Ingredients:
½ cup onion
1 tsp garlic
2 tbsp olive oil
4 cups cooked rice
2 eggs
2 drops sesame oil
3 tbsp soy sauce
½ cup frozen peas
½ cup frozen carrots
Thinly sliced pheasant breast (from one pheasant)
Directions:
Heat a skillet and add the olive oil. Cook the onion and garlic until the onion is translucent. Remove from the pan and allow to cool.
Add the eggs, sesame oil, salt and pepper to the skillet. Whisk the eggs to scramble, then remove from the pan.
Add remaining olive oil to the pan and add the pheasant to brown. Add salt and pepper, then the frozen peas and carrots, along with the onion mixture.
Once that's all combined, add the pheasant, rice, eggs and soy sauce. Stir to combine, then serve.
Recipe adapted from Iowa DNR.
7. Deer Chili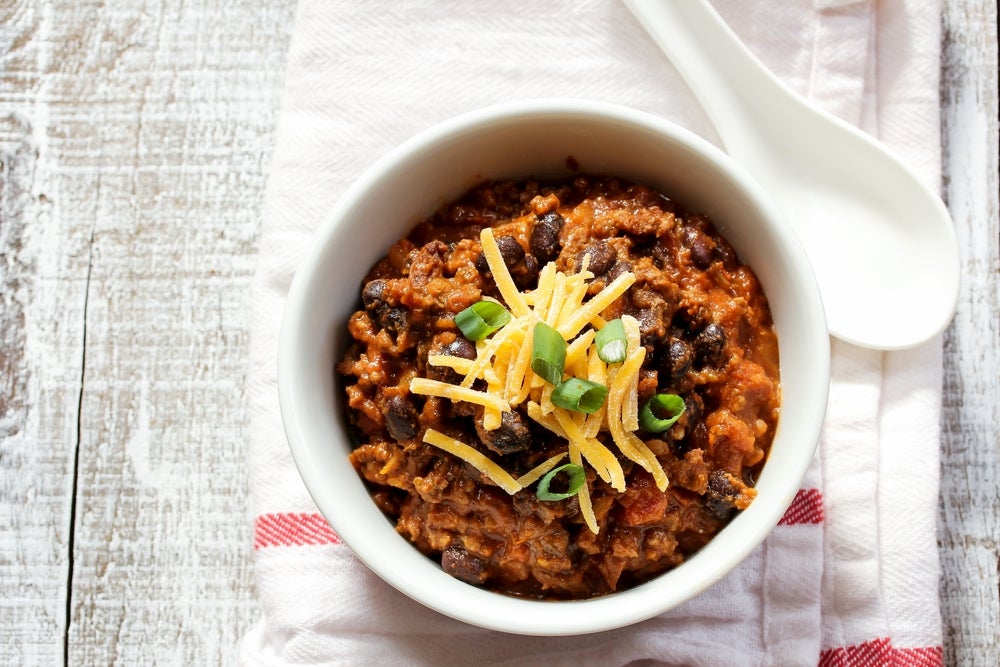 Chili is one of our favorite recipes to make at the campsite, and when you add in some wild game, it gets even better. Plus, it's so easy to make and takes just about 20 minutes of active prep.
Ingredients:
2 lbs ground venison
1 lb ground pork sausage
14.5 oz can of diced tomatoes
15.5 oz can of light red kidney beans
32oz low sodium tomato juice
1 green bell pepper, diced
Olive oil
1 tbsp chili powder
1 tsp cumin
¼ tsp garlic powder
½ tsp onion powder
1 tsp salt
Cornstarch (optional)
Directions:
Coat a Dutch oven with oil and add venison and pork, cooking until browned.
Add chili powder, cumin, garlic powder, onion powder and salt to the meat. Cook for another five minutes.
Add tomatoes, kidney beans and tomato juice.
Stir to combine, then let simmer for about an hour.
Add green peppers into the pot and cook for an additional five minutes.
Mix cornstarch with water 1:1 to thicken if desired.
Recipe adapted from Can't Stay Out of the Kitchen.
8. Jalapeno Duck Poppers
An ultimate and immediate crowd favorite, these jalapeno duck poppers use tender duck meat, bacon and cheese to create one of the tastiest wild game recipes you'll want to make over and over.
Ingredients:
10 jalapeno peppers
10 slices of bacon
8 oz package of cream cheese
1 lb duck breast
½ bottle Allegory Hickory Smoke Marinade
Directions:
Cut duck breast into 1-inch slices and place in bowl with marinade. Let sit overnight.
Preheat oven to 400 degrees.
Cut jalapenos in half and remove ribs and stems.
Fill jalapenos with cream cheese, place a duck strip on top and wrap in bacon.
Bake for 30-40 minutes, or until bacon reaches desired crispiness.
Recipe adapted from Easy Peasy Pleasy.
9. Venison Jerky
Jerky can be quite the undertaking, but when it turns out well, it turns out well. This jerky recipe is simple and easy to follow without requiring any fancy jerky-making equipment.
Ingredients:
1 lb boneless venison roast
4 tbsp soy sauce
4 tbsp Worcestershire sauce
2 tbsp liquid smoke
1 tbsp ketchup
¼ tsp pepper
¼ tsp garlic powder
¼ tsp onion salt
½ tsp salt
Directions:
Slice meat into long strips, one inch wide and about an eighth-of-an-inch thick.
Combine soy sauce, Worcestershire sauce, liquid smoke, ketchup and seasonings in a ziplock bag and add the meat.
Let sit overnight.
Preheat oven to 160 degrees and place a pan on bottom to catch drippings.
Place strips so they don't touch and dehydrate for 6-8 hours, until your desired consistency is achieved.
Recipe adapted from All Recipes.
10. Hearty Hunter's Stew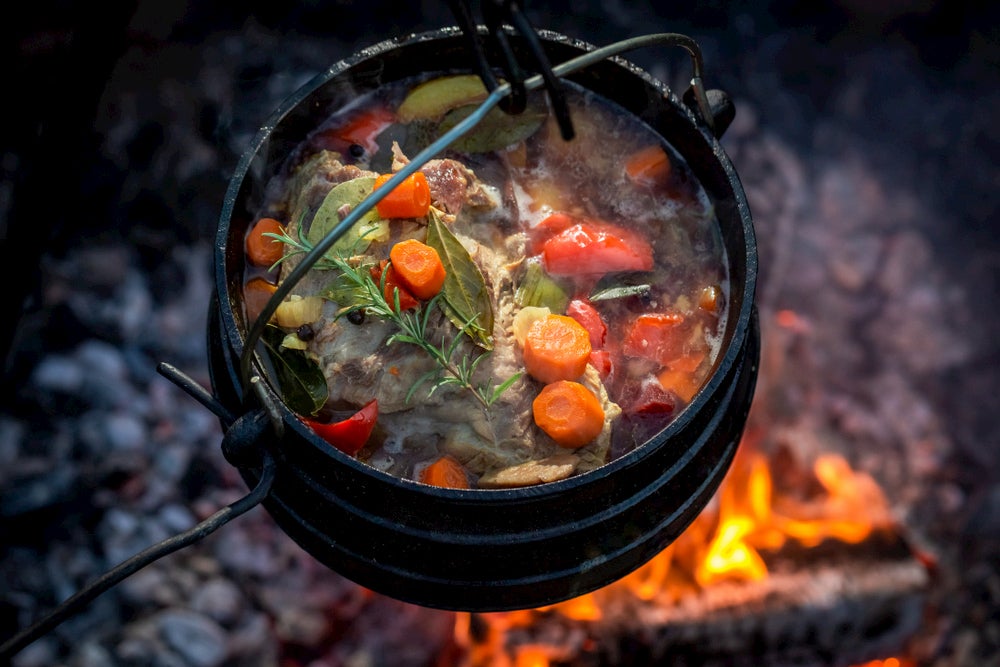 Of course, one of the most well-known wild game recipes is stew. Made with potatoes, carrots and venison, this is the perfect meal for a chilly night around the campfire. It'll warm you up from the inside out.
Ingredients:
2 lbs venison cut into cubes
2 tbsp canola oil
4 ¼ cups water, divided
½ cup tomato juice
2 medium onions
2 celery ribs
1 tsp Worcestershire sauce
2 bay leaves2
3 tsp salt
½ tsp pepper
6 carrots, quartered
1 large rutabaga peeled and cubed
6 potatoes cubed
1 cup frozen peas
1 tbsp cornstarch
Directions:
Brown meat in a Dutch oven over medium heat. Add 4 cups water, tomato juice, celery, onions, Worcestershire sauce, bay leaves, pepper and salt. Bring to a boil, then reduce heat and let simmer for two hours.
Remove bay leaves and add the carrots, potatoes and rutabaga.
Stir in the peas and cook for an additional 10 minutes. Combine cornstarch and remaining water and stir until smooth. Bring to a boil. Cook for an additional two minutes, then serve.
Recipe adapted from Taste of Home.
---
 This article was brought to you by Primus.
Their line of cooking equipment is the perfect addition to your overland gear and hunting setup.
Popular Articles: