Senator Mike Lee, R-Utah, believes states should have rights over federally managed lands in series of bill proposals.
---
Since the ink dried on President Obama's declaration of Bears Ears National Monument on the 11th hour of his presidency in 2016, the state of Utah has been a battleground for the public lands debate.
Utah Senator Mike Lee recently added fuel to the public lands fire as he proposed three bills targeting federal land management in the state of Utah during a Sutherland Institute speech. During his speech, Sen. Lee took on the outdoor recreation recreation industry and crisply described recreationists as "elitists"–those part of the upper-middle class who want to protect federal lands purely for the fun and beauty they provide.
"They envision a landscape dotted only with picturesque resort towns that exist for their pleasure: destinations where they can jet in, spend a few days at the cabin and the shops, take a few pictures of some animals, and then retreat to their elite enclaves on the coasts," Sen. Lee said.
The relationship between Utah's legislatures and the outdoor industry has been rocky for some time. Those described by Sen. Lee as "elitists" boycotted Salt Lake City as home of Outdoor Retailer, the largest outdoor recreation expo in the country. This prompted a bold move to Denver, Colorado last year, and only widened the divide between politicians, outdoor recreationalists, and the state of Utah.
The outdoor industry, predictably, did not react favorably to Sen. Lee's speech and his subsequent tweets that reiterated his points.
Finally, our long-term goal must be the transfer of federal lands to the states. And that is the aim of the third bill that I intend to introduce. #utpol #SIPublicLands

– Mike Lee (@SenMikeLee) June 29, 2018
Let's insist on a reassertion of the American people's control over their government and of their land. #utpol #SIPublicLands

– Mike Lee (@SenMikeLee) June 29, 2018
Groups like Outdoor Alliance have already created a petition decrying Sen. Lee's land management proposals, and the fight will continue as public lands remain in the forefront of U.S. politics.
Utah: The Federal Lands Battleground
The establishment of Bears Ears National Monument was not the first time that federal lands in Utah were used as a contested pawn in the federal lands debate. President Clinton created Grand Staircase-Escalante National Monument on September 18, 1996–right at the pinnacle 1996 presidential election in which he won. President Clinton's declaration was met with immediate praise by those present at the declaration, which included environmentalists, Native Americans, politicians, and various other groups. However, those in the nearby small community of Kanab, Utah, protested the decision due to the loss of a potential coal development, which was projected to provide hundreds of local jobs.
Years later, and after Bears Ears National Monument came to be, the battle over public lands continued with President Donald Trump's review of 27 national monuments. President Trump and Interior Secretary Ryan Zinke proposed shrinking some national monument territories–potentially opening them up to oil and gas, timber, or grazing leases.
Constantly questioned and debated are the intended uses of many of our federal lands. Should federal lands serve as an economic engine for the U.S., or be preserved as wild, scenic places for people to experience nature? In Sen. Mike Lee's speech, he outlined why shifting the focus to economic development and state sovereignty is better for Utahns.
How the Wild West Fell to Federal Management
The federal government owns 47-percent, of land in the western part of the U.S. States like Alaska, Oregon, Nevada, and Utah are comprised of more than 50-percent federally managed land, with Utah clocking in at 64.9-percent. Meanwhile, east of the Mississippi River, the federal government only manages four percent of the land.
As the United States moved westward, land was acquired through purchase or simply by taking it from Native Americans and other various peoples. It was through programs like the Homestead Act of 1862 and the Desert Lands Entry Act of 1877 that land in the west went from federal ownership to private ownership–incentivizing farmers and ranchers to use and establish the land.
However, in the late 1800s, concern over federal land development prompted a conservation and preservation movement that focused on protecting some of the national treasures we visit today. Yellowstone National Park was created in 1872, which kicked off the safe-keeping of our national parks, and kept management within the federal government. Eventually, Congress voted to keep a majority of federal lands under federal management through the Federal Land Policy and Management Act of 1976–effectively silencing any talks of a transfer.
Now, Sen. Lee is reopening that discussion turned debate with three proposed bills that will greatly affect Utah's public landscape.
Let's take a look at each of them:
1. National Monument Oversight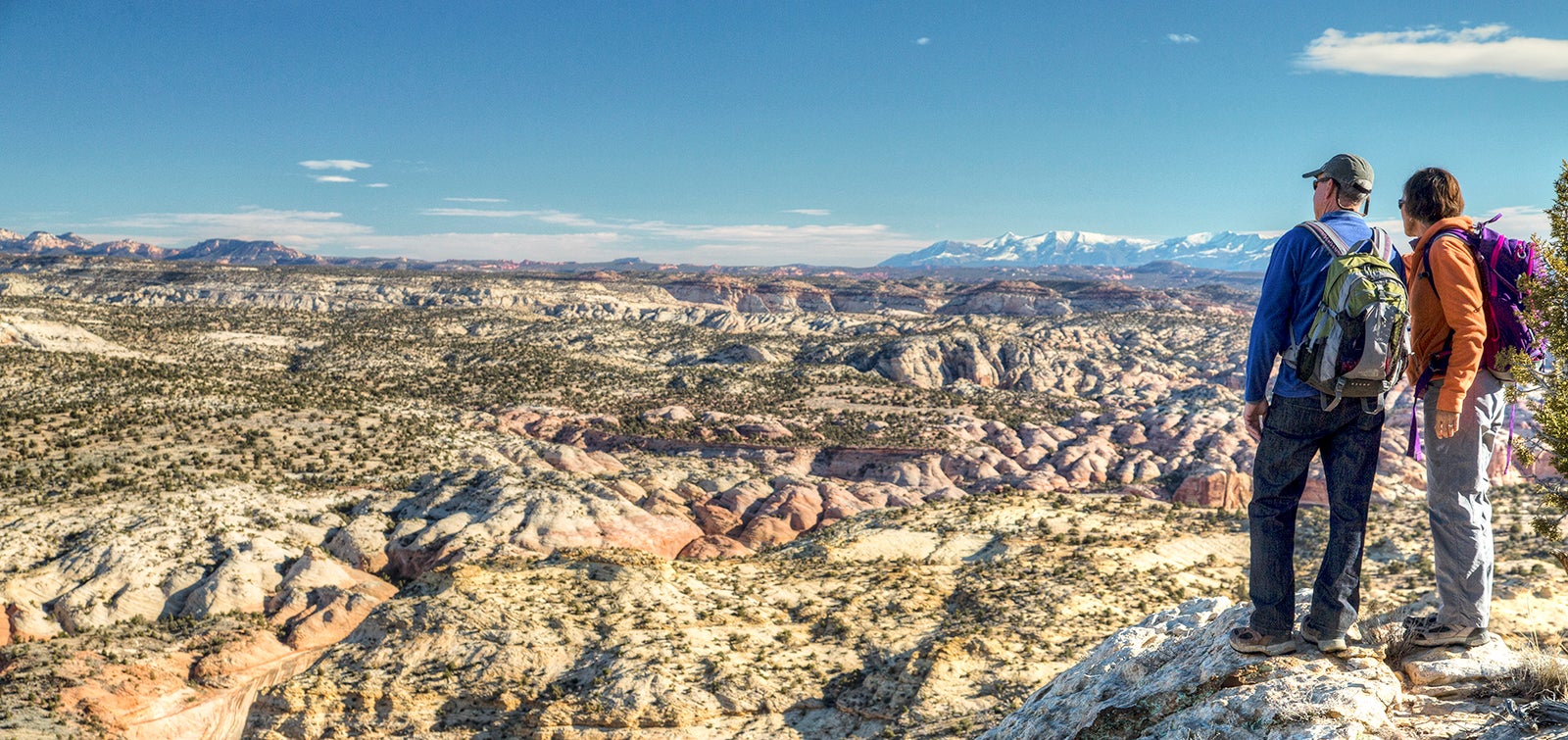 Sen. Mike Lee's first proposal targets the Antiquities Act of 1906. This act gives the president authority to protect federal lands with significant cultural, archaeological, scientific, or natural lands by declaring them a national monument.
Sen. Lee claims that Utah has endured enough abuse from this law, given that both President Clinton and President Obama "monopolized millions of acres across the state," through the creation of Grand Staircase-Escalante and Bears Ears. Sen. Lee said, "These protections sound beneficial and in many ways they can be, but they also impose severe significant restrictions and regulations on the surrounding localities."
As a rebuttal to protect Utah from the Antiquities Act, Sen. Lee proposed the Protecting Utah's Rural Communities Act. This law would disable the president's ability to declare federal land as a national monument in Utah, unless Congress and the Utah state legislature approve of the national monument designation.
2. Build Affordable Housing on Public Lands
Sen. Lee described his second bill as a "new" Homestead Act. This bill focuses on the transfer of some federal lands to state or local governments so that affordable housing can be built and provided to Utahns who cannot compete in the Utah housing market.
"A 'new' Homestead Act could expand the law to allow states, local governments, and individuals to petition the government to use that land for affordable housing … or education… or health care or research," Lee said. He referenced that much of Utah's federal land remains untouched when it could be used to serve Utah's people.
3. Federal Land Transfer to States
Sen. Lee's final bill is the most hotly contested. He proposes a federal lands transfer to the states. Sen. Lee cites Missouri and Illinois as great examples of successful land transfers, and attempted to ease the mind of some public land advocates. "…we're not talking about our national parks. We're not talking about our national monuments. We're not talking about declared wilderness. We're talking about land that is sitting there – untouched, untouchable, garden-variety land."
The Utah senator acknowledged that this would be a long process, but did not waiver on the idea that he believes there is too much federal oversight. Though, he did not outline a plan or address whether western states are even financially equipped to handle a federal land transfer that would consist of millions of acres in need of management. That's a high cost.
He did state, however, that the fight for a federal land transfer will be "brutal." He's not wrong.
Public Land Pushback
Many groups, including outdoor apparel company Patagonia, and The Wilderness Society have long stood by the preservation and protection of the nation's federal lands. Brad Brooks, director of The Wilderness Society's Public Lands Campaign, spoke out against Sen. Mike Lee's recent proposals.
"Sen. Lee's misleading and error-ridden speech paints an extreme vision in which America's public lands are handed over to state control where they would be sold out or sold off to oil and gas development to benefit state treasuries," Brooks said. "The Wilderness Society opposes any efforts to sell out our nation's natural and cultural heritage to an elite few. We will hold Senator Lee and all members of Congress accountable for proposing to destroy our system of public lands."
Neither side of the public lands debate is slated to cool off. Sen. Lee's plan to ultimately transfer federal lands into states' hands comes with a whole lot of fire waiting to spread. "We must give speeches, talk to our neighbors, our family members… write op-eds, take tough votes, write legislation, and stick our necks out for these bills," Sen. Lee said.
The outdoor industry is geared up to fight in opposition. Petitions, speeches, and op-eds contesting a land transfer will continue to flow from both ends. And Patagonia will remain visibly at the forefront to save our public lands.
As of now, no timeline has been set for Sen. Lee's formal legislative introductions of his three proposals.
Popular Articles: