The simple truth: popcorn is delicious and simple to make. Campfire popcorn is even better. 
---
There's something so satisfying about making popcorn over a campfire. Hearing the kernels pop and enjoying the warm smell of popcorn is so much better than just opening a bag of chips. You can make it sweet or salty, and get creative with the seasonings you sprinkle on top.
Make a big batch and enjoy it all weekend. When you're hiking and exploring and enjoying your campground, you're going to want to be munching, too.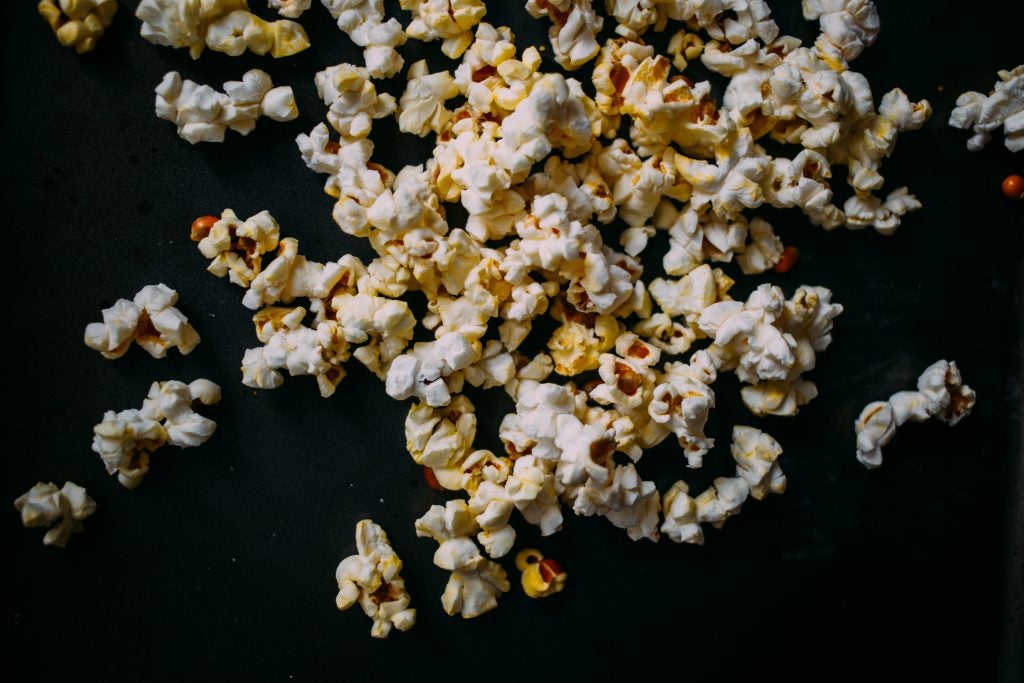 There are two ways to make popcorn over a campfire. We'll show you how to do both, along with some fun seasoning ideas and recipes that make campfire popcorn even better.
---
The Dyrt PRO ensures easy trip planning and helps you deal with last-minute cancellations. With the upgraded version of The Dyrt app, you can access campgrounds, maps, and photos for offline use during outdoor adventures.
---
Ingredients (Classic Campfire Popcorn)
Popcorn kernels
Oil (vegetable, canola, coconut, or olive)
Salt
(We'll get to more ingredients for the fancy stuff later…)
Method 1: Campfire Popcorn in a Pot
Supplies: Large pot with long handle and pot lid. (A dutch oven works, too — but it's harder to stir because of the weight.)
Step 1: Add 1 ½ tablespoons of oil. Spread the oil around to coat the bottom of the pot.
Step 2: Add ½ cup of popcorn kernels to the bottom of the pot. Only add enough popcorn kernels to make a single layer. Add ½ tablespoon of salt to the popcorn kernels. (You can always add more salt after the popcorn has popped, but you can't add less.) 
Step 3: Place the lid on the pot and place the pot over the fire. If your pot does not have a lid, you can create one with heavy-duty aluminum foil.
Step 4: Let the pot sit over the fire until you hear the first pop. Then pick up the pot (with a pot holder or a thick rag) and shake it over the campfire. Don't let the pot sit over the campfire for more than a few seconds or the popcorn will burn.
Step 5: Remove the pot when you hear more than 3 seconds between pops. When you remove the lid, hold the pot away from your face — rogue kernels might still be popping.

If you're car camping and have the space, a Whirley Pop Open-Fire Pop Popper with an extra-long handle and crank system is just the thing for campfire popcorn aficionados. This ingenious popcorn-specific pot allows you to move the kernels around to pop more thoroughly and keep them from burning.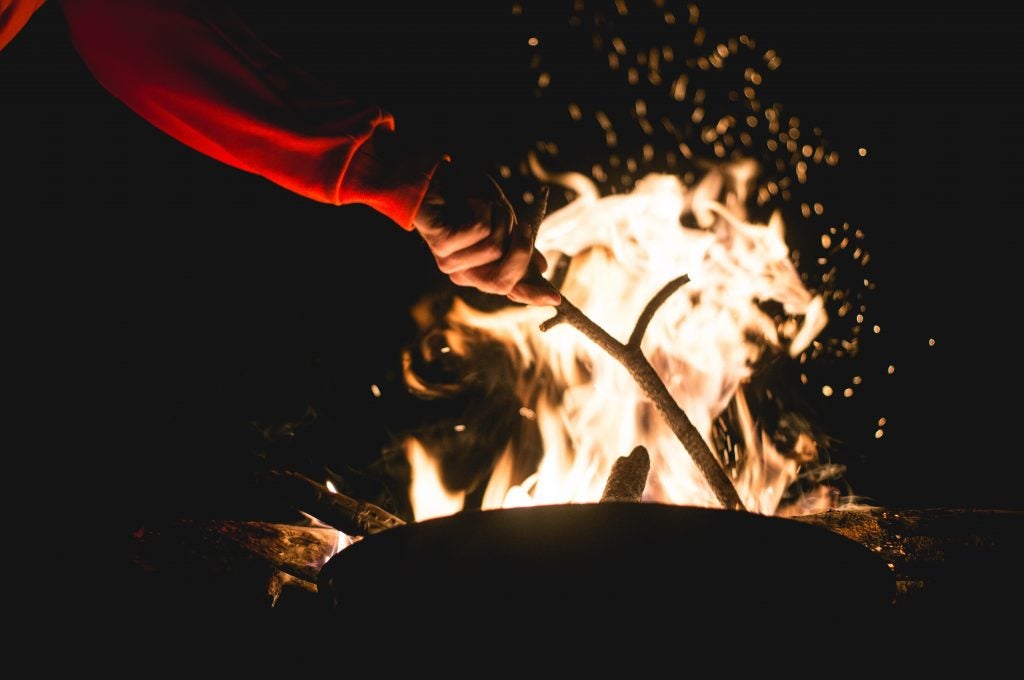 Method 2: Campfire Popcorn in a Pouch
If you're a camper with limited space, this method is perfect for you.
Supplies: Heavy duty aluminum foil and metal campfire skewer
Step 1: Tear off a sheet of 18"x12" heavy-duty aluminum foil. Fold it in half.

Step 3: Add 2 tablespoons of popcorn kernels to the pouch. Drench it with 1 ½ tablespoons of oil.
Step 2: Pinch and fold the edges of the aluminum foil together to form a pouch. Don't fold all the way to the popcorn kernels because you'll want plenty of room for the kernels to pop and expand. Ensure that the edges are secure. One area of the pocket should be sturdier than the rest.

Step 3: Pierce the sturdy part of the aluminum pocket with the metal skewer (a marshmallow skewer works perfectly).
Step 4: Hold the pocket just above the campfire. Don't fully engulf the pocket into the flames. Hold it until you hear popping. Once you hear the popping slow down, remove it from the fire and enjoy!
Add More Flavor with these Seasoning Ideas
Mix up these seasonings before you leave home. You can store them in plastic baggies, Tic-Tac containers, or silicone tubes.
Kettle corn
Add 1 to 2 tablespoons of sugar along with the salt and oil while you pop the popcorn. It tastes like the kettle corn you'll find at a carnival and it's just as addicting.
Spicy paprika
Mix 1 tablespoon of nutritional yeast, 2 tablespoons of smoked paprika, 1 teaspoon of chili powder, 1 teaspoon of garlic salt, and one teaspoon of salt to create a cheesy, smoked, buttery campfire popcorn with a unique flavor.
S'more
Toss in a handful of mini chocolate chips, mini marshmallows, and crushed up graham cracker bits to create a s'more-style popcorn trail mix. The marshmallows and chocolate melt into the popcorn for a sticky and satisfying treat.
Packaged seasonings
There's no limit on what you can sprinkle on top of campfire popcorn for a delicious snack. Try ranch seasoning, taco seasoning, powdered Japanese wasabi, or Italian seasonings to quickly add some more flavor to a plain pot of popcorn. Bonus: packaged seasoning mixes are already in a container. 
Popular Articles: