Supplies are flying off shelves as Hurricane Florence spins into a Category 4 storm with sustained 130mph winds. Workers are hurrying to resupply water, fuel, and canned goods as residents prepare for the brunt of the storm, expected to make landfall late Thursday or early Friday.
Two Must-Have Emergency Prep Items for Hurricane Florence
The most important items to think about when preparing for a natural disaster are food, shelter, water, and communication. With store shelves going bare, Amazon is an excellent option for securing food and communication supplies (water and shelter are best secured locally). Despite increasingly increment weather and empty shelves, it's still possible for items to arrive in just 1 or 2 days via Amazon Prime.
Multiple Power Source – Emergency Communication: Hand Crank Radio
You cannot count on cell service or Internet in major storms. To stay abreast of vital alerts in the midst of an emergency, a hand crank radio like the ER310 radio provides NOAA weather alerts, a flashlight, an SOS flashlight beacon, and an ultrasonic dog whistle for searchers to more easily find you. Even turned off, the ER310 will broadcast urgent alerts of important weather updates. With no need for batteries and the option to crank-charge your phone via the USB port, this hand crank radio could quite literally be a lifesaver. This specific radio can also be powered by 6 AA as a backup power source.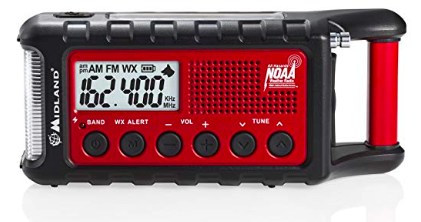 Buy Now $59.99
Shelf-Stable Emergency Food Surplus
The key to emergency prep is thinking in a worst-case mindset. Always have more food on-hand than you think you need, and store it in different locations in case one of your nearby stores is damaged. For ongoing preparedness, you want food with a decade-plus shelf life that you can still stomach when it comes time to eat. For both these reasons we recommend Mountain House's 5 Day Emergency Food Supply ($88 for 37 servings, or just over $2.30 per serving). With a 30 year shelf life, a balance of nutrients, sodium, and calories, and 37 servings, it is the best food preparedness buy out there. These meals can be made with either hot or cold water.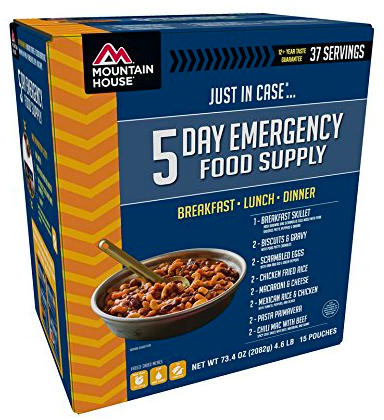 Buy Now $87.99
Update: Hurricane Florence Current Status
According to the National Hurricane Center, a Storm Surge Watch will likely be issued early Tuesday morning for the coastlines of Virginia and the Carolinas, and large portions of the Eastern Seaboard along with Bermuda are on watch for large swells that could result in "life-threatening surf and rip currents."
Both North Carolina and South Carolina Governors have officially declared a state of emergency and are asking President Trump do the same. The South Carolina Department of Health and Environmental Control is also urging dam and pond owners to lower levels before the storm hits, potentially bringing 20+ inches of rainfall to the region.
Mandatory evacuations have already been issued beginning Tuesday at 8am.
This time last year the United States watched as Hurricane Maria made landfall in Puerto Rico, sustaining $91.6 billion in damages, the third costliest hurricane to ever hit the Atlantic, claiming nearly 3,000 lives in the US territory. Hurricane Florence, now on track to make landfall in the Carolinas threatens to become the deadliest hurricane to the region in nearly three decades.
Hurricane season began in mid-August and will extend until the end of November, and while forecasters are predicting a relatively mild season this year, Florence comes as one of five to nine predicted hurricanes in the 2018 season.
The best thing you can do before any natural disaster is be prepared and stay calm. Check the status of Hurricane Florence in real time, and plan your evacuation route here.
Popular Articles: