Owning an RV for the first time is a big accomplishment, but driving it for the first time can seem menacing. It's important to learn how to command your vehicle early on so that you can feel confident and have fun while on the road. We'll provide you with some tips on how to get comfortable driving your RV.
You'll want to make sure you get a lot of practice before hitting the road, as well as feel comfortable on bumpy terrain, tight turns and when faced with small parking spaces. If you haven't bought an RV yet, it might be a good idea to rent an RV to see which type you like before you buy. Plus, you'll have the opportunity to practice driving it. Companies like Outdoorsy rent out all sorts of RVs so you can get a feel for what you like.
How to Get Comfortable Driving Your RV
Below are some tips for how to get comfortable driving and stay safe on the road.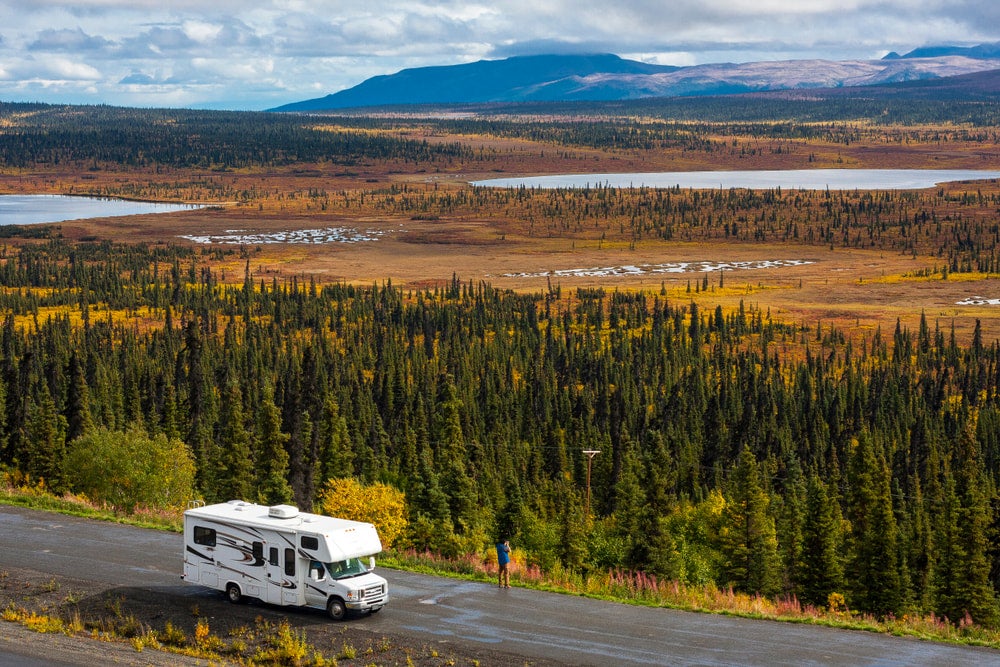 Before You Hit The Road
Before you're on the road, you'll want to do some planning so that you stay as safe as possible while learning how to get comfortable driving your RV. Follow these tips before your big adventure.
Practice Driving in a Parking Lot
If you just purchased your RV or are testing out a rental, practice driving in a parking lot. Just like when you were 16 with a new drivers license, you'll want to get a comfortable behind the wheel, but this time you'll be in a much larger vehicle.
Make sure to practice turning, backing up, braking, and parking several times before attempting to navigate a busy road. You might feel clumsy at first, but it will become easier with practice. You can also practice parallel parking, K-turns, perpendicular parking and other difficult maneuvers that will help navigate difficult driving maneuvers in the wild.
Know the Height and Width of Your Rig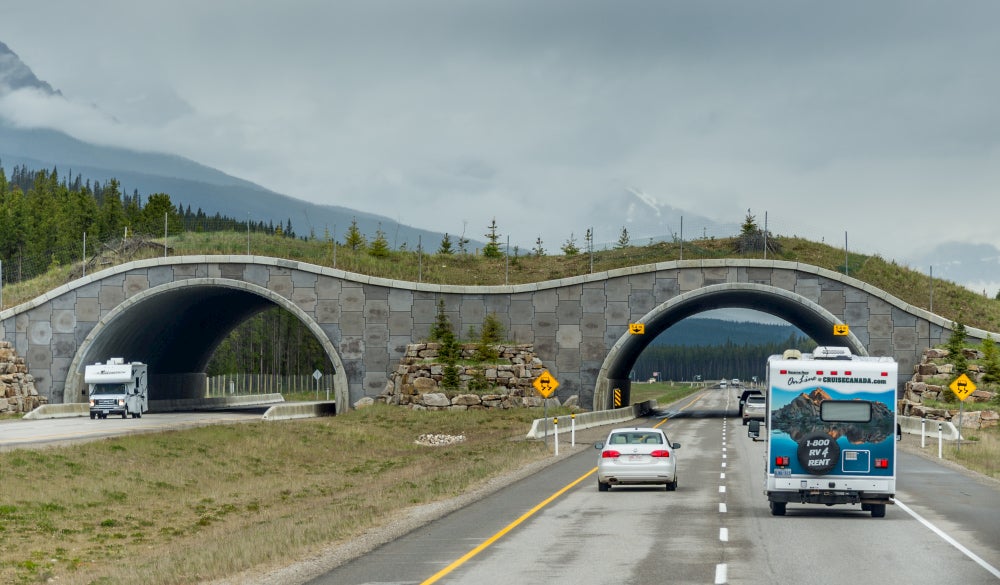 Before you hit the road, it's imperative that you know the height and width of your vehicle. Most RVs are between 10-14 feet in heigh. We recommend writing down the height of the RV on your dash so you never forget, and can easily do a visual check before going under an overpass. The height of most interstate passes is 16 feet, so in most cases, you should be safe.
However, fast food drive-throughs often only have a 10 foot clearance, so you should plan to park your RV and go in. When you are on the road, if you see that your vehicle will be too tall for an overpass, don't panic. Whip out your GPS or smartphone and navigate an alternate route.
Plan Your Fuel Trips
Make sure to plan your gas stops ahead of time. You'll want to try to find gas station that cater to truckers, so that you won't have to worry about squeezing into small gas stations. Some popular chain gas stations that cater to truckers include TA Travel Centers and Pilot Travel Centers, but several others are found through the U.S. The Trucker Path app is a great way to find these gas stations.
We recommend that RV drivers have their driving partner stand outside the RV to make sure they're not too close to the fuel pump, the roof, and other vehicles.
Plan Your Trips
Before you get going, make reservations in advance. You can ease stress by using The Dyrt PRO to plan which campgrounds or RV resorts you plan to go to, and can even download maps if you drive out of service.
Remember that KOAs fill up quickly so you should plan well in advance. You can also try dispersed camping in national forests or in BLM land if you want a more wild experience. You can stay in these areas for free for up to 14 days and they are usually easy to come by.
When You're On The Road
Check out these tips for when you're on the road to ensure your safety and learn how to get comfortable driving your RV.
Adjust Your Mirrors
Before you start the engine, make sure you adjust all of your mirrors. Once driving, use your mirrors too ensure that you always have an eye on the rear of your vehicle. If you need to pull over and readjust your mirrors, don't be afraid to do so.
Pay Attention to the Weather: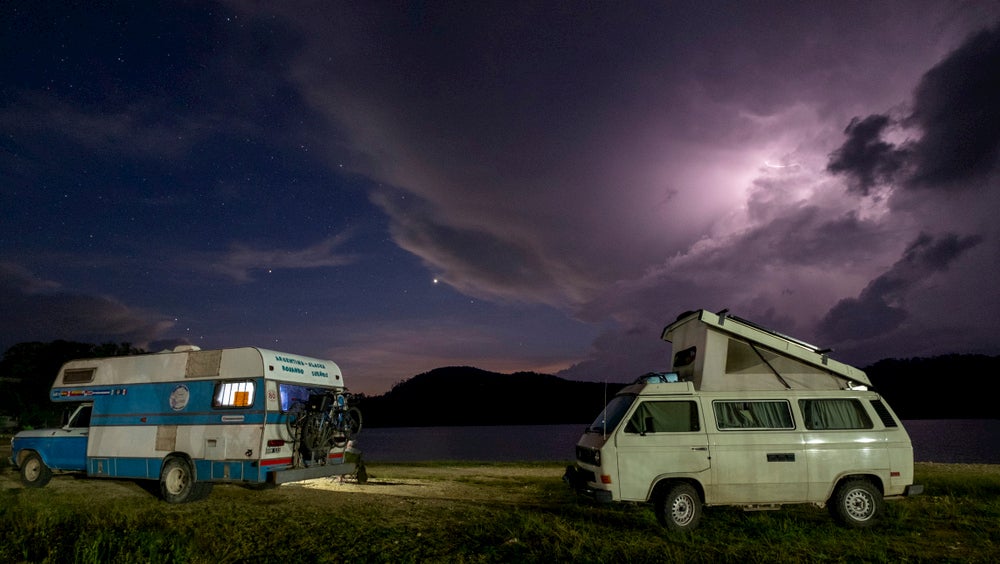 Depending where you are traveling, weather can change drastically and at a rapid pace. Use a weather app to forecast your trip. If it's snowing or raining hard, there is a chance of thunder and lightning, or there is strong wind, it's best to play it safe and pull over to camp until the weather calms down. Fog, ice and hail can also be dangerous while driving a large vehicle. Make sure to keep yourself and your RV safe.
Be Courteous of Other Drivers
When you're out on the road, you'll be sharing the road. And being in a large vehicle like RV, can make other drivers nervous. To show that you're not a threat, it's important to be courteous.
Use your turn signals far in advance, for example. This gives drivers a lot of time to make decisions, and reduces the risk of accidents.
Also make sure to know your route, and get into the correct lanes far in advance. You won't be able to squeeze into traffic last minute like you would with a smaller vehicle. So, plan ahead so you don't miss crucial turns and exits, and be patient.
Go Slow
Remember, you're not in a zippy sports car. You are a lumbering house on wheels, so it's best to drive safe and slow. RV experts recommend sticking to around 63 miles per hour on the interstate and not going over 65 for  safety purposes. You won't want to risk being unsafe for an impatient driver. Plus, you'll get better gas mileage if you stick to a consistent speed.
Stick Right
Make sure to always stay in the right lane. This ensures that you can pull over if you are having any mechanical issues. Driving far to the right also gives you the best visual access from the driver side mirror. Obviously move left when not making an exit or turn, but try to stay to the right as often as possible otherwise.
Keep Your Distance and Know When To Brake
Make sure to not get too close to the cars in front of you. It's best to be at least 400 feet behind other drivers. If you need to break, try to plan it well in advance. In a 7,000 pound vehicle, it will take some time to come to a complete stop, so make sure the path is clear in front of you. You won't be able to stop abruptly like you would in a smaller vehicle.
Popular Articles: