When Cheri met Tom through a dating app, Tom was already living on the road full time. It's safe to say they hit it off because now they live together in an RV, exploring the U.S. and spending their time split between the mountains and the coast.
Tom and Cheri's youtube channel authentically documents their day-to-day life,  showing how fun every day on the road can be with scenic hikes and oceanside campsites. Enjoy The Journey has become a community on its own for everyone from fellow full-timers to the RV curious. Once making their RV lifestyle a reality, they chose to film their life in order to inspire others. "From the beginning, our mission has been to inspire people to get out there and enjoy life now", said Tom.
Tom and Cheri's channel is sure to offer tips and info on RVing without glossing over the mistakes they have made on their own adventures. It is so fun to see their relationship grow through Youtube, as well as their experience with different rigs and different types of RVing. Most recently they have invested in a solar setup for plans to spend more time off the grid boondocking.
From A Dating App to an RV
Can you give our readers a little background on why you originally chose RV life?
Tom: I had a vision of working on projects that inspired me, in nature with nobody else around, a view of the mountains, lakes, rivers, etc and not being stuck in one location.  I wanted the freedom to move to different parts of the country.
Cheri: Tom was already living the RV life, and I joined him after we met and started dating.  He was 'wintering' in Pensacola, and I was living in Destin. We both 'swiped right' on a dating app.  He was afraid to 'disclose' that he lived in an RV, but when he told me, I thought it was super-cool! I couldn't picture myself doing it, but could I…?
When you guys met, Tom was already living full-time in his RV? Cheri, how did that work for you?
Cheri: I thought it was such a cool concept. I had always been intrigued by the tiny house movement, but had not heard of living in an RV, although it's just a difference in wheels, right? The weekend following our initial date, I drove to Pensacola where he was parked.  When I first walked in, I was shocked at how much the RV was like a tiny home, having everything you need! He was also parked on the bay, which I thought was really nice.  I still didn't picture myself living in an RV. 

Mountain Tribe and Beach Tribe
Tom and Cheri are known for each preferring different landscapes, Cheri opting for the "beach tribe" and Tom for the "mountain tribe" – they even have custom T-shirts!
Based on their tribe's Cheri and Tom's favorite places to camp don't come as much of a suprise.
If Cheri had to be camping right now she would be at "the BEACH, all the way! We have also been in the desert for about 6 months, traveling around the west, so I'm feeling very antsy for the beach right about now!"
Tom on the other hand would prefer to "be boondocking with a view of the snow capped Tetons with a lake in view."
Tom and Cheri's favorite campgrounds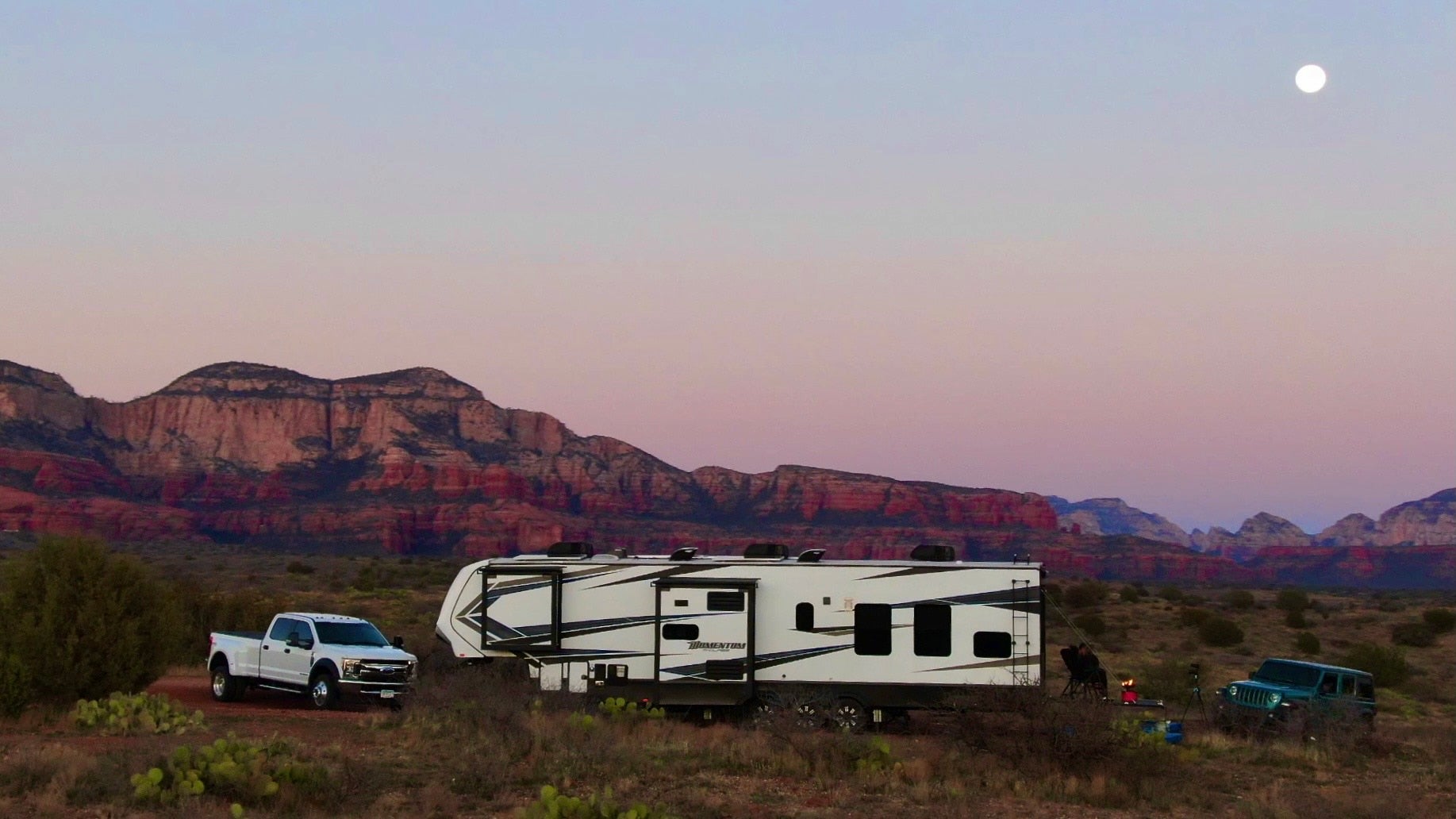 Cheri: That's an easy one for me! Bahia Honda State Park down in the FL Keys.  We were backed up on the water, where we could take a dip, snorkel, kayak, etc right in our 'backyard'.  It was heaven. But my favorite may change now that we have been dipping our toes into the boondocking scene.  I'm finding out how much I am loving the peace and quiet with boondocking.  Now I want to boondock on the beach!
Tom: Right now I would say Lee's Ferry Campground in Arizona.  We had an amazing view of the Colorado River at the 'beginning of the Grand Canyon'. I'm sure now that we are set up with solar for more boondocking, I'm sure my new favorite spot will be discovered this year.   So hard to pick a favorite.  They are just all so unique.
Tom and Cheri's Favorite Camping Gear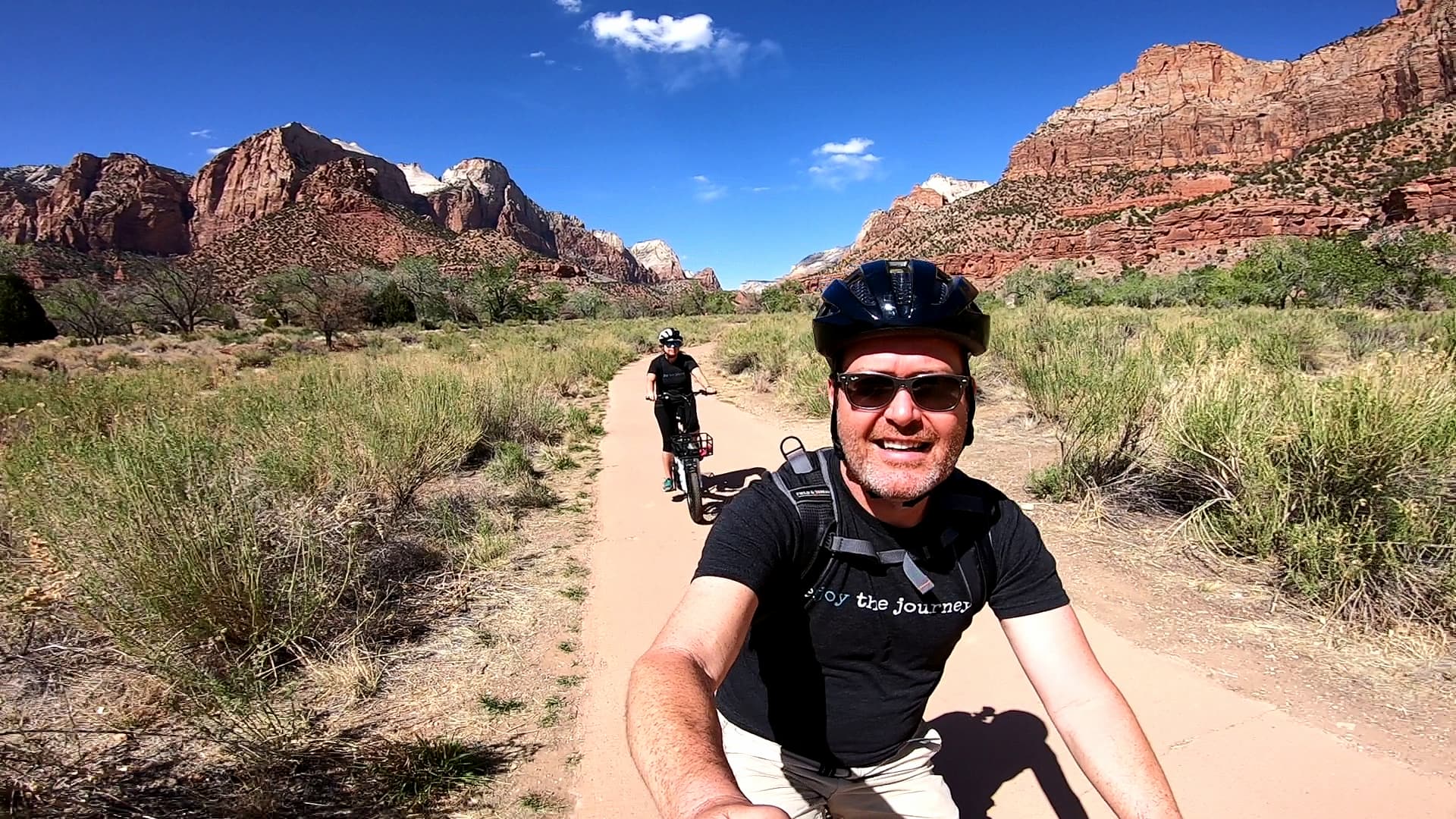 Besides their RV, of course, Tom and Cheri named their favorite gear for fulltime on the road. Cheri went with their awesome recreational gear, "Our Electric bikes and snorkel gear". Tom highlighted their "solar and battery system set-up", which they are using to boondock off-grid more than ever.
Living on the Road Full Time for 6 years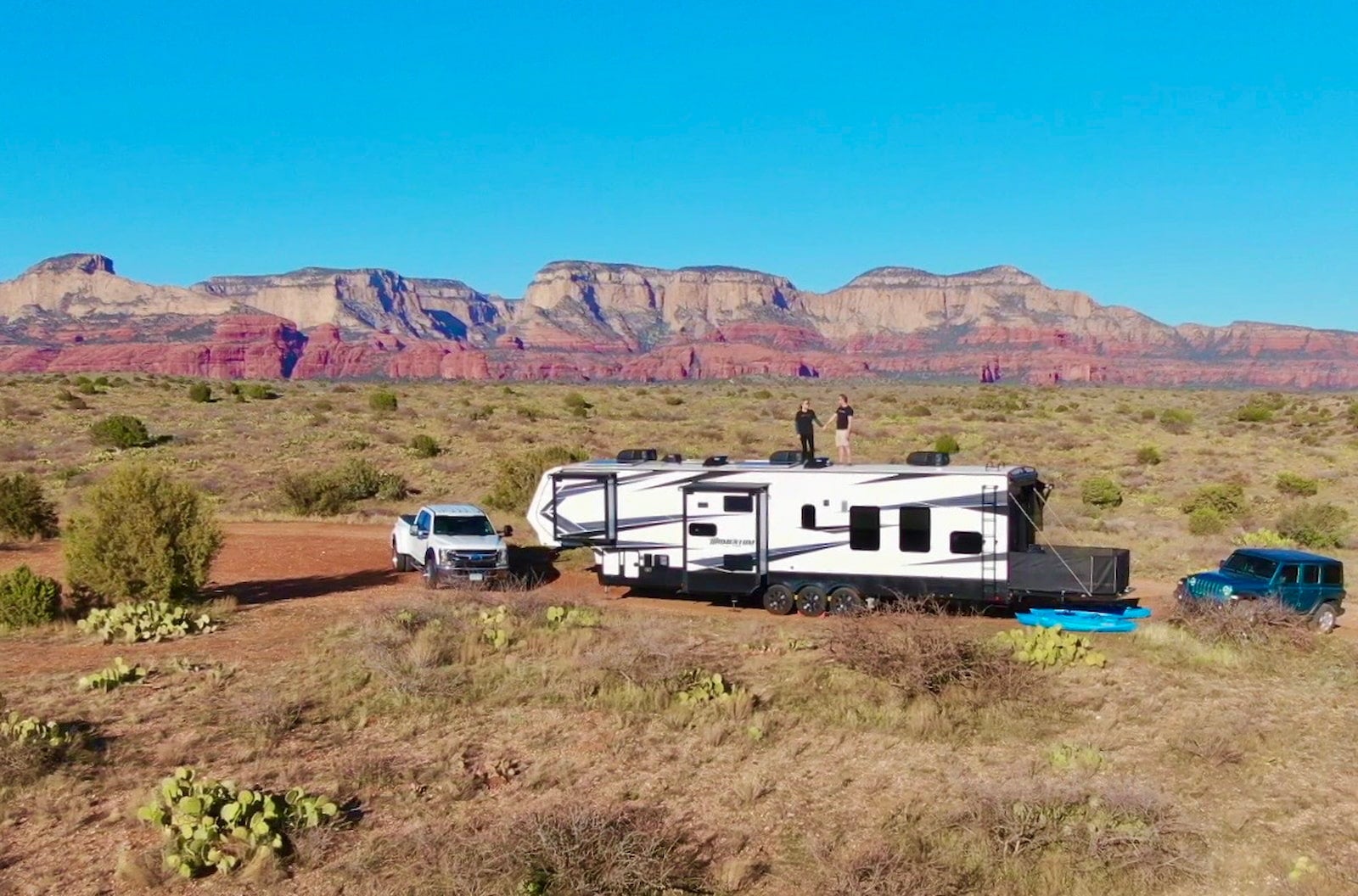 What is your favorite part about RVing full-time?
Tom:  Emptying the black tank. No, just kidding. Definitely getting to a new area and exploring it for the first time.  It's fun to not know a lot about an area before you get there, and then be so surprised at all the cool things there is to do and see.
Cheri: There's a saying, "Collect experiences, not things", and this lifestyle truly affords the opportunity to collect experiences all over the country, living minimally. It's really nice to explore a new location, and then instead of going back to a hotel room or airbnb type rental, you go 'home'. You still cook in your own kitchen, dine at your own dining table, sleep in your own bed, and have access to all of your belongings.  It's not like packing for a trip and having limited space in a suitcase.  You have your entire closet to choose clothing depending on the weather that day.  So many little perks to traveling full time in an RV! 
Inspiring Others to Get Out There
It's safe to say that you learn a thing or two about RVing after multiple rigs and 6 years of RVing. Tom and Cheri's sentiments lie in appreciation for the time they have spent living on the road and excitement for inspiring others and future travels to be had.
Cheri: This is such an interesting lifestyle, and you make it yours.  There are so many ways to live this lifestyle, from all of the different styles of RV's, to all of the different styles of camping, it's fun to tailor the lifestyle to what makes you happy.  Some just want a place to park to have the convenience of hookups, spending most of their time adventuring and seeing the sights, and spending very little time in their RV.  We work full time, so we do spend more time in our RV, so we are really enjoying boondocking for the view and quiet while we work, but enjoy 'days off' in a new place to explore.  You can also move around as little or as much as you want.  There really is a sweet freedom to living life on your own terms!
Tom: We feel so fortunate to be able to live this lifestyle and be an inspiration to others that are wanting to live this lifestyle as well.  This year we have big plans which include hitting all of the major national parks in Utah, and other national parks out west including the Tetons, Yellowstone and Glacier before we head back to the beach in the Fall.
From the beginning, our mission has been to inspire people to get out there and enjoy life now. With technology it is possible to work from the road and not be stuck in a cubicle somewhere. For example, we are currently parked with a view of Zion National Park and we will spend half the day working with this amazing view, and then 'knock-off' early and take the ebikes into Zion for some afternoon exploring and fun. Not a bad life.  If it's your dream, why wait?
---
To see more of  Tom and Cheri's journey make sure to check out their website, and follow them on Youtube,  Instagram, and Facebook.
Support Tom and Cheri and try The Dyrt PRO by using their code Enjoythejourney for 90 days free of the premium version of the #1 camping app
Popular Articles: