This easy camping recipes article is brought to you by our friends at Mountain House, whose freeze dried meals are as versatile as they are delicious!
---
For hardcore backpackers and casual campers alike, eating well in the woods is important. Whether it's a tasty breakfast hash or a delicious vegan chili, a variety of flavors are key to making a trip in the outdoors well worth its salt. (On second thought, you might want to bring some.)
For the foodies of the outdoor world, we present to you another one of our favorite easy camping recipes: a fantastic way to add some flair to one of Mountain House's best-known freeze dried meals. Brought to you by one of our very own Rangers, Chanel C., this Mountain House Campfire Beef Hand Pies recipe is sure to transform your next outdoor adventure into a delectable camping feast!
Chanel C.'s Easy Camping Recipe: Mountain House Campfire Beef Hand Pies
"I had the opportunity to test out Beef Stew by Mountain House on a camping trip to Pinnacles Campground. As far as the product goes, I can eat this ALL DAY. It's so good, filling, and hearty just as it is. This is as good as it gets for a quick, hot meal at the drop of a dime. Overall, just perfect comfort food — chunky pieces of potato, peas, and carrots, the beef has great texture and generous portions, and the sauce is savory, flavorful and thick.
"I decided to elevate this meal and make Mountain House Campfire Beef Hand Pies! As far as easy camping recipes go, it's among the simplest to prepare: all you need is ready-to-bake biscuits and a Mountain House #10 Beef Stew Can and you have the best campfire hand pies ever! One package of Mountain House can make 16-20 hand pies. That's 2.5 cans of ready-to-bake biscuits." — The Dyrt Ranger Chanel C.
Ingredients
1 package of ready-to-bake biscuits
1 Mountain House #10 Beef Stew Can
Cast iron pan
Vegetable oil
Paper towels
Instructions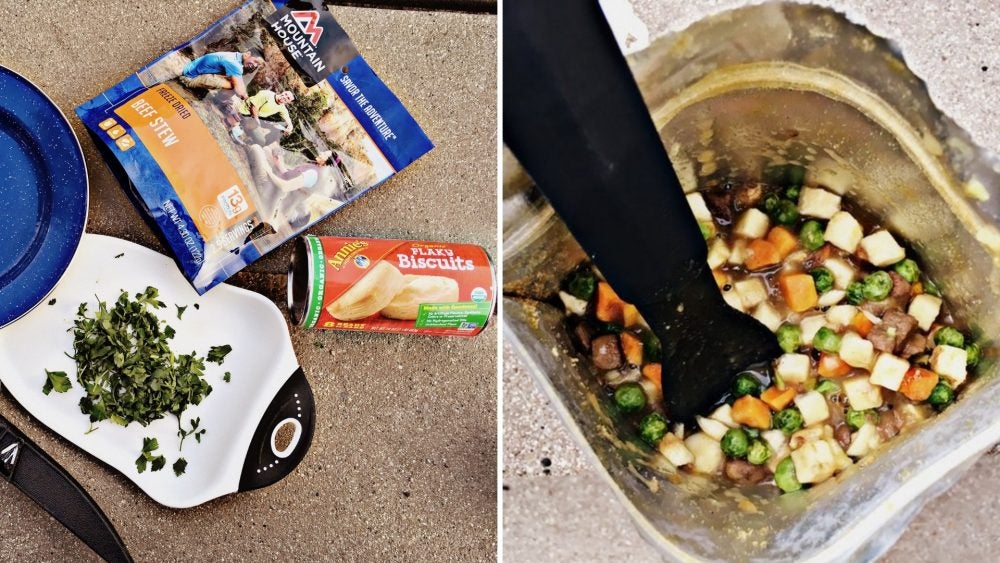 1. Follow instructions for making Mountain House #10 Beef Stew and set aside.
2.  Open the can of ready-to-bake biscuits and roll out each biscuit until they are about 4 inches in width. Make sure to work fast with the dough so that it still stays cool.
3. Place 1 tbsp of Mountain House Beef Stew into the center of each circle, fold them over (like a taco) and seal the edges by using the tines of a fork. Press the edges together all the way around. Try to avoid getting any of the stew sauce around the edges or else it will be more difficult to seal.
4. Place 1-2 inches of oil in a cast iron pan and place on the fire over coals (or camp stove), not direct flames. Test to see if the oil is ready by dropping a couple droplets of water into the pan. If it sizzles, it's ready to go!
5. Cook the pies until the first side is well browned then flip over and repeat.
6. Let the pies set on paper towels for 1 minute to drain out any excess oil.
7. Optional: Enjoy with salsa, sour cream, and cilantro
Tip: If you want to prevent leaks in your hand pie, take an additional step when sealing your pies by flipping the pie over to the other side, and sealing it again with your fork. It's a little more work, but the payoff is worth it!
Still hungry? Check out these Dutch Oven Cinnamon Rolls or these campfire apple desserts for something sweet after your beef pie dinner (or before…no judgement here!).
Popular Articles: