Whenever my family and I go camping, I always bake something in my cast iron Dutch oven. It's such a fun process that my whole family enjoys. Sure, it takes a few extra minutes to get the coals going in the campfire, but that's part of the fun. A family favorite is Dutch oven lasagna.
How To Make An Amazing Dutch Oven Lasagna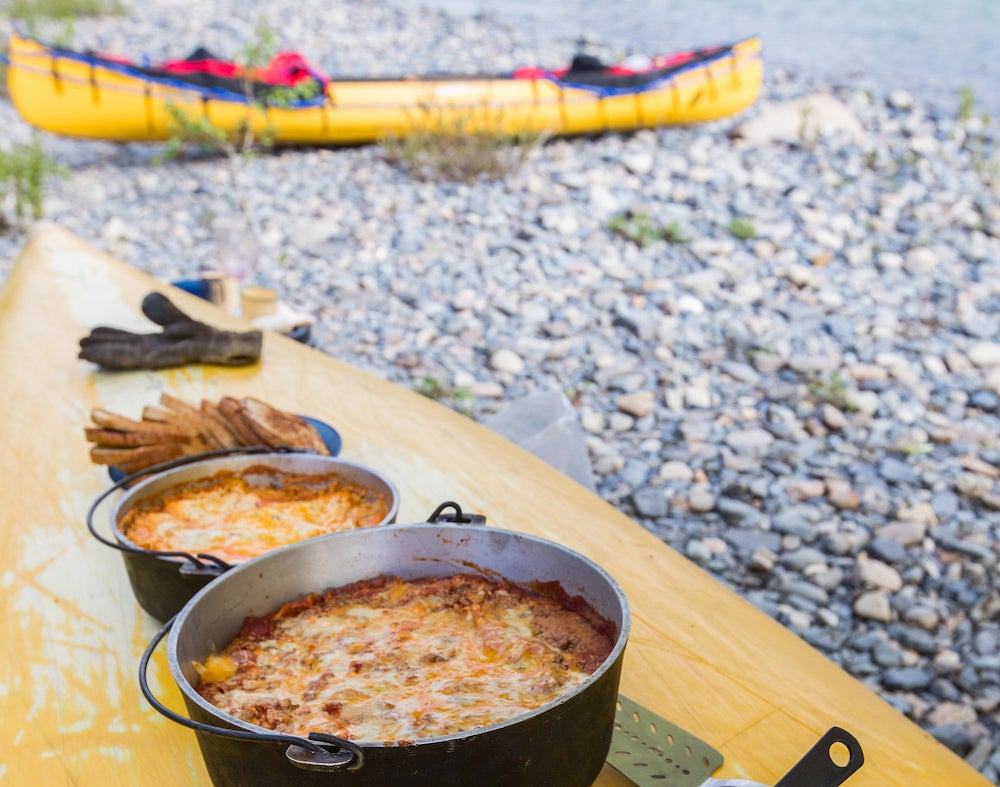 I recently found out that my pasta loving son hates ricotta cheese. This child would live on pizza, spaghetti and lasagna if I let him. Seriously, he's 11 and I've made countless pans of lasagna with ricotta cheese. One day, my husband made it and forgot the ricotta; my son proclaimed it the best lasagna he's ever had. Trying not to be jealous, I asked him what was it about Dad's lasagna that was "better" than mine? He said, "Dad doesn't put that mushy cheese in it."
Fast-forward to the present, and I've adapted a way to get that creaminess that the ricotta adds to lasagna without using ricotta cheese. Because let's face it, without that extra cheese layer, it's just a spaghetti casserole.
But if you're a ricotta cheese fan, by all means use it.
Dutch Oven Lasagna Ingredients
12" camp Dutch oven, plus tools (leather gloves, lid lifter, etc…)
Charcoal briquettes
Charcoal chimney
1 lb ground beef or Italian sausage
24 oz jar of marinara sauce
12 Oven Ready Lasagna Noodles *
½ medium onion, chopped
½ red bell pepper, chopped
4 cups mozzarella cheese
¼ cup grated parmesan cheese
3 eggs
3 tbsp milk
Italian seasoning to taste
Salt and pepper to taste
Garlic powder to taste
*My favorite oven ready lasagna noodles are made by Barilla. They are flat rectangle sheets of dried pasta that require no pre-cooking before using. I've used them for years and have had very good results.
Instructions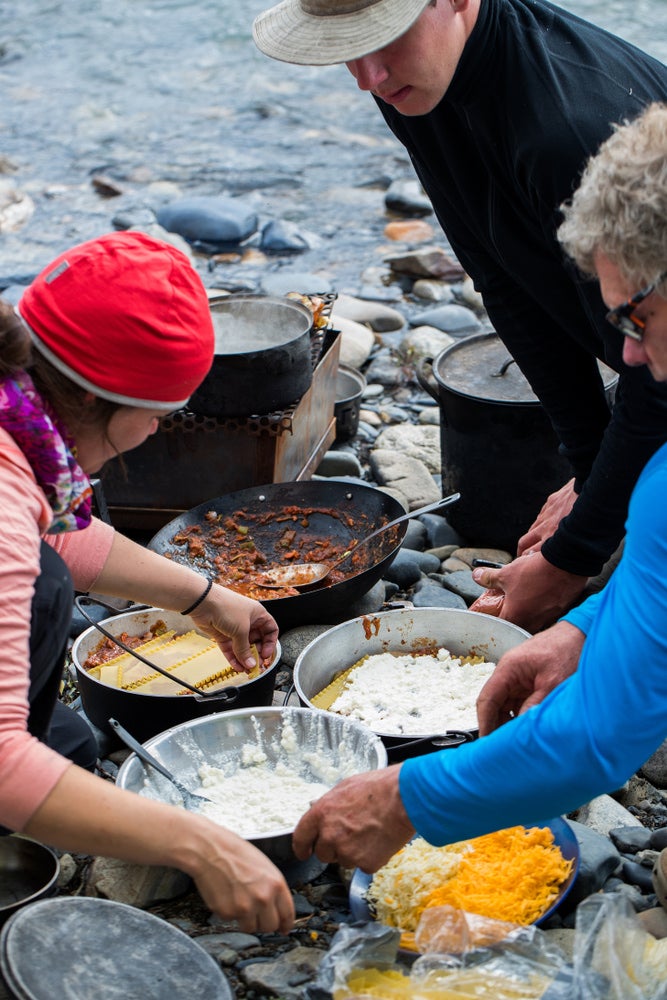 Start at least 35 charcoal briquettes in a charcoal chimney. I prefer to use charcoal briquettes to cook meals in a Dutch oven because it's easier to control cooking temperatures.
While the coals are heating, whisk the eggs and milk together in a small bowl. Add in a ¼ cup of grated parmesan and mix. Set it aside.
Once the coals are greyish white and glowing red on the inside, preheat the Dutch oven over 25 coals (17 coals on top and 8 underneath). This should heat the Dutch oven to 350 degrees.
Remove the oven from the coals and carefully take off the lid. Brown the meat, onions, red pepper and seasonings inside the oven. Once the meat is fully cooked, remove it from the Dutch oven and into a bowl.
Mix the sauce and meat.
Spread about a third of the beef sauce mixture on the bottom of the oven. BE CAREFUL! The Dutch oven will be hot and the sauce will sizzle and pop immediately when it hits the bottom of the pan.
Add a layer of about a third of the noodles. You may need to break the noodles to get them to fit properly.
Spoon a about a third of the egg mixture sauce and mozzarella cheese on top of the noodles.
Repeat this for a total of three layers, finishing with a final layer of noodles with the remaining egg mixture and cheese.
Place the lid back on top and place the oven back into your fire pit. Replenish any coals, if needed. You will need to have 17 coals on top and 8 underneath to maintain 350 degrees.
Bake for 45 minutes, or until bubbly and melted.
Remove from the heat and let it rest with the lid off for about 15-20 minutes before serving.
Popular Articles: