I enjoy cat videos as much as the next internet voyeur. Who amongst us hasn't been sucked into the virtual vortex of feline mischief? But, you can't deny the special allure of puppies romping around, being silly. Let me tell you, the Denali Puppy Cam is the cat's meow.
Denali National Park has gifted us with the best kind of puppy video on the web: live stream. After one of the resident dogs, Annie, gave birth to a litter of sled dog puppies on August 19th, we all got front row seats to their adorable shenanigans. The puppies are several months old now, and you can see their personalities at play.
The Denali Puppy Cam Will Be Your New Obsession
View this post on Instagram
I came across the Puppy Cam as I was healing from a recent medical procedure. Slumped on the sofa, feeling sorry for myself, I finally gave up on Netflix.
Flipping open my laptop, I noticed a headline from the National Park Service. I'm sorry, what's that, now? A live puppy cam?! Yes, please.
And, friends, I was not disappointed. My jaw practically unhinged; eyes opening wide so I could take it all in. Pure, unadulterated puppy love. Before me on the screen were seven of the most adorable puppies I've ever seen. A couple of pups were wrestling. One was rolling around on its back trying to bite an invisible object on the floor. And a few snuggled up, forming a fluffy ball of tranquility.
The puppies aren't always in frame, as the Puppy Cam doesn't cover the whole pen. But that makes it all the more enjoyable when one of them comes waltzing into view, ready to play.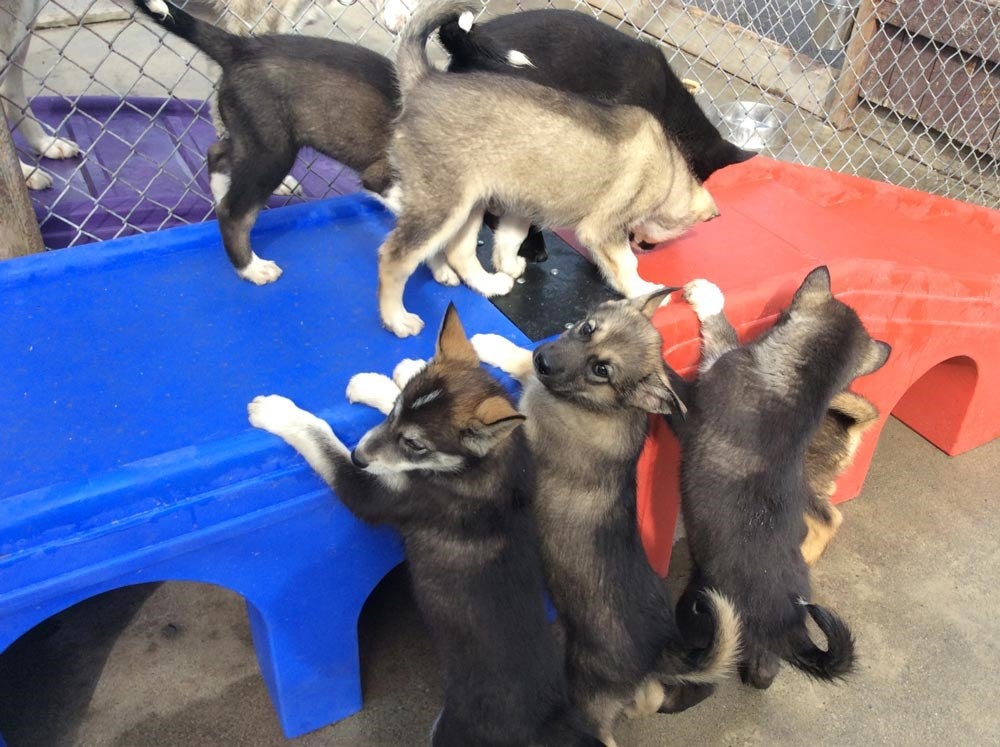 Denali's Relationship Long History With Sled Dogs
The Denali Puppy Cam is not the park's first success when it comes to helpful huskies. Since the 1900s, park rangers and sled dogs have worked together to keep Denali running smoothly. They make ski trails, haul equipment and supplies to remote locations, and help maintain a backcountry presence.
In fact, Denali only became a national park thanks to guidance from sled dogs themselves! In the early 1900s, researcher Charles Sheldon came to the area to study doll sheep, hiring local musher Harry Karstens to guide him. Thanks to the access Karstens and his dogs were able to provide, Sheldon fell in love with what is now Denali National Park. He quickly lobbied congress to pass an order of protection for the land and Mount Mckinley National Park (renamed Denali in the '80s) was established in 1917.
In just a few short years, Karstens was hired as the first ranger and utilized his team of sled dogs to traverse the land and establish a framework for conservation efforts. He quickly realized the importance of relying on well trained working dogs and founded park kennels to maintain his growing fleet of huskies. Without these dogs, the park would have been nearly impossible to maintain. That still rings true today.
According to the National Park Service, patrols could lasts for months at a time in the 1920s. Dogs "pulled the supply-loaded sleds and hauled logs, [while] pioneer rangers constructed cabins along the boundaries to provide shelter." Without the work of Karstens' kennel and his dogs, the land would have remained impassable.
Meet Your Favorite Denali Puppy Cam Star
Today, park visitors can meet their favorite Denali Puppy Cam subject by visiting the kennels themselves! Located about 3 miles into the park, these facilities allow the public to get to know the dogs that work so hard for our public lands. Keep in mind, these adorable pups thrive in the winter and will often be hard at work if you stop by in the colder months. The park recommends visiting in the summer for sled dog demonstrations if you really, really must meet these dogs.
And fortunately for all of us, when the pups are ready to retire, they go up for adoption. So follow along on their journey, from puppy cam to working life, we know you won't regret it.
I didn't.
My infatuation with those fluffy little balls of happiness continues to grow. And even though I'm no longer affixed to my sofa, I keep the Puppy Cam open in a tab for those moments when I need a boost. I'm hoping they provide you with the same joy. They'll stream until it's too dark to see the video, so get your fix while you can. And, if for some reason you miss the pups this year, don't worry. There will be another litter next year.
---
Want to mush with your own pup? These sled dog friendly campgrounds are right up your alley! 
Popular Articles: