Blair Braverman and her dogs LOVE winter. This holiday season, the dog sled racer and author of Welcome to the Goddamn Ice Cube, along with her team of enthusiastic pups, are sharing their passion for racing through the snow by delivering your mail by dog sled.
"I'm SUPER EXCITED about this project. It feels like the most purely happy thing." — Blair Braverman
It really does, doesn't it?? You just send Braverman your holiday cards and they'll travel for a leg of the journey on the back of her sled. We love the idea of those beautiful dogs charging through the snowy trails of Wisconsin, tongues flailing as they carry our special mail to loved ones.
Here's how to send your holiday mail by dog sled: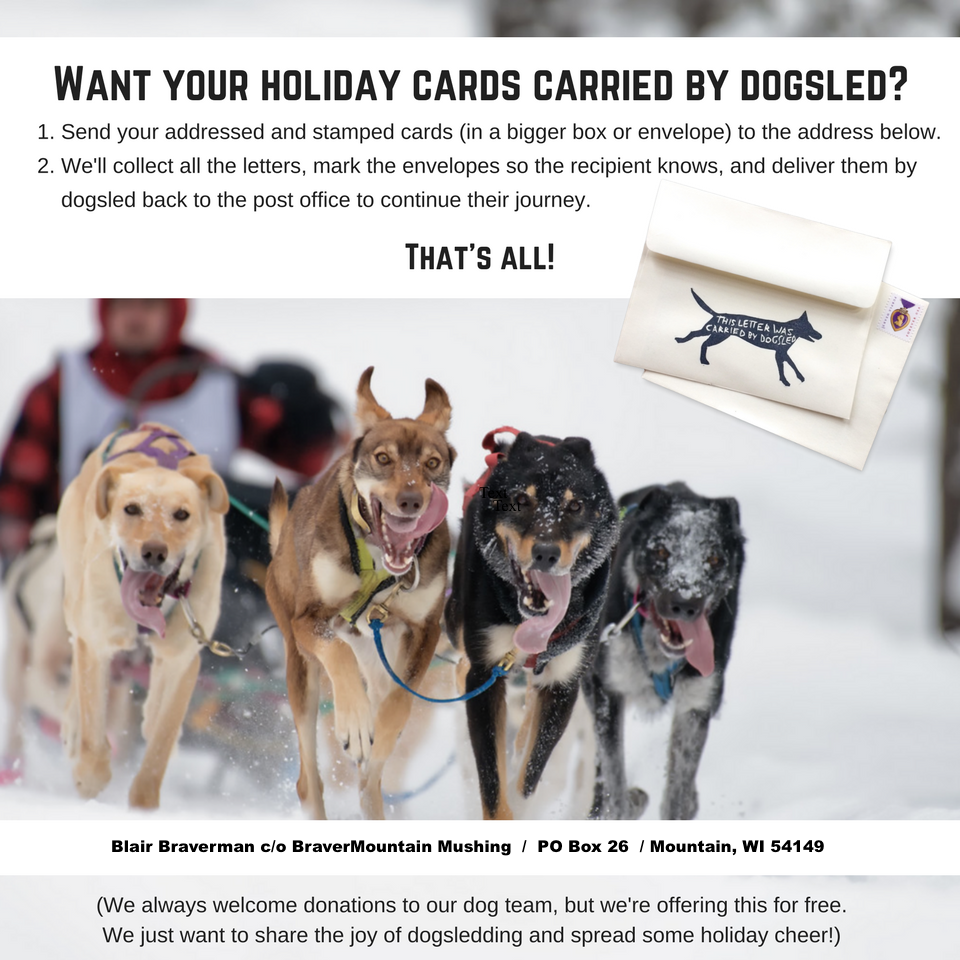 This is a free and unique way to have your holiday cards delivered this year. We can't wait to see more people opening their deliveries, stamped with love from Blair and her team.
Imagine getting this in the mail:
Meet Musher and Author Blair Braverman

The Dyrt caught up with the inspiring dog sled racer and writer to learn a little more about her and her pups.

What inspired you to start dog sledding?
I loved books about dog sledding — I remember I had Gary Paulsen's Puppies, Dogs, and Blue Northers by my bed. My family had Norwegian heritage, and when I was 18  I moved to the Norwegian arctic to go to a dog sledding-based boarding school.
What has been your most memorable moment while dog sledding so far?
I was running a small team in the woods at dusk and a black wolf loped along beside us. We were probably 15 feet away, but the dogs didn't freak out. It was like they and the wolf had an understanding.
Can you tell us about the dogs that will be carrying the letters? 
They're all my team! My husband Quince Mountain and I have 21 dogs and they'll be working together to carry the mail.
Flame &
Jenga &
Hari &
Refried &
Brewtus &
Boudica &
Gabby &
Maggie &
Pyro &
Grinch &
Wickson &
Anya &
Clem &
Xander &
Glory &
Spike &
Talese &
Boo &
Hunter &
Matt Power &
Jeff Sharlet

— Feminist Jack London (@BlairBraverman) November 8, 2017
How far will you and the dogs be traveling to deliver mail?
We'll work it into our normal training runs, so probably between 10 and 20 miles.
What is training like for the dogs prior to trips like this?
We start running around 5 miles at a time in September, and then work up to longer distances over the course of the winter.
What do you enjoy most about dog sledding?
Watching the dogs work together and grow as a team. We have yearlings right now and it's amazing to see how they're growing and learning.
What about this project are you most looking forward to?
The chance to share my love of winter with other people.
What do you think people should know about the history of dog sledding in regards to mail delivery?
The sport evolved in large part because dog teams could get to places that were otherwise inaccessible. They kept rural northern communities connected to the outside world.
As usual for fall training, we took lots of petting breaks along the way. pic.twitter.com/JvwEeYFZBJ

— Feminist Jack London (@BlairBraverman) November 9, 2017
Do the dogs get a special treat or reward once they've finished a route?
Well, they get their dinner when they're done, and plenty of petting breaks along the way. But generally they don't want to stop, even for treats and attention. The running is its own reward. It's their favorite thing.
If one of the dogs was Rudolf, which one would it be?
My girl Jenga! She can be cautious, but she's a brilliant leader.
Check out this Video of Braverman and her team as they compete in a 100-mile race

To learn more about Blair Braverman and her dog sledding adventures, follow her on Instagram and Twitter, or check out her book, Welcome to the Goddamn Ice Cube. And send her your holiday mail!
Popular Articles: