Meet Donny Mays, a professional wedding photographer specializing in backcountry weddings.
---
Hiking boots aren't the footwear of choice for most brides and grooms. But wedding photographer Donny Mays thinks hiking to a secluded spot in the backcountry provides a kind of intimacy that you just can't find in a banquet hall. And stilettos and oxfords aren't going to cut it.
A Wedding Photographer Who Goes the Extra Mile
Mays specializes in outdoorsy and adventurous weddings. But he's not just having couples pose on the lawn of a lodge in front of a mountain. He's hiking with them into the mountains and capturing the experience along the way. His backcountry wedding photography packages include three days and two nights, during which couples and whoever joins them hike trails, cross rivers, scramble over rocks, sleep in tents, and cover miles of stunning scenery. Framed by memories behind them and a life ahead, they stretch out the wedding experience with fresh air and mountain dirt, sore calves and sun kissed cheeks.
And somewhere along the way, they express their commitment to each other in a place they've discovered together.
(We're not crying. You're crying.)
Donny Mays: Backpacker, Wedding Photographer
We caught up with Mays to learn more about his approach to wedding photography and what it's like to join couples on their special day in the backcountry.
The Dyrt: When was the first time someone asked you to be their wedding photographer in the woods?
Donny Mays: It actually wasn't even my idea! Two of my great friends, Brian and Mattie, planned to get married on a backpacking trip in the Wallowas, and I pretty much forced my way into their trip. The idea of taking two things that I love, backpacking and photography, plus adding two amazing people madly in love was a situation I just couldn't pass up!
"Getting into the backcountry is just such an incredible experience. The intense serenity really elevates the intimacy."
How did you first discover photography and what inspired you to pursue it as a career?
About five years ago I worked a summer in Talkeetna, Alaska. I had done some backpacking and climbing in the past and was always disappointed with the photos I took on those endeavors.
So, wanting to get the most out of my photos in Alaska, I got an old Canon Rebel and spent several weeks in front of Youtube, learning as much about photography as possible. I had an awesome time that summer, experimenting and gaining experience behind a camera. It remained a passion of mine, but I mainly just stuck to landscapes.
A few years later I started dating a photographer who was kind enough to allow me to join her on a few of her jobs. "I can totally do this," was my immediate thought.
She was wonderful in guiding me through starting up my own photography business and is still a mentor whose guidance has been invaluable in getting me to where I am today (though we're no longer together).
What do you most enjoy about combining weddings with backpacking?
Getting into the backcountry is just such an incredible experience. The intense serenity really elevates the intimacy. The couple can focus on each other because they don't have any of the distractions that come with throwing a big party with lots of guests, and lots of food, and worrying about whether or not that one friend is going to get really drunk and make a scene in front of grandma.
Nothing against big parties, I've just found backcountry wedding ceremonies feel more personal and deep, and I keep saying it — intimate.
Getting married in the backcountry, or at a campground, is much different than the traditional, white linen approach to weddings. What do you think makes people want to ditch tradition and get out of town?
I think the biggest reason is not wanting to deal with the stress and financial burden that can come with putting on a traditional wedding. But in addition to that, they can get married somewhere totally rad, where no one has ever been married before!
They're guaranteed something completely unique and 100% personal to them. That's a really powerful thing.
But let's be real, it's also really dirty out there. Any fun stories of brides or grooms slipping in the mud or ripping their dress/suit on a tree?
Hmm…not really….I have seen a groom jump nude into every alpine lake we hiked by for three days.
What are some of the challenges of shooting wedding and engagement photos in remote places?
Probably the weight. Carrying two cameras and 3 or 4 lenses in addition to food, camping gear, and clothes for 3 or 4 days can be pretty heavy. But it's so worth it! I think most photographers struggle with the thought of having to leave gear behind when going on a trip, so I tend to just bring all of it.
Tell us about this photo, and the backcountry package you offer as a wedding photographer: 
That photo is from the first backcountry wedding I shot. It was definitely a turning point in my career. I came home from that trip and knew how I wanted to shape my business — what I wanted to strive for. I wanted to shoot backcountry weddings all the time!
My standard backcountry package is for a 3 day/2 night backpacking trip. I document the whole thing, from arriving at the trailhead to returning to the car. So not only does the couple get photos of the ceremony and some super rad bridal portraits in an amazing setting, they also get an entire backpacking trip documented by a professional photographer.
I also include an album credit in the package because these stories are too incredible to only exist in the internet world. I've found that having something physical to hold and flip through really helps to convey the powerful emotions that happen out there.
What is it like to share in these special moments with couples in such beautiful locations?
It's an honor, really. I'm grateful for each and every wedding I get to shoot. It means a lot when my work speaks to someone to the point that they're willing to trust me with documenting one of the their most memorable days. The fact that some couples choose to do it in amazing places and bring me along just puts me over the moon!
Where is your favorite wild place to photograph and why?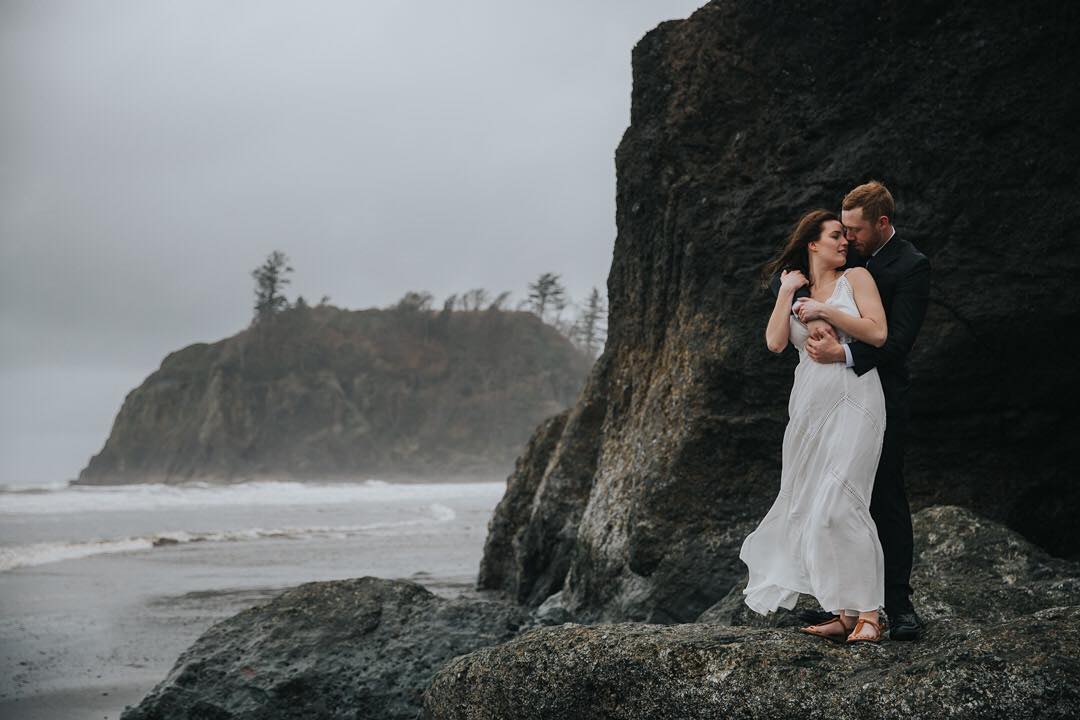 There are so many! I always really love shooting in the mountains, but I think my absolute favorite is the Pacific Northwest Coast. There is just so much character, so many cool rocks, cliffs, sea stacks, tide pools, and not to mention the killer sun sets. You can be given a quarter mile stretch of beach and shoot for days — just endless possibilities!
You've probably listened to a LOT of vows in your profession. What sticks with you about all of these expressions of love in nature?
Every single wedding I've shot in nature has brought me to tears behind my camera. I think it boils down to the simplicity of those kinds of ceremonies. Everything is just so stripped down, it's just the couples reading each other their vows, looking into each other's eyes, no distractions, super quiet — these are really powerful moments.
---
To learn more about Donny Mays and his backcountry wedding photography, check out his website or follow him on Instagram.
Popular Articles: