This article on fall hiking in the autumn woods is brought to you by our friends at Gregory packs. Their backpacking packs are a favorite among day hikers, long distance thru-hikers, mountain bikers, and backpackers.
---
There's something magical about the fall; when the leaves change from green to red and a sweet smell rolls in on the crisp air. It's as if the lush and lively green of summer slows down, encouraging us to stop and watch the colors turn in the autumn woods. The changing of the seasons is a beautiful time to hike and camp, as cooler day time temperatures keep us more comfortable when we're slogging uphill, and chilly nights make camping extra cozy.
6 Destinations for Colorful Camping in the Autumn Woods
After hiking all spring and summer, your body, mind, and gear should all be tuned and ready for a challenge. So let's get out there and do this.
The seasons may change slowly, but weather in the mountains changes quickly and with little to no warning. Make sure you are prepared. This is the time for a mid-sized day pack that can hold emergency supplies and extra layers. A good hiking backpack that's 20 to 30 liters will give you enough capacity to pack extra layers without having compromising weight.
Pack your backpack for these six destinations and embrace the most colorful hiking and camping season:
Old Rag Mountain: Shenandoah National Park, Virginia
The Eastern United States is synonymous with stunning fall foliage. Explore the Blue Ridge Mountains' seasonal transformation from 360-degree vistas from Old Rag Mountain. Shenandoah National Park has over 500 miles of trail with Old Rag Mountain being the most popular hiking destination in the park. Standing at 3,300 feet, this hiker's favorite is no cake walk. The 9-mile loop has nearly 2,500 feet in elevation gain with a strenuous hand-over-hand rock scrambling.
Explore this national park via the Skyline Drive and hiking trails. Relax to a choir of songbirds as you wander through wooded hallows, rest by cascading waterfalls, and take in the blushing autumn colors. Camp in Shenandoah National Park at one of their five campgrounds or head into the backcountry.
The fall colors usually peak from late September to early November.
Maroon Bells: Aspen, Colorado
Contrary to popular belief, colorful autumn woods are not exclusive to the East. In fact, certain parts of the West put on stunning displays of color with the seasonal change of larches and aspens. The Maroon Bells, near Aspen, Colorado, is one of those places.
The Maroon Bells are two 14,000-foot peaks that climb out of glacial valley. The peaks' famous maroon coloring is due to the weathering of the iron-bearing minerals in the rock. The surrounding reflective alpine lakes massive mountains are even more picturesque is the most photographed place in Colorado and, arguably, the most photographed mountains in the United States.
Due to its famed beauty, access to The Bells is limited to shuttles from Aspen. Camp near Aspen for easy access to hiking and scenic drives.
Peak foliage season for this area is typically the 3rd and 4th week of September.
Stevens Lake Trail: Mullan, Idaho
If you are on the hunt for fall colors in Idaho, then Stevens Lake is the hike is for you. Around every turn, hikers are treated to gorgeous views of the Bitteroot range and stunning autumnal colors. Soak up the colorful wilderness of canary yellow larches, hillsides carpeted with the bright crimson huckleberry bushes still loaded with juicy berries, and teal alpine lakes at the foot of craggy peaks and ridgelines. The hike, any time of year, is certainly beautiful. However, it becomes a charming new world with the colors of Fall.
Don't be fooled by the relatively short mileage to get to the lower lake; this hike gains 1,600' with an initial grade of 8%. The lakes surrounded by steep ridges and peaks create a big mountain alpine feel. Stevens Lake Trail is the perfect playground for honing your skills and challenging yourself. It's a popular destination for local mountaineering clubs to introduce new climbers to crampons, ice-axe self-arrest, and rope team travel.
Peak foliage season for this area is typically the 3rd and 4th week of September.
Breakneck Ridge Trail: Beacon, New York
This 4.1 mile loop trail is rated as difficult with steep climbs and rock scrambles. The effort is rewarded with views of brilliant scarlet, tangerine, and sunlight gold leaves that festively decorate quaint colonial-style towns tucked along the Hudson River. The Breakneck Ridge Trail is considered the most strenuous hike of the Hudson Highlands, so make sure you are prepared with proper footwear and feel confident in your fitness level while hiking through the autumn woods. If you would like something more leisurely, check out one of the many trails in Hudson Highlands State Park or take a fall foliage cruise on the river.
Find a cozy Victorian bed and breakfast in Cold Springs or Beacon. If you prefer to rough it, camp near the Hudson Highlands State Park to explore the Hudson Highlands and their dreamy fiery shades of confetti as the emerald shades of summer fade.
Peak foliage season for this area is typically the end of September and beginning of October.
The Enchantments: Leavenworth, Washington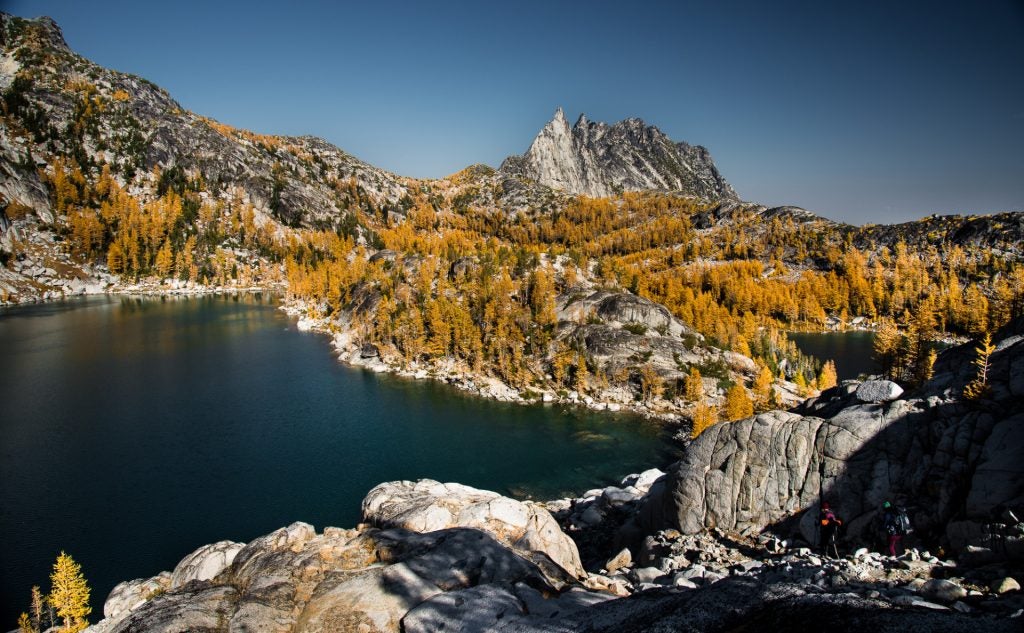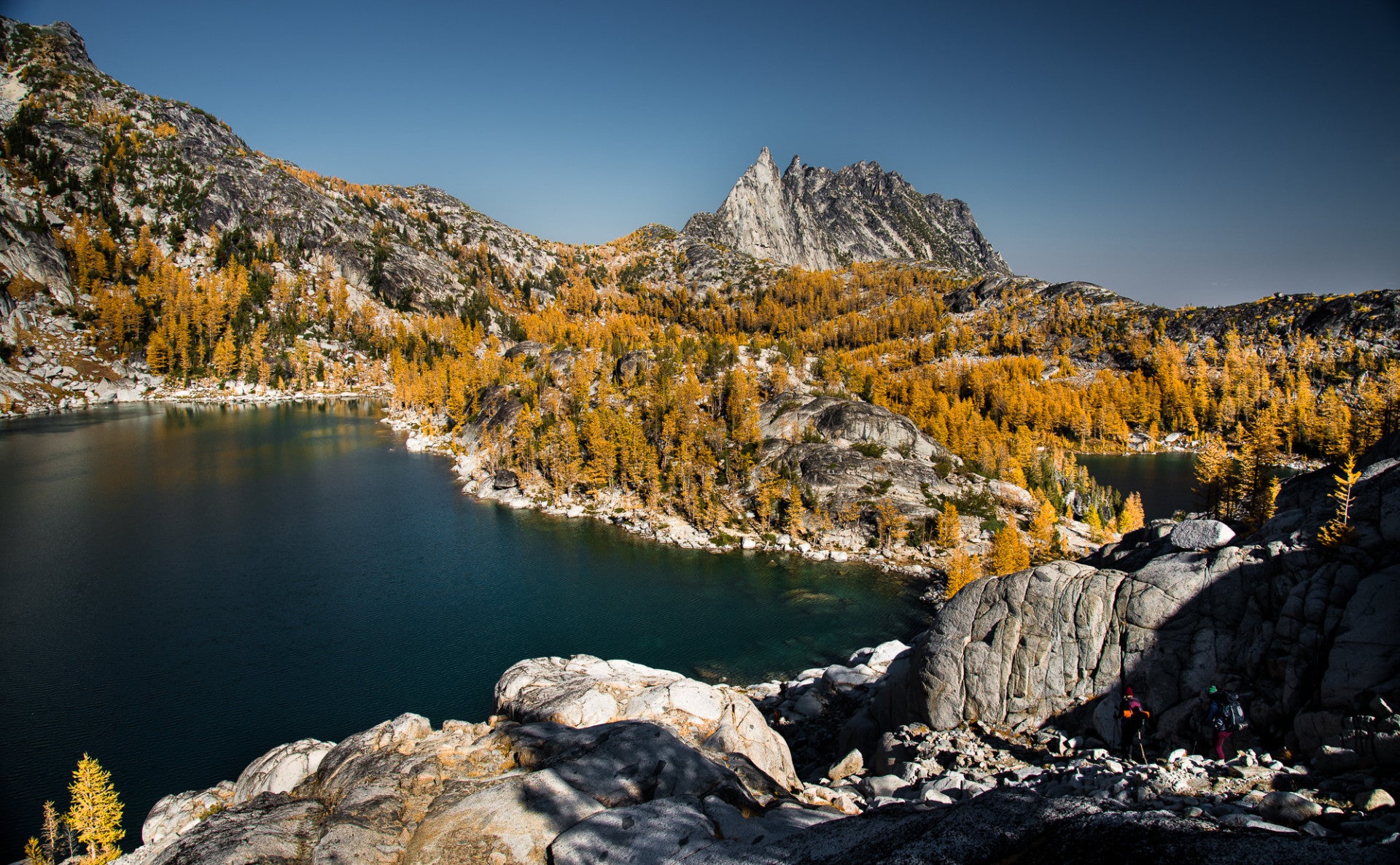 If you couldn't tell by the name, this wilderness area is nothing short of magical. The autumn woods, full of Western larch trees, transform from lush green to bright yellow. Larches are one of the few cone-bearing conifers with deciduous needles, meaning every winter they shed their needles and regrow them every spring. You may not have the array of reds, yellows, and oranges, but the lemony yellow larches adorn the captivating jagged glacier-carved granite peaks, bordering the teal alpine lakes.
This is a highly sought after destination, so much so that it has a competitive lottery system for overnight camping permits. Many people try to win the lottery for years to no avail. But don't worry — you can camp nearby and day hike The Enchantments without a permit. If you're determined to backpack this wilderness area, check out this guide on securing Enchantment permits.
Peak foliage season for this area is typically mid-September and beginning of October.
Gregory Bald: Great Smoky Mountains National Park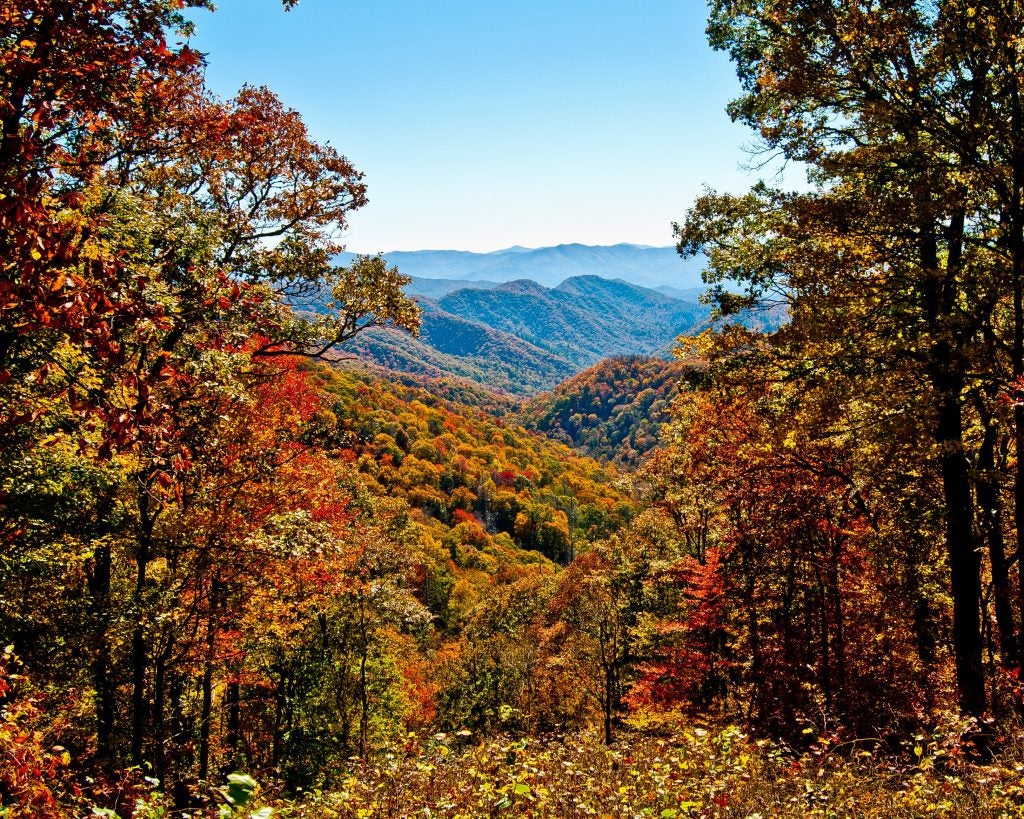 There is no debate that the Smoky Mountains put on a dazzling display of fall colors. Hiking to the grassy summit of Gregory Bald is one of the best ways to see the autumn woods change. From mid to late June, people come from around the World to witness the treeless mountain top's stunning display of brightly colored azaleas. In autumn, the peak offers a birds-eye-view of sweeping vistas of rolling hills and colorful sugar maples, red maples, scarlet oaks, sweetgum and hickories.
As the countries most visited National Park, there is no shortage of trails and scenic drives. Stay awhile and camp in Great Smoky Mountains National Park.
Peak foliage season for this region is mid-October to early November.
---
You can win free gear from Gregory and 20 other brands by reviewing campgrounds on The Dyrt. Share past camping experiences, photos, and videos to earn points towards monthly prizes in The 2018 Great Camping Giveaway!
Popular Articles: