It's a drag—literally—when you've got bulky, heavy camping gear strapped to your back. Over scrambles and skree and punishing ascents, you're stuck thinking of everything you're carrying and just how much it's weighing you down. We've all heard about the thru-hikers who saw off the handles of their toothbrushes just to skim a few extra ounces off their ultralight backpacking load. With every additional mile you cover it becomes even more true– every ounce counts.
What if there were a backpack, however, that did just as good a job at being lightweight as all the ultralight items it's designed to hold? That's what the folks at Matador wondered when they designed a packable backpack that carries your stuff and also bunches down to a super tiny, lightweight size for when you want to stuff your bag in another bag.
That means that when you're packing for a camping trip, you don't to lug the big pack on shorter jaunts. Stuff this packable backpack in your bigger pack, and you'll have an extra versatile, ultralight backpacking option for day hikes and shorter excursions along the way.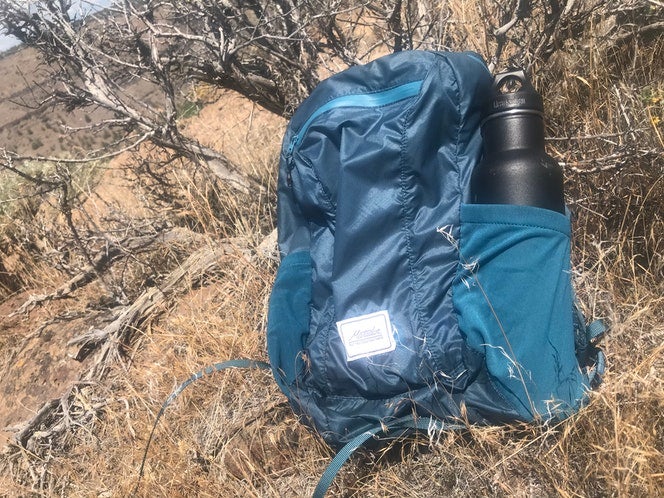 An Ultralight Backpacking Test Drive
The Dyrt founder Sarah Smith took the Matador DL Backpack out to Cove Palisades State Park for a proper test drive in the Oregon desert. At first blush, the ultralight Matador DL seems to have more in common with your windbreaker than the sort of giant beast that Cheryl Strayed named "Monster" in Wild.
But don't underestimate this 4.2 oz pack, even if it's lighter than a deck of cards. Smith writes, "I've had this ultralight, waterproof backpack for awhile now and I love it! It is extremely light and scrunches up to the size of your hand."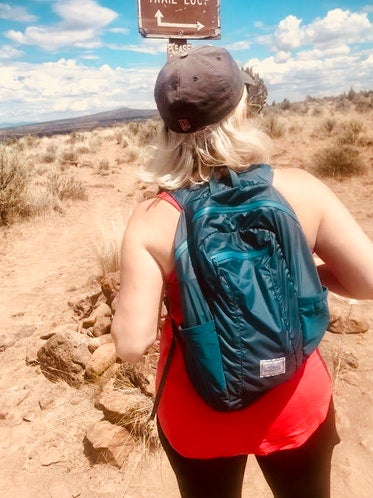 That means you don't have to sweat buying a big trek-worthy backpack with a detachable daypack, or cramming a second backpack for short hikes into limited, valuable space. "This is a perfect little, light daypack that I keep in my car (when I'm not using it) at all times because it so handy," says Smith.
This ultralight backpack is waterproof, has two zipper compartments—one with a place to clip your car keys, and two side pockets for your water bottle. The straps are made from a breathable mesh, too, so you won't have to deal with chafing or sweaty shoulders.
Learn more about Smith's ultralight backpacking adventures: Read the Review
Packable Camping Gear
The DL Backpack isn't the only piece of ultralight backpacking gear that Matador applied its principles to, however. They have all sorts of packable items, from camping blankets that fold up as small as a pocket square to fanny packs (they're cool again, we promise!), to a down-filled protective base-layer for your SLR rig and lenses.

So go ahead and leave your bulky bags behind for something effortless. Better yet, stuff as many ultralight, packable Matador items as possible into one of their Matador Beast28 Packable Technical Backpacks. The only thing more fun than being able to bunch up your backpack to roughly the size of an ice cream container is using that bag to carry all its friends.
Popular Articles: