We have some picky eaters at The Dyrt office. So when a box of organic energy bars showed up in our kitchen, right around the afternoon slump when most of us are scavenging for cookies and coffee, skepticism swept across the room. Most of us have our go-to snacks, and these square wrappers were unfamiliar.
LivBars seemed too good to be true: gluten-free, soy-free, dairy-free, corn-free, and GMO-free. We wondered if there was anything in them at all. Ingredients reported things like kale, pumpkin seeds, and coconut, which sounded great to the health conscious among us. Others were unsure.
Turns out, the superfood-packed snacks taste great. I nabbed one to eat with my coffee, and asked around the office to find out what everyone thought about the new snack option (which is no longer an option because they've all been devoured).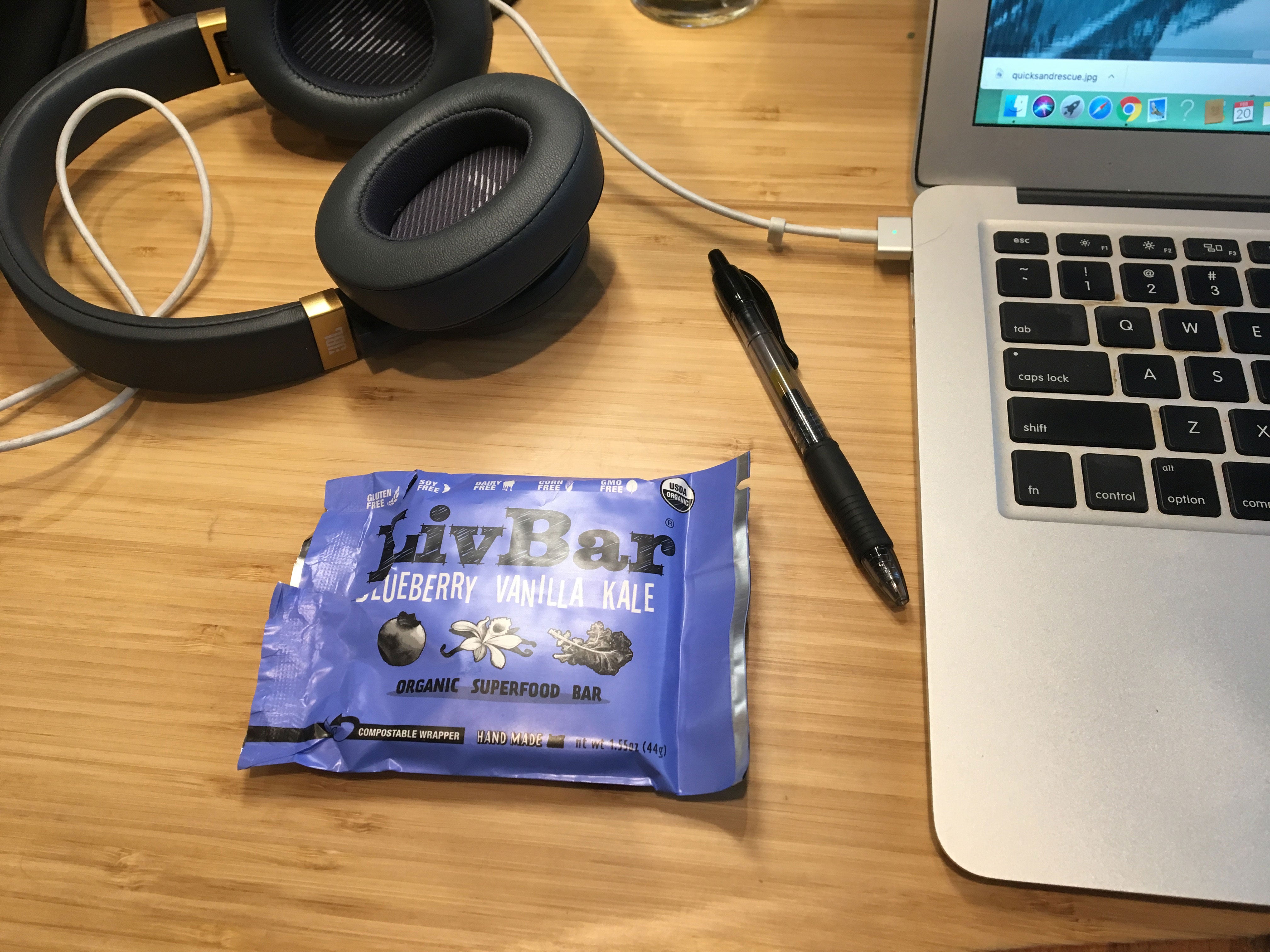 The Dyrt Team Verdict of LivBar: 👍
"I really like that LivBars are made in Salem, OR. It's great to know that a local small business is behind them. And as someone who usually picks snacks based on flavor instead of substance, I feel comfortable knowing I won't have to choose between taste or quality ingredients." — Taylor (usually snacks on Tootsie Rolls)
"It isn't too mealy or gluey or hard like some health snacks can be. It's the first time I've tried a supplement bar that tastes like real, appealing food instead of dessert-protein Frankenstein." — Meg (usually snacks on corn chips)
"These bars do a really good job of integrating unique and exciting flavors into something both yummy and filling. I would definitely bring these out on the trail." — Maggie (usually snacks on frozen waffles)

"The blueberry vanilla kale bars are super tasty and light." — Sarah (usually snacks on beef jerky)
"I tried the lemongrass, cherry, matcha. I like that it's made of real ingredients, not artificial junk. The lemongrass flavor really stands out. It's a nice texture – it's somewhat hard to the touch but soft and chewy once you bite into it. Really unique flavor options. Love that the wrapper is compostable!" — Anna (usually snacks on granola)
With a variety of tempting flavors to choose from, including Blueberry Vanilla Kale, Lemon Ginger Tumeric, and Coffee Maple Cacao, we all have a lot more tasting to do. But these bars are very filling, so we'll have to get back to you on further feedback when we're hungry again. So far, so good!
Learn More
Popular Articles: