This year, treat your trail-running, squirrel-chasing, lake-jumping pup to camping gear for dogs.
Dogs don't need much. Fresh air and a ball will keep a smile on those floppy faces. But we humans know the importance of keeping them safe and comfortable — especially when we're exploring the great outdoors together.
Our Favorite Camping Gear for Dogs

We have our #DyrtDogs to thank for so much joy, whether they're curled up at our side in the tent, running next to us on the trails, or snoozing in the back seat. And we can't wait to treat them to new camping gear for dogs this holiday season.
Outward Hound Daypak
Dyrt Dogs like to carry their own weight. Keep their food, treats, and poop bags in their very own backpack. The Outward Hound Daypak has four expandable pockets in a saddlepack design that's comfortable and functional for your day hiking pooch. Buy Now: $35
Ruffwear GripTrex Dog Boots
You'll go wherever the trail takes you — and your dog will, too. But it might be rough on their paws. Don't neglect your pup's feet when you're tackling all kinds of terrain. From snowy mountain slopes to hot asphalt, your dog can cover it all with GripTrex boots from Ruffwear. They feature traction for slippery surfaces, and a breathable material so your dog's paws stay cool and comfortable. Buy Now: $38
Green Goo Animal First Aid
Our dogs might seem indestructible when they're tearing through a trail without a care in the world, but scrapes, cuts, and bruises can happen to them, too. Be prepared for mild injuries with Green Goo's Animal First Aid, a 100% natural ointment that soothes and heals. At an affordable price, this is some of the most important camping gear for dogs to keep on hand. Buy Now: $13
Dog Treat Ball
Keep your dog busy and entertained with a dog treat ball. The ball is durable enough for the campground, and it's easy to spot if your dog likes to wander with their toys. The best part is that the Tricky Treat Ball dispenses treats as your dog rolls it around for twice the fun! Buy Now: $9
Zuke's Natural Dog Treats
We can't help but spoil our dogs. So if we're going to spoil them, we might as well make it good for them. Zuke's makes natural dog treats that are packed with wholesome ingredients like berries, banana, and pumpkin. And at just 10 calories a treat, you can use Zuke's treats for guilt-free training. Buy Now: $6
Nalgene Waterbowl
The PupCup is the answer to all those times we've forgotten to bring a water bowl for your dog. Instead of contaminating your own drinking water, pour it into the PupCup which you can store securely on the end of any Nalgene. The PupCup Kit comes with a 32 oz. Nalgene bottle, along with the PupCup color of your choice. Buy Now: $19
Ruffwear Highlands Sleeping Bag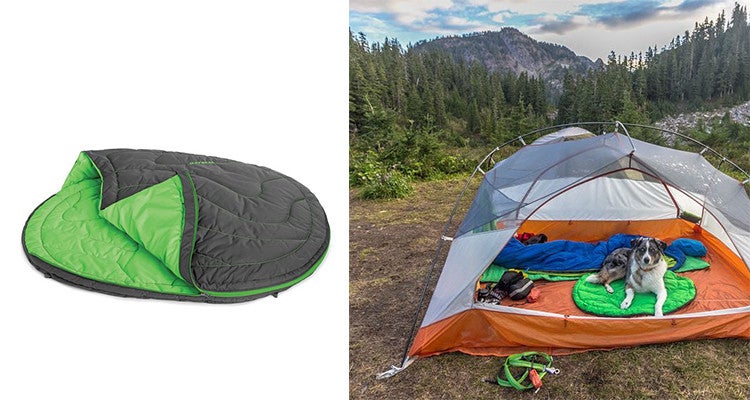 Snuggling with your dog is great, but sometimes there's just not enough room for everyone in the sleeping bag. Why not get your dog their very own sleeping bag to stay warm and cozy at night? The Highlands Sleeping Bag from Ruffwear is insulated, durable, and it's easy to clean and pack. This versatile camping gear for dogs is great for the pup who needs a little added comfort in the tent at night. Buy Now: $99
Nitehowl LED Safety Necklace
Your dog loves to explore, and nighttime doesn't stop them. With the Nighthowl LED Safety Necklace, you don't have to worry about losing sight of them in the dark. The glowing collar is easy to see from a distance. When they dart out of the tent at night, you'll know exactly where they went. (Squirrel!) $12
Kurgo Loft Dog Hammock
If your dogs aren't muddy, did they even go camping? Be prepared for the post-adventure mess with this comfortable and durable dog hammock that protects your backseat AND your pup. Kurgo's Loft Dog Hammock keeps your pup off the floor and the dirt off the seat. Everyone will travel more comfortably when the dog is safe and snug in a Loft Dog Hammock. Buy Now: $70
SportDOG Check Cord Dog Leash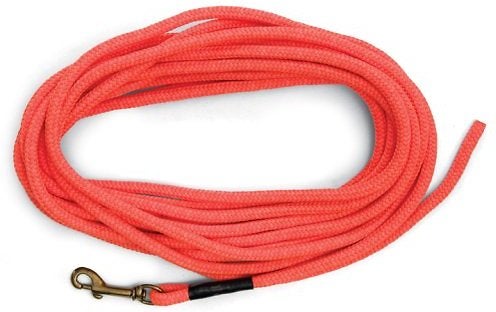 If you don't quite trust your pup to stick around the campground (or you're visiting a leash-required site) this extra-long leash strikes the perfect balance between freedom and security. Your dog can wander around on the 30-foot cord without running loose. Buy Now: $14
---
While you're spoiling your pup with camping gear for dogs this holiday season, don't forget to treat yourself to new camping gear, too.
Tag your camping photos with #DyrtDogs and #CampResponsibly on Instagram so we can all share in the joy of new camping toys for everyone! 
---
Popular Articles: