It's no secret that we love our dogs. And we love to bring our dogs outside. Some of our dogs (ahem… Jackson) are a little more high maintenance than others when it comes to the rain. But really, all of our dogs deserve some protection from the elements.
This new eco-friendly raincoat for dogs is going to make hiking, camping, park trips, and fetch, even more fun for everyone.
Hurtta is Turning Plastic Bottles into Raincoats for Dogs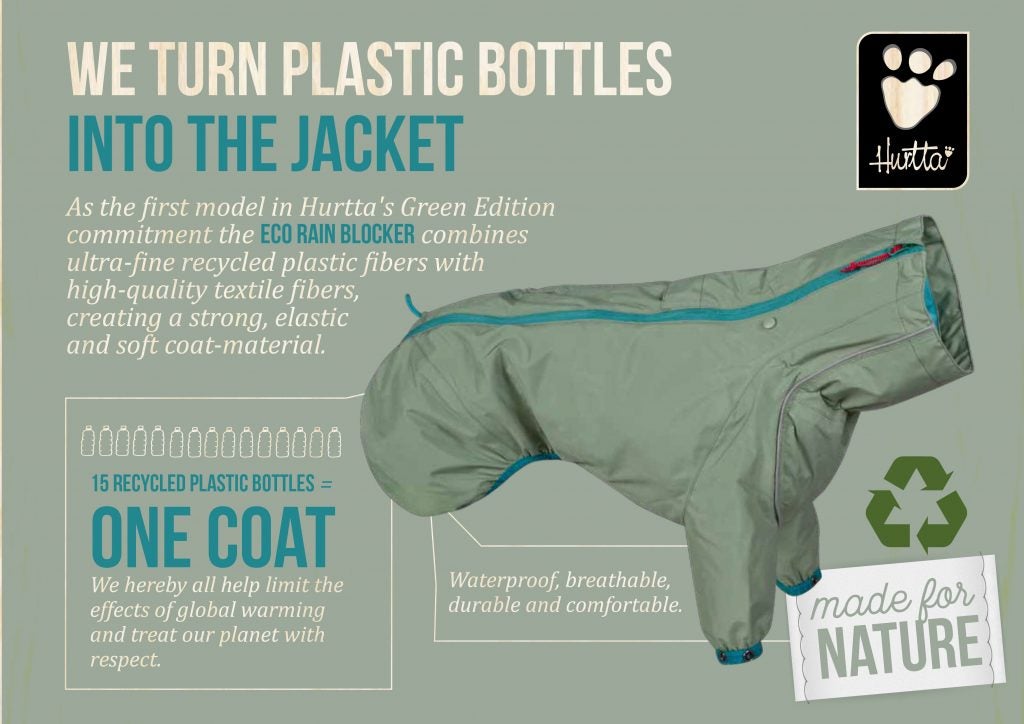 Hurtta started in Finland, where dogs face some seriously cold temps. The creators wanted their dogs to have gear that was just as durable and comfortable as the ones they wore themselves.
They now make dog products for all kinds of weather. Their Cooling Effect line keeps dogs safe and comfortable in the heat, and their Warm Clothing line ranges from lightweight soft shells to warm quilted jackets.
This month, Hurtta will release their most innovative product yet; an eco-friendly raincoat for dogs, made from plastic bottles. The Eco Rain Blocker is waterproof and breathable, and each coat keeps 15 plastic bottles from ending up in landfills or the ocean.
We've all seen how much our dogs love to frolic in nature. So while they might not be able to tell us, we're pretty sure they appreciate the Earth-friendly approach to the Eco Rain Blocker.
Hurtta's Eco Rain Blocker comes out this spring. Learn More
Stay tuned for the official launch of the Eco Rain Blocker. And in the meantime, don't forget to share photos of your dog enjoying the great outdoors! We love to see our #DyrtDogs in action. 
---
Popular Articles: