This article was brought to you by our friends at Midland Radio. No matter where the road takes you or where you park your destination trailer — Midland has the long range walkie talkies you need to adventure further.
---
There are many types of RVs, but not all serve the same purpose. Some are ideal for weekend trips with the family. While others are built to drive from campground to campground touring the country. And then others allow you to set up home in your preferred destination for an extended period of time.
Some of us like a little more comfort and elbow room in our lives. But roomy, luxurious RVs can cost hundreds of thousands of dollars. Enter the destination trailer–a more affordable option that doesn't sacrifice comfort. This type of trailer is a way for you to travel to exciting destinations but still enjoy the coziness of "home," where the best part might be the views out your window.
Destination Trailer vs. Traditional Travel Trailer
At first glance, these bumper-tow trailers may appear like normal travel trailers. However, there are a variety of differences. A destination trailer is one part travel trailer, one part vacation home, and all parts awesome.
Since these trailers are homes on wheels, they are loaded with residential-style features like ample windows, sliding glass doors, real hardwood cabinets, and large appliances. Many RVs and other travel trailers opt for lightweight finishes and features. Destination trailers, on the other hand, strive to create the feeling of home away from home with residential quality features and finishes, therefore making them taller and heavier than most travel trailers and campers. They're designed for comfort and convenience, so don't expect something sleek with lightweight aerodynamic features.
Destination trailers are ideal for long stays opposed to long drives. So get comfortable.
---
Prepare for your next adventure by downloading maps. The Dyrt Pro lets you download maps and campgrounds without cell service. "My alternative to using pro would be to drive back out to cell service".
---
Long-Term Living in a Destination Trailer
Sometimes it's all about the journey. Other times it's about the destination. As their name implies, destination trailers are about what's at the end of the road.
Unlike typical RVs or travel trailers, destination trailers are not ideal for endless cross-country road trips. Due to their height and weight, you're going to pay more for gas and long journeys will feel more cumbersome.
Instead, destination trailers they are perfect for parking at that special spot where you want to kick up your feet and stay awhile.
These large travel trailers are self-contained, meaning they can run off of their own on-board electrical and feature fresh, gray, and wastewater tanks so you can live off the grid. They are also equipped to connect to power, water, and septic, for when you have the option for hookups. Your destination trailer gives you the freedom to choose where you call home.
Square Footage and Interior Features of a Destination Trailer
Destination trailers come in various sizes but have a maximum square footage of 400 sq. feet with ceiling heights of nearly 7 feet. Many of these trailers have additional slide outs that add to the usable space and create a spacious home-like feel. They have plenty of living space for the family and entertaining guests.
These homes on wheels usually feature a gourmet-style kitchen with a deep sink and 18-cubic-foot residential refrigerator. Entertain or cozy up with the family in the large gathering area that's often equipped with a fireplace. One can expect lots of natural light with bay windows, sliding glass doors, and even floor-to-ceiling windows.
Many models come with 2 bedrooms and even a loft to maximize interior space. Sleep easy at night on a king-sized bed while the kids are in their own room in bunk beds. You can even find destination trailers with a full bath and second half bath.
Unlike other travel trailers, destination trailers are built to look and feel like home with their increased size and residential styling.
Towing Options
These trailers are designed with comfort in mind, opposed to mobility. Although many destination trailers weigh around 10,000 pounds, they do not require a commercial vehicle for towing. They are still a bumper-towed trailer, and can be pulled with most one-ton trucks with a proper tow package.
The 2 hardest parts of towing a trailer are lining up the tongue and hitch, and backing into that perfect spot. Save your trailer some dents and yourself from high blood pressure with a trusty pair of  two way radios–they make it easy for you to communicate with your spotter.
Once you've parked your destination trailer at your favorite spot, cozy up with a campfire-inspired cocktail and kick up your feet. You have arrived.
---
This article was brought to you by Midland Radio.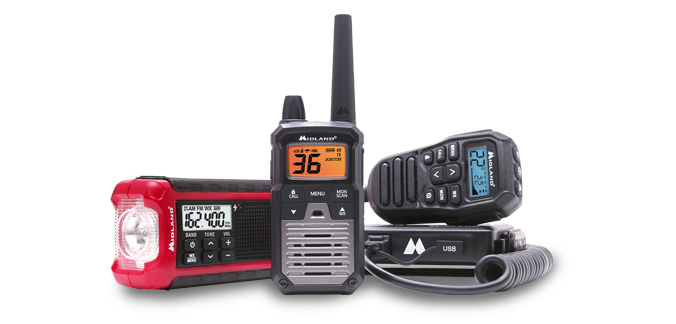 The #1 name in walkie talkies, two way radios, and weather radios.
---
Related Articles:
Popular Articles: