This article is brought to you by Banner & Oak, a company with deep expertise in headwear. Their ladies hats are the perfect addition to your next camping trip. 
---
The temperature was creeping down into the single digits. Fierce wind gusts of up to 60mph whipped across the prairie. They felt like an icy, immediate burn on any exposed skin. But, it was also the night of the year's second blue moon.
It was a time to howl at its glorious fullness and brightness, acknowledge what in our lives no longer served us, and to let it go as the moon began to wane and spring crept ever-closer. This was the night my friend Steph and I decided to go winter tent camping in Badlands National Park. As daunting as it sounds, it was worth every minute.
With Preparation, Winter Tent Camping Can Be Your Best Friend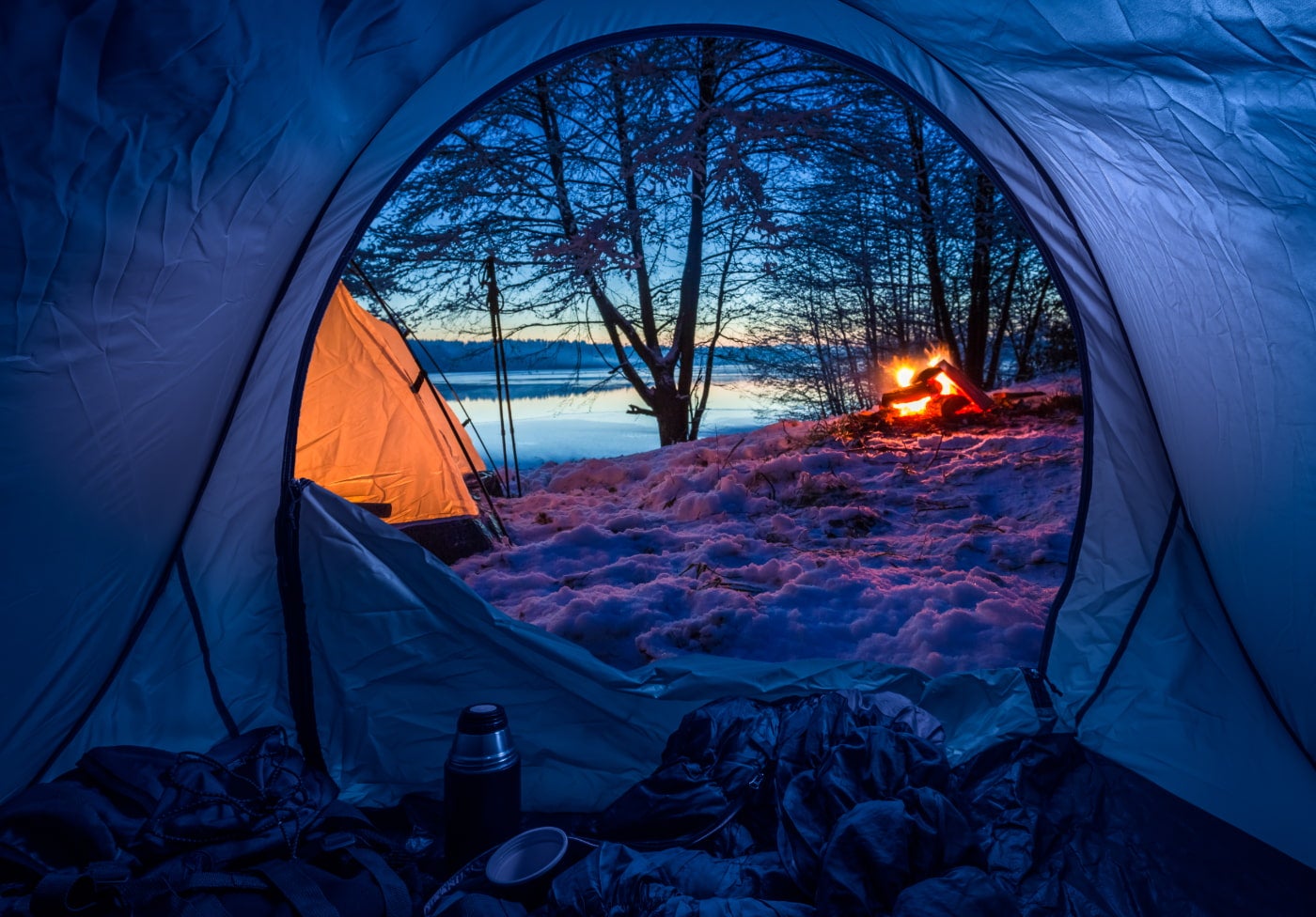 My friend Steph and I chose not to discuss the elephant between us that day as we set up our tent at Sage Creek Campground—that pesky elephant hidden in the chill which was trying to tell us winter tent camping isn't a great idea. We knew that with the right preparation, we could truly enjoy our lunar rituals and winter conditions throughout the night.
Winter tent camping comes with many benefits. Going in the off-season provides an opportunity to enjoy popular campgrounds with fewer crowds. Snow-dusted scenery adds an additional layer of beauty and peace to public lands.
Winter tent camping also acts as the perfect antidote to cabin fever. In addition, on this particular South Dakota voyage, I especially enjoyed seeing the park's bison cruising through the campground, looking stylish in their thick winter coats.
How to Set-Up a Campsite in the Winter
1. Speed through the Winter Tent Set-Up
How you go about setting up camp in the cold will determine how warm you'll be throughout your stay. When we arrived at Sage Creek Campground, we worked to get our tent set up as quickly as possible. And, even though we didn't expect any precipitation, we put on the rainfly. Taking these two steps gave our tent time to sit in the sun while it was still up, trapping in as much heat as possible.
2. Location, Location, Location
Location is another key component to being prepared and enjoying winter tent camping. We looked for a spot that was as sheltered from the wind as we could get, while still in sight of the sun. Some questions to ask yourself when looking for a good spot to pitch your tent include:
Are there any hazards in this spot, such as potential avalanches or other causes for excess snow buildup?
Is this spot well-protected from the wind?
Are there good spots here where I could guy out my tent?
Will this spot allow the tent to get good sunlight?
Am I able to create a flat spot in the snow here for the tent?
If you're setting up in the snow, you should first stomp out a flat area a little larger than the size of your tent. This will help avoid sinking into deep snow when you enter your tent. You can also build a small wall of snow around your tent to act as an additional barrier to the wind. Make sure to setup as far as you can from the steep side of the mountain if you are planning on camping on a slope.
3. Tie Up Creatively
Make sure to bring sturdy tent stakes and a small hammer to help pitch your tent on the frozen ground. A well-staked tent will allow for good ventilation, which will prevent condensation build-up and help keep you dry.
If you're unable to get your stakes into the hard ground, one of the most useful winter camping hacks is the use of "deadmen" anchors.
To create these anchors:
Tie your tent's guy lines to a heavy object, such as a rock, small branch, or even a snow-filled stuff sack
Pull out your line like you normally would to set up your tent, but instead of using a stake, simply cover the object you've used in snow
The snow freezes around the object and becomes a sturdy anchor to keep your tent upright.
Much of your heat can be lost through conduction when sleeping on the ground, so you may also want to set-up your tent with with an extra ground cloth, or look into setup options where you can camp off the ground.
Choosing the Right Gear for Winter Tent Camping
Having the right gear for winter tent camping will greatly improve your experience. As soon as I knew winter tent camping was going to become a regular activity for me, I invested in gear I knew would help keep me warm and safe in the winter elements.
4. Spring for a Seasonal Tent
While we were in Badlands National Park, I used my MSR Access 2 4-season tent. This tent is designed to maximize warmth and be sturdy in conditions with high winds and frozen grounds.
Steph and I were grateful to be able to crawl into this tent at night and feel well-protected from the cold. Opt for the smallest sized tent you can, as it will be easier to heat the tent, and retain that heat, if there isn't a bunch of extra space. If you are worried about intense weather conditions, check out mountaineering style tents which tend to be sturdier.
5. Prepare your Gear for Sleeping Sound in the Snow
I snuggled up that night into the Arctic Finch EX -10 women's sleeping bag from Feathered Friends. There wasn't a moment throughout the frigid night while I was in this bag that I even noticed it was cold outside. It is well-worth its price for frequent winter campers. And, thanks to its use of responsibly sourced down, it is able to pack down small, but fluff up big.
With my Feathered Friends sleeping bag and the MSR Access 2, I've kept warm enough that I've been able to use my 3-season sleeping pad. However, another important gear option to consider when winter tent camping is doubling up your sleeping pad, or investing in one made specifically for winter.
While I think investing in quality gear upfront is a good option if you plan on frequent winter camping, there are also some winter camping hacks you can use to make your 3-season gear warmer. For example, try adding a liner to your sleeping bag, or using a bivy sack on the outside to up its warmth.
6. Pack a Stove for Extra Heat
In addition to the regular winter gear staples, you should make sure to bring a stove. Boiling snow can be the most effective way of getting your water, as other filtration systems can slow down significantly in the cold.
You'll also want to have an insulated water storage option. On our camping trip, I opted to keep my water bottle in my sleeping bag for additional insulation. The plastic gallon jug I'd forgotten about in my car was frozen solid by the morning, so it was a relief to have my water bottle in the tent when I needed a drink.
Keeping Warm Both Inside and Outside of the Tent in the Winter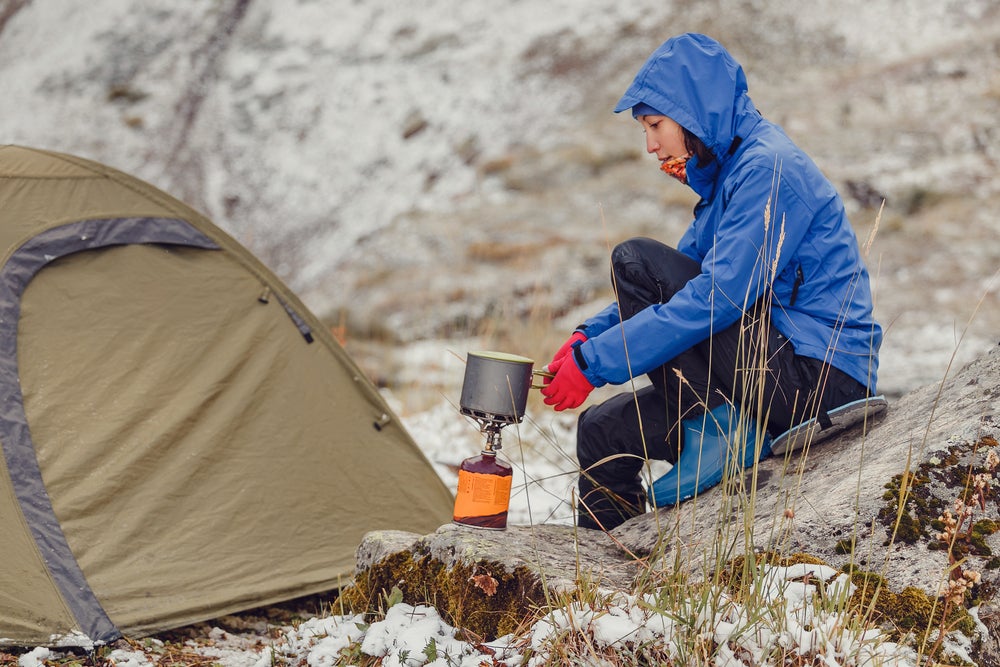 Arguably the most important step to keeping warm and dry when winter tent camping is to avoid getting cold or wet in the first place. Whether inside or outside of your tent, follow good practices to keep your temperature up.
7. Fill Up to Avoid Freezing
After Steph and I got our tent setup, we turned our sights quickly toward dinner. Cozied up in the protection of one of the campground's picnic areas, we cooked up a hearty meal of jackfruit fajitas, snacked on cheese, crackers, carrots, and hummus, and made plenty of cups of hot tea.
Having a solid meal for dinner and breakfast helps keep your energy up and your body warm, so make sure to eat plenty when camping in the cold. Warm beverages are also a unique slice of heaven when temperatures are plummeting.
8. Layers, Layers, Layers
Clothing choices are also key to keeping warm both inside and outside of the tent. Make sure to wear several layers, including a mid-weight base layer, a hat that covers your ears, mittens, and thick socks.
I've had the best luck staying warm in a couple layers of wool plus a down jacket and then a waterproof layer. I sleep with my winter hat on, and keep the next day's clothes in my sleeping bag with me to avoid the unpleasantness of putting on a frigid outfit to start the morning.
If you start to find yourself getting cold, add a layer, and do some jumping jacks to help warm you back up. Do your best to keep your tent sealed up and the snow out.
---
This article is brought to you by Banner & Oak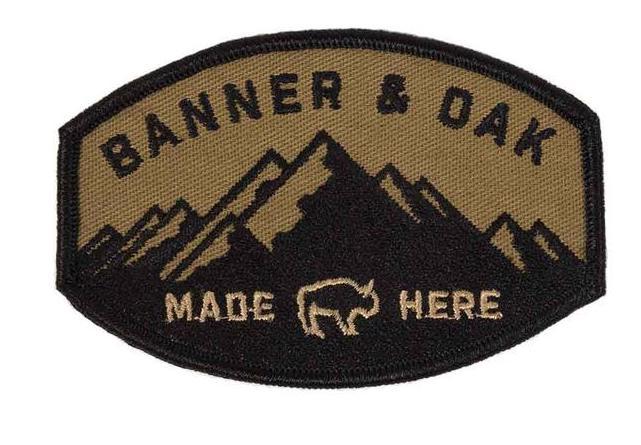 Their snapback trucker hats is the perfect addition to your next winter camping trip. 
---
Related Articles:
Popular Articles: