If you're going to wash your hair in the outdoors, it's very important that you only use only natural shampoo. These are our top picks. 
---
While there's nothing wrong with getting a little dirty in the backcountry, some people like to maintain certain grooming habits.
But what about all the nasty chemicals that come in our soaps and shampoos? Following Leave No Trace guidelines means ensuring there is no negative impact on the environment you visit. You might not realize what harmful chemicals are found in most shampoos on the market: Many contain Sodium Lauryl Sulfate (SLS) a suspected carcinogen, or SLES (a similar chemical derived from palm oil), as well as preservatives and unnatural fragrances.
While you might not mind these additives on a regular basis (most are found in a variety of other household items), bringing them into the backcountry is harmful to plants, wildlife, streams, and overall ecology. With that being said, even non-toxic shampoos are foreign to wilderness environments, and can cause similar damage.
When using natural shampoos, be sure to use them away from any natural water source, and any runoff from their use should be disposed in a 6-inch cathole, 200 feet from any water source.
These Natural Shampoo Options Are Actually Safe to Use Outside
Using a natural shampoo in the outdoors is an easy way to blend environmental consciousness with your daily grooming routine. These 12 options give you a variety of price points and treatment specialties to work for anyone who wants to keep both themselves and the outdoors clean.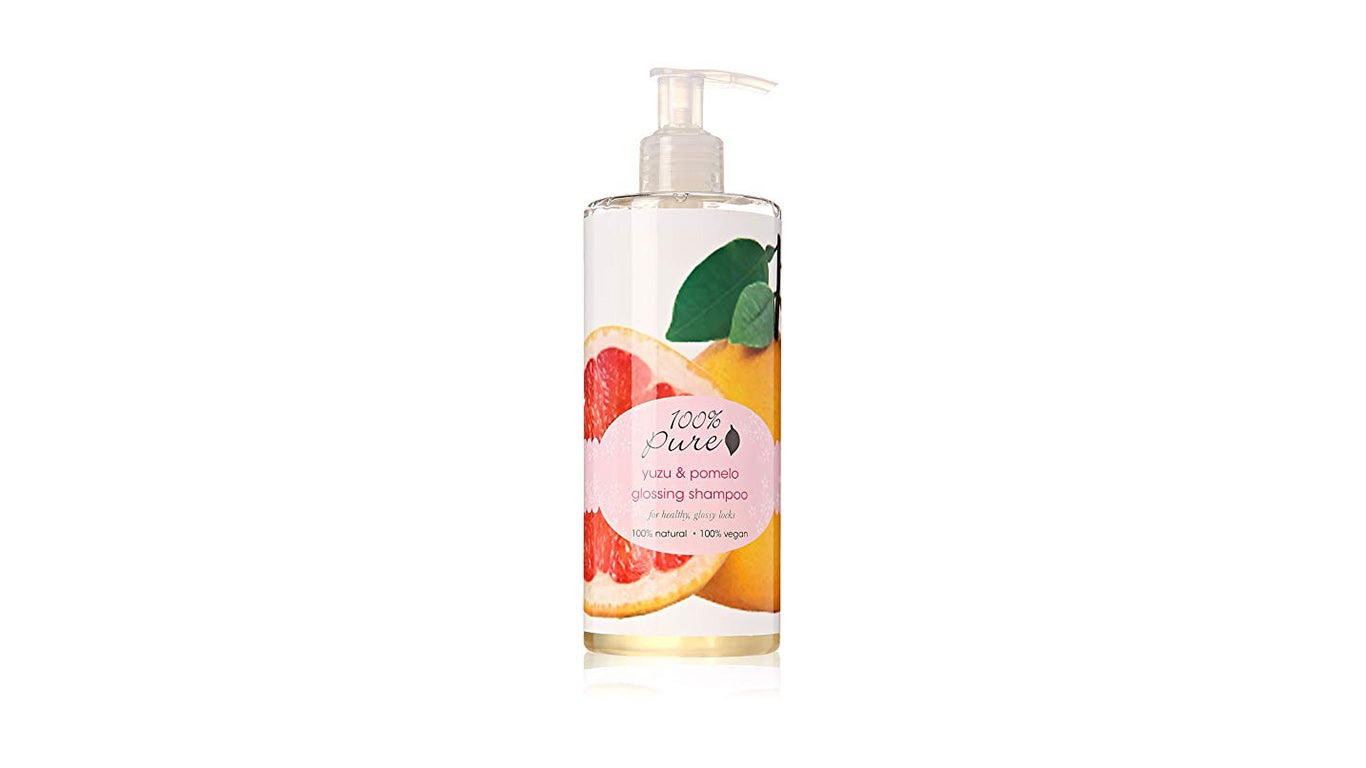 At 100% Pure, they don't joke around. A quick look at the ingredient list includes kelp, coconut oil, thyme, and calendula flower. All ingredients are vegan and naturally occurring, so you can look good and feel good while you're bathing in the backcountry. There are only a handful of locations that carry 100% Pure, so the best way to purchase is through their website. An 8oz bottle costs $20.
Buy Now: $20
---
Prepare for your next adventure by downloading maps. The Dyrt PRO lets you download maps and campgrounds without cell service. "My alternative to using pro would be to drive back out to cell service".
---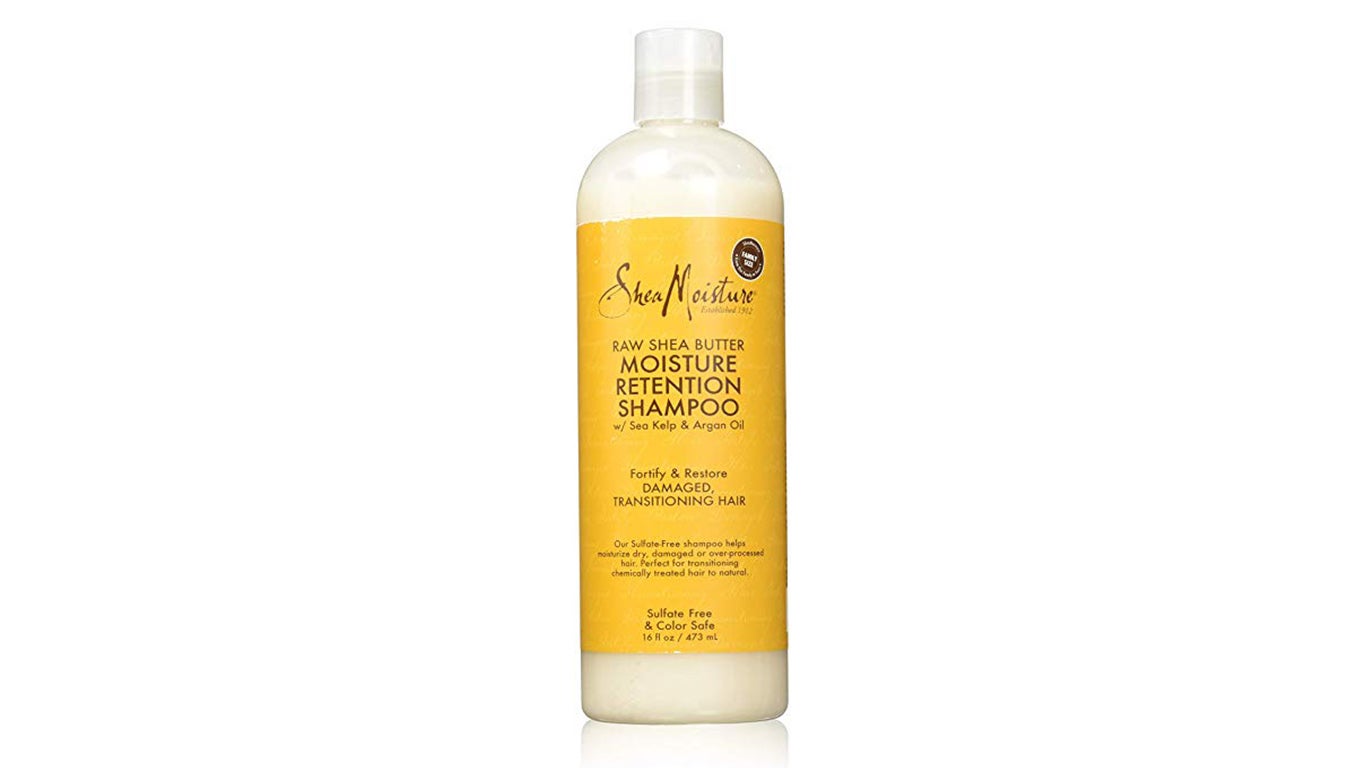 Shea Moisture shampoo is natural, organic, and raw, while still being luscious. Similar to other shampoos on our list, the ingredients contain relatively unknown compounds like guar hydroxypropyltrimonium chloride and Tocopherol (Vitamin E), but a quick Google search reveals these ingredients as water-soluble, organic, and safe to use. You can find Shea Butter products at drug stores and big-box retailers. For $7.49 you can get 13oz at Target.
Buy Now: $7.49
---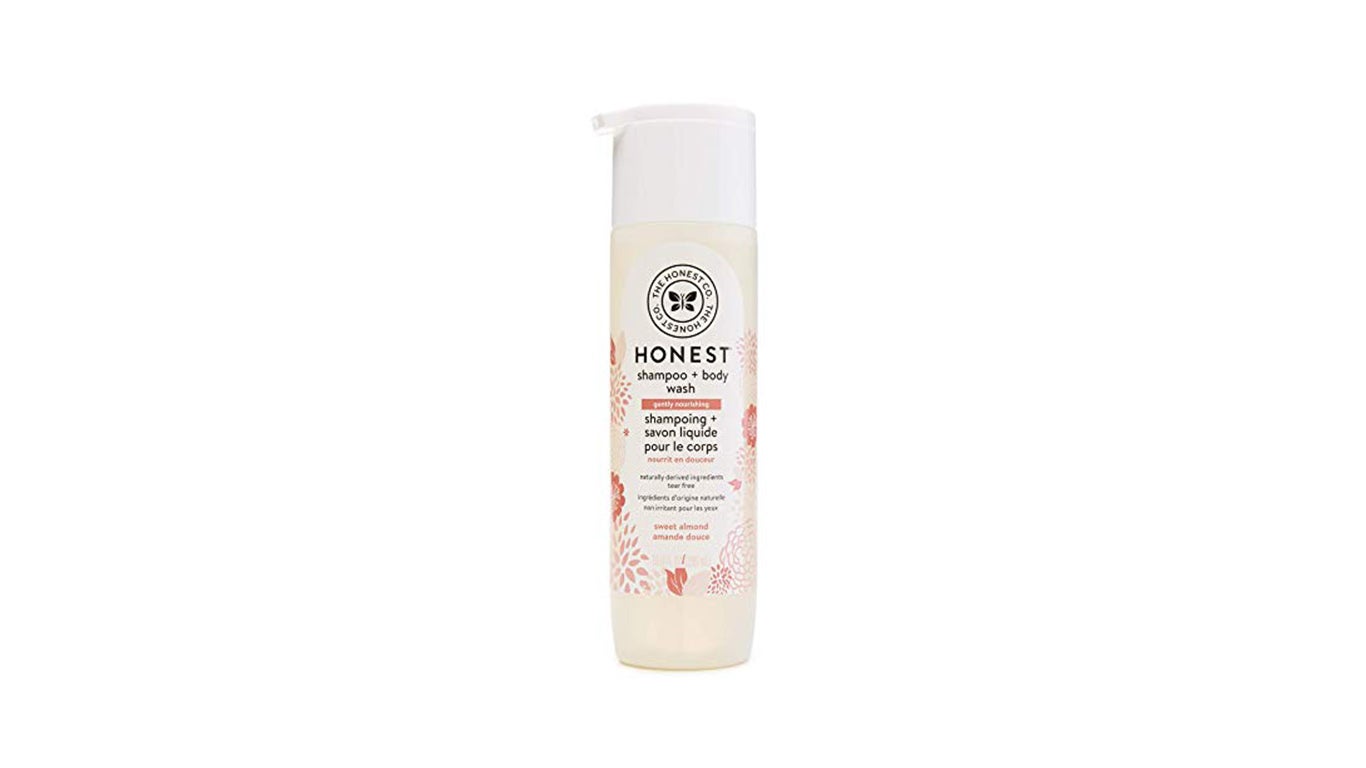 Honest Company is on a mission to create honest products for families everywhere. The Purely Simple Shampoo + Body Wash serves dual purpose as a hair cleaning agent and body wash, which means fewer items in your pack. All ingredients are natural and non-toxic, and each bottle is an affordable $9.95.
Buy Now: $9.95
---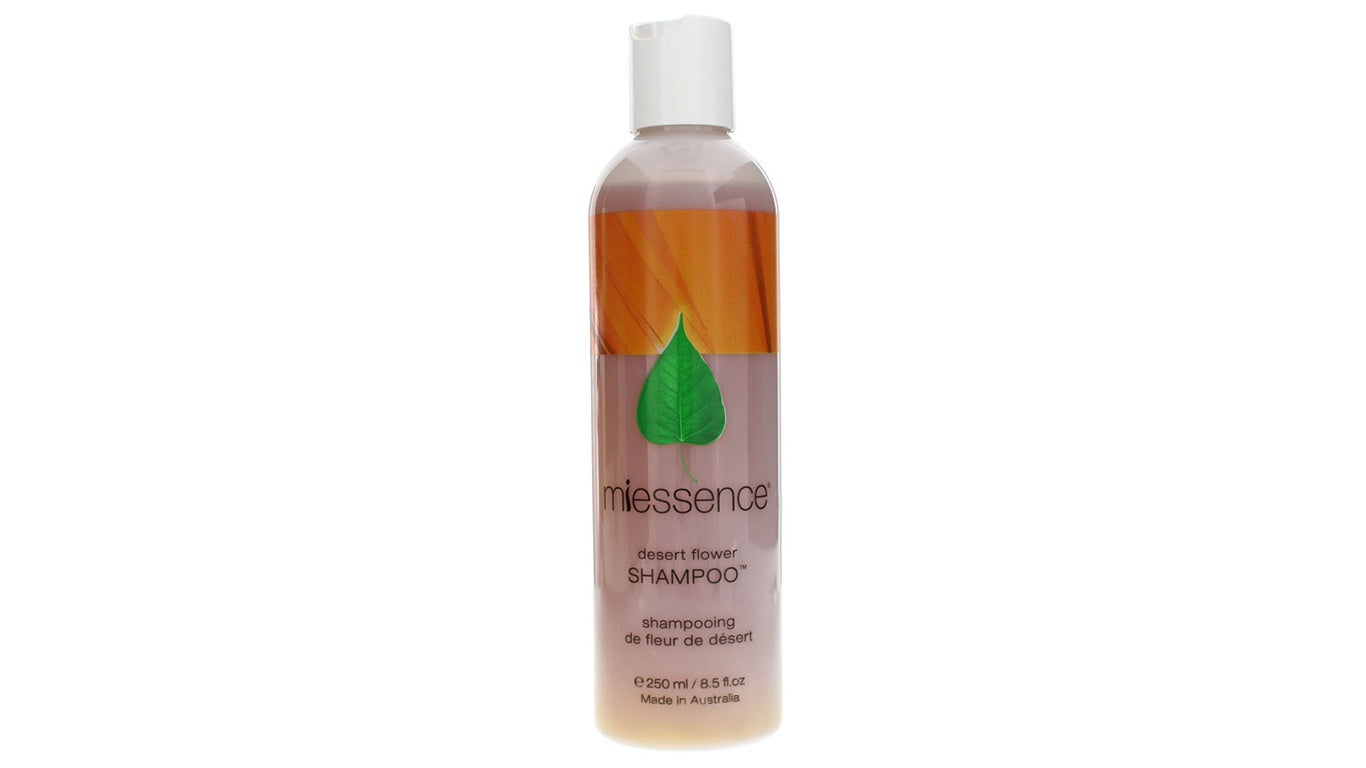 Although Miessence comes with a slightly higher price point ($24.95 for 8oz), you'll get top shelf non-toxic organic ingredients like organic citrus aurantifolia (lime) essential oil and organic persea gratissma (avocado) fruit oil. This shampoo is gentle enough to use for the whole family, including little ones.
Buy Now: $24.95
---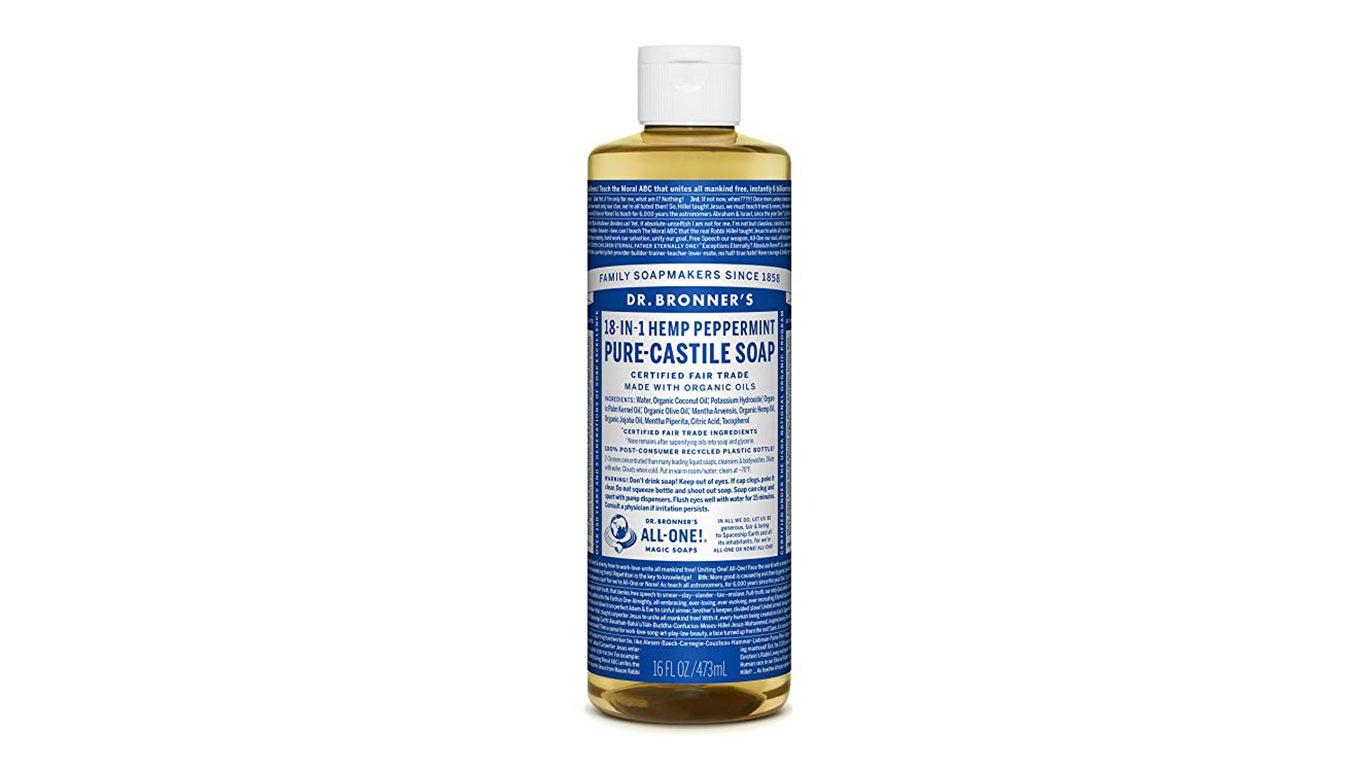 Dr. Bronner's sets the standard for non-toxic and organic soaps. If you're making any kind of DIY soap, detergent, shampoo, or body wash, chances are liquid castile soap is the core ingredient, and you'll likely use Dr. Bronner's. The Peppermint Soap is safe for hair and uses only 10 ingredients, all of which are easily pronounced and known. Though the best part might be the low price-point: you can often find Dr. Bronner's in the bulk section of health food stores and only buy what you need.
Buy Now: $19/2
---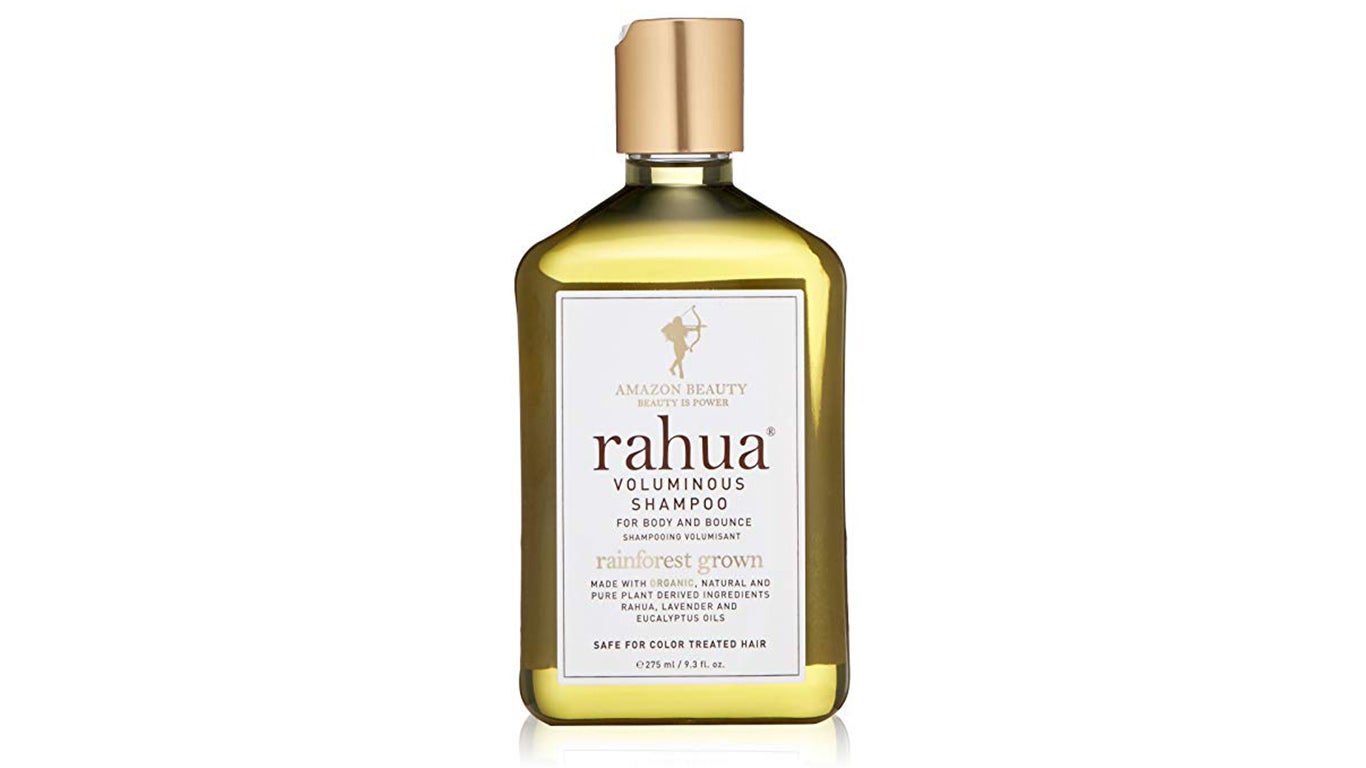 Rahua shampoo boasts two odd, but fortifying ingredients: quinoa and rahua oil derived from an Amazonian tree nut. The omega-9 oil helps create balance in the hair follicle for hair that's not too dry, and not too oily. All ingredients are plant-derived or naturally occurring to create a non-toxic, smoothing blend. At $34, it's on the high-end for shampoo, but well worth the money.
Buy Now: $34
---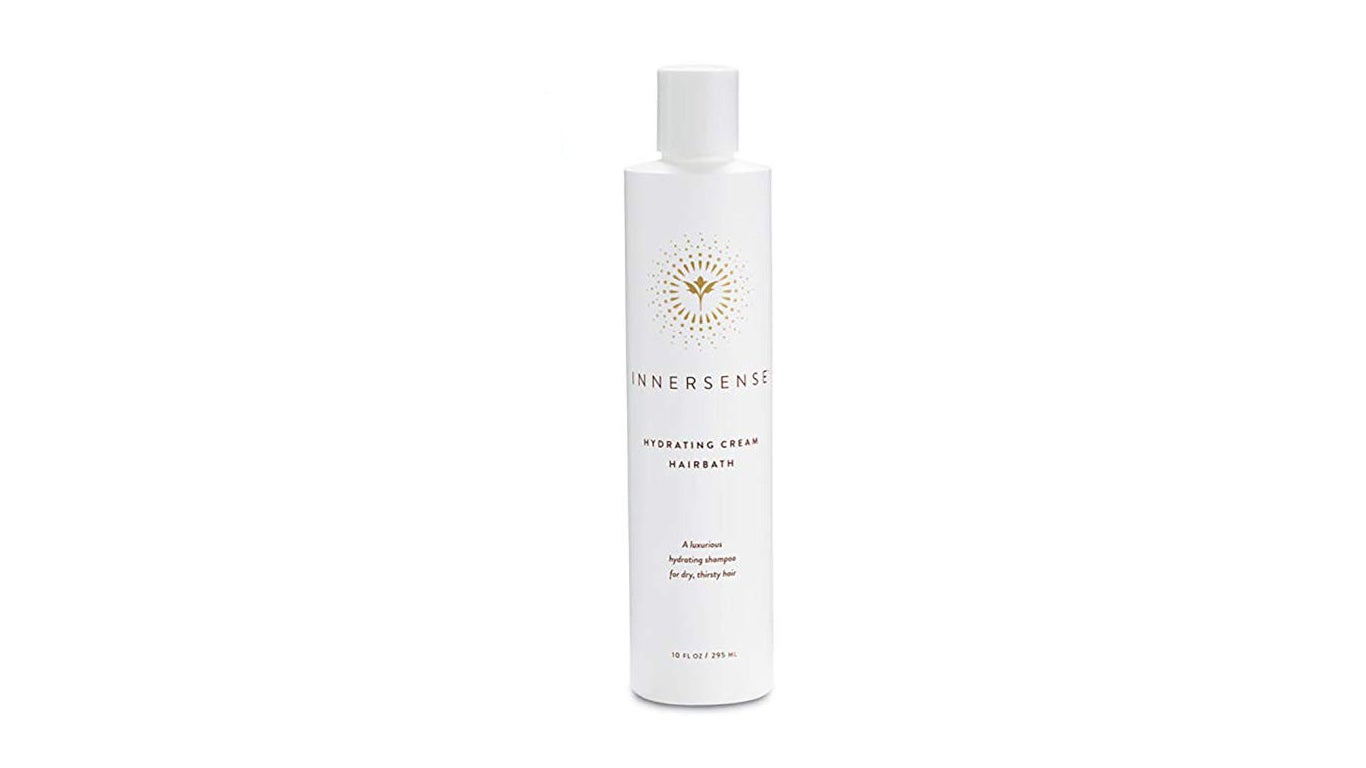 The line of beauty products from Innersense has won awards, and for good reason–their hygiene essentials are packed with plant-based, high-quality ingredients like coconut, shea butter, and Tamanu oil, and boast the name "hairbath." Why yes, I would like my hair to take a bath in your top-dollar natural shampoo! And top-dollar is right–32oz will run a lofty $70, and a smaller portion of 10oz costs $28.
Buy Now: $28-70
---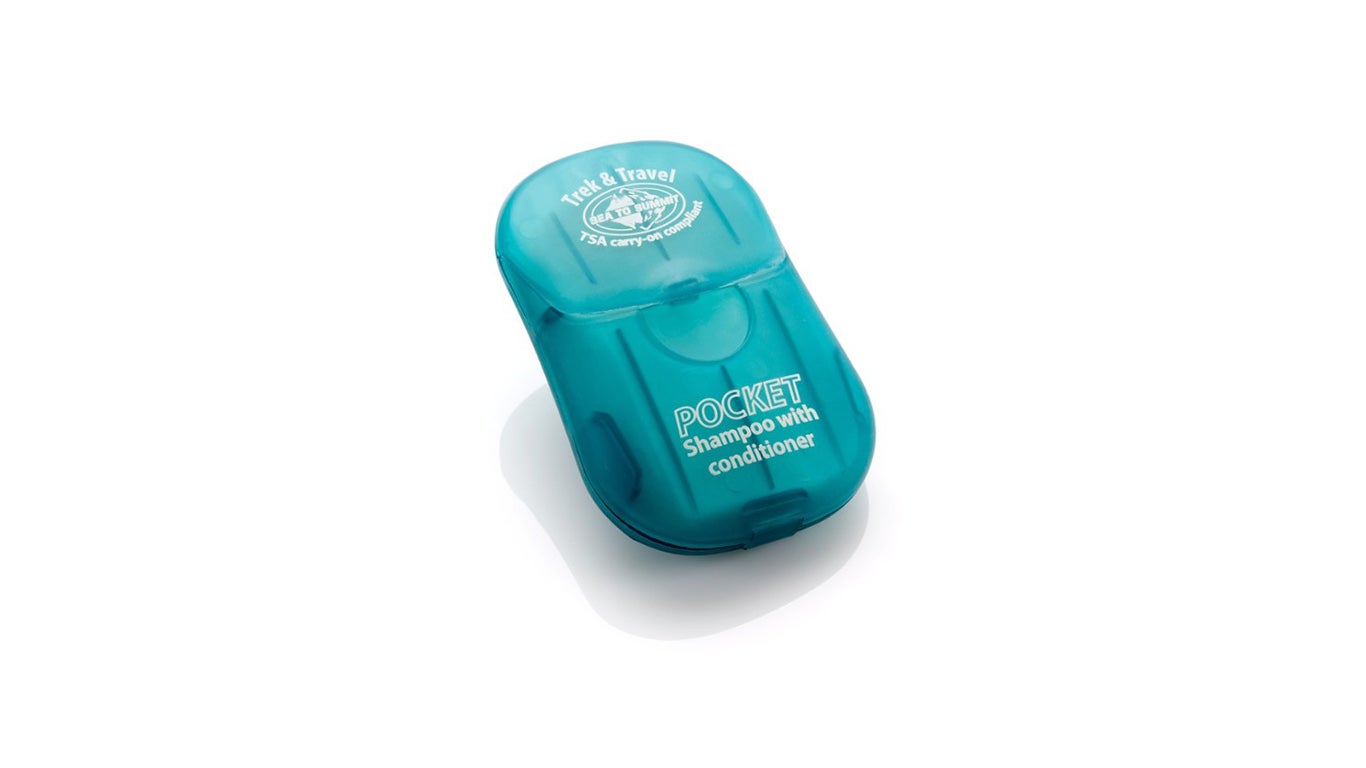 If you're looking for super minimalistic shampoo and conditioner, the Sea to Summit pocket shampoo is it. The sleek container is no bigger than a box of floss, and contains 50 sheets. This isn't an ideal solution if you have long hair, but those with shorter hair can use one sheet to get a lather and a good wash. You can purchase Pocket Shampoo at REI, with the reminder to use 200' away from any water source, and bury it in a cathole.
Buy Now: $4.95
---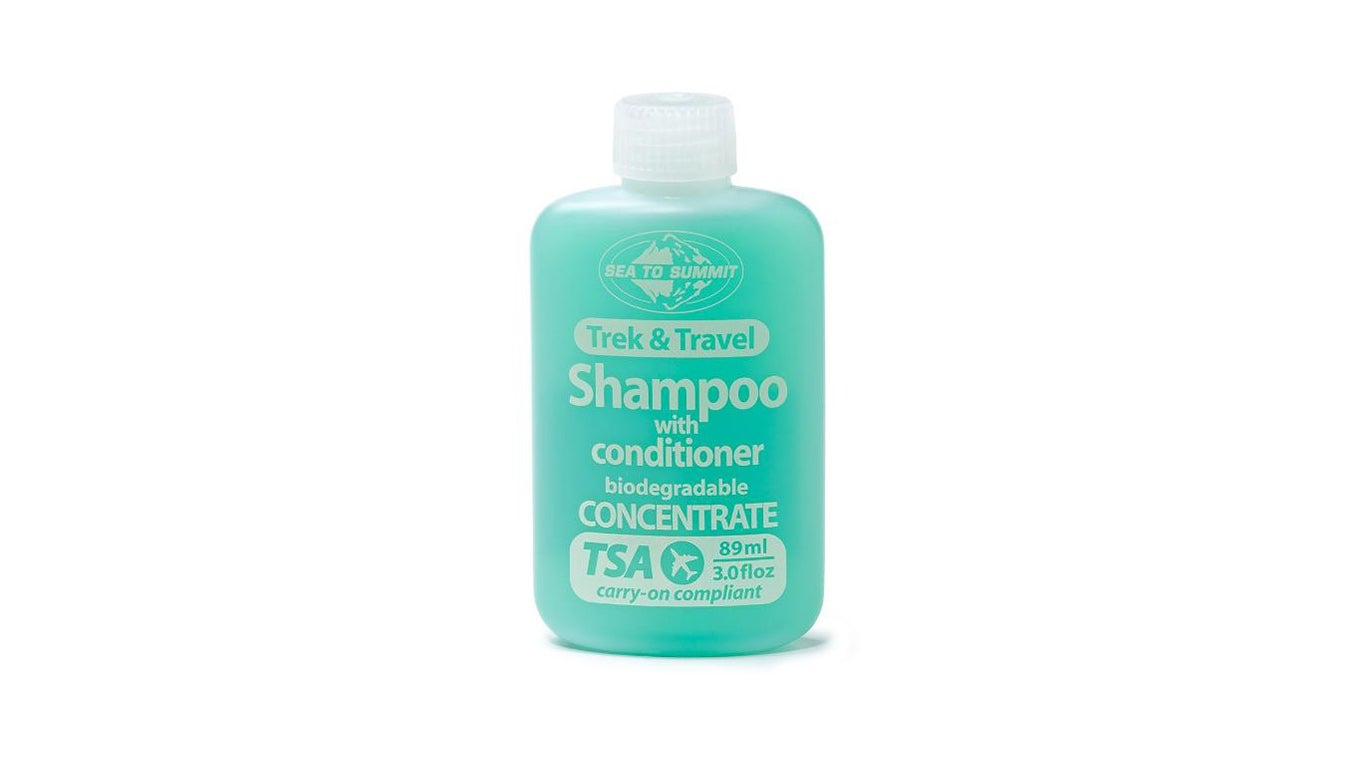 A step up from the Pocket Shampoo, the Trek and Travel Shampoo and Conditioner is a concentrated two-in-one natural shampoo combo that's biodegradable and small enough to pack in a backpack, camp tote, or shower bag. Because it comes in a 3oz container, you can take it on your international treks and travels as well. You can purchase this shampoo and conditioner combo for $4.95 at REI.
Buy Now: $4.95
---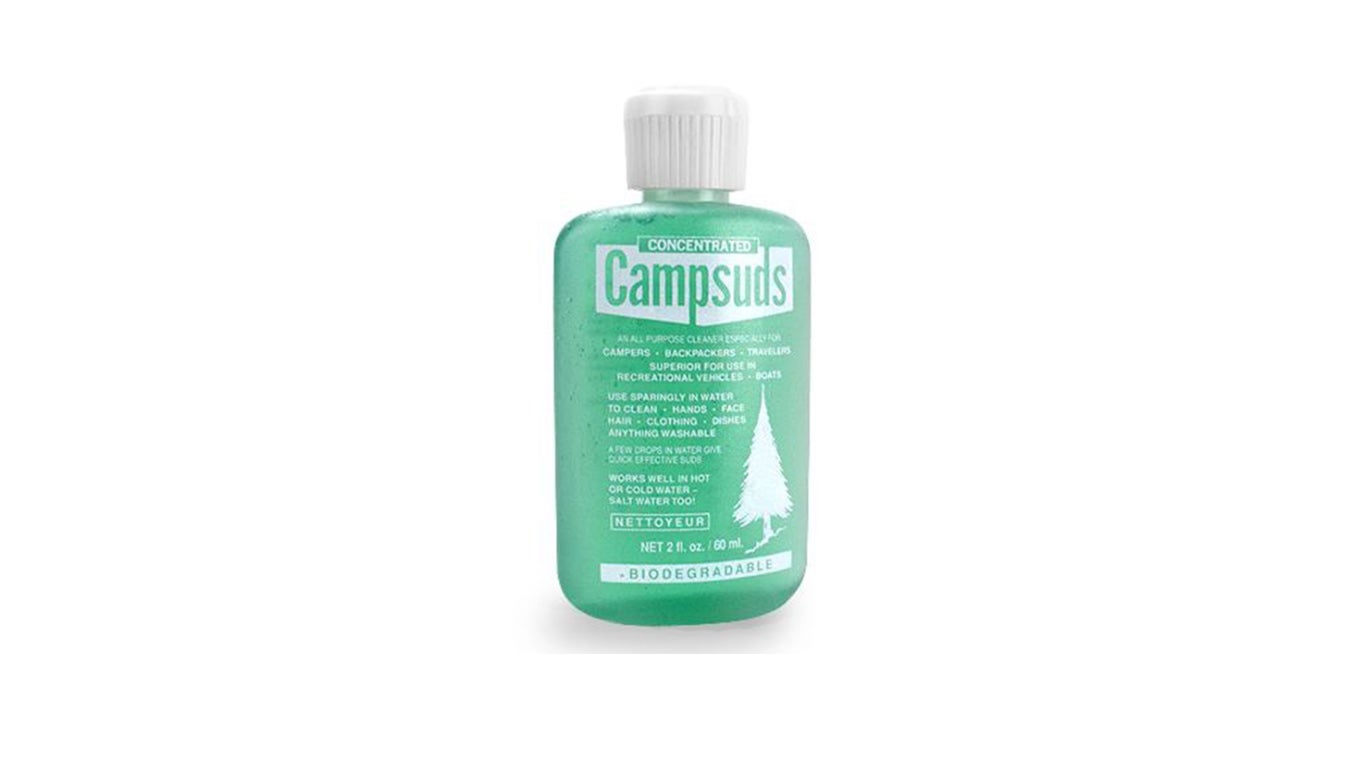 Campsuds are the original all-purpose cleaner. Anything that needs cleaning at the campsite can be taken care of with Campsuds. Use it on your dishes, your hair, your water bottle, or your clothes. A little bit goes a long way, so don't get crazy pouring half the bottle on your head. This soap is biodegradable and made with vegetable-based cleaning agents. A 2oz bottle is only $3.95 at REI.
Buy Now: $3.95
---
11. DIY Shampoo
There are countless DIY shampoo recipes out there, and chances are they're organic, non-toxic, and chemical free–because if you had the choice, would you go to the store and buy sodium lauryl sulfate to add to your DIY shampoo? Probably not. We found a recipe that's quick, easy, and works like a charm:
Equal parts coconut milk (homemade coconut milk works best) and liquid castile soap
Essential oils for fragrance (optional)
Optional: almond oil or olive oil for dry hair
Simply mix all ingredients together and voila! A DIY shampoo that will leave your hair with volume and shine.
While you're at it, why not give this DIY bug spray a try?
---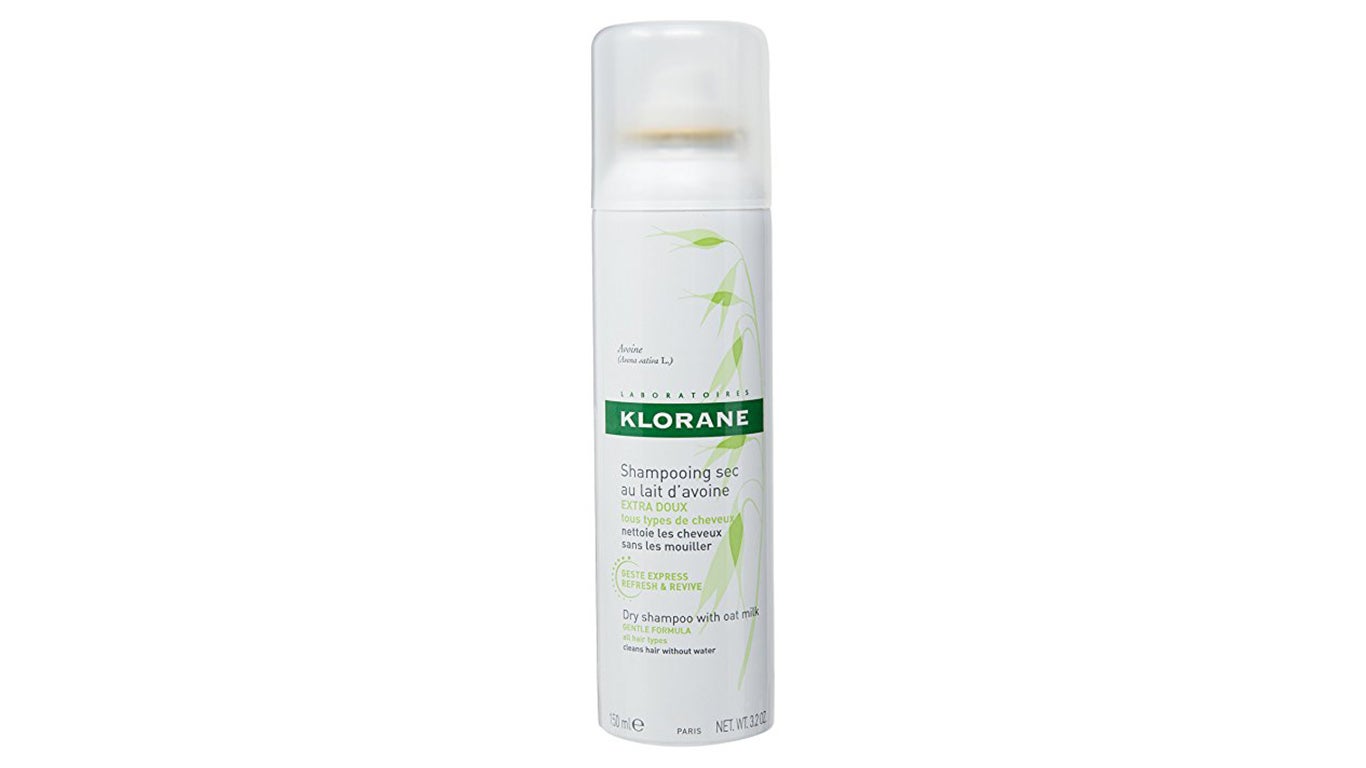 And if all else fails, dry shampoo for the win! Dry shampoo has seen a surge in popularity in recent years. Dry shampoo can be applied to roots to soak up any residual oil buildup after a few days without a wash.
It's great if you're out in the wilderness for a few days and don't want to deal with digging a cathole to bury your bath water. Since it isn't a liquid, it travels well and can be used to add volume or soak up oil.  While there are a variety of dry shampoo products, you can also make your own with as few as two ingredients!
Buy Now: $20
---
Our recommendations are based on providing value to campers across the country. Some articles may contain affiliate links. By purchasing through our articles, you help support this camping magazine.
Popular Articles: