About
Smithsonian Butte Dispersed Camping
Operator
Bureau of Land Management
Location
Smithsonian Butte Dispersed Camping
is located in
Utah
2 Reviews of Smithsonian Butte Dispersed Camping
Treacherous Drive Worth It for the Breathtaking Views
The camping on the BLM land around the Smithsonian Butte Backcountry Byway is my favorite area I've camped up to date. Incredibly close to Zion National Park, yet we hardly ran into a single person.
My boyfriend and I were planning to explore Zion for a few days, so we were looking for a free place to camp close by to the park, and the area around the Smithsonian Butte road hit all those marks. Though there are many of what appears to be campsites right off of the road, NO CAMPING is allowed within 1/2 a mile of the road. The "sites" are marked with no camping signs, so please respect other visitors and their views by not camping there. I very highly recommend going up the road to where we camped, on the Wire Mesa.
The Smithsonian Butte road from Rockville is not for the faint of heart, and is only passable when completely dry. A 4-wheel drive is highly recommended, as well as a vehicle with high clearance. Lots of rocks, ruts, and washed-out areas on this dirt road. It is uphill all the way if you're coming from Rockville. Going up is questionable, but going down is downright scary. Do not attempt after a rain. Was driving down to Zion one morning after it rained at night, and genuinely almost slid the car off a cliff. However, the adrenaline made it very fun and the spot we found was completely worth it.
The first major road off of the byway (to take you the obligatory 1/5 mile away to camp) is the road to the Wire Mesa (there's a clear marker). Farther down is the larger Grafton Mesa. We went with the Wire Mesa, and wouldn't trade it for anything. Down this road, you can see a solid amount of areas that have been used as campsites, most of which have clear fire rings. You can camp at any of these, surrounded by the native plants and wildflowers! There are some car-wide paths that you can drive down that jut off the main road. Google maps satellite view was very helpful in picking one that went to the edge of the mesa; I wanted a view! We followed the first offshoot, passed a bunch of perfectly adequate campsites, but found THE ONE at the very edge of the mesa. Could drive the jeep right up to it, was a nice durable surface to camp on (shout out to those LNT principles), and near the mountain biking trail, which made for amazing sunrise strolls by our east-facing campsite. The BLM allows downed would to be collected to fires in existing fire rings, and there was lots of dry wood on the ground to be collected.
There are no water sources nearby, so make sure you have enough water with you for drinking, cooking and washing. Carry out all your trash, including toilet paper, but solid human waste can be buried in appropriately deep cat holes. It may get a little breezy on top of this flat mesa at times, so make sure tents are really tied down! I would be highly surprised if any sort of camper/trailer/RV could make it up the Smithsonian Butte Byway. As an unexpected perk, I had full LTE cell service--and I have Sprint. That never happens. The stars at night are also incredible.
The drive from our site right at the east edge of the mesa to the south entrance of Zion was about 30 minutes, mostly due to the snail pace the dirt road requires. We were there mostly during the week and were completely alone up until Friday, where we saw some more mountain bikers and a few more campers. Again, this was the best camping site I've ever had. Camping in this area has that awesome back country feel with front country car accessibility (if you like thrill rides). So close to Zion, but I never even got to the National Park, I would have been okay with it. The area has so much to offer on its own.
Sorry for the very long review! Really wanted to share my experience and talk this place up. Here's a really helpful map of the BLM land in the area. Please respect the rules and private land!
https://www.nps.gov/zion/planyourvisit/upload/blmcampingsouth.pdf
Beautiful but Loud
We arrived here late at night after we found out that Zion Campground was closed. It was an easy drive in but the only spot we found to camp was right off the dirt road so we laid out our tarp and hoped for the best. While climbing into our sleeping bags someone had a drone flying over our heads just out of reach and kept it there for about an hour. We yelled to ask them to turn it off but no one responded and it just kept buzzing overhead. Then about 12 am another group came barreling down the dirt road and set up shop super close to us apparently not seeing our cars nor us and proceeded to blast music and yell for about 30 mins until I flashed my headlamp at them and one of them immediately responded "sorry!" and got the group quiet. They must have thought they were alone.
The morning came and the drone was back for about 20 mins till I spotted the people up on the nearby cliff and asked them nicely to respect our privacy. They respected the request and took the drone elsewhere.
The view was incredible! If it weren't for all the ruckus it would have been a perfect start to the Zion foot of the trip. But unfortunately it is hit or miss with dispersed camping.
2019 Campground Review Contest
Utah & Nevada
UT, NV
Review Campgrounds.
Win Prizes.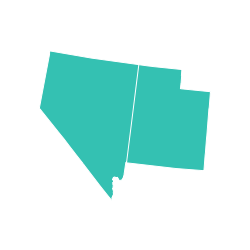 GRAND PRIZE $100 to IceMule Coolers
4 RUNNERS UP WIN $50 to Grub Stick
GEAR DEALS FOR CAMPERS
Get 20% off flexible backpack coolers.