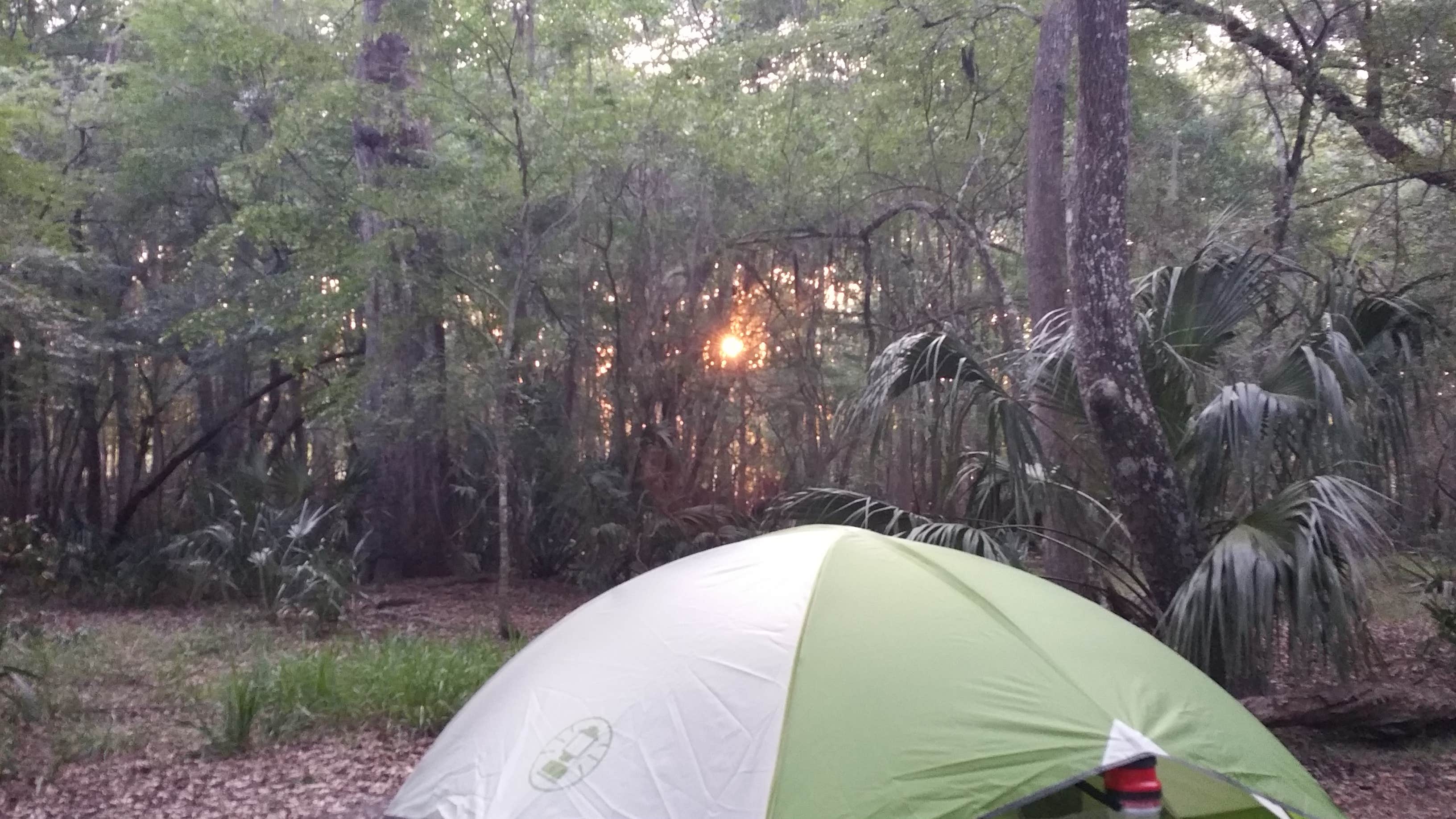 THE BEST Group Sites CAMPING NEAR
Basinger, Florida
Top Basinger Group Sites Campgrounds
Recent Group Sites Reviews Near Basinger, Florida
187 Reviews of 22 Basinger, Florida Campgrounds

Very nice state park here. The electric camping sites have water hook ups. I don't have a camper so we just set up tents and luckily the only spot available was a good one. It's mid June and it's HOT! Some sites are spacious and private and others you can see more of your neighbors. We had deer…
K
It is a smaller rv park that has electric and water. There are about 50% that live here. There are 2 unisex bathrooms with showers. The internet works, so does TMobile. It is walking distance to Publix and a restaurant/marina.

The tent sites are a little small but most of them are shady and secluded with lots of trees and shrubs between! Good bathroom and shower, and lots of trails to explore, leading to a boat ramp and playground

We love Ortona! Our site, 29, waterfront! So many boats going through the locks. Unfortunately, the locks are still closed to people walking across. Very clean, good long sites, and very friendly! 59 amp, and water hookups.

This COE is very clean, large concrete sites, 50 amp, and can be sitting facing the water! Love this. Only 9 sites, and 5 boat slips I think.

We had an awesome stay. Very quiet and relaxed. Wasn't much for hiking trails though and the camp groundsman kept finding reasons to come on to our camp and conversate for far to long. Friendly but to much so.

We really enjoyed this park. Lots of trails, a camp store, and a museum on site. It is closed due to Covid right now. Most of the sites are shaded. Nice bath house, playground etc. only complaint is that the sites aren't marked that great. I don't mean the numbers, just the actual site lines aren't…
P
This campground is a Corps of Engineer facility with 51 sites with electric and water available. A dump station is onsite as you leave. Open year round the campground is set along the Caloosahatchee River where campers can watch the boats and manatees pass through the Ortona Lock. 
Nature abounds…

This review relates to River Ranch RV Resort, which is next to the Westgate property. I would personally not stay at the Westgate RV since it is basically just an open field with RV spots. 
River Ranch RV next door is a beautiful place with fantastic spots. We stayed in spot 323 which had its…

Have waited six months into our RV life to start reviews for fair comparisons. Stayed 3 nights in 35 foot RV+tow car in site#121 at$27/night. This was the weirdest campground set up we have stayed at in our six months. Everyone right on top of each other, awkward roads within the sites. I tried to…

Have waited six months into our RV life to start reviews for fair comparisons. Spent total of 6 nights in 5 different sites(they call it the Ortona shuffle). Liked all sites for different reasons. Another peaceful, clean, spread out ACE campground. A birders paradise. Also have resident gators.…
St. Lucie South is a small campground run by the US Army Corps of Engineers. Located just outside Stuart, FL. the site is located on the St. Lucie lock and dam.
The park is small with only 3 primitive tent sites and maybe 10 RV sites.
The tent sites all are on the St. Lucie canal and do not have…

We stayed on the tent campsite near the swimming lake, site 007. The area is nice, beautiful morning views from the swimming lake and great hiking/canoeing paths with fearful encounters with gators, at one instance 5 gators in the creek just feet away while canoeing, we even hit one thinking it was…
This Campground was great! It had metal fire pits with grates for cooking, plenty of sites to choose from! You have to go online and get a special use license and then it will give you a code to the lock on the front gate. Had a building for showering and bathroom. However there were lots of…