We all have awesome camping memories — they are why we love camping. Well, now you can get rewarded for sharing your camping memories with new Levels and Badges on The Dyrt.
---
What's your camper level? Camping is its own reward, but new Levels and Badges on The Dyrt give you a little something when you share your camping experiences.
Your "Level" is based on the total campground memories you share. Reviews, Photos, Videos, and Edits all count as one contribution each, so the more you have camped, the more you can level up! All you need to do is find a campground you've visited and add a review, photo, or video, or suggest an edit.
Your "Badges" are based on specific camping achievements, like winning a camping contest or being the first to review a campground.
See every new Level and Badge — plus how to earn them — below!
Share Camping Memories to Level Up!
Gaining new levels is as simple as having camping memories – photos, videos, or reviews of campgrounds. Get started by finding any campground you have visited on The Dyrt, you can share reviews, photos, videos or contact info. For each contribution, you get one step closer to the next level. Here are all the possible levels, each more exclusive than the last!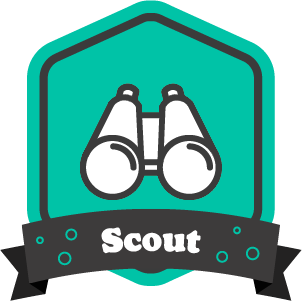 Level 1: Scout
When you make an account on The Dyrt you achieve the Scout level. Level up from here by finding any campground you have visited and adding photos, videos and reviews!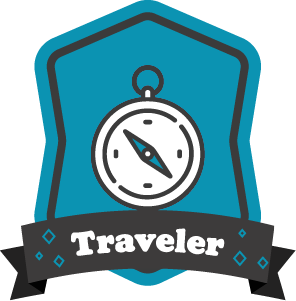 Level 2: Traveler
Level up to Traveler by making at least 5 contributions to The Dyrt.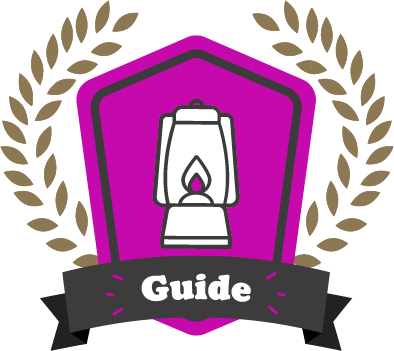 Level 3: Guide
Guides are impressive, consistent campers who enrich the community with campground reviews and photos. The Dyrt Guides have submitted at least 15 contributions from their camping escapades.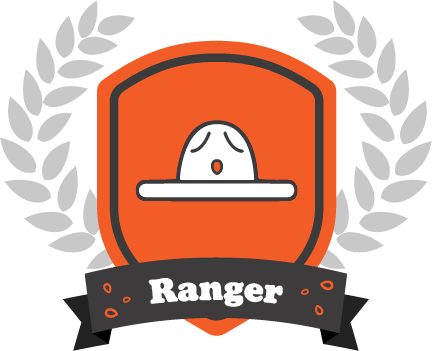 Level 4: Ranger
Rangers are model campers and experts in their area. To get here you've submitted more than 100 contributions! Think you have what it takes to reach the Ranger level?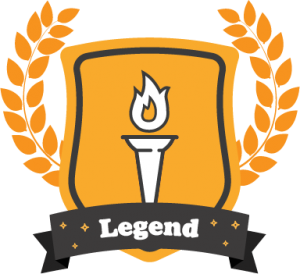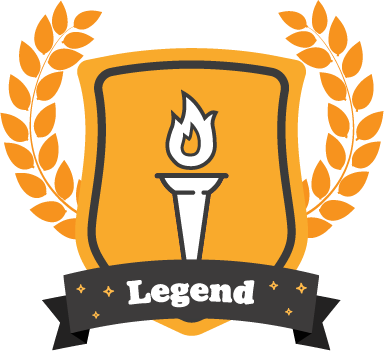 Level 5: Legend
Legends are truly elite campers. Legends go down in local lore for having uploaded more than 250 contributions for their camping community.
What counts as a contribution?
The Dyrt exists to collect campground reviews, photos, and videos to make it easier to find a place to camp. Each of these submissions counts as 1 contribution:
Review of a campground
Photo of a campground
Video of a campground
Suggested page edit to a campground's listing
Most campers have camping pics in their Camera Roll, so achieving the Traveler level isn't too difficult. Want to level up and join the camping ranks? Start contributing campground reviews, photos, and videos today.
How to Collect Badges from Your Camping Trips
Add camping badges to your collection by hitting specific achievements. The more you camp, the more badges you can collect. See all 8 badges and how to collect them below!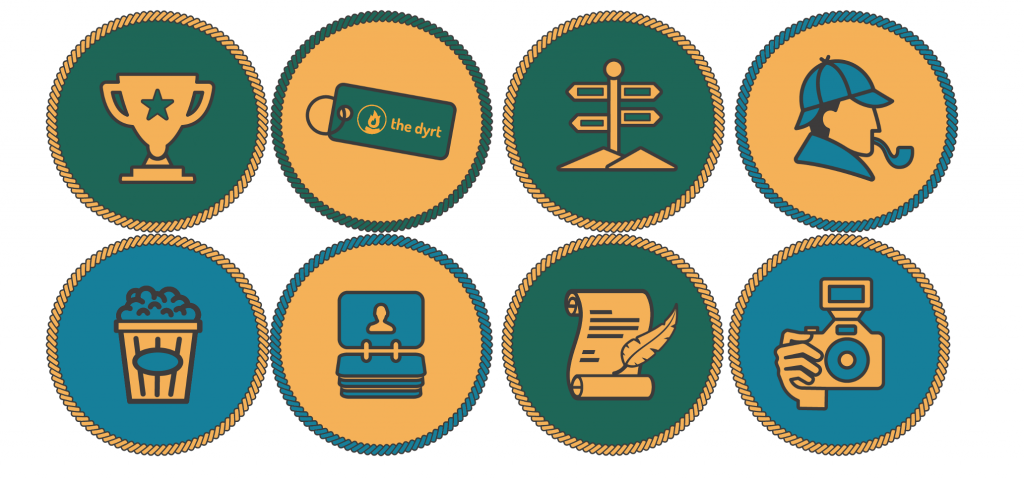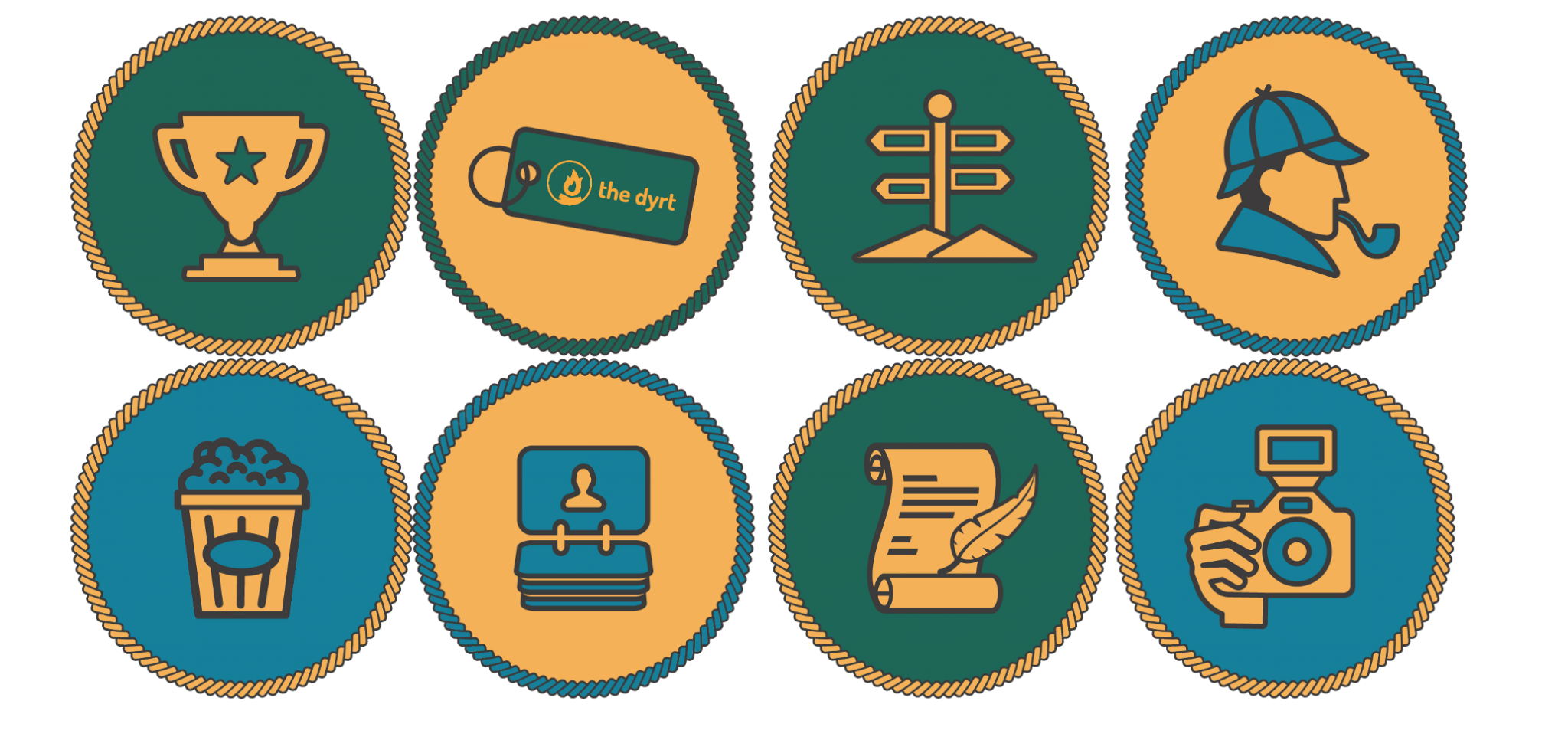 Champion Badge: Win your region's campground review contest.
Club Badge: Create an account on The Dyrt and join the largest camping community on the Internet.
Explorer Badge: Be the first to review an unreviewed campground.
Fact Checker Badge: Suggest an edit to a campgrounds' amenities.
Filmmaker Badge: Add a video of a campground.
Rolodex Badge: Update a campground's contact information.
Scribe Badge: Write a campground review.
Viewfinder Badge: Share a photo of a campground.
Tip: You can earn each badge more than once — how many can you collect? 
See all your levels and badges by logging into The Dyrt and going to your member profile.
What are you waiting for? Find a campground you've been to, contribute and start collecting!