Looking for the best campgrounds in Idaho? You'll find 35 million acres of public land, and many more private campgrounds and backcountry sites to choose from. No wonder Idaho looks like it is giving a big thumbs up to camping!
Campgrounds in Idaho are settled on landscapes that vary from forested lakes to dry sagebrush. Rivers teem with fish to draw anglers, and thermally heated hot springs attract bathers in cooler months. The state's skinny panhandle touches Canada, while its flat southern base is pressed right against Yellowstone National Park.
You'll have no trouble finding camping in Idaho. But with so many options, you might struggle to pick which spot to visit. Fortunately, experienced campers on The Dyrt are here to help you pick from the best.
The Top Campgrounds in Idaho, 2020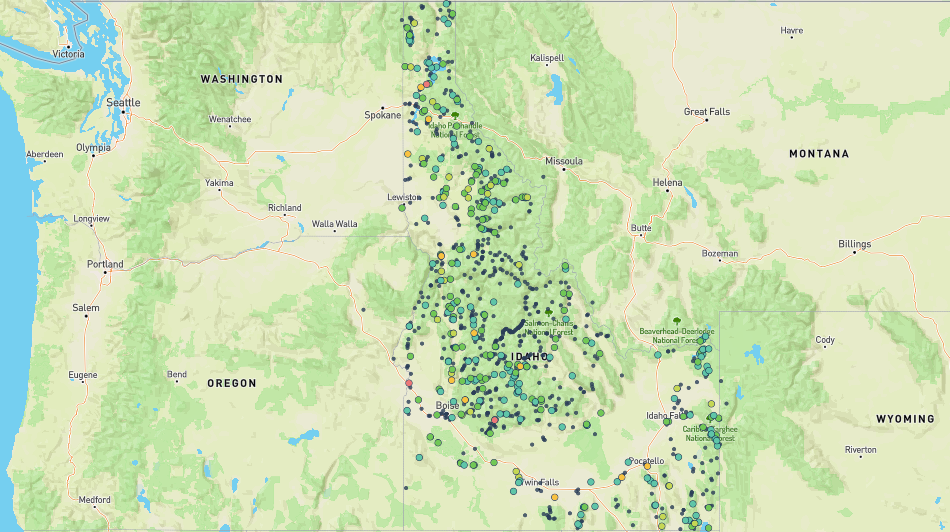 We turned to campers across the state to get the scoop on the very best campgrounds in Idaho in 2020. Whether you're ready to bundle up for winter camping or dreaming of where you'll go once the temperatures warm up, this is your ultimate resource for the most loved campgrounds in Idaho this year.
---
Make sure you can find Idaho campgrounds from your car, even without service, by getting The Dyrt PRO. It's one of the best ways to save money and time while camping. Learn more here.
"My alternate to using pro would be to drive back out to cell service."

---
Ponderosa State Park makes up a peninsula that pokes into Payette Lake in the middle of Idaho, near the town of McCall. Deluxe cabins sit within the park, but primitive campsites allow you to embrace the wilderness experience. Nearly every kind of recreation is represented, from water sports to hiking and biking. Reservations are recommended—it's one of the locals' favorite campgrounds in Idaho.
"This campground is amazing. There is so much to do [at the] park. There is hiking, fishing, swimming in the lake (it's cold, be prepared). In late July you can pick huckleberries in the park. " — The Dyrt camper Sherry J.
Camp Here
---
You probably don't think of roller coasters when you think about camping, but Farragut State Park is a short drive from Silverwood Theme Park, where you can fill up on adrenaline before relaxing around a campfire. Campers report this massive park is the kind of place you can revisit year after year, and the family will never run out of things to do.
"Every site is immaculately maintained with even the gravel being raked between visitors. There are hot showers (in private rooms), visitor center, swimming, boating, fishing, and a host of other activities. There are several disc golf courses and the visitor center sells Frisbee/discs for that purpose." — The Dyrt camper Bruce P. 
Camp Here
---
The oldest state park in the Pacific Northwest has attracted a host of dedicated campers who regularly return, year after year. With a beloved trail cutting straight through the park (Trail of the Coeur d'Alenes) and Lake Chatcolet both begging to be explored, there are endless activities to enjoy in Heyburn State Park before you tuck into your tent at night.
"I wish we had more time to spend at this campground. It was a bit off the beaten path but worth it. It is also situated right by a lake, but did not see any direct access to the lake from the campground. " — The Dyrt camper Kelly L. 
Camp Here
---
Less than two hours from Boise, this lakeside campground is where summer memories are made. Bring the paddle boards, and camp on the beach. Both tent and RV campers will enjoy the surrounding scenery at Lake Cascade State Park.
"There are several activities you can do at this campground, from fishing, boating, sailing and Mountain biking. Some sites have full hook-ups and there is a dump station for RVs. There are some ADA sites as well as group and Yurt camping." — The Dyrt camper Ed E. 
Camp Here
---
Soak the season away at Pine Flats Campground, where numerous hot springs–which stay warm year-round–dot the nearby South Fork Payette river. The grounds feature 24 spread out sites in a dense Ponderosa Pines forest, keeping noise at bay. For those looking for a more active water experience when choosing campgrounds in Idaho, there are also several guide companies in the area who offer kayaking and whitewater rafting trips down the river.
"Beautiful camp ground right next to the river. And a hotsprings within yards of the camp ground. Near the road, however I've never experienced a full camp!" — The Dyrt camper Jill R. 
Camp Here
---
This little Idaho campground only offers three campsites, but those who snag one will enjoy the serenity of a lakefront that's (almost) all yours. The town of Stanley is close enough to make trips for more food to throw on the grill, and there are several hikes worth checking out in the area around Stanley Lake.
"The lake is fantastic! So clear and blue! The scenery is amazing.. Perfect for kayaking, paddle boarding, and swimming" — The Dyrt camper Melanie S. 
Camp Here
---
Summers are hot at Kirkham Campground, but in the shoulder seasons you can enjoy a chill in the air at 4000 feet, alongside the soothing warmth of Kirkham Hot Springs. You'll also find trout fishing, a waterfall, and the opportunity for white water rafting and kayaking on the South Fork Payette River.
"Kirkham is by far one of my favorite spots, especially during the fall and spring. The gate entrance closes during the winter but you can still walk in and access the natural hot springs. If you're visiting Idaho, this is a must see!" — The Dyrt camper Eden T.  
Camp Here
---
Visitors to Bruneau Dunes get a peak at Idaho's own version of Sahara desert. Camp among some of the largest sand dunes in North America, as this massive sandbox is yours to climb and slide. At night, venture off one of this Idaho campgrounds' 120 sites to the public observatory for a closer peak at those countless stars above the dunes. A majority of the sites have water and electric hookups, making this the perfect spot for RVers and tenters alike.
"Great place to go in the spring or fall. Sand dunes are amazing to slide down." — The Dyrt camper Jodie S.
Camp Here
---
In a canyon carved from the wind, a 48-foot monolith sits precariously over brilliant red rocks. This is Balanced Rock State Park, a destination just a short drive from Twin Falls, that features primitive, tent-only campgrounds close-in to the famous rock. Gaze at the canyon's odd structure on your hike through the gorge, just don't hurt your neck from looking up too long.
"The park itself has roughly 10 sites, a pavillion for day use, swing sets for kids, horseshoe pits, fire pits, and plenty of space within the canyon. The sites are along a creek with amazing rock formations all around. Very close to balanced rock itself which is an easy hike! Simple getaway from Boise or Twin!" — The Dyrt camper Mary D.
Camp Here
---
Eight separate eruption periods that took place 1,500 to 2,000 years ago created a lava field that covers 618 square miles in Southern Idaho.
This region, which we now know as Craters of the Moon National Monument, is scarred by deep cracks in the Earth; signs of both a tumultuous geologic past and the promise of continuing change into the future. You won't want to miss out on one of the most unique campgrounds in Idaho. Campers can explore this bizarre landscape by grabbing one of 51 first come, first served spots at Lava Flow Campground.
"Stayed here in September with excellent weather and quieter crowds. Facilities were still open and in great condition. The park itself is quite the wonder, well worth spending some time at!" — The Dyrt camper Ellen F. 
Camp Here
---
Pick up your fishing license before heading to the fishing hotspot at Swan Falls — one of many campgrounds in Idaho where you can catch catfish and smallmouth bass. While you're on the water, keep an eye out for owls, hawks, eagles, and falcons. The Swan Falls Dam lies within the Snake River Birds of Prey National Conservation Area. Campers can stay the night at first come, first served campsites, located both upriver and downriver of the dam.
"If you're needing a quick getaway for the weekend but cant go too far from Boise/Meridian, Swan Falls is the place for you! Both the idaho power side and further down the gravel road gives you numerous options for camping. Dam makes for great fishing too!" — The Dyrt camper Mary D.
Camp Here
---
City of Rocks truly lives up to its name, making countless climbers, scramblers and hikers happy year-round. Activities are boundless, and provide something interesting for all types of adventurers. Campsites at City of Rocks Campground are primitive, so be sure to bring all you need on your way in.
Despite its primitive nature, this is one of the most popular campgrounds in Idaho. Make those campsite reservations early!
"This is a very popular area, but you can still find solitude if you want it. Plenty of activities as well; climb all day, check out Register Rock, or hike the City of Rocks Loop trail around the site to get a little bit of everything. The sites are nicely spread out, with a few pit toilets and refuse cans between them." — The Dyrt camper Katherine B.
Camp Here
---
Bonneville Campground in the Boise National Forest is one of the few campgrounds in Idaho still considered a hidden gem. The campground offers shaded and comfortable RV and tent sites, a vault-style outhouse and a water pump. Beyond the grounds, the site's biggest draw are the nearby hot springs for perfect for swimming and exploring (just an easy mile-long hike north). You can beat the hot spring crowds by reserving online or coming to the site early.
"Tucked away, a few hours outside of Boise, this site is worth the ride for the soak that it had to offer. The hot pools are located in the river, so it isn't ideal all year round. The summer months are excellent for a nice warm soak!" — The Dyrt camper Jill R.
Camp Here
---
Nestled in the Ponderosa Pines of western Idaho's Payette National Forest, Last Chance Campground is an Idaho water lover's fantasy. Pick out your favorite rod for fishing in the on-site Goose Creek, or travel out to nearby Brundage Reservoir or Payette Lake for fishing piers.
In the summer months, campers from one of the 24 multi-use sites can hop in the creek for a swim or hike up to the nearby waterfalls. For a special treat, come during huckleberry season (late summer). They're everywhere.
"Excellent campground with large sites, beautiful and huge Ponderosa pines, and very clean and odorless vault toilets. We heard an owl hoot twice. The hike to the Goose Creek falls, as mentioned by others, is great. " — The Dyrt camper Gretchen B.
Camp Here
---
A brief drive from Yellowstone National Park makes this area ideal for campers looking to beat the crowds and still see homestead beauty. The campground has close to 90 serviced sites and three cabins for those looking to rest comfortably after a long day on the range.
Water sports are a popular feature of the campground, as Henrys Lake remains still and swimmable in the warm months. The winter brings a unique bonus to the trout-heavy lake: ice fishing. Reservations can be made online, and might be necessary for those planning a last-minute trip to the Yellowstone region.
"Very nice campground right on the water. There are both camping spots for campers and tents, as well as a few cabins. Beautiful spot near both West Yellowstone and Island Park. Lots to do including: fishing, hiking, floating the river in Island Park, driving through Yellowstone, horseback riding, etc." — The Dyrt camper Sarah E.
Camp Here
---
Iron Creek Campground is a central Idaho hub for skiers, climbers, and hikers alike. If you've been looking to check off mountain camping from your bucket list, Iron Creek offers quick access to numerous mountain peaks (some climbable!), including McGown Peak, Williams Peak, Thompson Peak, Merritt Peak and Mount Regan.
Hit the Alpine Way trail for access to placid alpine lakes. Be sure to drive up early; this 9-site campground is first come, first served.
"Gorgeous area with access to amazing hiking and views. The campground is surrounded by a lush forest and has good seclusion of you're looking for isolation. For more solitude it also makes a good spot to set off into the vast Sawtooth wilderness." — The Dyrt camper Alan B.
Camp Here
---
There are many popular lakes across Idaho, but Priest Lake in the panhandle section of the state is one of The Dyrt campers' favorites. Named for the Jesuit priests that settled nearby in the 1840s, it's a 19-mile scenic body of water that can settle into a smooth pane of glass. Priest Lake State Park is divided into units, including the Lionhead Unit at the north end of the lake and Indian Creek near the center; there are more than 150 campsites total.
"It was Wednesday, in early summer. No other campsites were occupied on Upper Priest, we were the only ones there. As dusk deepened, the stars came out and the lake was so calm is was a perfect mirror." — The Dyrt camper Francie M.
Camp Here
---
Located in the eastern end of the state, not far from Yellowstone National Park, Flat Rock is set among extinct volcanos and in lodgepole pine forest. Water is everywhere, from fish-friendly Henry's Lake to several fishing streams, and the towering Mesa Falls is a short drive away. Campsites have electric hookups and services are nearby.
"This is a busy campground. It is perfect for floating, fly fishing, and ATV riders. I even got some good mountain biking in. There is a canoe/float rental right next door." — The Dyrt camper Haylea A.
Camp Here
---
Despite the violent name—it comes from a historic event from when Oregon Trail pioneers fought with Native Americans nearby—Massacre Rock is now a placid destination on the Snake River, near Craters of the Moon National Monument. This Idaho campground is full of amenities like a disc golf course, cabins, and hiking trails. Register Rock, a short drive away, contains the etched signatures of Oregon Trail travelers.
"Brought our fishing poles and although we didn't catch anything, was well worth it. Be sure to go up to Register Rock up the road! Highly recommend!" — The Dyrt camper Kali D.
Camp Here
---
Salmon River Campground straddles Highway 75 near the town of Stanley and is a destination for soakers; besides being on the river itself, this Idaho campground is near a number of hot springs. The dry hills and landscape are dotted with lodgepole pine in the Sawtooth National Forest.
"The Salmon River is absolutely gorgeous. It has some nice swimming holes or eddies along the river, and the water is perfect for swimming in late summer, though a little chilly in the early summer months. The white sand you can find along the river is soft and beautiful." — The Dyrt camper Katie F.
Camp Here
---
---
Related Campgrounds:
Popular Articles: