This article about camping near Denver is brought to you by Tentrr. Look no further than Tentrr if you're looking to do some Colorado glamping.
---
You don't need to head to the backcountry to enjoy a fun and relaxing experience while camping near Denver. There's plenty of great camping near Denver, Colorado that let you wander the trails, splash in pristine lakes, and take in the nightlife of Colorado's biggest city.
To get you started, we've compiled seven of the best campgrounds around Denver.
The Best Camping near Denver
A sunny oasis in the heart of the city, Cherry Creek Road Campground is a spacious and well-appointed camping area by the water that enables you to explore the natural beauty of Cherry Creek State Park and enjoy the culture of downtown Denver, Colorado. Interwoven with biking and hiking trails, it is a thrilling getaway for wildlife enthusiasts who can spot horned owls, bald eagles, and whitetail deer year-round.
"The RV spots have full hookups and are nice and spacious, as are the neighbors. We were able to set up a tent too! Great place to stroll and relax. Beautiful sunsets."
– Cindy M.
Campground Details:
Price: $28 – $41, $11 park entry fee
Number of sites: 125
RV sites: Yes
Fires allowed: Yes
Pets allowed: Yes
---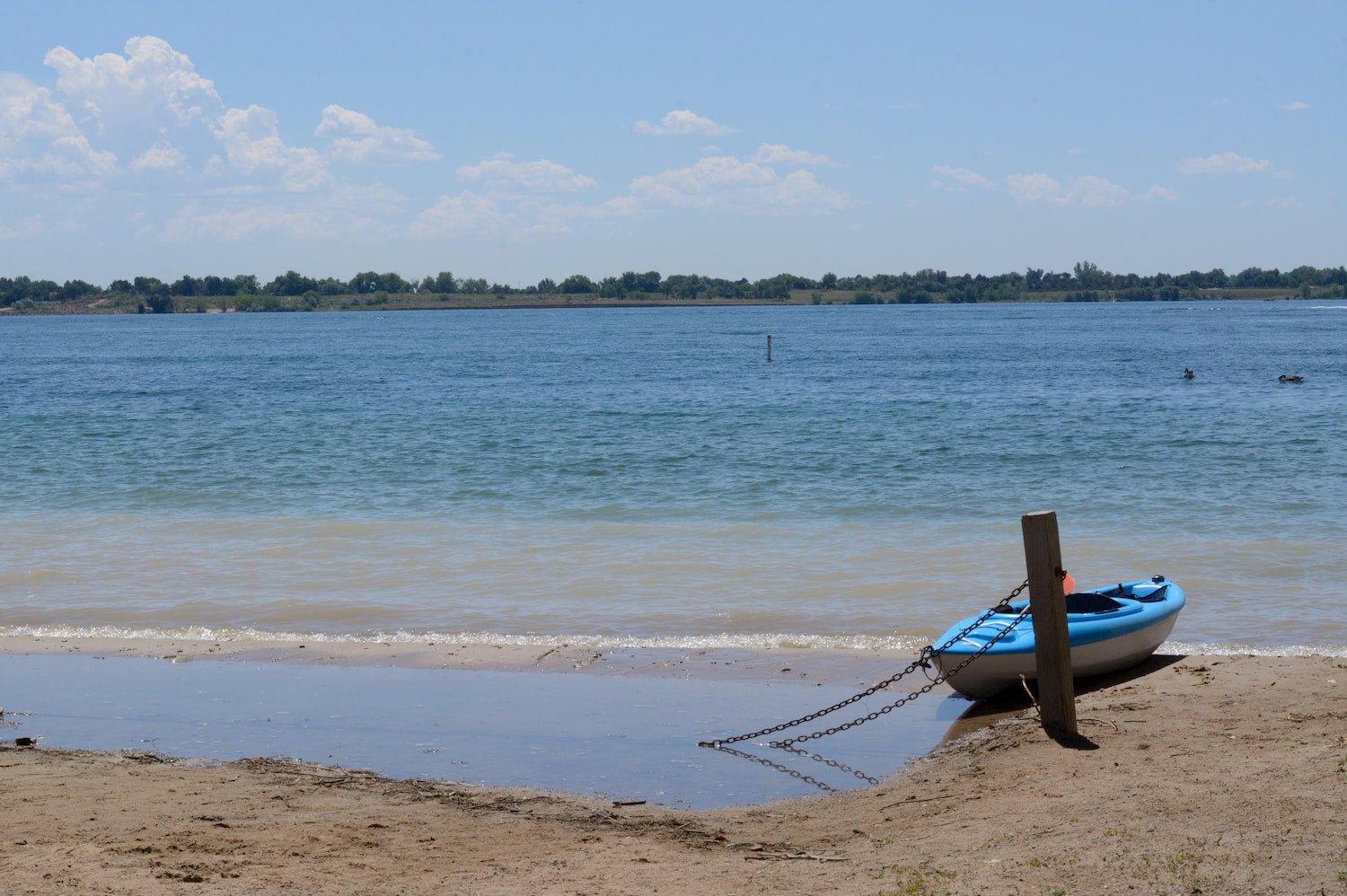 Just half an hour north of Denver, Colorado in Westminster, you'll find a tranquil haven teeming with wildlife and exhilarating activities. Standley Lake Regional Park's campground offers clean campsites and ample amenities, including canoe, kayak, and paddleboat rentals. The sites are generous with little tree cover, so you'll get to know your neighbors.
"Take a friend and a picnic for a lovely day on this beautiful lake right here in Arvada. Your worries fall away, and you can experience the joy in nature around you." – Nancy B.
Campground Details:
Price: $22
Number of sites: 63
RV sites: Yes
Fires allowed: Yes
Pets allowed: Yes
---
Chatfield State Park in Littleton is a popular destination for bikers, hikers, and boaters. The serene lake at the heart of the park has a full-service marina and is the perfect place to enjoy boating, fishing, water skiing, and other water sports.
The park has over 20 miles of paved and unpaved trails to explore on foot, bike, or horseback. It's a busy park during the peak season, so make sure you book in advance to secure your spot at this fun-filled camping spot.
"Whether you live in Denver and just want a quick getaway or if you are visiting friends in the area, it is a very easy place to camp." – Jeff G.
Campground Details:
Price: $21 – $31
Number of sites: 197
RV sites: Yes
Fires allowed: Yes
Pets allowed: Yes
---
If you drive 20 minutes south of downtown Denver, Colorado, you'll come across a hidden gem in the center of Bear Creek Lake Park. The Indian Paintbrush Campground is a moderately-sized, semi-rustic campground that is very popular during the peak summer months for its proximity to the city, the Red Rocks Amphitheatre, and Big Soda Lake swim beach.
The sites are well-maintained with electrical hookups, fire rings, grill, and a picnic table. The campground offers sweeping views of the Rocky Mountain rolling foothills and the wide-open skyline making for truly breathtaking sunsets.
"Super clean campground. Close to Red Rocks and Denver… Some nice hiking and biking trails off the campground. Beautiful views of the mountains." – Stacy M.
Campground Details:
Price: $25
Number of sites: 53
RV sites: Yes
Fires allowed: Yes
Pets allowed: Yes
---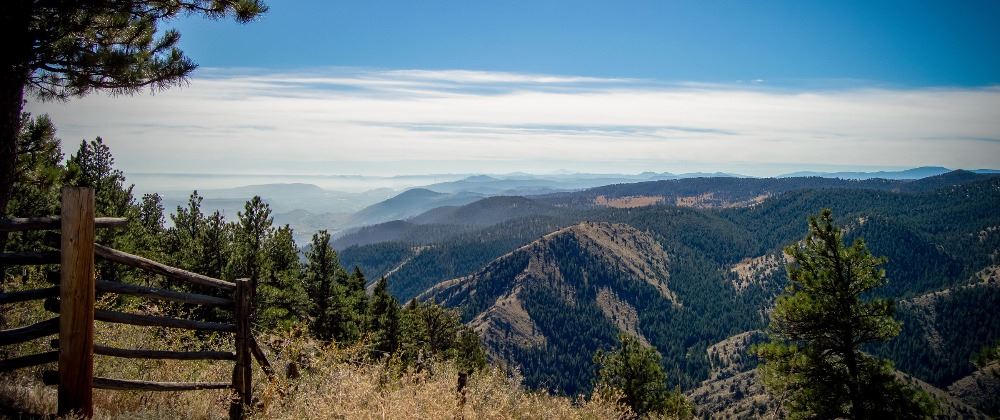 While most campgrounds close to Denver, Colorado are drive-in only, Sawmill Campground in White Ranch Park is a fantastic hike-in campground for explorers on foot. The small, primitive camping area is located in Golden, about 40 minutes outside of Denver. It is available by permit only, which you can obtain online from the Jeffco Open Space Office website.
Over 20 miles of gentle and rugged trails crisscross the park, and the campsite gives you unparalleled views of the park and twinkling lights of downtown Denver. Each site is well-dispersed and stocked with firewood.
"Great hike in [the] campground. It was our first hike in and we loved it! Spots aren't too close to each other and there's great views!" – Two Snoops
Campground Details:
Price: $12
Number of sites: 10
RV sites: No
Fires allowed: Yes
Pets allowed: Yes
---
Nestled between the mountains of Summit Country and the humming city center of Denver, Dakota Ridge RV Park is a camper's paradise. The busy park is available for use all year round.
It provides excellent amenities for a comfortable stay, including an outdoor pool and hot tub, fitness center, and book and game library. Sites are level, paved, and beautifully landscaped, and they're available either with pull-through and back-in access.
"Clean pool, laundry facilities, daily trash pickup, and so many helpers on site! Our first stop at a park, and we loved it!" – Kerri G.
Campground Details:
Price: $53 – $80
Number of sites: 141
RV sites: Yes
Fires allowed: No. Propane grills only.
Pets allowed: Yes
---
Just a few miles out of Denver, in the City of Golden, you'll find Clear Creek RV Park. This park is well-equipped and gives visitors a country atmosphere and has access to explore historic downtown Golden via the Clear Creek Trail.
"Golden, CO is a super cute town on the outskirts of Denver. The city has a campground in a prime location, and we were lucky to book a site!" – Bounding Around
Campground Details:
Price: $27 – $55
Number of sites: 36
RV sites: Yes
Fires allowed: Unknown
Pets allowed: Yes
These campgrounds are just the start of all the exceptional camping that the Denver, Colorado area has to offer. For more exciting places to build memories around a blazing campfire, check out The Dyrt's complete list of the best camping around Denver, Colorado.
---
This article about camping near Denver is brought to you by Tentrr
Their platform tents campsites ensure a comfortable stay near Denver and beyond
---
Popular Articles: