This article on is brought to you by Red Ledge makers of the best camping poncho.  This lightweight, durable, and packable poncho is a near-perfect item to bring on your next Niagara Falls camping trip.
---
If you've only seen them in a hit TV show or a blockbuster movie, the Niagara Falls are a majestic, if uncomplex, natural wonder. But if you've never seen the falls up close, it may be time to plan your visit—their display of both beauty and power is only truly experienced in person.
Located right on the border of New York and Canada, a visit to the falls is a great excuse to do some upstate exploring, along with a possible jump over the border to visit Canada.
The Top 8 Spots for Niagara Falls Camping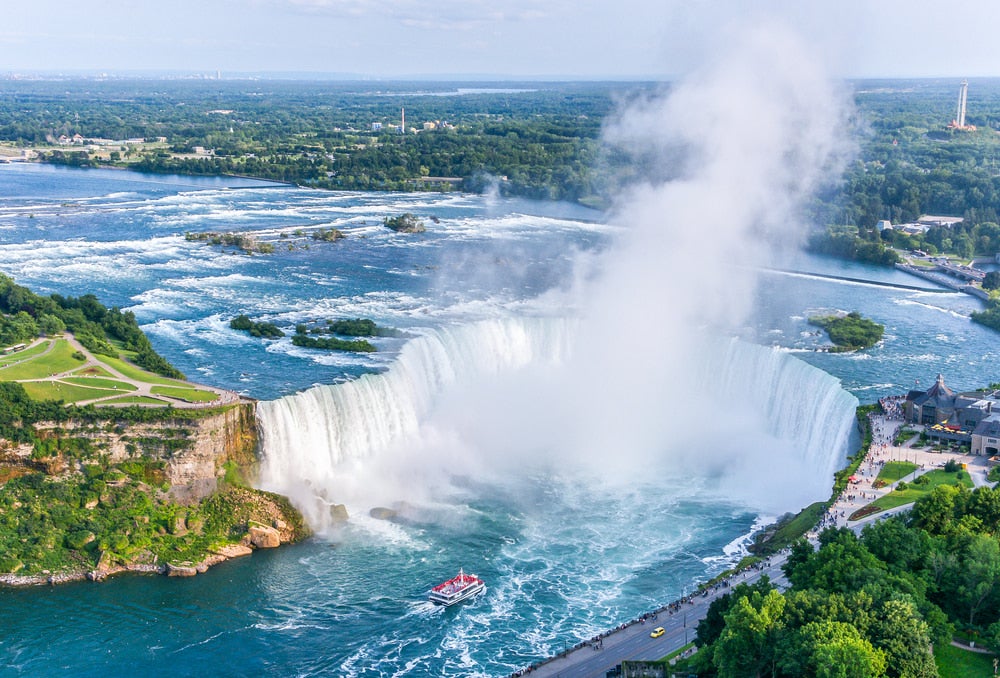 Thinking of making your stay at Niagara Falls longer than a couple of hours? The good news is, there are plenty of options for campers and outdoor enthusiasts when it comes to Niagara Falls camping. Despite being a highly-trafficked tourist destination, the campgrounds near the falls are numerous enough to accommodate all interested parties. We've compiled a few of our favorite spots for camping near Niagara falls, so you can possibly fall asleep listening to the 3,160 tons of water flowing over the falls every second.
The closest of all the campgrounds on this list to Niagara Falls State Park, Niagara Falls Campground and Lodging is located a mere six miles from the thundering falls. The campground offers over 80 campsites, the majority of which can accommodate RVs or tents.
The campground also includes a pool, a playground, and a full-service tour center where families and tourists can get the latest information on local attractions and daily excursions available in and around Niagara Falls State Park.
"If pure looking for an old school campground experience, look no further…this place does have a fairly clean pool and small playground area, and easy access to the campground from local attractions." — The Dyrt camper Erin H.
This well-forested, family-friendly campground is some of the best Niagara Falls camping, amenity-wise. Niagara Woodland Campground is located just five minutes from Lake Ontario in Western New York and 25 minutes from the falls. A tent-heavy campground, this is a perfect spot for families, groups, or solo travelers looking for a slightly more secluded experience near the lakeshore.
That said, Niagara Woodland campground doesn't run short on amenities, as it offers a pool, a playground, mini golf, horseshoes, and volleyball and basketball courts to make sure you never run out of things to do. For RVers that do make the wooded drive in, there are around 20 RV-only spots that include 30 & 50 amps electricity hookups as well as water and sewage. The campground also offers a dump site and laundry facilities for families seeking to make it a longer-term stay.
Be the first on The Dyrt to review this campground and share your experience to earn your Pioneer Badge!
Home to one of the largest campgrounds in the state, Four Mile Creek State Park is a premier destination when it comes to Niagara Falls camping, as it sits just 15 minutes from the falls, and offers guests 275 campsites to choose from. The campground includes 50 amp sites, 30 amp sites, and almost 150 non-electric sites that can accommodate both RVs and tents.
A protected natural area, Four Mile Creek offers up-close views of local flora and fauna, as well as sneak peeks of wildlife native to the area, including the magnificent blue herons and white tail deer. The park also grants guests access to the expansive Lake Ontario, which provides pristine sunset views and endless water activities.
"Very nice CG. Sites are plentiful and open so not tons of privacy. There is a nice little store too. Amazing views of the lake and nice trails around! The views of the river were awesome and wildflowers bordered the trail." — The Dyrt camper B P.
This spectacular Niagara Falls camping destination is located just seven miles from the falls. The KOA includes a variety of kid-friendly amenities, including a two heated pools, a playground, and the ever-popular inflatable jumping pad. Niagara Falls Grand Island offers both pull-thru and back-in RV sites with 30 & 50 amps electricity along with full hookups. Tent campers have the option of selecting a site with water and electric, water only, or no hookups.
The well-connected staff at this KOA offer tour packages to Niagara Falls as well as transportation and ticketing information for several nearby attractions, including Martin's Fantasy Land or the surrounding state parks.
"You kind of know what to expect at a KOA – pool, playground, lodge or rec space, etc – but this KOA was also quite clean, a short ride from a fun little amusement park and only a 10-15 min drive from the falls! We had so much fun – this was a great "family campground"." — The Dyrt camper Erin H.
A family-owned and operated RV resort on the shores of little Lake Charles, this campground is an excellent destination for families and dedicated RVers looking for a place off the beaten path yet still in close proximity to Niagara Falls (around a 40 minute drive).
Located in Gasport, New York, Niagara Hartland offers large pull-thru and treed sites with full hookups available, including a handful of tent only sites. The recreation hall offers daily organized activities, and the rental facility offers guests kayaks and fishing gear for a trip out onto the lake. The campground also includes its own beach for swimming in Lake Charles, along with a playground, basketball court, and badminton facilities.
Be the first on The Dyrt to review this campground and share your experience to earn your Pioneer Badge!
A classic KOA located in Youngstown, New York, Niagara Falls North/Lewiston campground is set just 20 minutes from the falls, and offers the quintessential Niagara Falls camping experience to RVers and tent campers looking for an easy and accommodating stay in the upstate area. The campground includes a pool, firewood for sale, wifi, and even a dog park for your furry adventure companions.
In addition to its onsite amenities, this KOA includes a well-connected host that can arrange tours of Niagara Falls, as well as provide more information on must-see attractions in the surrounding area.
"Simple, cute, scenic campground. Gravel sites. Easy pull through sites. Pool near camp store. Friendly staff. Store /registration closes at 6 pm. Will definitely stay again next time we are up that way." — The Dyrt camper Krista F.
Located just between Niagara Falls and Buffalo (around 15 minutes from the falls), the Branches of Niagara Campground offers 80 campsites and a whopping 15 cabins for visitors eager to explore upstate New York. Every site comes with electric hook-ups and are in close proximity to the bathrooms and central laundry facility.
Other amenities include three different pools, a mini golf course, and a playground, brand new as of 2019! This campground is especially great for families with children, as it sits just minutes from Fantasy Land, a popular amusement park in the area. Take a visit to the falls then drop by the park to make your upstate NY vacation complete!
"This was the most perfect family campground we've been to. The staff is very nice and they're always outside working and helping. The back sites were perfect and decent sized. They have every amenity you could need and the grounds are pristine." — The Dyrt camper L W.
Niagara's Lazy Lakes Campground is a family-owned and operated Niagara Falls camping resort in upstate New York. The campground itself is a vacationing family's dream, as it offers everything from swimming pools to fishing to row boating to a full playground area for younger children.
The resort offers RV sites and cabins, including sites with 30 & 50 amp electrical hook-ups, along with four restrooms with shower facilities, laundry facilities, dump stations, and full-time security to make sure your family stays safe on your outdoor adventure. Like the Branches of Niagara Campground, Lazy Lakes Campground is located just 15 minutes from the epic falls.
"We have camped here several times…big clubhouse, 2 heated pools and a pond to fish (catch & release). Sites are big. Pet friendly. Staff are very friendly. 10-15 minutes from Niagara Falls and close to stores. It does have 2 on site laundry facilities but the dryers take a while. Enjoy going there." — The Dyrt camper Connie J.
---
This article was brought to you by Red Ledge
Red Ledge's thunderlight jacket is your best bet to staying dry, no matter where you camp.
---
Related Campgrounds:
Popular Articles: